October 12, 2012
Community + Business = Useful Blog Content

I recently asked our Facebook community what they wanted to read more of on our blog, and one of the suggestions was: "A blog post about ideas for blog posts!" I thought it was a great idea, because who doesn't need more fodder for blog content?
But since we're all wrapped up in conglomeration of industries and topics relevant to our own communities, I thought an approach to identifying blog content would be more relevant for more people. Today, we're going to look at how to use your communities and the challenges you face in your business every day to create useful blog content.
So let's dive in, shall we?
Community Inspiration for Blog Content
Mine LinkedIn: Are you a member of any groups on LinkedIn? The conversations that are occurring amongst professionals about the topics surrounding your industry or area of expertise is a treasure trove. Go answer some of the questions people are having there and then use the blog to explore that topic deeper. Because if those people are having those questions, others are, too. Also, try LinkedIn today – this is the free tool from LinkedIn that curates content you're interested in. Spend a few minutes in there and see what sort of inspiration sparks from it.
Ask your network: Are you on Twitter? What about Facebook? How about do you have any friends or colleagues at all? Ask your existing audience what they want to hear more of on your blog. Ask your friends who know nothing about your product, service or industry for their burning questions about what you do and then turn it into a post.
Peruse blog comments: Are there any lively conversations happening around a blog post you saw on another site? Use your blog as a way to continue the conversation and answer some of those questions or speak to the concerns people are having about the topic.
As a side note, if you've been inspired by a conversation happening elsewhere on the Web and you want to bring it on your own blog and tell people about it, take care in how you do this. It starts with being a useful part of the conversation.
If you've been a participating in a conversation in a group in LinkedIn or in a blog comment thread, for example, you can certainly let people know you've addressed the topic further on your blog. Just make sure you're not entering the conversation with only a link
Another way you can keep people in the conversation after you bring it to your blog is by tracking down people on Twitter who were in the group conversation or the original author of the post who inspired you, or the colleague who helped think of an idea. Then mention them when you distribute the link as a thank-you for the inspiration. You'll get the people reading it who were interested in the topic to begin with and potentially more shares.
Business Inspiration for Blog Content
Be a Reporter
To come up with great topics to write about you have to be curious, and you have to be an investigator. Find out what is going on in your company – even if you have only a couple staff members. The roles, teams or departments within your company have stories – what is it are they? Journalists always try to answer the "5 Ws and the H" — who, what, when, where, why and how. Take this approach to finding stories and I guarantee, you'll start fleshing them out.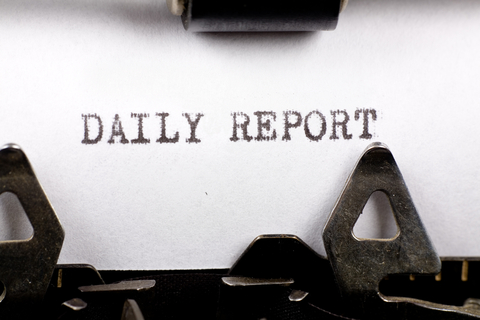 Many of the challenges of those who are on the front lines of your product or service directly impact your target audience. I guarantee your sales role, customer service role or tech role has a lot to say. Turn these ideas into posts.
Just like keyword research helps you uncover content ideas for different stages of the sales cycle, the challenges each role, team or department face every day is very much a part of that content marketing cycle. You want to continue to offer information in places like your blog that speaks to your audience at every stage of the engagement, from the beginning stages of awareness to even after they become a client.
Know Your Audience
You know your products and services, and you probably have a good idea of who is buying them, right? If not, start building those personas. When you know who you are talking to and how that persona contributes to your bottom line, the path for content creation becomes clearer. Once you have personas, you begin to know what type of content they want and need.
Let's take a quick example: here in our content department at Bruce Clay, Inc., we can separate our audience into those who buy services (potential clients and current clients), those who use the SEOToolSet, those who attend training (conference training and classroom training in Southern California) and those who consume content only.
Of course, there are crossovers from one category to another, and each one of these categories has more than one type of persona. But when you look at your audience in a segmented way, you can begin to think about what the typical person who buys that product or service is like, how they might differ from another product or service you offer, and what the potential is for them to crossover into another category from the one they are in.
When you create content that pushes them along in the business engagement cycle, you are creating content that contributes to your bottom line. This method can go beyond the blog post – so think big.
Other Sources of Inspiration for Blog Content
Analytics data: What are your most-trafficked posts? What keywords are people using to find your site? What posts have the most shares or engagement in social? Take the data you have available to you in your Google Analytics, for example, and see what opportunities there are for creating more content from those topics. Check out this post on Google's social analytics and how it can boost your content production.
Think like a writer: I once wrote a post about how you can overcome writer's block. Some tips from that post on how to find inspiration includes 1) use what you are experiencing as fuel for blog posts 2) keep something close by to record any ideas you have when you get them and 3) write about a topic you want to learn more about. Check out the post for more ideas.
Keyword research: I really liked the concepts Jon Ball shared from Page One Power at his session at SMX East on link building. In addition to traditional keyword research that can fuel your content creation, one of the ideas he shared for finding communities around a topic/keyword set was helpful for content creation. He recommended doing a search for things like: "keyword" news; "keyword" experts; "keyword" associations; "keyword" forums; "keyword" blogs; "keyword" trade shows; "keyword" events. Then you can look at the conversations are that are happening in those communities and bring those ideas back to your blog.
Got any other ideas for how to come up with blog posts ideas? Chime in on the comments below.
---
---
4 responses to "Community + Business = Useful Blog Content"