Bruce Clay, Inc. SEO and Internet Marketing Blog
Posts by Bruce Clay, Inc.
---
August 18, 2016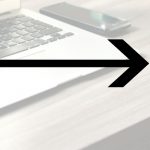 A 301 redirect is a command used to tell the search engines that a page has permanently moved, and that you want them to index the new page and drop the old one from their index.
Think of it as a change of address card for the web. As long as everything is done correctly, a 301 redirect will ensure that you keep the rankings earned by the old page and it will prevent duplicate content that should arise if the engines were to index both versions of your site.
Read on to learn how to implement a 301 redirect.
---
August 11, 2016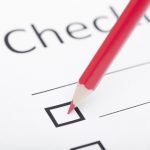 In Bruce Clay, Inc.'s SEO training course, we offer students an SEO checklist as one of the many take-home materials. Use this excerpt as an in-hand to-do list or basic audit outline.
While this checklist isn't exhaustive (although it's constantly updated and growing!) many people find this list to be a helpful reminder of the many items to check during their SEO projects.
Get The Always-Up-to-Date SEO Checklist from Bruce Clay, Inc.
---
December 23, 2015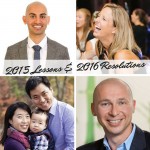 What do your favorite digital marketers resolve to do in 2016?
"Be the change I want to see in the social media world by advocating positivity, productivity, mindfulness and balanced best practices in business."
"Next year in terms of work, I'm going to focus more time and energy on learning mobile apps, online video, and Facebook/Instagram ads."
"I do believe folks "can't be what they can't see" so I intend to be a more visible role model for local young women in STEM."
"Understanding their (millennials') different values and online fluency was very helpful to designing many of our conversion rate optimization initiatives."
"If public speaking is something that you too, are looking to improve upon, I highly recommend attending a meeting (of Toastmasters International) in your area. "
Read the 2015 lessons and 2016 resolutions of Neil Patel, Tim Ash, Lisa Buyer, Jim Yu and many more of your favorite marketing personalities.
---
December 15, 2015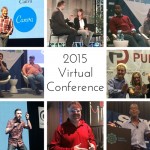 Here on the BCI blog, we publish updates to keep digital marketers current on new tactics and evolving perspectives. To do so, we send livebloggers to major digital marketing conferences so readers can get the 411 from the industry's search marketing, content, conversion and advertising experts. This year, Virginia Nussey and I covered more than 85 sessions live from SMX West, SMX Advanced, SMX East, Pubcon, SEJ Summit Santa Monica and BIA/Kelsey NEXT in Local.
As we wrap up the year, we present an early holiday gift. We're packaging up the most high-impact liveblogged sessions of the year to create a virtual conference you can follow along with each day this week. Or, pick and choose the tracks that interests you. Either way, this virtual conference is your fast track to getting up to speed on what happened in digital marketing in 2015:
• Wednesday, Dec. 16: Content, Social Media & Understanding Your Audience
• Thursday, Dec. 17: Search Engine Marketing, PPC Advertising
• Friday, Dec. 18: SEO Milestones of 2015
Read SEO, PPC & Content Virtual Conference: 2015's Liveblogged Lessons
---
June 1, 2015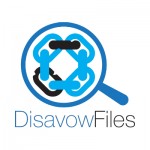 Ever wonder what's inside the search engines' black box of disavowed backlink data?
Google and Bing are the only parties who can see the disavow data given to them by site owners. We, the webmaster community, can't access this data to help us make informed decisions when vetting backlinks, researching sites, or creating our own disavow files.
Let's change that.
Today we're launching DisavowFiles, a free, crowdsourced tool aimed at bringing transparency to disavow data. Sign up for free at DisavowFiles.com.
Read the post on the reports, features and, of course, privacy and anonymity of DisavowFiles.com.
---
January 16, 2015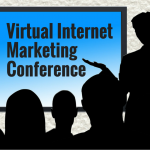 You may have some SEO goals in your 2015 queue, whether it's getting your site's mobile experience tight and right or finding the time to bring a local presence to life on Google My Business. If you're a driven, self-led learner and are hungry for some SEO insights to power up your 2015 digital marketing agenda, we've got a buffet for you.
Last year, BCI bloggers covered 69 keynotes, sessions and mini-sessions from digital marketing conferences SMX West and SMX East, Pubcon New Orleans and Pubcon Las Vegas. Attending a conference can be pricey but the takeaways gleaned can be priceless as far as improving your ability to do your job better. Consider this post the shortcut track of the best sessions and speakers from these events. It's your CliffsNotes of the best of Search Conferences 2014.
Jump into the Virtual Internet Marketing Conference of 2014.
---
October 20, 2014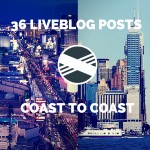 Bruce Clay, Inc. sent livebloggers Virginia Nussey and Kristi Kellogg to Pubcon Las Vegas and Search Marketing Expo (SMX) East 2014 to report live on 36 key digital marketing sessions. Whether you're interested in SEO, SMM, PPC, mobile optimization or content marketing, you'll find coverage of the most important sessions coast to coast. Read on for an overview of each liveblog post and click through to read what piques your interest — or read them all.
Check out all the liveblogging action in 36 Coast-to-Coast Liveblog Posts Covering Pubcon Las Vegas & SMX East 2014 .
---
October 6, 2014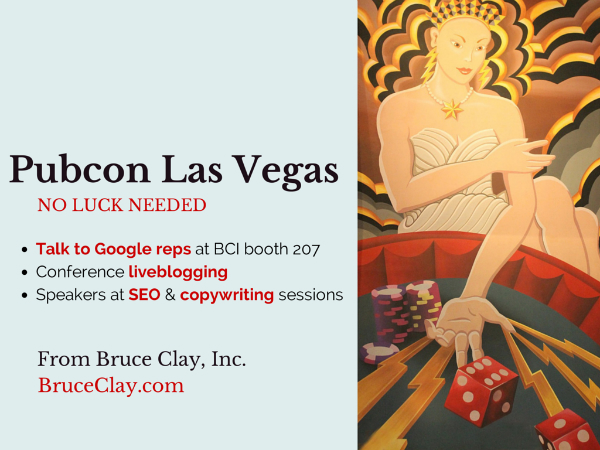 The Bruce Clay, Inc. team will be speaking, liveblogging and exhibiting at this week's Pubcon Las Vegas. If you'll be there, heads up that Google reps will be fielding questions about AdWords and Analytics at the the BCI booth 207 Wednesday from 12-2 p.m.
You can also catch our President Bruce Clay and SEO Manager Mindy Weinstein, SEM Manager Michael Shore and Lead Sr. SEO Analyst Robert Ramirez, in Booth 207 in the Exhibit Hall. If you have any questions on SEO, SEM, SMM, content marketing or anything else Digital marketing-related, stop by the booth and fire away. We'd love to find out how we can help you grow your business.
Get our liveblog schedule and Bruce Clay and Mindy Weinstein's speaking schedules here.
---
February 25, 2014

We're two weeks out from SMX West San Jose. For those in attendance, we're sharing the Bruce Clay, Inc. schedule here and hope our paths will cross at some point between the expo hall, conference sessions and networking events.
If you haven't yet registered but plan on attending, get 10% off the cost of any pass and/or workshop by registering with code BRUCECLAYSMXW14. If you won't be at the show, we'll be delivering the show to you with liveblogged reports on the BCI Blog from the sessions listed through the click.
Read SMX West 2014: Liveblog Schedule and Where to Find Bruce Clay.
---
January 30, 2014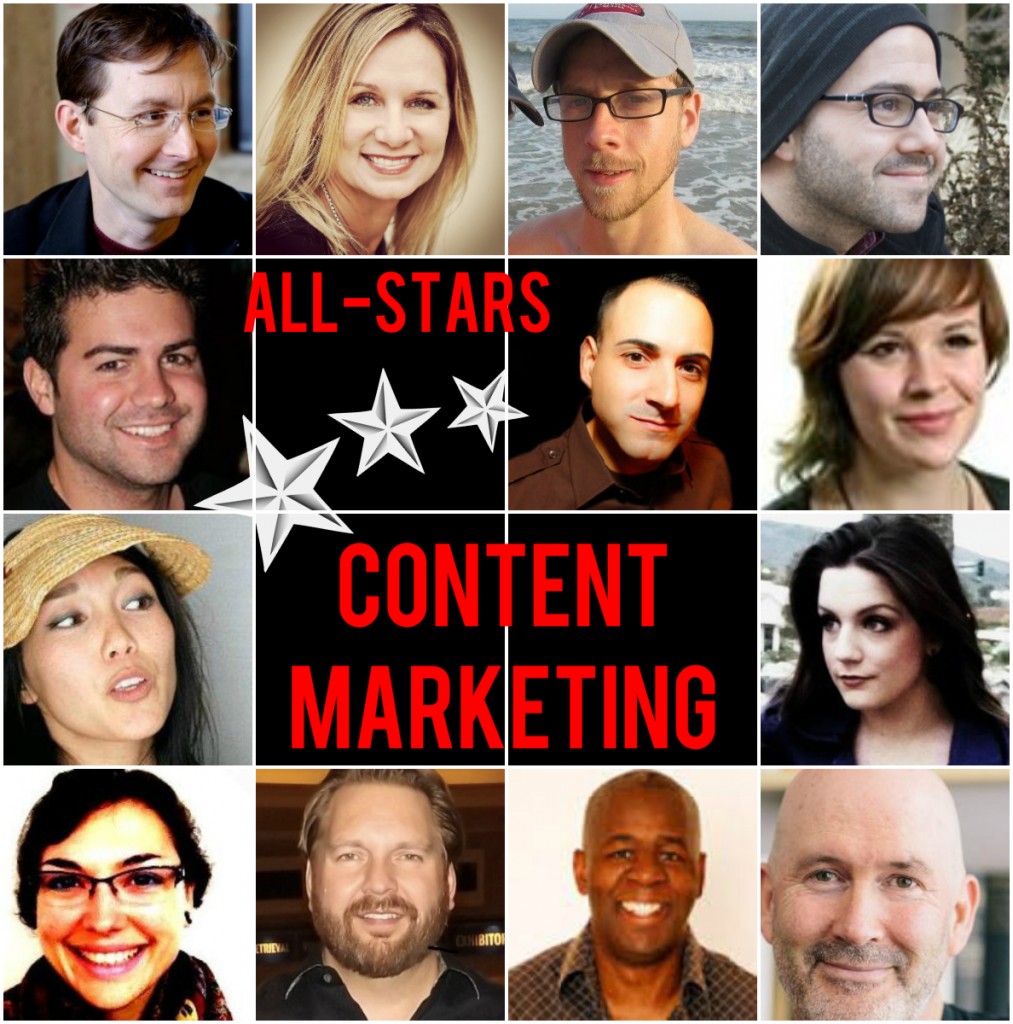 More than a dozen experts share their content marketing strategy insights and tips within the pages of Bruce Clay's and Murray Newlands's new book, "Content Marketing Strategies for Professionals" (now available on Amazon) — the ultimate content marketing strategy guide for any content creator, marketer or social media manager that wants to stop wasting words.
In addition to Clay and Newlands's experience-driven and field-tested knowledge, "Content Marketing Strategies for Professionals" taps into case studies, articles and anecdotes from Digital marketing powerhouses, renowned for their savvy in content strategy, marketing, public relations, media and SEO. Read on for sneak peek of what content marketing advice each of these experts' revealed in "Content Marketing Strategies for Professionals." Among the contributors? A Webby award winner, CEOs, journalists, authors, brand managers and even a Dragon.
---