Casie Gillette - Bruce Clay, Inc. Blog
Posts by Casie Gillette
---
December 17, 2012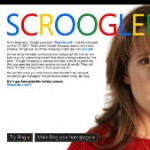 A couple weeks ago, Bing began running their "Scroogled" campaign in "an attempt to tell people not to get screwed over by Google this holiday shopping season". Or in reality, a new way to draw attention to themselves by calling out their largest competitor.
While I'm not going to get into the merits of spending thousands of dollars on a hypocritical ad campaign, I will say this isn't the first time we've seen a company do this and it certainly won't be the last. So why not look at the positive side? Results!
When it comes to bad-mouthing competitors, one of the biggest benefits is the boost to your company's SEO efforts through links & SERP real estate.
Read more of Scroogled: The SEO Benefits of Bad-Mouthing a Competitor.
---