Bruce Clay Blog - 3/9 - Kristi Kellogg
April 8, 2014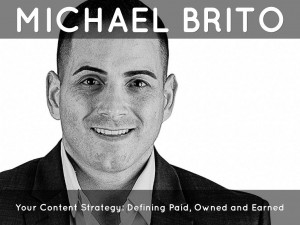 Brands — including your business or the business you work for — have a monumental task of transforming into publishers. (Because brands are publishers today.) So in your Internet marketing role you're wearing many hats, developing and optimizing the content to publish across the channels, and coordinating the various interests of the brand across the organization. To aid you in this task, we've published "Content Marketing Strategies for Professionals," within which renowned social media strategist and community builder Michael Brito contributes a section on where paid, earned and owned media intersect, and how to maximize the impact of these channels through synergistic strategy.
Read more of To Tell the Right Stories, You Need to Listen: Michael Brito's Thoughts on Content Marketing.
---
April 1, 2014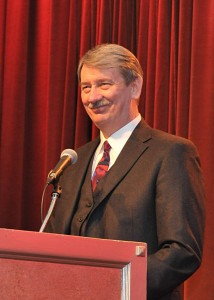 Since 1996, Bruce Clay has been commited to ethical SEO and his passion for all things concerning search. Armed with a "be a leader, not a follower" mentality, he has helped to shape the landscape of Internet marketing with his books, presentations and training — and earned his company a spot in the Inc. 500 | 5000 list for seven consecutive years.
Clay's SEO insights are laced throughout every chapter of his latest book, "Content Marketing Strategies for Professionals," coauthored by Murray Newlands. Clay uses his vast knowledge and experience to provide readers with SEO tips concerning:
blogging
curation
video
images
social media
paid search
and more
In a special interview, Clay shared some of his insights on being a CEO. It turns out a lot of the principles behind successful SEO, such as transparency and commitment to quality, are the same principles that have led to his success as a CEO.
Read more of How to Be Your Best SEO: Bruce Clay's Advice for Gaining Influence.
---
March 17, 2014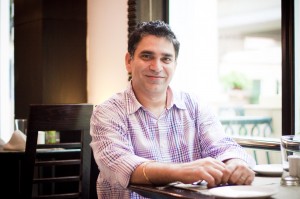 SEO in India is headed in the right direction, according to Siddharth Lal, managing director of Bruce Clay India — "there is a hunger to get to the right knowledge," he said.
"With Google tightening the screws on spam, SEOs who really know what they're doing are coming into the limelight," Lal said. "In years past, people could do link building and directory submissions and rank — but that doesn't work anymore. The focus is starting to shift to strong site architecture, page rank transfer and quality content — things that Bruce Clay Inc. has been doing right since the beginning."
In years past, Lal observed a "lack of understanding in the (Indian) market about the quality of work and level of work that is required" for SEO. Now, however, SEOs in India are looking beyond link building, as evidenced in the fact that the recent SEOToolSet Training in India was sold out.
Read more of SEO in India 2014: 'A Hunger to Get to the Right Knowledge'.
---
March 10, 2014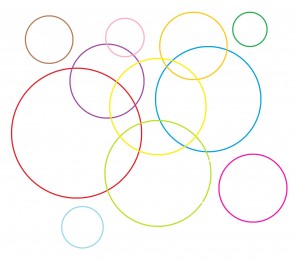 Last week, @BruceClayInc hosted the weekly #SEOchat on Twitter. The topic of conversation was getting the most out of Google+. Find out what marketers, including Google+ specialists David Amerland and Mark Traphagen, had to say about the SEO and community benefits of Google+ in Circle Up: Google+ Tips from SEO & Marketing Pros.
---
February 28, 2014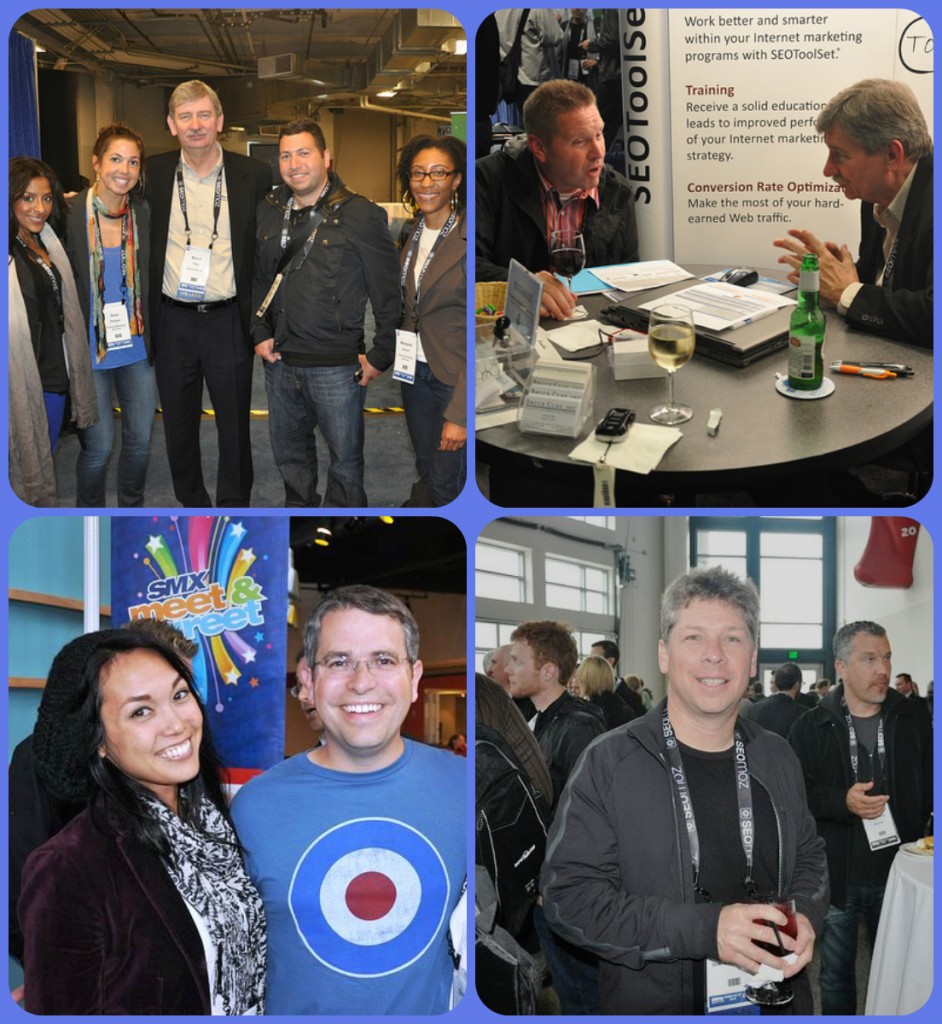 Hot off the presses, it's the event optimization edition of the SEO Newsletter. We take a deep dive into optimizing your experience at a live event — perfect timing, what with next month's SMX and Pubcon. Read on for a sneak peak at what the February SEO Newsletter has in store.
In the feature article, longtime SMX attendee (and SMX Advanced presenter) Virginia Nussey shares all benefits you stand to gain from attending SMX. In Attend SMX West for Inspiration, Education and Network Building, Nussey breaks down those benefits.
Read more of Optimizing Events Online and In-Person: SMX, Pubcon, Google Hangouts and More.
---
January 28, 2014
This month's 2014 Trends Edition of the SEO Newsletter, features Bruce Clay's exclusive 2014 predictions for the SEO industry. Readers will also find an article on the many ways to use Google Trends for research and data visualization and the monthly roundup of Internet marketing top developments, shifts and happening.
Bruce, an Internet marketing thought-leader since 1996 who is widely known as a founding father of SEO has shared his SEO predictions every year since 2006. In this eight annual installment, Clay identifies the changes he expects to see when it comes to spam treatment, SERP makeup, mobile search, local search, video search and voice search. Read on for Bruce's insights and more on this month's SEO Newsletter.
---
January 17, 2014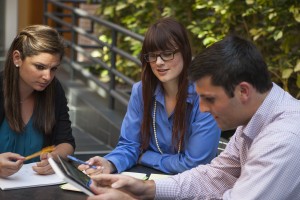 Internet marketers gathered yesterday on Twitter to trade stories about their 2013 content performance and audience behavior during this week's #SEOchat, hosted by Bruce Clay, Inc. On the agenda? Content and traffic behavior based on Google Analytics reports. As a group, we mined our data and determined what was working, when it was working and why it was working. Read on for a recap of the #SEOchat, plus discover takeaways based on participants' answers. I
Read more of SEOs Compared Notes on Site Performance in Data-Driven #SEOChat.
---
January 14, 2014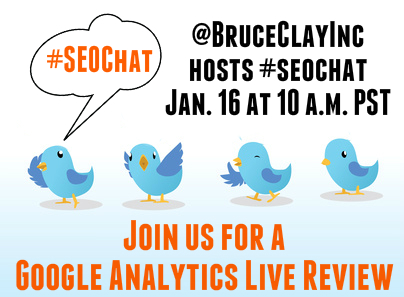 Every Thursday, Internet marketers come together to compare notes in the #SEOChat Twitter chat (more about #SEOchat here). This Thursday, Jan. 16, at 10 a.m. PST / 1 p.m. EST Bruce Clay, Inc. is hosting #SEOChat with an experimental new format: a live review of Google Analytics. Join us as we log into Google Analytics (or your preferred analytics software) and as a group, we'll mine our 2013 data and compare notes on content performance and audience behavior. We'll ask questions such as:
What was your top performing content area in 2013?
Top performing piece of content or blog post?
What was your top traffic referrer in 2013? Top social referrer?
What season saw the most engagement?
By identifying patterns and determining what's working best, when it's working and why it's working, we can shape our 2014 SEO and content marketing strategy accordingly.
Read more of SEOs: Share Top Content Performers and Traffic Referrers in #SEOchat.
---
January 13, 2014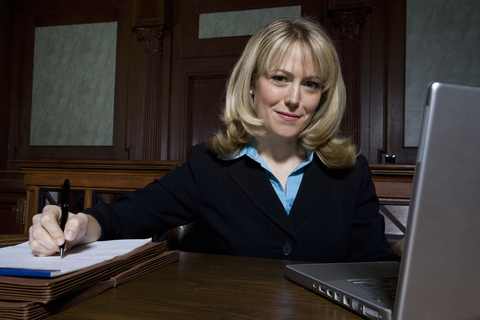 If prospective clients search for your name on Google, are those results going to make them more or less likely to hire you? With strategic online reputation management (ORM), you can ensure that the search results establish trust, highlight your successes and, ultimately, work in your favor. By controlling the first page of your brand name SERP, you control the message the world sees when it comes to your name.
"For page one search results, you want to make sure there's nothing in there that you don't have total control over — it's even better if you can extend that control onto page two and three," said Robert Ramirez, a senior SEO analyst who has worked in Internet marketing for over a decade. "Online reputation management is especially important for lawyers, whose name is their brand.
Read more of Rank for Your Name: Reputation Management for Lawyers – and Anyone Whose Name IS Their Brand.
---
January 6, 2014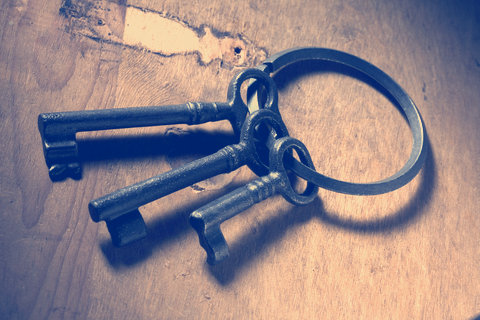 When it comes to PPC management, law firms have their work cut out for them. Keyword terms associated with attorneys and lawyers are among the most expensive keywords in Google AdWords. Law firms "can easily spend $50,000 to $100,000 per month on PPC," according to Robert Ramirez, a senior SEO analyst at BCI who specialized in legal marketing for six years. As part of the Legal Marketing Series, Ramirez shared his expert insights in 4 Things Every Law Firm Website Needs for Optimal UX and SEO for Lawyers: 4 Tips to Get New Clients through Your Website.
Today, the series continues with PPC management strategies for lawyers with expert insights from Senior SEM Analyst Michael Shore. (If you're brand new to PPC management, you can start with A Beginner's 4-Step Guide: Delicious PPC Tips for Small Businesses.)
Read more of 3 Keys to PPC Management for Lawyers … and Anyone Bidding on Highly Competitive Terms.
---