Kristi Kellogg - 3/16 - Bruce Clay, Inc. Blog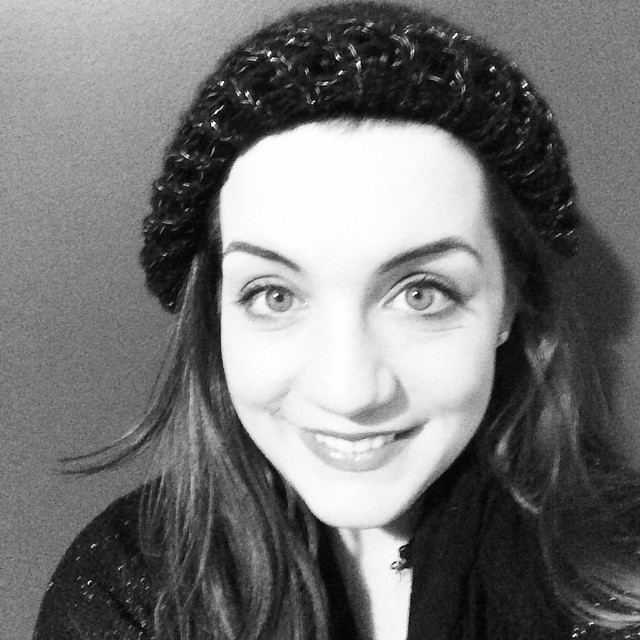 @KristiKellogg on Twitter

Kristi Kellogg on LinkedIn

Kristi Kellogg on Google+
Kristi Kellogg is a content writer at BCI, journalist and social (media) butterfly. Her articles appear in newspapers, magazines, across the Internet and in books such as
Content Marketing Strategies for Professionals
and
The Media Relations Guidebook
.
Posts by Kristi Kellogg
---
March 4, 2015
If you're unconvinced that a move to HTTPS is for you … then keep reading. Google Webmaster Trends Analyst Gary Illyes will share why Google values secure search so much, and what he and the Google team are planning next when it comes to secure search. Joining Illyes on the stage are fellow search savants Eric Enge (president of Stone Temple Consulting and author of "The Art of SEO") and Bill Hartzer (senior SEO Strategist at Globe Runner), who will also share their insights into secure search.
Article includes:
✓ A 33-Step Checklist for Moving to HTTPS
✓ A PHP hack that makes new HTTPS pages pull social sharing data from old HTTP posts.
✓ An HTTPS Q&A session with Google Webmamaster Trends Analyst Gary Illyes.
Read more of Unconvinced HTTPS is Worth It?
---
Developing an app is a resource investment, but one that can pay off in time if done right. In this SMX West session — "Search Inside the App" — Google's Mariya Moeva talks about how Google is looking at apps, and the opportunities they afford. She is joined by digital marketers Ian Sefferman and Justin Briggs. Briggs and Sefferman work in app development and analytics and they will share their latest insights straight from the trenches.
Learn how to get your app indexed in search, what "app deep linking" is, and three app development recommendations straight from a Google Webmaster Trends Analyst.
Read Mobile App Deep Linking, Development & Indexing.
---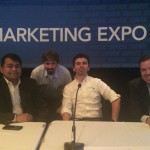 Given that Google is adding mobile-friendliness as a ranking signal, this morning's SMX West session on mobile search is packed. Everyone is eager to hear insights directly from Google when Webmaster Trends Analyst Gary Illyes takes the stage to talk about the update and answer questions from the audience. In addition to Illyes, the audience will also hear from Mitul Gandhi, chief strategist at SEO Clarity, and Bryson Meunier, Director of SEO for Vivid Seats.
The information presented in this session was pretty significant, so we're going to go ahead and tell you the two most important takeaways right up front. The two things SEOs absolutely need to take away from this session are:
1) Google's Gary Illyes revealed that there is a Google team dedicated to indexing mobile sites separately – and the separate indexing of mobile sites is something Google might experiment with in the future.
2) April 21, 2015, by all accounts, is a "very important day." That is an exact quote from Gary Illyes.
Read more of Mobile SEO in 2015: What's Important?
---
March 3, 2015
It's critical to know what your service providers are actually doing when it comes to SEO, explains Motoko Hunt, long-time search marketing consultant and the chairman of SEMPO. In this Search Marketing Expo (SMX) West "Avoiding Shady Search Marketing Practices" session, she breaks down some of the common ways shady digital marketing agencies deceive unwitting clients.
Read 14 Shady SEO Agency Lies & Client Crimes.
---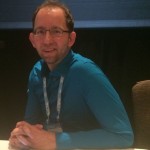 Moz's SERP scientist, Dr. Pete Meyers — commonly known simply as Dr. Pete — takes the stage to discuss the changing nature of the Google SERP, and how SEOs can respond.
Read Dr. Pete on the Ever-Changing Nature of the Google SERP.
---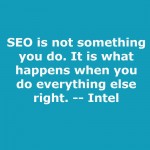 Intel is a Fortune 50 company present in 63 countries with 110,000 employees — in other words, they have a large global footprint. Today, in the SMX West session "Extending the Value of Search Beyond Your Website," Digital Intel Digital Marketing Manager, Laura Ann Mitchell, and Global Strategies Sr. Vice President, Ken Shults, will discuss how Intel approaches SEO.
Read all of Intel's SEO Philosophy – #SMX West Liveblog
---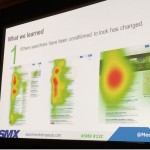 Mediative Chief Strategy Officer Gord Hotchkiss and Business Development Manager Matt Agtarap share results from their company's 2014 Google SERP eye-tracking study in the aptly titled "How Users View and Interact with Contemporary Google Search Results" session at Search Marketing Expo (SMX) West 2015.
Read the liveblog coverage.
---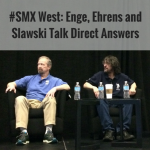 Direct answers — threat or opportunity? Three of digital marketing's brightest minds — Eric Enge, Bill Slawski and Ehren Reilly — dig into this hot topic in today's first SMX West session: "The Growth Of Direct Answers: How Should SEOs React?"
Read: How SEOs Should Deal with Direct Answers: Eric Enge, Bill Slawski and Ehren Reilly Discuss
---
February 26, 2015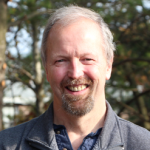 Eric Enge, CEO of Stone Temple Consulting, has been an SEO force since 1997. He's a co-author of "The Art of SEO," has a popular YouTube channel, and has written digital marketing articles for major publications such as Forbes, Search Engine Land, and Search Engine Watch, among others. Next week, he'll be speaking in two Search Marketing Expo (SMX) sessions: "The Growth of Direct Answers: How Should SEOs React?" and "How to Secure Your Site for Google's HTTPS Algorithm."
Today, Enge will shed light on the current state of search and social, complete with insights from his recent four-million tweet case study. Without further adieu, let's get to the interview!
---
February 25, 2015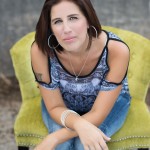 In less than one week, digital marketers from around the world for Search Marketing Expo (SMX). All month long, we've featured exclusive interviews with VIP SMX speakers, including the likes of Bing's Duane Forrester and Google's Gary Illyes. Today, we're excited to talk with one of SEO's most fiery females: Rae Hoffman, CEO of Pushfire and master of affiliate marketing and link acquisition. If you're headed to SMX, you can catch her in "Penguin Penalty Prevention: Link Acquisition & Audit Techniques You Need To Know" on March 4.
Read on to discover what Hoffman has to say about her "many moons" of digital marketing experience, her firm belief that the most effective Internet marketers stay "in the trenches," and much more, including thoughts on the good, the bad and the questionable of link acquisition strategies.
---