Kristi Kellogg - 5/16 - Bruce Clay, Inc. Blog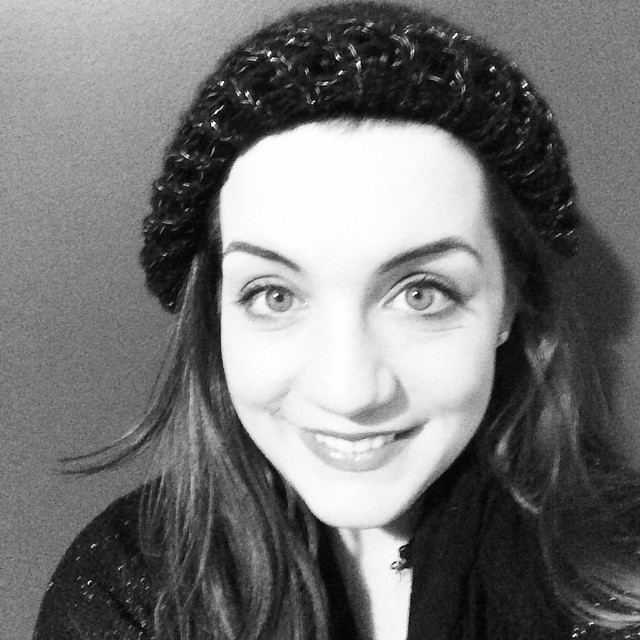 @KristiKellogg on Twitter

Kristi Kellogg on LinkedIn

Kristi Kellogg on Google+
Kristi Kellogg is a content writer at BCI, journalist and social (media) butterfly. Her articles appear in newspapers, magazines, across the Internet and in books such as
Content Marketing Strategies for Professionals
and
The Media Relations Guidebook
.
Posts by Kristi Kellogg
---
October 9, 2014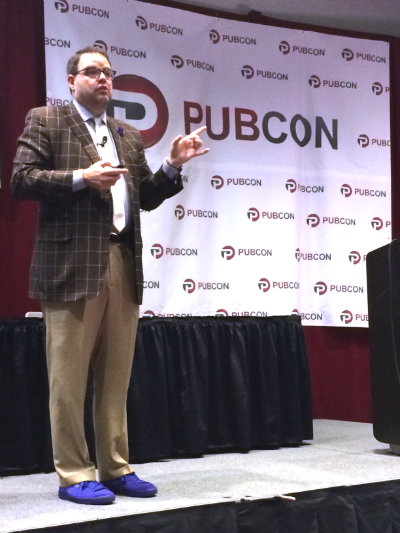 Marketing is more challenging than ever — attention spans are shorter, consumers demand more knowledge, and what worked twenty years ago won't work today. In a session packed with real world examples, Baer shows how brands are wielding transparency and "Youtility" to build trust and business.
Read Pubcon Keynote Liveblog: Jay Baer, Author of Youtility — Help Not Hype.
---
October 8, 2014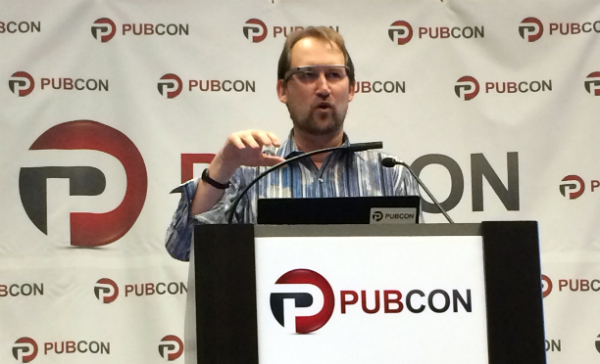 When it comes to wearables, devices and technology are becoming increasingly sophisticated, and Internet marketers are embarking on a new frontier: real-time marketing. Rob Garner, Chief Strategy Officer at Advice Interactive, is going to take the Pubcon Las Vegas 2014 audience on a tour of the real-time marketing landscape in this afternoon session.
Read the full liveblog coverage to hear the elements that make marketing real time and technologies driving the wearable technology change.
---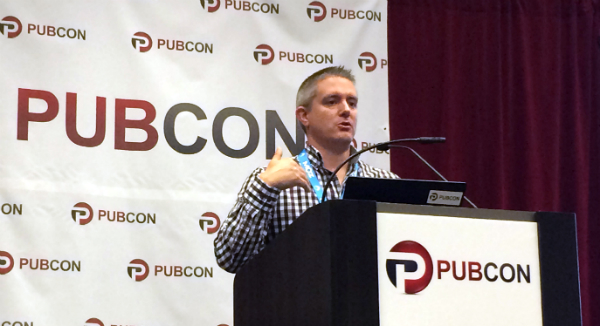 Rob Woods, SEO consultant, will share insights on press outreach that leads to strong links in this Pubcon Las Vegas 2014 session.
Why do press outreach? Mentions and links from press are one of the few authoritative links left that are guaranteed to stay safe for the foreseeable future. Press links have good link equity. One link can lead to many links. Press links are important for small, local sites as well as big, national sites. Caveat: Going after press links are hard work, take time and money, and you are going to face rejection from reporters.
Read how to get ready for an interview, find the right journalists and perfect your pitch in Pubcon Liveblog: Link Building through Press Outreach.
---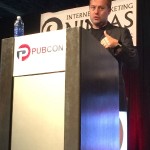 Jason Calacanis is an angel investor who has invested in companies including Uber, ChartBeat, Whisper, SignPost and Thumbtack. He invests $10 million a year and meets with 15 companies a week.
"I spend a lot of my time thinking bigger," Calacanis says. "And a lot of that has to do with watching Google say 'I have absolutely no limit to my ambition.' I spend a lot of time meeting with startups and founders … And that puts me in a unique position to be optimistic and opportunistic."
Calacanis's keynote is unique – it's not tactical or strategy-driven. It's steeped in reality and meant to simply inspire and inform the audience of the amazing progress that startups and forward-thinking companies are bring to the world in the areas of six global problems. Startups, he asserts, will solve our world's problems rather than governments. His keynote, that is meant to inspire us, will cover major advances by tech and startup companies.
Read more of Jason Calacanis's Pubcon Keynote
---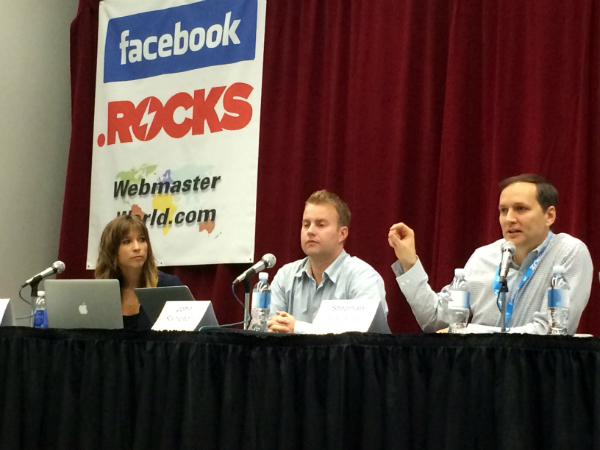 Have an interest in Pinterest? You should – there are 70 million users are Pinterest, and their business is up for grabs. John Rampton, editor-at-large at Search Engine Journal, Stephan Spencer, vice president of SEO at Covario, and Cynthia Johnson, director of social media marketing at RankLab, share their insights on wielding Pinterest for to drive traffic, build community and boost sales.
Read the full liveblog coverage of this tip-packed session that will rock your board.
---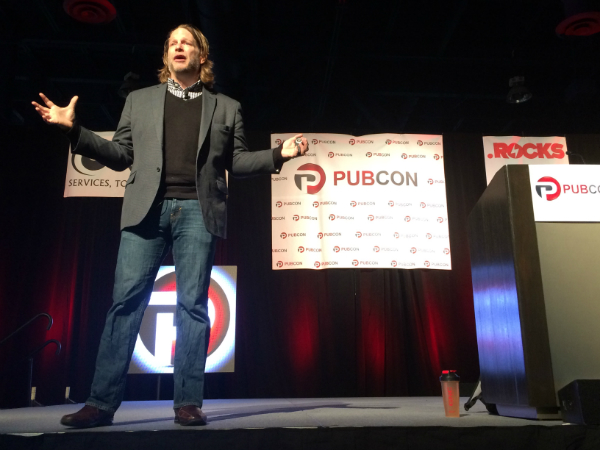 In Wednesday morning's opening keynote from Pubcon Las Vegas, Chris Brogan shares inspiring examples of brand and mission. Keep the mission alive with content and participation. Make the users the content creators. Brand is the outward expression of a mission. Mission is what drives your deepest purpose. Match these well for excellence.
Mission is the mast. Service fills the sails. Content is the drum that calls us together. Mission and service together is the best it can be. Give people something bigger than the sales pitch and they'll sell it FOR you.
But YOU have to believe, too.
Read the full liveblog coverage of Chris Brogan's keynote from Pubcon Las Vegas 2014.
---
October 7, 2014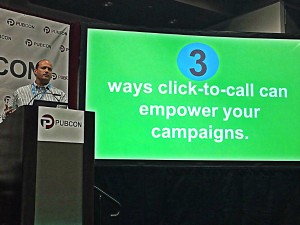 Learn how to enhance your PPC campaigns with click-to-call extensions — and why they matter so much — as Jason Spievak (CEO of Invoca) and Daryl Colwell (Senior Vice President, Matomy Media Group) take the Pubcon stage to talk mobile search advertising.
Read Pubcon Liveblog: New Mobile Behavior and Click-to-Call Strategies.
---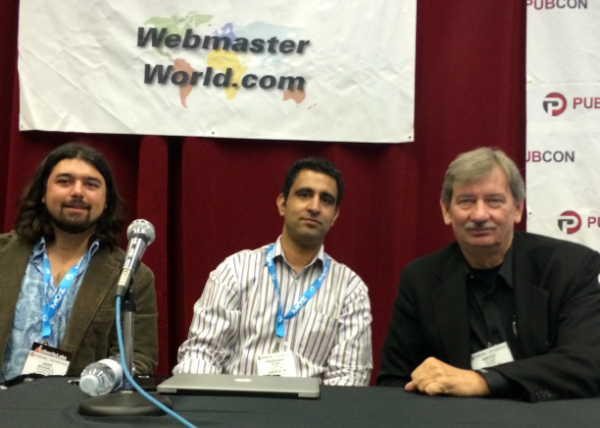 In this Pubcon Las Vegas session, Bruce Clay (president of Bruce Clay, Inc.), Prashant Puri (co-founder of AdLift) and Jake Bohall (vice president of marketing at Virante) are going to talk about an always-hot topic in SEO: Keyword data (Not Provided). Clay explains why he thinks (Not Provided) is not that big of a deal. Puri shares fresh ideas for gathering up more keyword data, regardless of keyword data provision by Google. And Bohall talks about chaos theory and how it applies to SEO.
Read Pubcon Liveblog: Search Algorithm Chaos & Keyword (Not Provided).
---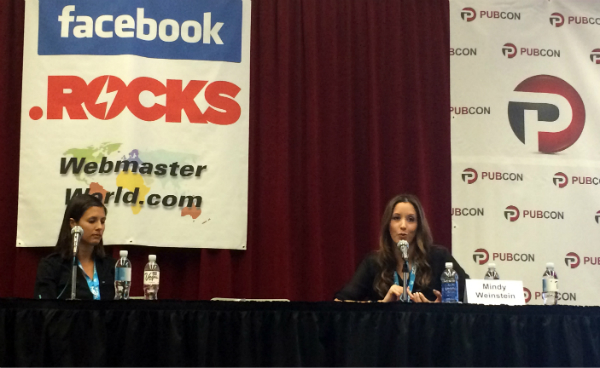 Mindy Weinstein, SEO Manager of Bruce Clay, Inc., and Lindsay Mineo, senior search strategist at ThunderActive, share tips and tools for SEO copywriting. Their lessons help writers craft content for people that's also rich for search engines. Whether you're writing an article, a blog post, your home page … where do you start? You need to start with the human element.
Read the full liveblog coverage from Pubcon's Copywriting Style Guide — Tools & Tricks for SEO Writers.
---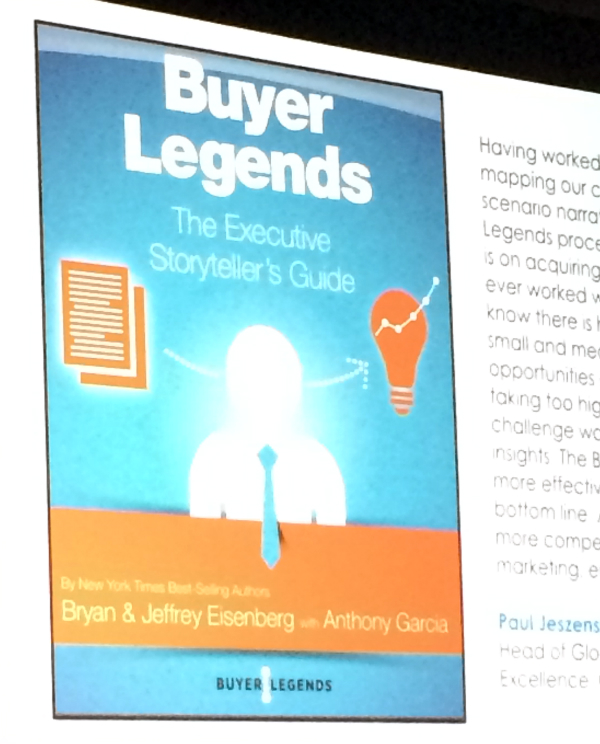 "Buyer legends" are what marketer and bestselling author Jeffrey Eisenberg calls the narratives that craft a customer journey – and it's also the name the company that he runs with his brother. In this morning's keynote, Eisenberg will dive into buyer legends, exploring why they matter and what goes into them.
People want wisdom. What they're always looking for is one thing – they love to hear one thing – do this little thing and everything will work. They just love to take one nugget that makes a huge impact on their business.
But we don't have just one thing. There's so much that goes into online marketing, and marketing at large. Knowing that there can be no one single thing that makes or break marketing, buyer legends become all the more important. Buyer legends are the narrative that craft a customer journey, but they're also an integral business process.
Read the full coverage of Jeffrey Eisenberg's keynote address at Pubcon Las Vegas 2014.
---