Kristi Kellogg - 5/23 - Bruce Clay, Inc. Blog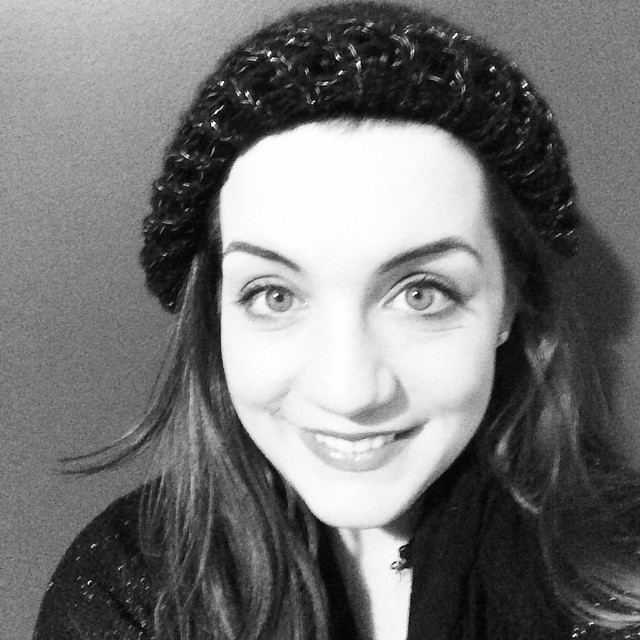 @KristiKellogg on Twitter

Kristi Kellogg on LinkedIn

Kristi Kellogg on Google+
BCI's Social Media Editor Kristi Kellogg is a journalist, news hound and social (media) butterfly. Her articles appear in newspapers, magazines, across the Internet and in books such as
Content Marketing Strategies for Professionals
and
The Media Relations Guidebook
.
Posts by Kristi Kellogg
---
October 1, 2015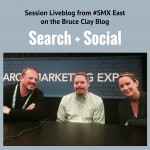 You can't think about search without thinking about social media, and vice versa. They complement each other, and both initiatives come out stronger when they're approached holistically. In SMX East's "Better Together: Search + Social," Casie Gillette, Eric Werner and Geoff Colon share their tips straight from the search and social trenches.
Read the liveblog.
---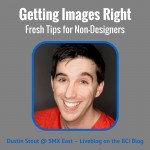 Full disclosure: I am pretty excited for this session, "Getting Images Right in Paid Search." The content team here at Bruce Clay, Inc. makes a lot of images for search and social, both for content marketing and ads. We test a lot of tools, sites and tactics when it comes to designing images. We're pretty good at what we do, but there's always room to learn more — especially from a first class designer like Dustin Stout, the CMO at Weal Media in Los Angeles. Stout does not disappoint.
"Let's put design talk into real world talk. This is for people who are not designers, but use visuals in their marketing," Stout says. Then he proceeds to teach us:
3 facts about modern visual advertising
What are the visual indicators of trust
How to achieve visual trust in your images
Many recommended sites for free photos, design tools and more
Read the full liveblog!
---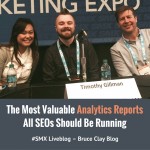 What reports do you really need for search engine optimization? How can you make sense of the volumes of data that even low-end analytics tools collect about your site visitors and activity? After all, there are hundreds of canned reports to choose from, but only a few are really relevant for SEO. And the answer is going to be different depending on which type of stakeholder wants information.
In this SMX East session, a panel of three SEOs share their tactics when it comes to reporting:
What the SEO stakeholders need
Using data to tell a story
How to build your map to Google Analytics treasure
Read the liveblog: The Most Valuable Analytics Reports All SEOs Should Be Running
---
September 30, 2015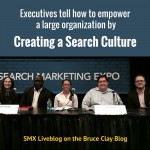 How can you create a culture that's on the same page with SEO objectives? How can you get IT on your side? What does it take to influence the C-suite to back digital marketing needs?
Glean from the experience of three major companies in this liveblog of an SMX East session titled "Empowering Your Organization with a Search Culture." Executives from Verizon, Comcast and Pernod-Ricard shared some of their insights, challenges and strategies when it comes to creating an SEO-aware search culture for a massive brand.
Read the liveblog: Creating a Search Culture in a Large Organization
---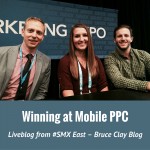 This SMX East session titled "Winning At Mobile PPC (Beyond mCommerce)" promises to take us beyond the "why you have to be on mobile" rhetoric, since that's now a given. Speakers Aaron Levy, Amy Bishop and John Busby will share from their experience (they're all senior-level ad managers) to help advertisers take advantage of mobile user behavior to drive ecommerce. They ask (and answer):
Why mobile doesn't convert like desktop.
Four types of mobile users and what they want.
How to adjust ad radius to increase activity.
What Google AdWords tools help you track conversions from phone calls or other.
Read the full liveblog.
---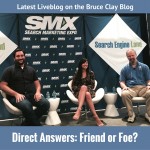 If your site gets featured in Direct Answers in search results, it can really boost traffic to your site. Don't think of them as the enemy, but as a friend!
So say Eric Enge, Ehren Reilly and Amber Fehrenbach, who presented their key insights into Direct Answers at an SMX East session. Sharing data and examples straight from their agencies/brands, they showed:
How Direct Answers is growing
Benefits of being cited in a Direct Answer
Advice for getting featured in Google Direct Answers
Preferred tools to help optimize
Which types of businesses lose
Read the liveblog for all the research and insights.
---
Brad Bender, vice president of product management at Google Display Network, delivered a keynote at SMX East 2015. Google VIPs often use the SMX stage to share big announcements, and today was no exception!
Read the full liveblog to find out Google Display Network's announcements and how to use new programmatic advertising capabilities to reach your perfect audience.
---
September 29, 2015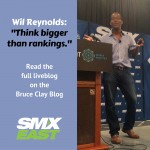 If someone took your content away from the web … would anybody miss it?
Wil Reynolds (@WilReynolds), founder of Seer Interactive, wants you to think about this.
Does your content solve a problem, or does it exist simply to exist? If you're doing content for content's sake, or focusing on ranking just for ranking's sake, you're playing the digital marketing game wrong. Because your chief concerns should be the user, their frustrations, and creating content they can trust.
Read the full liveblog.
---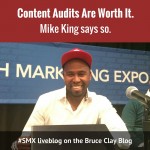 Content audits are worth it.
Or so says Mike King (@IPullRank). He's diving into content audits in "Perfect Starts: How to Get More of the Right Traffic" at this SMX East 2015 session. Fair warning: he has a lot to say, and he talks fast — this liveblog captures the highlights.
Read more of the liveblog (and slides) for Content Audits Are Worth It
---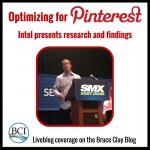 If your target audience is using Pinterest, it's time to start optimizing for this search engine (because it's not a social platform). Intel's Director of SEO Laura Mitchell and Community Manager Scott Jaworski (@scott_jaworski) provide tips on the most effective SEO tactics to apply on Pinterest.
Read the liveblog.
---