Kristi Kellogg - 5/23 - Bruce Clay, Inc. Blog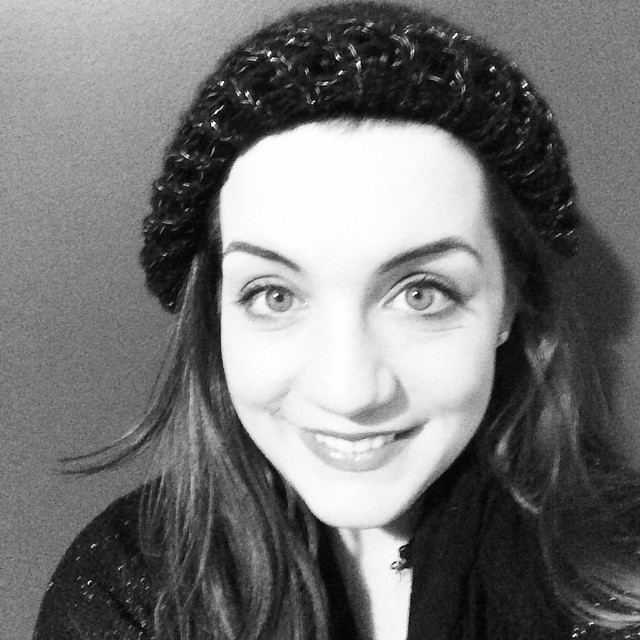 @KristiKellogg on Twitter

Kristi Kellogg on LinkedIn

Kristi Kellogg on Google+
Social Media Editor Kristi Kellogg is a journalist, news hound and social (media) butterfly. Her articles appear in newspapers, magazines, across the Internet and in books such as
Content Marketing Strategies for Professionals
and
The Media Relations Guidebook
.
Posts by Kristi Kellogg
---
October 9, 2015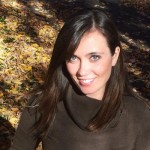 Katy Katz (@KatyKatz), content director at Inturact, got her BA in art history, and today at Pubcon Las Vegas 2015, she's delivering a talk on how hacking art history can actually help with content creation. Looking at the epic paintings of the past and how artists have crafted them gives content marketers fresh insight into creating quality, high-impact content, according to Katz.
Most people forget 90 percent of what you share, she says. Good content won't cut it anymore. It has to be great. Like Rand Fishkin said in his Pubcon keynote, your content has to be 10 time better than everything else. Read on for tips from Katz, based on the lessons she's learned from the great artists of history.
---
October 8, 2015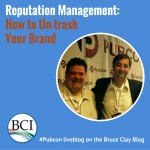 What happens in Vegas may stay in Vegas, but what happens online spills into the real world and affects brands and businesses in a major way. Live from Pubcon Las Vegas 2015, Simon Heseltine, senior director of audience development at AOL, and Tony Wright, CEO and founder of WrightIMC, are giving an example-packed presentation titled "Reputation Management: How to Un-trash Your Brand" on the ins and outs of online reputation management.
Heseltine is up first, and he's going to share the way people and brands fail at online reputation management, before he turns it over to Wright — who will share how to combat the fails.
Read the full liveblog.
---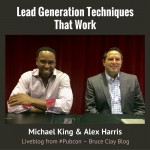 Want to up your ante when it comes to generating new, quality leads? It's a high priority for all brands and businesses, and the gentlemen speaking in this "Lead Generation" session at Pubcon Las Vegas 2015 have tips that can take your #LeadGen game to the next level. Without further ado, here's the lineup:
Michael King, founder of iPullRank
Alex Harris, creative director at AlexDesigns.com
Alex Harris starts: "I'm not a fan of the term CRO — I prefer 'marketing optimization.' Because that's what we're doing."
Read the full liveblog (with slides).
---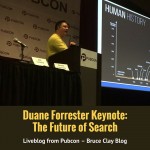 Bing's face of search, Duane Forrester, is going to deliver a lively keynote at Pubcon Las Vegas 2015. Titled "The Future of Search May Not Be What You Expect," his stat-packed talk will cover many topics, including:
• Millennials (the group everyone is trying to market to)
• Mobile and wearables
• Agents
• The future of search
Let's dive in! Read the full keynote liveblog.
---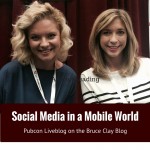 Two social media managers share their strategy when it comes to social for mobile specifically, in this Pubcon Las Vegas session aptly titled "Social Media in a Mobile World."
Read the entire liveblog.
---
October 7, 2015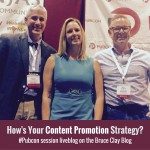 Influencer marketing and social ads are the hot topics up for discussion in the "Content Promotion Strategy: Including Pay-to-Play" at Pubcon Las Vegas. Speakers Will Scott, Phillip Thune and Casie Gillette are going to walk through their best strategies for:
Native advertising
Influencer marketing
Content creation, planning and promotion
Read the full liveblog.
---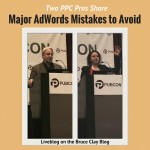 Our own David Szetela takes the stage along with Mona Elesseily to share insights on mistakes that search engine advertisers commonly make. This Pubcon Las Vegas session targeting the paid search crowd is titled "The Top Major AdWords Mistakes and How to Prevent Them." Take in these veteran PPC pros' advice and you may avoid the PPC mistakes that even the most savvy search marketers sometimes make!
Read the full liveblog.
---
October 6, 2015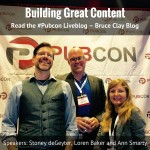 Content – it's a chief component in everyone's digital marketing strategy. More than just tips, this morning's Pubcon Las Vegas session on "Building Great Content" includes a case study on American Eagle Outfitters that highlights just how critical strategic content marketing really is.
Read the in-depth liveblog coverage of this session featuring Loren Baker, Ann Smarty and Stoney deGeyter.
---
October 2, 2015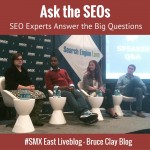 Four expert SEOs take the stage in SMX East 2015's "Ask the SEOs" session. This popular Q&A free-for-all is where the audience can ask them … anything! But first, let's meet the SEOs:
Mike King (@iPullRank), founder of iPullRank
Hillary Glaser, SEO manager at Campbell Ewald
Cindy Krum (@Suzzicks), CEO at MobileMoxie
Marshall Simmonds (@MDSimmonds), founder and CEO of Define Media Group
Read all the questions and answers in the Ask the SEOs liveblog.
---
October 1, 2015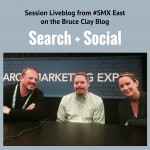 You can't think about search without thinking about social media, and vice versa. They complement each other, and both initiatives come out stronger when they're approached holistically. In SMX East's "Better Together: Search + Social," Casie Gillette, Eric Werner and Geoff Colon share their tips straight from the search and social trenches.
Read the liveblog.
---