Lisa Buyer - Bruce Clay, Inc. Blog
Posts by Lisa Buyer
---
November 18, 2013
Optimizing, socializing and publicizing an event is about enticing attendees, but it's also about attracting and engaging the people who are not attending including the media, bloggers and high-profile influencers.
That concept caught my Social PR eye when I shared a panel at SES London with Digital PR Expert Mel Carson, who at the time was the brand evangelist for the Microsoft Advertising Community. Mel shared a case study of Microsoft Advertising social media marketing strategy that included more than sponsoring and attending conferences, they brought them to life for the people outside the event by live tweeting, blogging, video interviews and capturing and sharing images of the conference, covering the event as on-the-spot journalists; more than just sponsors. I'll share that case study here with you.
Using social media outlets to report on the company's own branded events or from industry conferences can be an effective Social PR content strategy, helping position yourself as a thought leader for industry news sources. It boils down to building an online social media news hub around your offline activities, ultimately creating a platform from which your online audience can enjoy and interact with the brand.
Read more of "Social PR Secrets"'s Lisa Buyer's Optimizing an Event to Attract Media.
---
September 15, 2011
Both Google and Bing say social signals are factored into their ranking algorithms for "regular" search results.  No surprise. So it was also no surprise it was standing room only at SMX East Facebook, Twitter and SEO session designed for the serious search and social crowd! Danny Sullivan gave introductions with a reminder that not […]
---
September 14, 2011
What does Google+ mean to SEO, PPC, Social Media and the real world? The Google+ powered panel for "Up Close with Google+ and Google +1" shares all we need to know (or at least what they are allowed to tell us) at the after-lunch, SMX East session. Danny Sullivan puts us in a Google+ frame […]
---
September 13, 2011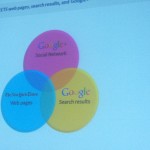 Google+ debuted with an invitation only "hello" just 10 weeks ago and today we gather as SMX East takes its first up close and personal look at the who, what, where and "WTF" we should expect from Google and the +1. What we know: Google is using +1 results to make search results more personalized […]
---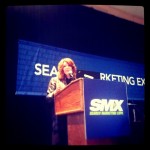 In this session, Christine Churchill, president, KeyRelevance (@keyrelevance) takes us through her strategic process of keyword research through discovery, research, expansion and evaluation with tip sheets. She walks us through some of the best practices in keyword research and copywriting dos and don'ts for SEO, PPC, social media and the up-and-coming mobile user market.
Read more of SMX East 2011: Keyword Research and Copywriting for Search Success .
---
June 12, 2011
You 'Like' SEO! Then you must 'LIKE' Facebook. Yes, my SEO friend, Facebook is SEO and 'Like' it or not, Facebook can't be ignored. With almost 700 million users, tides are turning to Facebook, coined the 'unofficial' Official Social Network. Also known as the Social Web, Facebook is staking a claim in the online mindshare […]
---
June 8, 2011
The social signals are brewing in Seattle with the session 'Yes Virginia, Tweeting is SEO' powered by an expert panel poised to reveal the secret SEO sauce of Twitter.
Read more of Yes Virginia, Tweeting is SEO – SMX Advanced.
---