Rachel Medanic - Bruce Clay, Inc. Blog
Posts by Rachel Medanic
---
February 22, 2013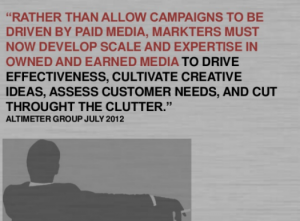 Mad Men, content as gold (or currency) and the interactive realities now coming to life via e-books, social reader apps and mobile devices were hot topics at the Intelligent Content Conference held earlier this month in San Francisco.
The 5th annual event focuses on advanced information creation, management and delivery strategies and had a number of great sessions for anyone who deals with content—not just creators but information architects and strategists, too.
According to the 2013 B2B Content Marketing Benchmarks, Budgets and Trends report from the Content Marketing Institute and Marketing Profs, the #1 challenge content marketers face is producing enough content.
In my line of work, I focus on daily challenges faced by curators and creators who are trying to bulk up their owned media. The insights here are weighted heavily toward that audience. But there have been tremendous shifts in publishing. Every company is getting into the game and the need for intelligent content is now critical. This conference taught me a lot and is a great resource for any content creator who wants their content to be viable in the future.
Read the full post of insights from the Intelligent Content Conference.
---
December 21, 2012
Content with intent is what we seek to do in the business world. There is much to be learned from the imaginative ways people have responded commemorate those who were lost in the Sandy Hook tragedy last week.
With examples of people (ordinary to famous) using content for change, we can take these 5 elements forward into our content marketing strategies for the New Year.
Read more of The Content Marketer's Shortest Day: Inspirations to Let Content Be Your Light.
---