Bob Meinke - Bruce Clay, Inc. Blog
Posts by Bob Meinke
---
June 27, 2012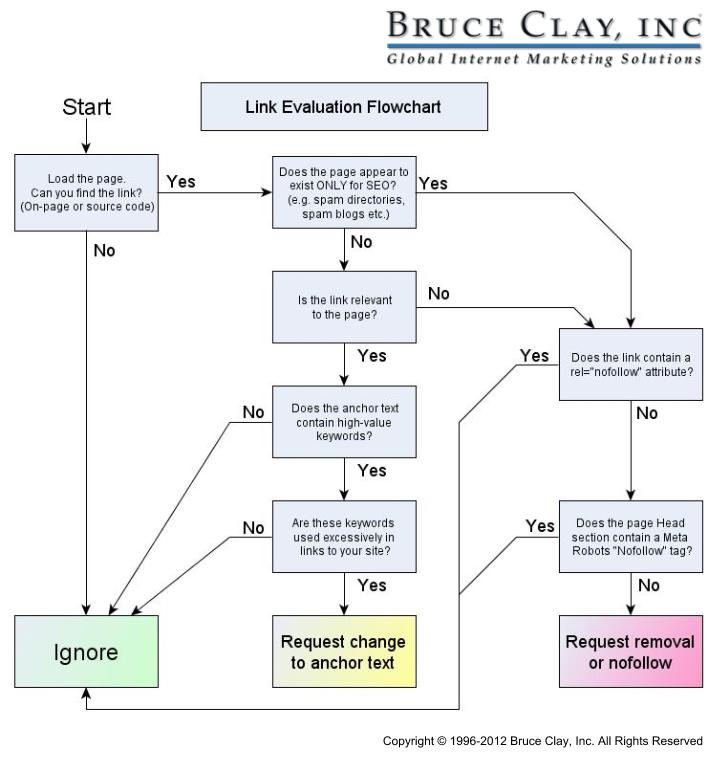 At Bruce Clay we've been performing SEO penalty assessments and link pruning projects for some time now, and we've found that by far the most tedious part of the process is manually evaluating each and every backlink. Especially if you've got a list of 45,000+ URLs to sift through.
We created this flowchart in order to make the process as efficient as possible, as well as to ensure that our analysts use the same metrics when working independently on the same project. We hope you find our chart as useful as we have.
See the Link Evaluation Flowchart.
---
April 12, 2012

A couple months ago, I read a great article on how to get an extra rows of stars in Google Places by inserting the new hReview markup code onto a page of your site.
One of the new microformats for the in-progress Semantic Web, hReview lets webmasters markup customer reviews for products and/or services so search engines can understand what product or service is being reviewed, who's reviewing it (or how many reviews there are if it's aggregated) and what rating they've given. The rating shows up on SERPs as a row of golden stars.
The hReview format just looked too good to be true, especially because it could work for any listing on the SERP, not just local listings. I thought to myself, all you have to do is stick a scrap of code on your site and Google will give you a row of stars beneath your SERP listing?
Read more of Why Is Google Allowing Rich Snippet Spam?.
---
February 3, 2012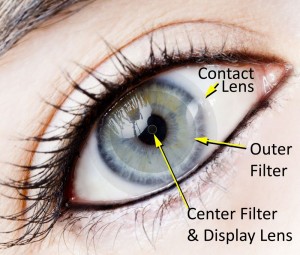 What will SEO and SEM look like in the year 2022? In this post by BCI staffer Bob Meinke, he dives into the possibilities of the future as marketers in his entry into a content hosted by SEO Chicks, dubbed "SEO: The Next Generation."
Read more of The Optimized Future: SEO in the Year 2022.
---
December 28, 2011
In 2011 the Digital marketing industry had yet another year full of huge changes. In other words, it was business as usual. Google rolled out its Panda update, an adjustment to the search ranking algorithm that aims to remove low-quality content from search results pages. The update also had repercussions for the practices of conversion rate optimization and analytics. To help you keep track of these changes and more, here's of the first day of our "Best of Search Conferences" for 2011, with top takeaways for analytics, paid advertising, SEO and CRO.
Read more of Best of Search Conferences 2011: Day 1.
---
November 23, 2011
If you've been in the SEO field more than five minutes, you've likely become familiar with the informal "Black Hat"/"White Hat" classification system for SEO techniques. White Hat methods involve creating useful, original methodologies and content for humans, and then presenting that content so that search engines can find it and show it to whoever's looking for it. Black Hat techniques involve deceiving users and search engines in order to achieve rankings without providing long-term value and potentially causing the client harm.
Then there's a third category of techniques that don't fall easily into either the "white" or "black" category. They seem to exist at the borderline between the two, an ethical gray area, so they're referred to as "Gray Hat." The problem with Gray Hat techniques, however, is that they don't exist.
Read more of There's No Such Thing as "Gray Hat" SEO.
---
October 26, 2011
You've probably heard that writing controversial blog posts is a sure-fire way to attract new readers. You've also probably heard it dismissed as a gimmick. Well, just because it's a gimmick doesn't mean it won't work – you just have to be careful how you use it. If done correctly, the short-term attention generated by your controversial blog post can be used to expand your blog's readership and attract links. Here's some tips on how to create a solid blog post when attempting to tackle a controversial topic.
Read more of How Not to Suck at Controversial Blogging.
---
October 5, 2011
So you've got a nice little blog supporting your business, you're posting regularly, and you've found a balance between being too tame and too controversial for your topics. But your comment threads are full of spam – bland, vague comments that do nothing to further the conversation, and worse yet, link out to untrustworthy sites that can harm your site directly and by association.
As long as webmasters keep finding ways to identify comment spam, spammers will keep finding ways to evade detection. The comment spamming arms race will likely continue as long as spamming is still profitable (i.e., forever), but here are some of the latest tricks spammers use, and solutions you can employ to fight them. As an added bonus, we'll include freshly harvested examples of spam from this very blog.
Read more of How to Recognize Comment Spam in Your Blog.
---
August 23, 2011
We've got an action-packed newsletter coming to you, set to hit inboxes in the next hour! In our August newsletter, you'll find essential advice on optimizing your site for local searches, an exclusive interview with Digital marketing pioneer Bruce Clay, and a guide to creating infographics that will grab your visitors' attention.
Read more of Local SEO, Designing for Engagement and Bruce Clay Unplugged – SEO Newsletter.
---
August 16, 2011
Bruce Clay, Inc. is proud to announce the winner of our Small Biz Local Discovery Contest. We asked for an article that addressed the question, "How would you advise a small business owner on how best to use SEO, PPC or Social Media to drive conversions to a local business?" We received four submissions jam-packed with excellent recommendations for local businesses looking to optimize their online presence, and our readers choose their favorite. Voting ended Wednesday, August 10, and we've tallied up all the votes.
Read more of Announcing the Winner of our Small Biz Local Discovery Contest.
---
July 19, 2011
Hot off the presses, July's SEO Newsletter is packed with helpful advice about new developments and services that no Internet marketer can afford to miss.
In this edition of the newsletter you'll find guidelines for implementing the Google +1 Button on your website, best practices for optimizing a local business's Google Place page and an illustrative look at an interdisciplinary approach to Digital marketing.
Read more of July's SEO Newsletter: Google+, Google Places and Holistic Marketing.
---