Virginia Nussey, Content and Media Manager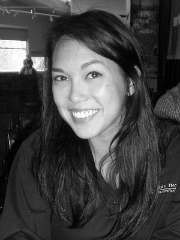 Virginia Nussey on Facebook

 Virginia Nussey on Instagram

Virginia Nussey on Google+

 @virginianussey on Twitter

 Virginia Nussey on LinkedIn
I'm Virginia Nussey, content and media department manager at Bruce Clay, Inc. I joined BCI in 2008 as a content writer and blogger, armed with a fresh master's degree in online journalism. Now I oversee and edit content we write for our clients and also manage BCI's own content, from the website and blog to our weekly podcast, monthly newsletter, multiple books and social communities.
Find me across social with the links above, but be warned! These days my posts are predominantly photos of my baby.
Posts by Virginia Nussey
---
March 19, 2014
In the second week of December there were an increasing number of reports that author photos weren't showing up as often in SERPs. At Pubcon Las Vegas last year Matt Cutts said that when they reduced the number of authorship results shown in SERPs by 15% they saw better results. Take that to mean whatever Google speak you think it means. Here's the initial drop followed by continued periods of volatility.
Read more of Google+ and Authorship: 2014 Hot Topics and Trends
---
Presenter Kim Krause Berg @kim_cre8pc, Internet Marketing Ninjas, will talk about how to get your ducks in a row before you start building your site and always include conversion elements in your design.
Conversions are turning visits into sales. You think conversions are making money, getting subscriptions, increasing form submissions, increasing sales leads
Your target users think conversions are …
Do you have what I need?
Are you genuine, credible?
Do you provide excellent customer service?
Prices?
Opt-in/opt-out signup
Are they spying on me?
Will I be able to read it?
Can I access the site from my phone?
Can I get in and out in a hurry?
Read more of #Pubcon Liveblog: Conversion Web Design.
---
Will Scott from Search Influence opens up the session by announcing that Google sucks …
Google treats small businesses as a rounding error in their economic equation. A strategy for local businesses is barnacle SEO: attaching oneself to a large fixed object and waiting for customers to float by in the current. Google says the most important thing in business is sincerity. If you can fake that, you've got it made.
Google has a weakness; they're a sucker for big "authority" sites:
YouTube
Yelp
Pinterest
Facebook
Houzz
YP.com
Read more of #Pubcon Liveblog: Local Search Hot Topics and Trends.
---
Peter Shankman invented a mailing list called HARO. And that wasn't new. People knew what a mailing list was when he started it. The only difference is he made it really hard to not read it. When he was building HARO he came up with four rules for running his business.
$300 billion was left on the table last year due to bad customer service. Consumers don't expect to be treated well. If you can be one level above crap you'll win. Following these four rules will cause you to provide good customer service.
First, some background on him. Peter was in grad school in Santa Barbara studying fashion photography until his financial aid dried up and he moved into his parents' basement in New York. He was hanging out in the Melrose Place chatroom on AOL. Two weeks later he was working in the newly launched AOL newsroom. While working there he learned two lessons.
Read more of Pubcon Liveblog: Peter Shankman's 4 Rules of Customer Service and Social Media.
---
March 18, 2014
Do you think your business is "boring"? Do you struggle with creating content that matters? The next presentations are for you.
First, let's dispel a common myth. There's no such thing as a boring industry. Every industry exists to fill a need, to do necessary things, for people who care about getting the best service.
There is, however, boring content. This includes content that is not useful, doesn't speak to target audience, or isn't interesting or entertaining. Good content furthers your strategy and goals.
Read more of Content Marketing Tips for "Boring" Brands.
---
Our own Bruce Clay, president of the org that publishes this fine blog, lays a roadmap for search engine optimization in the coming year. The SMX West conference last week and comments made there by Google employees (at Meet the Search Engines and Amit Singhal's Keynote) are the source of this presentation.
Bruce has been performing search engine optimization since 1996 and has watched SEO techniques and strategies evolve over the last 2 decades. He wrote the book on SEO — "SEO All-In-One for Dummies," which covers time-tested algorithm-proof optimization methodology.
Read more of SEO 2014: Bruce Clay's PubCon South Roadmap of What to Expect.
---
These three speakers (Jake Bohall, Bill Hartzer and William Atchison) will sort through issues of the volatile algorithm with the aim of educating and making us less vulnerable to the constant change. Jake Bohall kicks it off the session.
Bohall notes that in 2011, Eric Schmidt testified in front of Congress and said there were more than 500 changes to the Google algo. This graph shows just eight named changes. All the changes we don't even know about happening behind the scenes have an effect on what SEOs do.
We've also seen negative SEO rising. Matt Cutts has said that doesn't happen and it doesn't have any noticeable effect, but Jake sees a lot of it happening all the time because they're digging into link cleanup efforts.
Inconsistency with Guidelines: Google has clear guidelines that instruct webmasters to avoid tricks intended to improve search engine ranking including any links intended to manipulate PageRank or a site's ranking in Google results. Even "natural" links would be considered a way to improve your ranking, so there's some inconsistency there.
So what's an SEO to do? Read more of #Pubcon Liveblog: Algo Chaos.
---
Dr. Cialdini has changed the way business is done. Principles of Influence have come to be the measuring stick on which business decisions are made. Considered among the top business and marketing book lists. He has taught at Stanford's business school and Harvard's government school. He is the most cited social psychologist in the sphere of business.
He's going to talk about 2 things:
•Persuasion
•Uncertainty
One is good for moving people in our direction, while the other is not. Uncertainty is a time when people freeze and want clarification before moving forward. So how do we persuade people that now is the right time and that what we suggest is the solution?
There's a challenge in that you may not know the exact merits that would solve the particular problem a consumer is facing. However, Dr. Cialdini can tell us the best way to present the information so that they open their ears and minds to the offering that you are presenting.
Read more of #Pubcon Liveblog: Keynote — Robert Cialdini, Author of "Influence".
---
March 13, 2014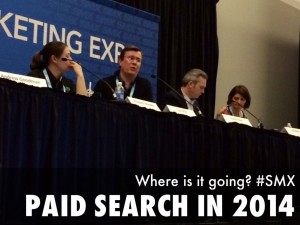 Four industry experts discuss Enhanced Campaign strategy, budgeting, ROI, whether PPC "not provided" could become a reality in 2014, why display and mobile are the future, how social media ties into SEM, and much more in this PowerPoint-free SMX West session.
Read more of #SMX Liveblog: Where's Paid Search Going In 2014? #34B
---
For the SMX West grand finale, Google's +Matt Cutts and Bing's +Duane Forrester joined host +Danny Sullivan on stage for an audience Q&A session.
After introductions (and a selfie photo, which has become a theme this week), they dove into a back-and-forth discussion of many topics, including:
• What Amit Singhal might have meant when he hinted at an announcement regarding (not provided) keyword data
• Matt's rundown of "themes of the year"
• Google's progress shutting down link networks world-wide (and an unnamed "well-known guest blog network" soon to be penalized)
• How penalties will or won't follow when …
Read more of Meet the Search Engines
---