Virginia Nussey, Content and Media Manager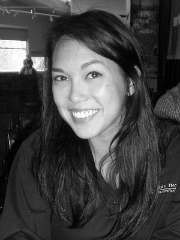 Virginia Nussey on LinkedIn

 Virginia Nussey on Facebook

 Virginia Nussey on Instagram

Virginia Nussey on Google+

 @virginianussey on Twitter
Virginia Nussey is the content and media manager at Bruce Clay, Inc. She joined the company in 2008 as a writer and blogger. Today she produces and manages content for clients and BCI, including the company's website, blog, weekly podcast, monthly newsletter, multiple book titles and social media presence.
Posts by Virginia Nussey
---
March 3, 2016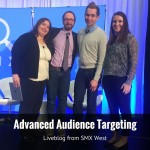 If you can do precise audience targeting, you can have more control over who sees your ads — and get more conversions for your marketing buck! In this in-depth SMX West 2016 session, we'll find out how to use advanced targeting techniques like remarketing lists, custom affinity lists, YouTube remarketing and more. The goal is to maximize your ad campaign ROI.
Speakers Joseph Kerschbaum, Mark Irvine and Amy Bishop give in-depth task lists and examples for marketers to follow. Dive in to learn more: Advanced Audience Targeting liveblog from SMX West
---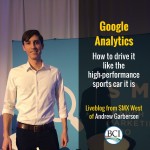 You're using Google Analytics, but, as the SMX West audience just learned from speaker Andrew Garberson, you're merely scratching the surface of the tool's usefulness in your work life.
First, a story. Your 80-year-old neighbor gives you a call and says that he wants to buy an electric car. He mostly just drives to the grocery store and around town, and everyone agrees he should probably stop riding around town on his bike.
You think of a list criteria for a good car for him: safe, efficient, a good warranty. He drives home in a Tesla, and yes, this meets all the criteria, but it's a little more than that. It goes 0-60 in 2.8 seconds.
Google Analytics is like the Tesla. It's a sports car and we're driving it like we've got the emergency brake on. Let's drive it like the high performance machine it is.
---
March 2, 2016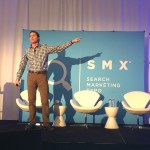 There's an invisible web. Just because it's out there doesn't mean the search engine can see it and attribute it correctly. The invisible web is a concept that was introduced in Chris Sherman and Gary Price's "The Invisible Web" in 2001.
In 2013, search marketers saw a big spike in direct referral traffic. Our speaker Marshall Simmonds (@mdsimmonds), Founder and CEO, Define Media Group, Inc. explains what is causing dark search and social traffic, traffic with no referrer data in analytics. Search marketers need to protect their budget by understanding it and explaining it to non-technical people.
---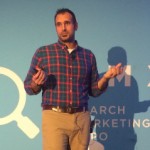 The speaker for this SMX West mini-session titled "Understanding Your Consumer's Journey – Using Search Science for Keyword Research" is Tony Verre, founder of DreamFire Digital Marketing.
He opens with a question: Does anyone here use consumer surveys as a major data point when creating your strategies? You can only believe half of what you hear and read. Accept that consumer surveys don't always tell the truth.
Find out how to use 4 "search science" keyword research tools to find reliable data points for understanding the consumer's search journey.
---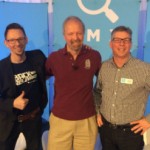 SEO is very tactical. We always try to look behind the curtain of Google's algorithms. So, it's no surprise that we all want to know more about RankBrain, Google's machine learning system that they confirmed out of the blue in October 2015 was "the third most important ranking signal" in their algorithm.
In this SMX West session, we'll learn about RankBrain based on studies done by the speakers: Marcus Tober of Searchmetrics and Eric Enge of Stone Temple Consulting. They'll present findings as well as the implications for SEO.
Read the liveblog to find out about RankBrain.
---
March 1, 2016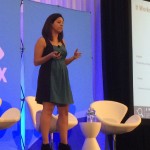 Cleo Hage, Paid Search Strategist, Wordstream, is going to talk about the future of email marketing. Yes, this is an SEM presentation.
Email is the OG of digital marketing.
Email is cluttered.
Email is growing.
Emails aren't going anywhere.
You log into things, get updates and receive shipping notifications through email. Even a GOOD email campaign has a 20% open rate. And then a click-through rate of 5% on top of that. You're left with FOMO — 80% of unopened email and 95% of lost leads.
The answer is Customer Match, the ability to upload lists of email into AdWords to create audiences for precision targeting!
Read about how to use Customer Match to target individual specific people in search ads, YouTube Ads and Gmail Ads in our liveblog coverage of this session from SMX West.
---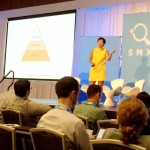 A favorite Googler and SMX presenter, Maile Ohye, senior developer programs engineer at Google Inc. (@maileohye), explains that in 2004 and 2005, Matt Cutts used to say that search engines are chasing the user. In other words, the engine wants to serve the user first and then everything else (rankings, results pages) follow. A problem occurs when when websites then chase the search engines.
An alternative view is when search engines and websites both chase the user, but this is oversimplified. Today she suggests a cultural shift to serving the customer, not the user.
Read about how that all plays out in real life in this liveblog SMX West coverage of Doing What Matters for SEO & Google in 2016.
---
From the SMX West agenda: "A search marketer's ultimate goal is to create a personalized ad for every searcher. While we aren't quite there yet Ad customizers, DSAs, and Dynamic Remarketing can automatically personalize ads based on website content, user behavior, time of day and many other criteria. In this session, we will examine tactics and tools to create personalized ads at scale."
Read our coverage of this session with moderator Brad Geddes and speakers Sahil Jain and John Lee.
---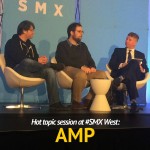 One hot topic these days is AMP, short for Accelerated Mobile Pages.
At SMX West, Danny Sullivan moderates as Google VP of Engineering Dave Besbris and Paul Shapiro, organic search director at Catalyst and an early user of AMP, give in-depth presentations followed by a Q&A period to cover:
What AMP is
Pros and cons of using AMP
Features of AMP (what it's good for, what it's not)
Technical details about implementing AMP (such as components, analytics tracking, including ads with AMP, etc.)
The three are on stage, and Danny Sullivan introduces us to our presenters by telling us that Dave goes by Bes and that Paul wrote this SEL article: "How to Get Started with Accelerated Mobile Pages."
Dave "Bes" Besbris is our first speaker. Shapiro says Danny Sullivan told him there is a speaker dress code, so he wore his formal hoodie today. ;)
You may have noticed the change to a SERP where there's an AMP carousel at the top of the page. The reading experience inside an AMP document is excellent. They didn't want to reinvent something new, they wanted the experience to be the web.
---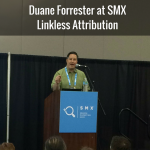 Is it possible to gain trust online without links? And if so, what are links good for? BCI's Duane Forrester sets the record straight in this brief but valuable #SMX West 2016 theater presentation.
Read the liveblog Linkless Attribution: Why What People Say Will Matter More Than Ever.
---