Virginia Nussey, Content and Media Manager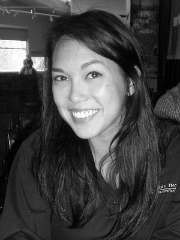 Virginia Nussey on Facebook

 Virginia Nussey on Instagram

Virginia Nussey on Google+

 @virginianussey on Twitter

 Virginia Nussey on LinkedIn
I'm Virginia Nussey, content and media department manager at Bruce Clay, Inc. I joined BCI in 2008 as a content writer and blogger. Now I oversee and edit content we write for clients and BCI. The company publishes a website and blog, a weekly podcast, monthly newsletter, multiple books and has a presence on many social communities.
Posts by Virginia Nussey
---
September 30, 2014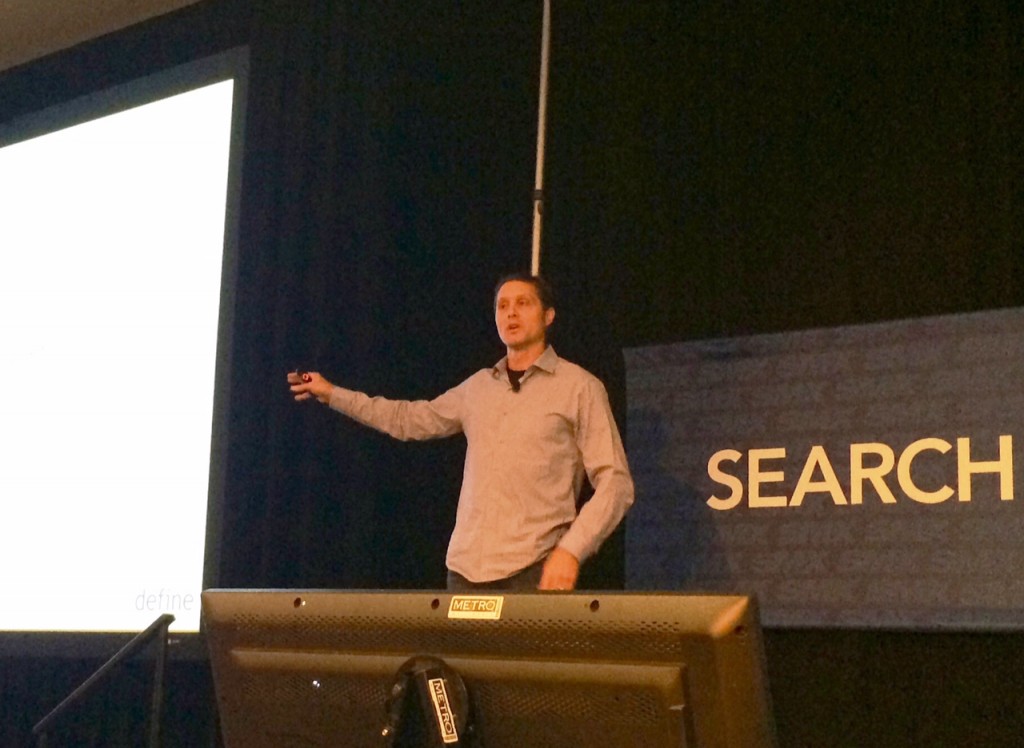 In this opening Summit session at SMX East, the SEO thought-leading veteran Marshall Simmonds puts to rest the popular critique of search engine optimization, "SEO is dead." He explains: "If Google is constantly changing, we [search marketers] have to be constantly moving to meet those changes. SEO can never have a beginning, middle and end because it's constantly changing. The second upper management believes SEO is dead is the moment you start failing."
Read more in SEO Is Never Dead with Marshall Simmonds.
---
September 25, 2014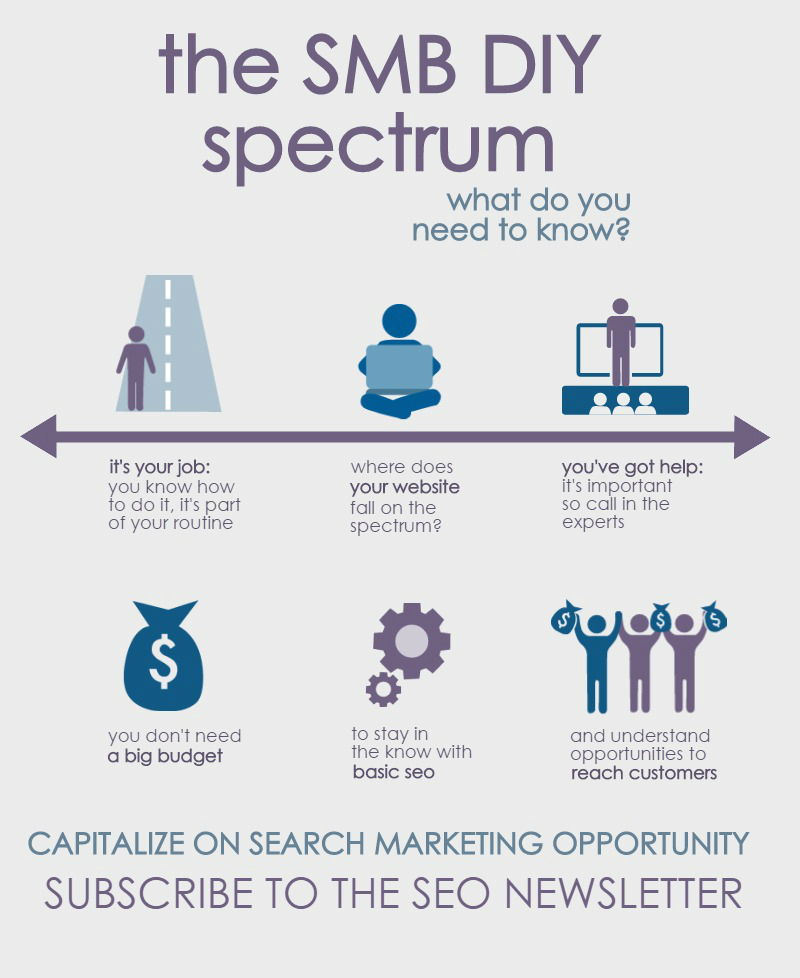 Odds are good that maintenance and promotion of your website fall somewhere in the middle of your skill set, from expert to overseer. Even if you're hands off, it would do you good to know what's new and next in SEO. That way, you can make sure your web presence is capitalizing on opportunities. To that end, you'll find the latest SEO info from the last few months, and the search engine optimization tips it necessitates, in this article that covers:
The Google Quality Rating Guidelines, a brilliant resource that illuminates Google's quality assurance program for its search results. Written for human QA reviewers, the document explains how to judge quality, on-page elements and reputation of websites in a variety of categories. Here we shed light on new ways to understand how Google determines expertness, authority and trust.
Google's abandonment of Authorship markup. Author photos and bylines next to search results are gone, and the 35% click-through rate increase those photos seemed to generate. Do you have authorship markup on your site? Will you remove it? Maintain it? Nofollow links? Find out what to do about authorship markup here.
A new minor ranking signal in HTTPS (secure encryption). When Google confirms anything to be a factor in their ranking algorithm, businesses seeking a competitive edge take note. But before you demand your webmaster secure your entire site, learn the costs and requirements of HTTPS.
An adjustment to the local ranking algorithm known as the Pigeon Update. Google says the new local algorithm has improved distance and location ranking parameters and that the new local algorithm now more closely resembles the standard web algorithm. So, what does that mean for getting your business ranked in Google's local search results?
Read more in Summing Up a Summer of Search Engine Shuffling for SMBs & DIY Marketers.
---
August 21, 2014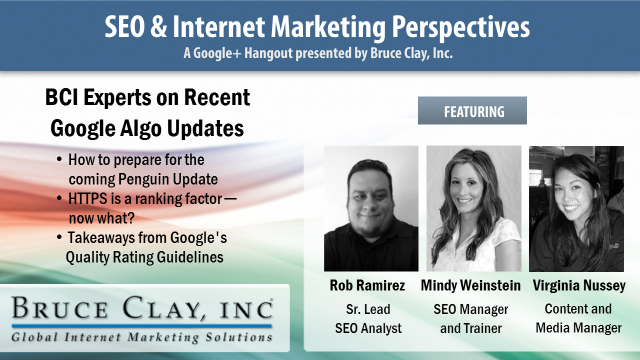 Do you have an action plan now that Google says HTTPS is a ranking signal?
Are you eager for the next Penguin Update?
Have you ingested the newest version of Google's Quality Rating Guidelines and integrated them into your optimization approach?
As web marketing professionals, Google keeps us on our toes, and August has been a busy month on the Google organic algorithm front. There's been:
A mini Panda update
Confirmed progress on a coming Penguin update
And a new ranking signal, SSL encryption
In this Hangout you'll hear what we're doing and recommending for our clients in light of the recent Google updates. Our SEO manager, Mindy Weinstein, and our senior lead SEO analyst, Rob Ramirez, video chat about those three big changes to Google's organic ranking algorithm and touch on takeaways from our reading of the 160-page Google Quality Rating Guidelines version 5. Listen to our conversation and read the highlights below in Hangout on Recent Google Updates: Panda, Penguin and HTTPS.
---
March 20, 2014
Alan K'Necht (Digital Always Media Inc.) and Adam Proehl (NordicClick Interactive) are doing a tag team presentation and I'm getting the WWF vibe as both of them have mics in hand and are walking around the front of the room. They'll go over the 10 most frequently asked questions about measuring social media. And they're giving out Buzz Balls (fruity alcoholic drinks) for audience interaction. Social engagement IRL!
Read more of #Pubcon Liveblog: Social Media Analytics.
---
"What follows may be one of the most interesting SEO conversations that took place in New Orleans this week," says Virginia Nussey in her intro to this Pubcon South liveblog coverage.
With 7 SEOs, 150+ years of cumulative experience, 1 hour, and no rules, if you're a marketer interested in where SEO is going and where it's been this Pubcon Q&A session is not to be missed.
Read all of Pubcon Liveblog: SEO Moshpit Q&A with the SEO "Old School"
---
How do people truly responding to your marketing efforts? Do your consumers trust you?
In this Pubcon South liveblog, computer engineer and cognitive scientist, Tim Ash, offers what he considers to be four primary pillars every brand must master in order to attain consumer trust and boost conversion rate.
Read about the four pillars in Tim Ash Keynote — The 4 Pillars of Trust.
---
March 19, 2014
The filter bubble is the knowledge "bubble" Google's personalized search results have the potential to create. The filter bubble effect creates search results filled only with web pages, authors, and viewpoints that a searcher has previously "liked" or otherwise engaged with in the past. In this Pubcon session two speakers discuss how the personalized search "filter bubble" can affect branded, non-branded and local searches, and ways marketers can improve SERP exposure by circumventing Google's personalization layer.
Read more of #Pubcon Liveblog: SEO Beyond the Filter Bubble.
---
In the second week of December there were an increasing number of reports that author photos weren't showing up as often in SERPs. At Pubcon Las Vegas last year Matt Cutts said that when they reduced the number of authorship results shown in SERPs by 15% they saw better results. Take that to mean whatever Google speak you think it means. Here's the initial drop followed by continued periods of volatility.
Read more of Google+ and Authorship: 2014 Hot Topics and Trends
---
Presenter Kim Krause Berg @kim_cre8pc, Internet Marketing Ninjas, will talk about how to get your ducks in a row before you start building your site and always include conversion elements in your design.
Conversions are turning visits into sales. You think conversions are making money, getting subscriptions, increasing form submissions, increasing sales leads
Your target users think conversions are …
Do you have what I need?
Are you genuine, credible?
Do you provide excellent customer service?
Prices?
Opt-in/opt-out signup
Are they spying on me?
Will I be able to read it?
Can I access the site from my phone?
Can I get in and out in a hurry?
Read more of #Pubcon Liveblog: Conversion Web Design.
---
Will Scott from Search Influence opens up the session by announcing that Google sucks …
Google treats small businesses as a rounding error in their economic equation. A strategy for local businesses is barnacle SEO: attaching oneself to a large fixed object and waiting for customers to float by in the current. Google says the most important thing in business is sincerity. If you can fake that, you've got it made.
Google has a weakness; they're a sucker for big "authority" sites:
YouTube
Yelp
Pinterest
Facebook
Houzz
YP.com
Read more of #Pubcon Liveblog: Local Search Hot Topics and Trends.
---