Virginia Nussey, Content and Media Manager
Virginia Nussey is the content and media manager at Bruce Clay, Inc. She joined the company in 2008 as a writer and blogger. Today she produces and manages content for clients and BCI, including the company's blog, weekly podcast, 20K-subscriber-strong newsletter, multiple book titles and social media presence.
Posts by Virginia Nussey
---
March 1, 2016
From the SMX West agenda: "A search marketer's ultimate goal is to create a personalized ad for every searcher. While we aren't quite there yet Ad customizers, DSAs, and Dynamic Remarketing can automatically personalize ads based on website content, user behavior, time of day and many other criteria. In this session, we will examine tactics and tools to create personalized ads at scale."
Read our coverage of this session with moderator Brad Geddes and speakers Sahil Jain and John Lee.
---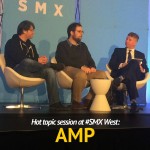 One hot topic these days is AMP, short for Accelerated Mobile Pages.
At SMX West, Danny Sullivan moderates as Google VP of Engineering Dave Besbris and Paul Shapiro, organic search director at Catalyst and an early user of AMP, give in-depth presentations followed by a Q&A period to cover:
What AMP is
Pros and cons of using AMP
Features of AMP (what it's good for, what it's not)
Technical details about implementing AMP (such as components, analytics tracking, including ads with AMP, etc.)
The three are on stage, and Danny Sullivan introduces us to our presenters by telling us that Dave goes by Bes and that Paul wrote this SEL article: "How to Get Started with Accelerated Mobile Pages."
Dave "Bes" Besbris is our first speaker. Shapiro says Danny Sullivan told him there is a speaker dress code, so he wore his formal hoodie today. ;)
You may have noticed the change to a SERP where there's an AMP carousel at the top of the page. The reading experience inside an AMP document is excellent. They didn't want to reinvent something new, they wanted the experience to be the web.
---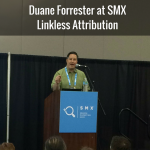 Is it possible to gain trust online without links? And if so, what are links good for? BCI's Duane Forrester sets the record straight in this brief but valuable #SMX West 2016 theater presentation.
Read the liveblog Linkless Attribution: Why What People Say Will Matter More Than Ever.
---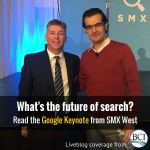 You're tuned in to the BCI blog where we're liveblogging SMX West all week. This is the show's opening keynote, a demo-heavy presentation by Behshad Behzadi, Principal Engineer, Google Zurich.
Behzadi is the director of conversational search. Danny Sullivan says that Behzadi previously did this presentation at SMX London, and it was a mind-blowing presentation into what's possible with conversational search. Behzadi has been at Google for 10 years, the first 7 years working on ranking, and the last 3 years working on future tech including Now on Tap.
For what Behshad Behzadi explains is the future of search, including voice search and Now on Tap, read this opening keynote of SMX West.
---
January 13, 2016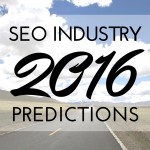 There's a word for fear of change: metathesiophobia. The way search, media, technology and consumer behavior change from week to week, it's not a phobia that SEOs can afford to harbor.
Instead, digital marketers race to get ahead of competition, ahead of algorithm updates, and ahead of upcoming technologies with early adoption and forward-looking strategy.
Where to start? Right here. Bruce Clay is joined by Duane Forrester, David Szetela, Cindy Krum, Eric Enge, Larry Kim, Maddie Cary, Dan Petrovic, Richard Baxter, Marcus Tandler and Andre Alpar in sharing annual predictions for the online marketing industry. What will you do with this foresight into the year ahead?
Read 43 Reasons SEOs Can't Fear Change: 2016 Digital Marketing Predictions.
---
December 18, 2015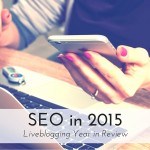 If TIME Magazine were to do an issue on the SEO industry in 2015, the table of contents would look like this.
• 2015 SEO Story of the Year: Mobilegeddon
• Runner-Up: More Mobile – App Deep Linking and Indexing
• Runner-Up: The Penguin that Never Came
• Runner-Up: RankBrain AI
• 15-Minutes-of-Famers in 2015: Millennials are the moment's hottest market segment, but it's an attention to audience that has staying power
We don't publish TIME Magazine, but on the BCI blog, we do publish the SEO industry's major news stories and marketing practices. A mobile-focused marketing perspective, Google's MIA Penguin and link removal practices, and a search engine ranking algorithm that learns are the topics covered on today's Virtual Conference SEO track.
---
October 29, 2015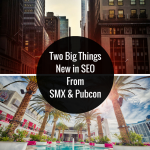 Digital marketers and SEO industry insiders demand outstanding content for their limited blog-reading bandwidth. So, for SEOs who want to get straight to the heart of the latest game-changers, we offer our humble opinion that during the SMX East and Pubcon Las Vegas conferences of the last month, there were two big comets that hurtled from the sky, signaling changes to the SEO landscape forever:
Machine learning algorithms ranking content based on searcher behavior feedback
Predictive search serving searchers content before they ask
Here's your front row seat to what's new in SEO straight from SMX East and Pubcon Las Vegas.
---
October 14, 2015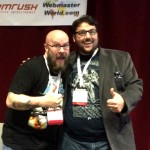 The automotive industry is incredibly competitive when it comes to search engine marketing. To rise to the competition requires in-depth local SEO knowledge and PPC know-how. This session offers strategies for local search marketing, both paid and organic, that all marketers can use. Our speakers are Ira Kates, who will speak to paid search, and Greg Gifford, who addresses organic SEO.
Read the liveblog from Pubcon.
---
October 12, 2015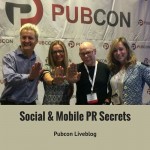 Do you want press for your business? Yes please! Here's how to use social media in traditional and new ways to reach and influence the media. New opportunities to be covered by today's speakers include making sure your content is mobile friendly and targeting the media through paid Facebook promotions.
Read the liveblog Social and Mobile PR Secrets.
---
October 9, 2015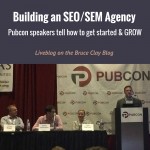 What makes a great SEO or SEM agency? This question applies to companies looking to hire an agency, since they need to make sure they're working with an agency team that can not only write a good RFP but also drive their KPIs. However, in this Pubcon Las Vegas session the speakers come at it from the agency's point of view: How can you plan, start, hire, train and grow a successful agency team that can produce as well as sell?
Read the full liveblog with slides.
---