Virginia Nussey, Content and Media Manager
August 8, 2013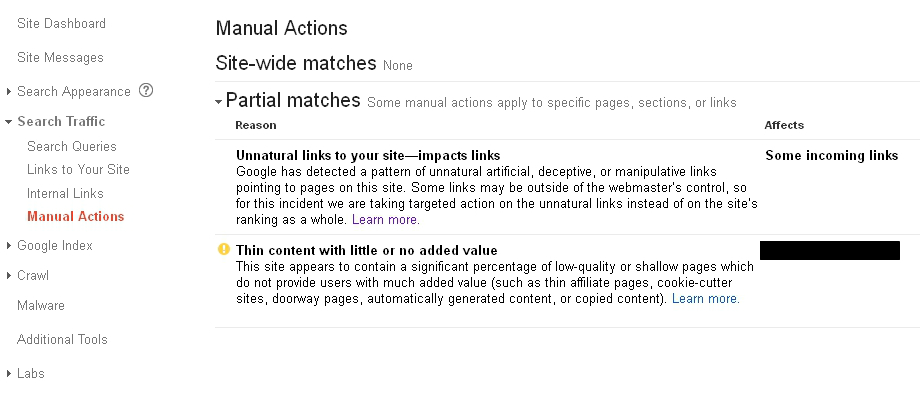 Gone is the mystery of blackbox manual action penalties levied by Google against your site. Today Google announced a new section in Google Webmaster Tools called "Manual Actions."
If you go to the Search Traffic navigation and click on "Manual Actions" you'll see a listing of site-wide matches (spam found across a whole domain) and partial matches (spam flagged on "specific pages, sections or links") of your site.
In Google's Webmaster Central blog post, the example screenshot shows a manual action listed as "User-generated spam. Pages from this site appear to contain spammy user-generated content." Along with the versions we have seen, that makes three types of reported webspam:
- Comment spam (user-generated spam)
- Thin content
- Unnatural links
Read more of Manual Penalty Actions Reported in Google Webmaster Tools.
---
August 1, 2013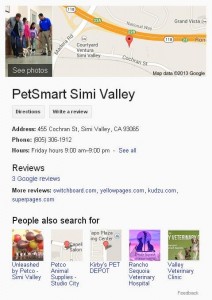 Resident SERP sleuth Chelsea Adams saw a hover-over Knowledge Graph on a local-pack result today. As these things go, we're not sure if this is truly a new user interface for Knowledge Graph or if it's just the first we're noticing it. I took a quick screen capture video of the experience as you can see above.
For the local-intent query "pet grooming" you'll see that when I hover over the 7-pack results, a Knowledge Graph-like result pops up. It's worth noting that the user can review one of these businesses right from this same SERP — just another way for Google to keep traffic on its site.
Watch the video: New Knowledge Graph Hover UI for Local Results?
---
June 12, 2013
Danny Sullivan welcomes the crowd and introduces the panel. The comedy act you're missing right now I just can't do justice to! Alex has been doing SEO for 10 years and focuses on Google News these days. Greg's new venture is Foundation Digital. Rae's hairstyle is fresh. Bruce started optimizing sites in 1879.
Read more of Ask the SEOs.
---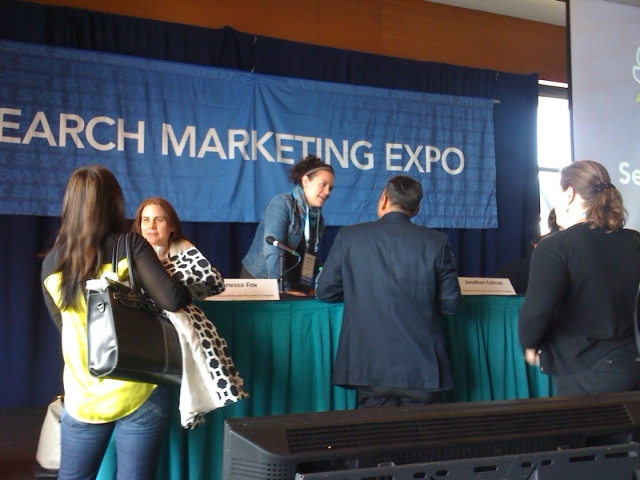 5 impacts of a strong content strategy:
Voice and tone: voiceandtone.com – Mailchimp styleguide crafted around users' feelings. This helps the brand always speak the same way, regardless of the topic
Inventory and audit: what content do we have? What content do we want? What content do users want?
Consistent templates: on doing an inventory, REI found 32 custom headers. Four types of video players. Unifying them would speed up content deployment
Real meta data: not the HTML kind, but data that helps you categorize and pivot on content
Structure and modeling: findability, portability and reusability is enabled
Read more of Think You Know Good Content? Fuggedaboutit. Here's What Really Counts.
---
Bing's Gurdeep Singh Pall would like to share a facet of Bing we may not be familiar with. Search over the last decade has been driven by keywords. The idea of typing keywords into a search box is soon going to be outdated. Proactive notifications and natural interaction with devices is going to be the new model and technology is catching up.
Whenever there's a user interacting with a surface, users will want info, insight and task completion right there. The app and device being used will tap into Bing search rather than having to move back to the browser.
Read more of SMX Advanced Keynote: Gurdeep Singh Pall #2KEY
---
June 11, 2013
For the paid search crowd!
Prerequisites of Enhanced Campaigns: Mobile modifiers, location and time of day were only available at the campaign level upon first release. They are now also available at the ad group level. They are not available at the keyword level.
Isolate your top keywords in specific ad groups for editorial and bidding optimization purposes. Do this for the tier 1 and tier 2 campaigns at least since it's a tedious process. You want one keyword per ad group. You can then test different ad copies.
Read more of PPC Best Practices in an Enhanced Campaign World #12B.
---
When they were updating the Periodic Table of SEO Success Factors, they considered adding a "mobile" element, but they didn't. Google just won't rank you as well if your mobile experience isn't good.
Read more at The Periodic Table of SEO Ranking Factors: 2013 Edition #SMX #11A .
---
May 31, 2013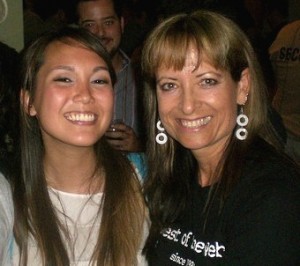 After a look at the SMX Advanced agenda it was clear that to report on the sessions and happenings of this show, I need help. And so, a big advanced thank you to Dana Lookadoo.
Dana is going to be flashing BCI press credentials in Seattle! After the jump you'll see Bruce Clay, Inc.'s liveblog schedule. First, a couple notes about how to meet up if you're going to be in the Emerald City.
Read more of SMX Advanced 2013 Liveblog Schedule & Where We'll Be.
---
May 15, 2013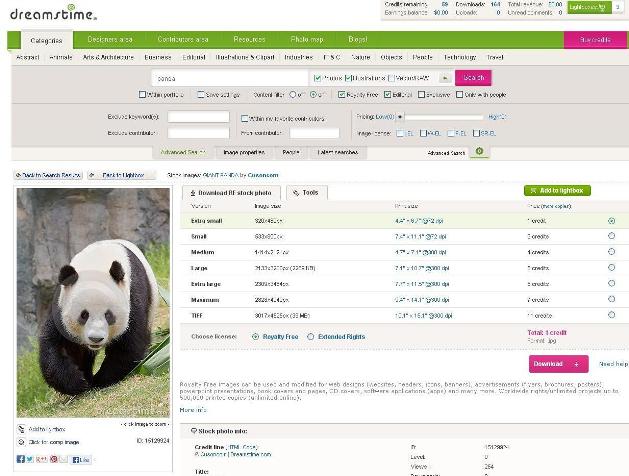 As a community manager and a blogger, I have 2 main needs for images:
1. Including them in BCI blog posts to break up text and add visual interest
2. Posting images to social media to share blog and other BCI content
What you'll know by the end of reading this is:
Where I get images, both free and paid services
How to make a graphic-text mash-up using Google Drive that will get noticed in the midst of noisy Facebook, Twitter and Google+ streams
Read more of How to Make a Graphic-Text Mash-up to Promote Blog Content on Facebook.
---
April 17, 2013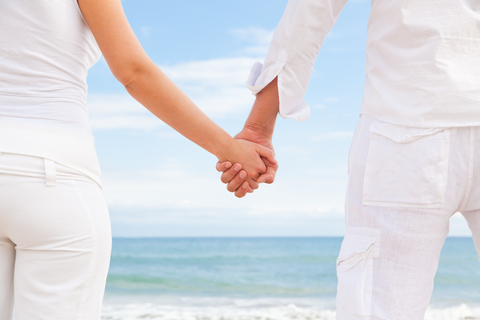 There's a new best practice in social media marketing. In an era where communications is continuous and real-time, there's a directive to go dark in times of disaster.
When the last public tragedy occurred (maybe it was the Sandy Hook shooting) I saw a number of brands I follow on social media announce they'd be taking a moment of silence for the remainder of the day out of respect or remembrance for the victims of the horrific events that occurred.
After Monday's Boston Marathon bombing, one of the fashion blogs I follow tweeted this:
"Hearts go out to loved ones known and unknown in Boston. Moment of silence the rest of the day for victims of senseless violence everywhere."
Read more of Should Brands Go Dark on Social Media After Disaster?
---