Analytics Archives - Bruce Clay, Inc. Blog
December 10, 2015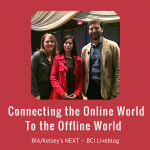 About 90% of buying is offline, but it's very influenced by online. Attribution, then, is more important than ever. BIA/Kelsey Managing Director Rick Ducey moderates a round-table discussion with three professionals, each offering a different perspective:
Grace Chan, VP Product at Wanderful Media
Sherry Thomas-Zon, Chief Marketing and Revenue Officer at Retailigence
Elliott Waldron, Director of Analytics at Placed, Inc.
They discuss how receipts data (vs. point of sale) can inform campaign planning and the purchase journey … how marketers handle large amounts of data … and what to expect in 2016 for the in-store experience.
---
October 1, 2015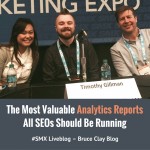 What reports do you really need for search engine optimization? How can you make sense of the volumes of data that even low-end analytics tools collect about your site visitors and activity? After all, there are hundreds of canned reports to choose from, but only a few are really relevant for SEO. And the answer is going to be different depending on which type of stakeholder wants information.
In this SMX East session, a panel of three SEOs share their tactics when it comes to reporting:
What the SEO stakeholders need
Using data to tell a story
How to build your map to Google Analytics treasure
Read the liveblog: The Most Valuable Analytics Reports All SEOs Should Be Running
---
March 5, 2015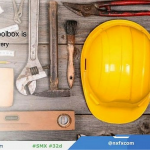 There's a good chance you're not using website analytics tools to their full potential to benefit your understanding of your visitors and your site. In this liveblog coverage of the SMX West session "What's In My Analytics Toolbox," you can get familiar with Google Analytics custom dashboards that you can create for your own site, and get to know the Google Tag Manager and how using it can give you insights on some of the otherwise hidden behaviors of your visitors. You'll also be introduced to a powerful open source platform, Knime, that lets you merge data and visualize data in one place.
---
September 30, 2014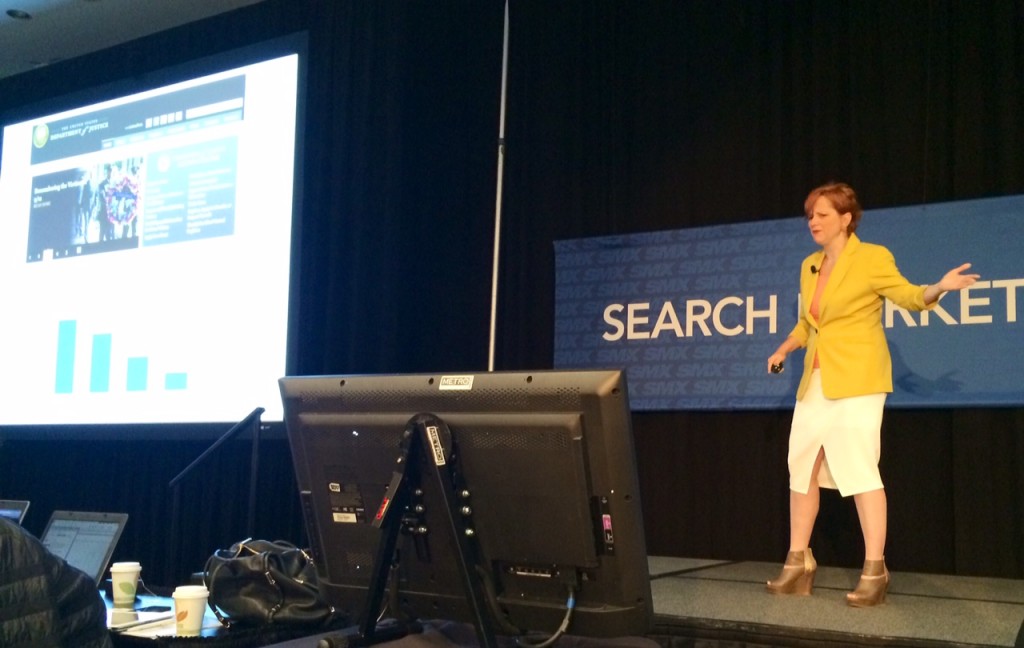 Data is powerful and empowering, sure. But raw data or too much data coming at you is just another email in the archive of the person you've delivered it to. Data that isn't packaged in a way that supports someone's understanding of it or that doesn't fit your brand identity is an eyesore on your website. Annie Cushing makes data pretty and meaningful for her clients with Excel dashboards customized in their colors and fonts and will be imparting her guidelines for making your data visualizations fit your brand, making it a brand identity tool online. You may not know even realize the mistakes you're making when you use Excel to create a chart and post it up to your blog. Read on to find out the common oversights of data visualization and the solutions.
Read more in Branding Your Data Visualizations with Annie Cushing.
---
September 16, 2014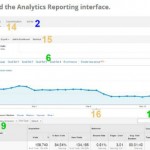 Having a website without any analytics is like playing darts with your eyes closed. The odds of hitting your target are stacked against you. Online marketing and SEO is no exception. You need to be able to see how your website is performing so the odds of reaching your target goals are all in your favor.
It never ceases to amaze me how often I come across business owners who have websites, but no analytics installed on them. While they may understand the value of research and data in their decision making process, they don't know how to collect that data. I love that I can solve that problem for them through the modern magic of Google Analytics. They're excited to learn that after they add some simple code to their site they'll be able to:
Track and measure the results of their efforts
See how many visits their website is getting and where visitors are coming from
Access a clear vision of the role their website plays in the grand scheme of their business
Without this type of data to inform your business decisions, you are potentially wasting valuable time and resources on strategies and activities that do nothing to increase your bottom line. So, without further ado, here's how to bring on the data!
Read more of How to Set Up Google Analytics.
---
May 29, 2014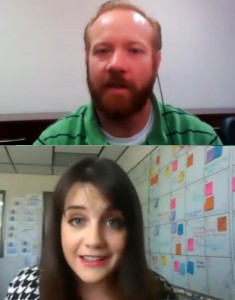 On Tuesday, Google released an update to its Fetch as Google feature within Webmaster Tools. This valuable tool, which has been around for years, allows webmasters to view the source code and headers of their site the way Googlebot sees them. Tuesday's update enhanced the tool's capability, enabling webmasters to see what Googlebot sees in a browser window, as well.
Since Tuesday's update, we've fielded questions from clients such as "Will Google render all the JavaScript on my site?" and "Does this negate the need for Ajax-enabled crawling?"
Knowing that the SEO industry at large has vested interest in answers to these and other questions, I interviewed Bruce Clay, Inc.'s Director of Software Development Aaron Landerkin. Read more of An Inside Look at Rendering with Fetch as Google.
---
March 20, 2014
Alan K'Necht (Digital Always Media Inc.) and Adam Proehl (NordicClick Interactive) are doing a tag team presentation and I'm getting the WWF vibe as both of them have mics in hand and are walking around the front of the room. They'll go over the 10 most frequently asked questions about measuring social media. And they're giving out Buzz Balls (fruity alcoholic drinks) for audience interaction. Social engagement IRL!
Read more of #Pubcon Liveblog: Social Media Analytics.
---
March 13, 2014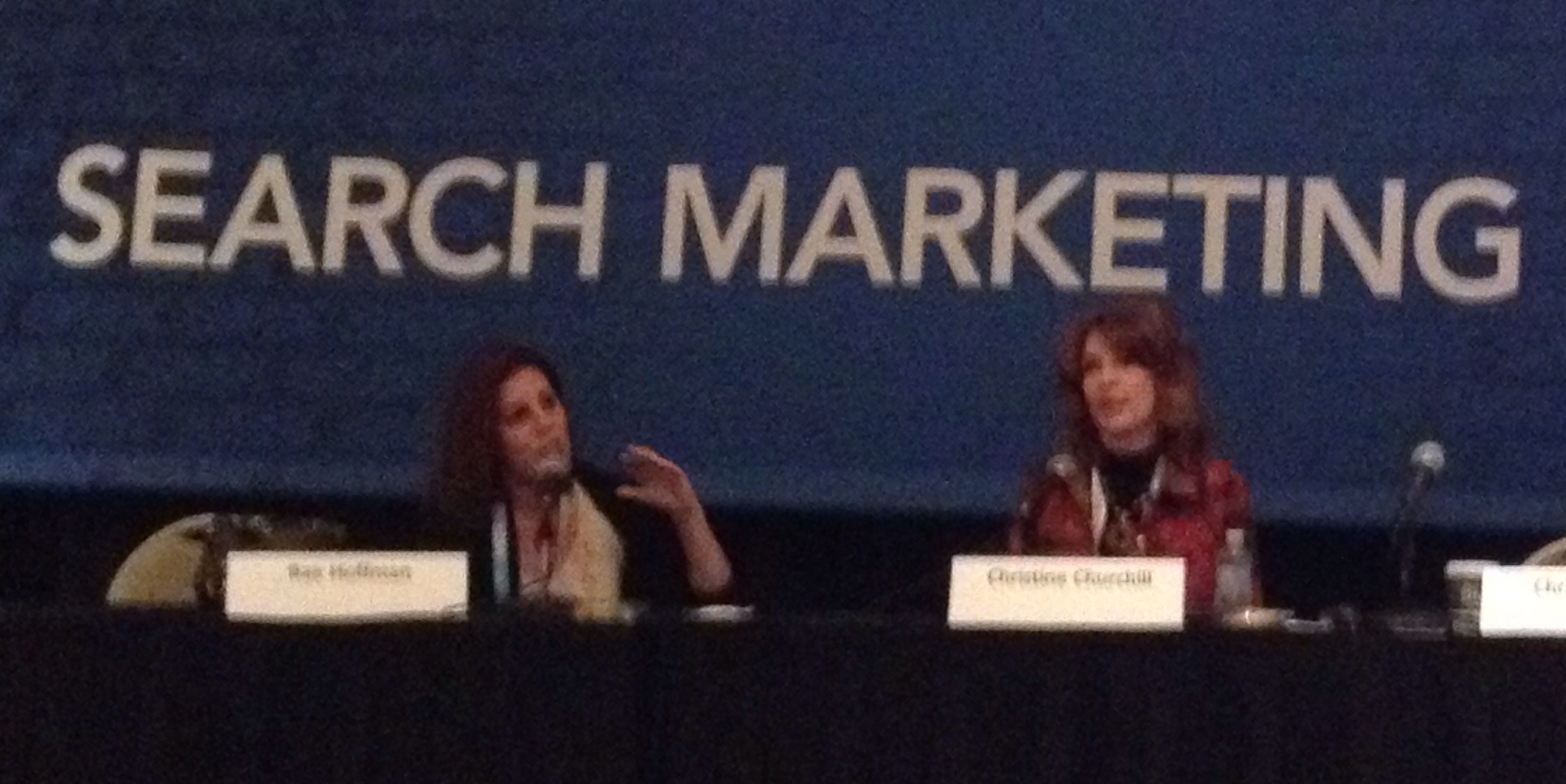 Post-not provided, it's becoming more and more important to rely on third-party keyword research tools. In this post I've documented the tools two industry experts (Rae Hoffman and Christine Churchill) recommend.
First up on the last day of SMX West 2014 is Rae Hoffman (CEO PushFire; @SugarRae). Rae is going to talk about two tools: SEMRush and KeywordBuzz.
TOOL #1: SEMRush
There's a free version of SEMRush and a paid version. The limited free version is "pretty much useless for doing any kind of deep dive into keyword research," says Rae. The paid version (which costs between $69 and $149 per month) is very helpful. We are going to look at the paid version of the tools in this session (and this blog post). Rae likes SEMRush because shows you both keyword volume and est. CPC.
Read more of #SMX Liveblog: My Post-Not Provided Keyword Research Tools (#31C).
---
March 11, 2014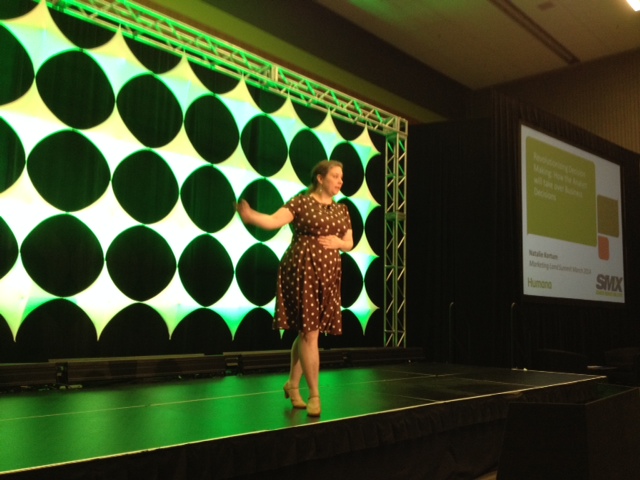 "Today, analytics practitioners influence business decision makers. In the future, analysts will own business decision making." That is a heavy statement from the #SMX West agenda description for the session I am sitting in right now.
Read more of #SMX Liveblog: Revolutionizing Decision Making: How The Analyst Will Take Over Business (#ms3).
---
January 14, 2014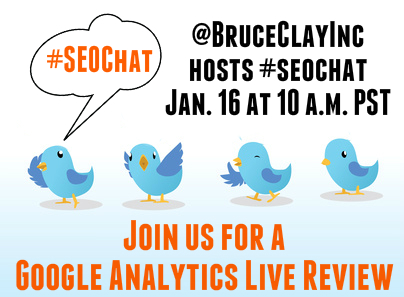 Every Thursday, Internet marketers come together to compare notes in the #SEOChat Twitter chat (more about #SEOchat here). This Thursday, Jan. 16, at 10 a.m. PST / 1 p.m. EST Bruce Clay, Inc. is hosting #SEOChat with an experimental new format: a live review of Google Analytics. Join us as we log into Google Analytics (or your preferred analytics software) and as a group, we'll mine our 2013 data and compare notes on content performance and audience behavior. We'll ask questions such as:
What was your top performing content area in 2013?
Top performing piece of content or blog post?
What was your top traffic referrer in 2013? Top social referrer?
What season saw the most engagement?
By identifying patterns and determining what's working best, when it's working and why it's working, we can shape our 2014 SEO and content marketing strategy accordingly.
Read more of SEOs: Share Top Content Performers and Traffic Referrers in #SEOchat.
---