Bruce Clay Blog : Analytics
May 16, 2013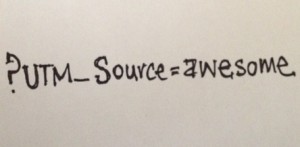 Google Analytics tracking codes — also know as custom campaigns or UTM codes — are custom tracking parameters that, when added to the end of a URL, communicate granular information that tells you more about how your referral traffic is interacting with your calls to action. As mentioned, UTM tracking codes amend (are added to the end of) the URL you want to track insights for, like this:
http://www.YourWebsite.com/your-CRO-landing-page-article?utm_source=blog&utm_medium=viral&utm_campaign=CRO-0513-JThompson
UTM tracking codes can help you analyze traffic from banner ads, email newsletters, social media content, and any other campaign that links people to a property that you own (such as your website or your blog). Learn how to compose a Google Analytics tracking code, how to use Campaign, Source and Medium parameters and why underscores might be better than dashes.
Read more of How to Build a Google Analytics Tracking Code.
---
April 8, 2013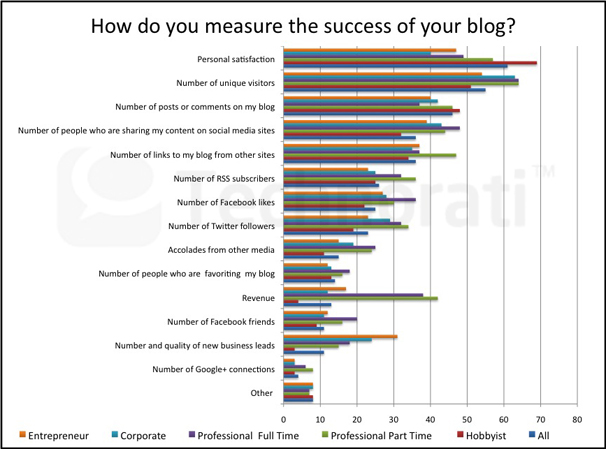 You've heard your SEO or marketing consultant recommend a blog, and you get it. After all, a blog allows you to do lots of great things for your business:
Put a face on your company.
Do reputation management, to deal with negative feedback.
Strengthen the focus of your site with new ideas and content.
Publish funny, entertaining or otherwise "viral" content that will get you attention online.
You know that blogging for your customers will build trust in your brand and improve users' experience with you, making them more likely to associate themselves with you in the future. But you still have questions. Like, what can I expect the blog to contribute to sales? And if not directly connected to sales, how will I measure the blog's success?
Read on for the answers in Business Blogging: How to Hit the Sweet Spot of Social Engagement and Revenue Driver.
---
February 20, 2013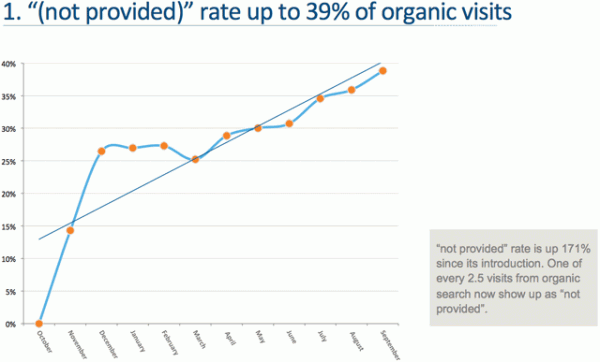 The new version of Google Chrome 25 (still in beta, at the time of writing) will use SSL to encrypt Google searches through the Omnibox (used to type URLs and search), even for users not logged in. Previous searches were only encrypted for logged in users. By doing this the keyword is no longer passed into analytics software like Google Analytics, you will instead see "(not provided)".
For search marketers and webmasters this means losing more keyword data. It follows from Firefox's decision to use secure search in July 2012 and Safari iOS6 in September 2012.
Since the launch of the secure search in October 2011, (not provided) has been steadily increasing. With the average generally between 20-30%, others finding it is higher at 39%. No matter the figures it is growing consistently month on month and will not be going away.
Read more of Google Chrome Goes Dark.
---
February 14, 2013
Allow me to make a suggestion for all of us juggling metrics and data diving. Before you do anything else, figure out what your business's one key metric is.
Measuring what matters (and disregarding what doesn't) is Analytics 101. And it's very important because with all that we can track and measure with web analytics, there's the risk you'll:
a) drown in data
b) be struck by info overload paralysis or
c) contribute to misleading metrics, whether intentionally or not.
Using the one key metric model is going to give you results, while chasing B.S. metrics doesn't reveal meaningful insight into user behavior and preferences.
Read more of What's Your Business's One Key Metric?
---
October 2, 2012
We just covered which SEO metrics are important to track in the last session. Now we're talking technical SEO metrics. So, are you ready to get all jiggy with yummy tech metrics? Me too. You can follow tidbits from this session at #12b on Twitter.
---
Hello, New York! I love this city. Waking up to the sounds of a bustling street makes me all warm and fuzzy. For this session, you can look at the Twitter hashtag #11b.
---
August 15, 2012

In this session, Rob Cataford of BusinessOnline shows us how to use data in the B2B world. One question they get often is: How do I focus budget and effort to create the most effective content and use the best channel? Demonstrate the value of marketing. Focus budget and effort. Become a partner with sales. [...]
---

Good morning (well, Pacific Time)! This session is going to tackle attribution modeling and how channels work together for conversions. Here, we have Thomas Bindl (@RefinedAds) and Jamie Smith (@EngineReadyCEO) who are going to help us figure out the crazy world of multichannel attribution. First up is Jamie Smith. He is going to be focusing [...]
---
August 14, 2012

Are you ready for some more analytics? Earlier, I covered an intro to analytics from Matt Bailey. This session takes a deeper look into the data, and how to make sense of it all. Thom Craver (@ThomCraver) and Garry Przyklenk (@GPrzyklenk) help us dive deep into the world of Web analytics … Up first is [...]
---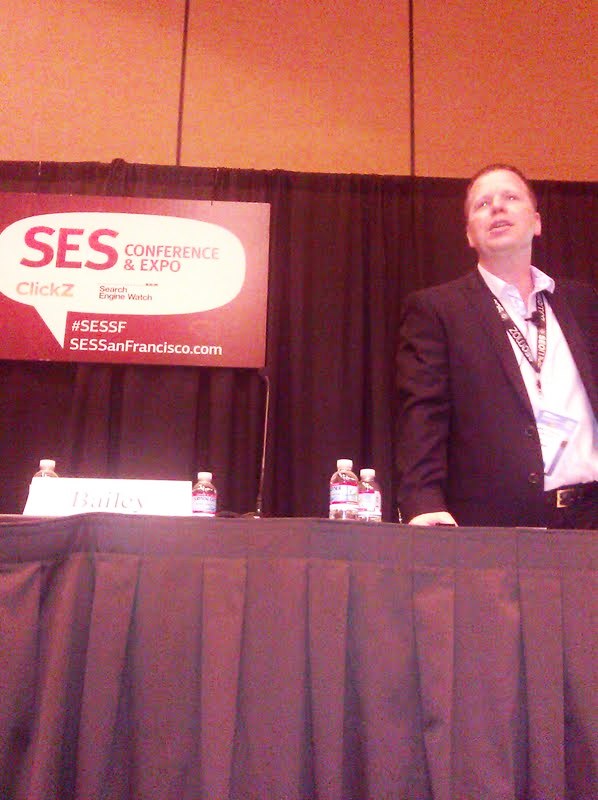 SES is going strong; lots of people in the expo hall and some great info has been presented so far (continue to check the sessions we've covered by following the "SES SF 2012″ tag on this post). Excited to bring you this session about beginners analytics by Matt Bailey (@SiteLogic and @MattBaileySays). If you're new to [...]
---