Bruce Clay Blog : 2/15 : Analytics
October 2, 2012
Hello, New York! I love this city. Waking up to the sounds of a bustling street makes me all warm and fuzzy. For this session, you can look at the Twitter hashtag #11b.
---
August 15, 2012

In this session, Rob Cataford of BusinessOnline shows us how to use data in the B2B world. One question they get often is: How do I focus budget and effort to create the most effective content and use the best channel? Demonstrate the value of marketing. Focus budget and effort. Become a partner with sales. […]
---

Good morning (well, Pacific Time)! This session is going to tackle attribution modeling and how channels work together for conversions. Here, we have Thomas Bindl (@RefinedAds) and Jamie Smith (@EngineReadyCEO) who are going to help us figure out the crazy world of multichannel attribution. First up is Jamie Smith. He is going to be focusing […]
---
August 14, 2012

Are you ready for some more analytics? Earlier, I covered an intro to analytics from Matt Bailey. This session takes a deeper look into the data, and how to make sense of it all. Thom Craver (@ThomCraver) and Garry Przyklenk (@GPrzyklenk) help us dive deep into the world of Web analytics … Up first is […]
---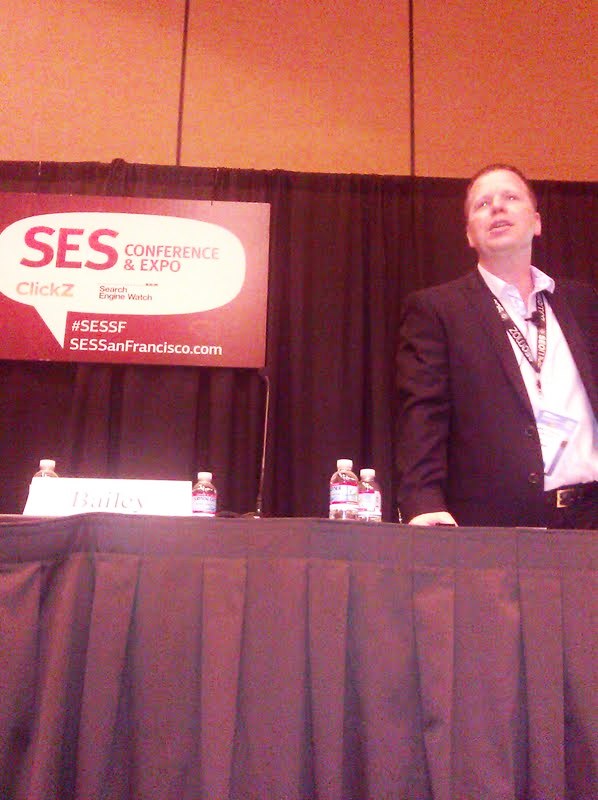 SES is going strong; lots of people in the expo hall and some great info has been presented so far (continue to check the sessions we've covered by following the "SES SF 2012″ tag on this post). Excited to bring you this session about beginners analytics by Matt Bailey (@SiteLogic and @MattBaileySays). If you're new to […]
---

Welcome to our continued coverage of SES San Francisco. My fingers are a little rusty since being off the conference liveblog circuit for the better part of this year, but I've had my double shot of espresso and I'm ready' to go! Who doesn't want and need to learn more about their competition online? In […]
---
Good morning from San Francisco. Bruce Clay, Jessica Lee, me (Virginia) and the rest of our SES conference team left triple-digit degrees of SoCal to come to the 70+ blue skies of the Bay. Thank you SES. This week, Jess and I are the BCI media-blitz machine. Keep your dials tuned here to the blog […]
---
April 18, 2012

Google's new social reporting in Analytics rolled out recently and many site owners are pleased to have data that tracks social media ROI integrated right into the analytics they use every day. With six new reporting functions, there's lots of ways you can assess the value of social media in conversions, the value individual social networks have and how your content is shared across networks. In this post, we'll hone in on the Pages report and how you can use it to track content performance across social networks and grow community.
Read more of Google Social Analytics: How the Pages Report Can Boost Content & Social Performance.
---
March 20, 2012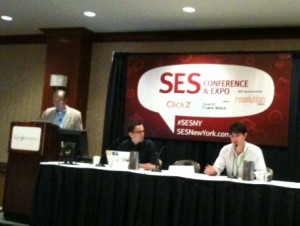 This morning at the keynote, Avinash unveiled this: Google Analytics Update Connects Social Marketing with the Bottom Line. How do marketers view social media? A MarketingSherpa social marketing report shows that social marketing is mostly considered a promising tactic, but ROI is not understood. "Since everyone is doing it we'll look foolish if we don't" is a common approach.
What about number of followers or number of shares? Isn't that social media measurement? This isn't really understanding the value of social.
Content consumption today has moved off the browser to applications. A marketer needs a 360 view of actions, which is hard to pull together. Number of tweets or followers is comforting because it gives a sense of measuring. But it doesn't address economic value.
Read more of Social Media as a Performance Channel with Google Analytics – SESNY
---
Mike Grehan welcomes the crowd. He offers apologies for the intermittent problem with the microphone. Every once in a while it causes the speaker to sound like he has a British accent.
He mentions it's the first day of spring! He says today's Google doodle features a zebra. This connection he does not understand. Now to the keynote with Avinash. Avinash is Google's digital marketing evangelist. If that doesn't earn him the designation of guru, then what would?
"Information is powerful. But it is how we use it that will define us."
He's going to explain his perspective of how to do more with what we have access to. We don't have to be in a hording mindset of getting more data.
Read more of SESNY Keynote: Business Optimization in a Digital Age with Avinash Kaushik.
---