Bruce Clay Blog : 2/6 : Conferences and Events
March 11, 2013
Marty Weintraub @aimClear is sharing a tactical retargeting field guide for really smart marketers. Every PPC agency in the world is calling themselves a DSP because it's not really hard to do it. We all want a slice of it. Retargeting is a simple concept. Someone comes to your website, touches you for whatever certain [...]
---
Rhea Drysdale @Rhea is setting the context: don't take every recommendation and try to implement it, but do implement something. Tie your business goals to your metrics. "Welcome to the new age." This is a song and it was in the back of her mind when she put this presentation together. SEO is evolving, it [...]
---
March 6, 2013
Holy heatmap have you seen the SMX West agenda? This is some next level content. Getting to attend an educational series like the one going down next week in San Jose is truly one of the perks of the job. Of course it's not all fun times and smart insights while at SMX; I earn my keep by liveblogging. And with an agenda like this, picking the sessions to attend has been the hardest part! But I did it, and after the fold down you'll see the SMX West sessions you'll find on the blog next week. Ad retargeting, YouTube PPC, Google Knowledge Graph, Facebook Graph Search, authorship and online identity — it's all here!
Read more of SMX West 2013! Liveblog Schedule and Where We'll Be.
---
February 22, 2013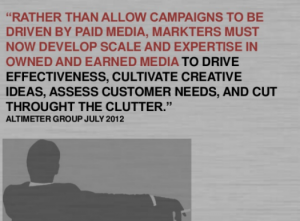 Mad Men, content as gold (or currency) and the interactive realities now coming to life via e-books, social reader apps and mobile devices were hot topics at the Intelligent Content Conference held earlier this month in San Francisco.
The 5th annual event focuses on advanced information creation, management and delivery strategies and had a number of great sessions for anyone who deals with content—not just creators but information architects and strategists, too.
According to the 2013 B2B Content Marketing Benchmarks, Budgets and Trends report from the Content Marketing Institute and Marketing Profs, the #1 challenge content marketers face is producing enough content.
In my line of work, I focus on daily challenges faced by curators and creators who are trying to bulk up their owned media. The insights here are weighted heavily toward that audience. But there have been tremendous shifts in publishing. Every company is getting into the game and the need for intelligent content is now critical. This conference taught me a lot and is a great resource for any content creator who wants their content to be viable in the future.
Read the full post of insights from the Intelligent Content Conference.
---
January 28, 2013
Education and professional self improvement are works in progress and it's never too late to start. However, they say the early bird gets the worm, and in the case of next month's SMX West in San Jose, that worm is a discount on registration. Early bird pricing for the conference ends this Friday. Add to that 10% discount code SMXW13bruceclay and the justification for this investment is overwhelming.
Just be sure not to miss the SEO Workshop Bruce presents at SMX West to take full advantage of this opportunity to learn from search and social thought leaders.
Read more about conference and workshop rates, additional discounts and cost value, and what to expect from the SEO workshop at SMX West.
---
September 21, 2012
October is just around the corner, and this gal is packing up and heading to The Big Apple — one of my fav cities — to bring you coverage of one of the industry's favorite conferences: SMX East. Starting October 2, tune into the blog and our Twitter account @BruceClayInc, where we bring you tips, tactics and conversation on everything from SEO performance metrics and enterprise SEO to Schema, link-building and beyond. I hope you're as excited about the topics as I am to bring them to you.
---
August 20, 2012

Happy (end of) Monday! Last week, the BCI gang was at SES San Francisco where we covered 18 sessions, just for you. And I'm not sure if it was the sessions we chose, a shift in interest among marketers, or a rebrand move by SES, but it definitely felt like the sessions were getting into more sophisticated topics on analyzing data and multichannel marketing.
I'm a fan, and think it definitely showcased some of the great things companies are doing out there to elevate the discipline and their brand's experience.
We heard from Googlers like Avinash Kaushik and Matt Cutts as well. Avinash's approach to marketing in the digital age, I think, speaks volumes about Google's stance on how businesses should be approaching their marketing online; that is, look at the big picture.
---
August 3, 2012

SES San Francisco is one of the most-awaited conferences of the year for marketers. We love this show so much, we're a Silver Sponsor. And we're bringing the event live to you all week long starting August 14. We've hand-picked some pretty interesting sessions to cover, so even if you can't make it to the event, you won't miss out on all the great tips and tactics.
There's lots of ways to connect with us throughout the conference. The schedule below shows all the sessions we plan to cover at Search Engine Strategies right here on the blog. You can also follow us on Twitter @BruceClayInc, where we'll be participating in conversations and livetweeting Day 1 and Day 3 keynotes. Don't forget to follow the #SESSF hashtag for even more insight into the event.
---
May 21, 2012

At some point in every marketer's life, he or she must make the journey to the mecca of advanced search marketing events, SMX Advanced 2012 in Seattle. That time is upon us once again, and if you can't break away for your pilgrimage to the show in June, we've got your back. We've hand-selected some amazing sessions to report on and deliver to you straight from the show.
Tune into the blog on June 5 and June 6 to get in on the conference action. Follow us on Twitter (we might get some live-tweeting in as well) and the hashtag #SMX to stay up-to-date on tips and tactics from the event. And if you're attending the show, read on after the schedule for some more ways to connect with us while in Seattle.
Read more of SMX Advanced 2012 Liveblog Schedule and More .
---
March 23, 2012

The first conference of the year for Search Engine Strategies was held in New York this week. From the ideas shared to the conversations had to the networking and more, we experienced another great event from SES. Up next for SES here in the United States is the San Francisco conference in August. Until then, here's a recap of some of the takeaways we gathered from our liveblog coverage of the show.
Read more of Top Takeaways from Search Engine Strategies NYC.
---