Conversion Rate Optimization Archives - Page 2 of 4 - Bruce Clay Blog
February 16, 2012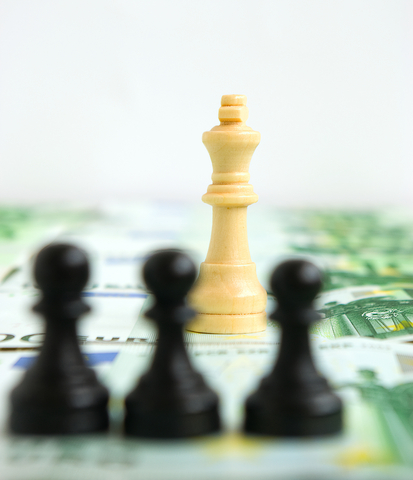 Yesterday, I had an interesting encounter at the grocery store that truly demonstrated the power of trust and authority on conversion.Two women, who had never bought almond butter in their lives, decided to do so because they heard it helped with a good night's sleep on The Dr. Oz Show.
They didn't even know how it worked, but they didn't care. They trusted the authority of the information presented in the Dr. Oz show and it moved them to action. Today, we're going to talk a little bit about establishing authority and trust through various mediums in a way that moves people to act.
---
October 25, 2011
There are now officially 7 billion people on the planet. It's taken our species tens of thousands of years to get to where we are now. An advanced civilization reliant on technology, we've reached an era where our artificial intelligence can quibble over who's more powerful, as evidenced by the latest silly Facebook circular.
And yet, not much has changed at all. At our core, we're still predictably emotional humans who like to cuddle and are afraid of the dark.
As marketers, we use psychology to our advantage to persuade consumers to buy our chocolate or use our floral service. Despite how far we may have evolved, humans remain comprised of id, ego and super-ego. A successful appeal to the id, that animalistic, pleasure-seeking instinct, is comparable to an "inception" ━ implanting an idea in the unconscious mind. And while we like to think of ourselves as in control of our decisions, there are primal forces at play beneath the surface of our consciousness.
Read more of Emo CRO: Get the Conversion, Go for the Gut.
---
September 27, 2011
Although rankings are important for SEO, once you have them, persuading more visitors to click through to the website is the next step towards the ultimate end goal of increased sales/conversions. One of the ways that you can improve the click through rate from the search engine results pages (SERPs) is to attract attention and […]
---
Hello everyone! Last week has been pretty HUGE for the Bruce Clay Australia family as three very cool people have joined the team… Holly Jeremy Adam To get to know them better, we asked them 4 questions about their background and their passion for SEO. They were very keen to share a little bit of […]
---
August 18, 2011
Oh good. Bryan's given me fair warning that his presentation will be next to impossible to liveblog. Something like 125 tools and 60 slides. Eep!
Tim's presenting first. He'll be telling us about 5 tools today. CrazyEgg, ClickTale, UserTesting, CrossBrowserTesting and AttentionWizard.
All these tools will help you identify problems with your site. He asks everyone to raise their hand and say "my baby is ugly." Your landing page has fundamental problems. These tools will help you find them.
Read more of Conversion Tools of the Master Craftsman.
---
August 17, 2011
We all know that Conversion Rate Optimisation is about your visitors, right (ahem… we better)? In the world of learning all about your visitors, no tool is more powerful than that of the user feedback tool. User feedback tools are an ideal way to gain honest information about your visitors in a simple, natural, opt-in […]
---
August 16, 2011
Mike Grehan welcomes the crowd. Thirty years ago IBM released the first PC. Last year smart phones and tablets outsold the PC. By 2020, it's estimated there'll be 50 billion computing devices around the world. That's what connected marketing week is about – strategies and tactics for the transient media consumer.
Now he welcomes our keynote speaker, Susan Bratton, co-founder and CEO of Personal Life Media, Inc.
She says she's early in her journey to understanding persuasion marketing, but you may be able to learn from someone deep in the learning process. She'll give us a high level overview of the scope of persuasion marketing. Everything she'll talk about will be available at http://conversiontriggers.com.
Read more of Conversion Triggers: Persuasion Strategies for Digital Marketers.
---
August 10, 2011
Red carpet rolls out.
Trumpets blare.
Announcer cries:
"Please welcome the return of the weekly radio show and podcast…
Your source for interviews with the leading minds of Internet marketing…
Brought to you by a team dedicated to advancing Internet marketing discourse and strategy…
SEM Synergy!"
The crowd goes wild!
Weird dream, huh? But that's the sort of thing that keeps me up at night. And this week has been a doozy because, with some luck, support and elbow grease, we present to you the return of SEM Synergy!
Read more of SEM Synergy Returns with Guest Bryan Eisenberg.
---
June 30, 2011
No longer is traffic the objective, it's what you do with the visitors that count. Converting more visitors to your website is increasingly important in what is an increasingly competitive environment here in Australia. No matter how 'relevant' that traffic is or how much of it you have, the buck will always stop at your […]
---
March 24, 2011
After lunch. Three sessions to go. Energy fading fast. Coffee in hand.
Still no bagels.
Okay, lets get right to this.
* Moderator:
Anne F. Kennedy, SES Advisory Board, International Search Strategist, Beyond Ink USA
* Speakers:
Tim Ash, CEO, SiteTuners.com, @Tim_Ash
Bryan Eisenberg, SES Advisory Board and NYTimes Bestselling Author, bryaneisenberg.com
There's so much star power on that stage, it's blinding. I hope they're giving away (to me) the books…oh it's a raffle. Bother.
Read more from Conversion Tools of the Master Craftsman
---