Industry News Archives - Page 4 of 17 - Bruce Clay Blog
February 1, 2012

Late Monday, we announced the service "Local Paid Inclusion," which we said gives local merchants higher rankings in the Places and local search results in Google, Yahoo! and Bing. We believed that the service offering was finalized between our backend partner and the aforementioned search engines. So far, we have determined that it is not […]
---
January 30, 2012
Have you taken a moment to read about Google's new privacy policy and how it affects the information you share, effective March 1?
Privacy policies and terms of service aren't exactly riveting literature, so if you haven't rushed into cuddling up with the thing and getting to know it better, I don't blame you. So, I thought I'd take a few minutes to give an overview of what it is and the important takeaways.
In sum, Google's new privacy policy is essentially a way for Google to try and ensure there won't be mass public freak-outs or lawsuits over the new "Search, plus Your World" function, as well as more and more personalized search results to come.
And as much as Google is trying to make this information public and available to its users, let's be real, freak-outs will still ensue.
---
December 6, 2011
Audience: Web marketers
Estimated reading time: 5 minutes
Nobody knows how to communicate to a business' customers better than Internet marketers (backed by the wisdom of the business owner, of course). Our job is to listen to and anticipate what people want, and then deliver it to them.
Web marketing teaches us many lessons in communications — how to listen, how to speak, how to understand needs and react accordingly. Think about all the things we as professionals can learn from this craft and apply to our interpersonal communications. Let's explore …
Read more of What Internet Marketing Can Teach Us about Interpersonal Communication.
---
December 1, 2011
An industry idol of mine, Marty Weintraub, once told me that to get your career to really take off in the Internet marketing industry you have to give yourself to the community. Abundantly and selflessly, with no limits and with nothing expected in return.
The SEM Synergy podcast was born in this spirit in the spring of 2008. It was Bruce's hope that he could contribute to the community a platform for impassioned debate, critical analysis, in-depth news reporting and hands-on tactical advice.
The nearly 150 episodes of SEM Synergy have been the product of a project driven by a few simple forces: Bruce and the team of SEOs, marketers, programmers and designers love what we do, enjoy talking about what we love, find it endlessly rewarding to take part in the lively industry-wide conversations, and feel encouraged by positive feedback from those who listen to the show.
Read more of The Video and Multimedia Future of SEM Synergy.
---
September 19, 2011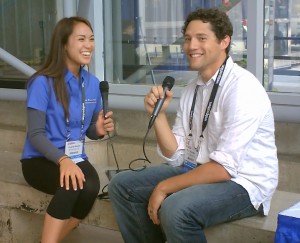 Last Thursday we posted a new episode of our SEM Synergy podcast, this one from SMX East in New York City. While I wasn't able to post about it here on that day (I was knee deep in the final day of liveblogging), the show was mad groovy for several reasons and definitely warrants a […]
---
July 26, 2011
As with any business in the information age, marketing has become a more and more specialized discipline. Long gone are the days when companies would just put up a billboard or record a radio advertisement, and expect the compelling copy to make the sale. Even within the Internet age, there has been an evolution—the indiscriminate pop-ups of the early World Wide Web era have evolved into the current search advertising market, which predicates itself on complex algorithms meant to divine the most effective results.
Effective Web marketing relies on cutting waste; business owners can no longer afford for their marketing to cast wide and survive on the scant percentages that are converted by a national ad campaign. The "Holy Grail" of marketing, therefore, targets the people most interested in buying your merchandise/booking your service at the moment of peak interest.
Read more of A Shortcut to the Grail: How Semantic Search Can Boost Internet marketing for Small Businesses.
---
June 2, 2011
There's something lurking behind the scenes of the search marketing industry that you might have noticed: it's kind of club-ish. And I'm not talking the kind of club with drinks — wait, actually, it is kind of like that (if you've been to the conferences, you know what I mean) — I'm talking the kind of club that you need an invitation to get into, like a speakeasy or exclusive country club.
Read more of Why the Search Marketing Industry Is Like an Exclusive Country Club (and How to Break In).
---
March 30, 2011
Americans love rags-to-riches stories. Why? Because it reminds us of the American Dream. For all you entrepreneurs who have taken a chance, left your steady paychecks and pursued that American Dream, I'm sure you have an inspiring story to tell. How you choose to tell it is entirely different.
Susan shared a link with me today; it was about the creation myths some startups tell. Superstar companies love to tell the story of how the idea for their startup came to them one night in a bar, or how they worked out of their mother's basement until tenacity paid off.
And while all of these stories may have truth to them – are they completely transparent and are they painting a realistic picture of how to obtain success? Is success something that comes merely from hard work, or is it chance plus timing plus good idea plus hard work plus opportunity plus who you know?
Read more of Get Real: Telling the Truth About Being an Entrepreneur.
---
February 3, 2011
Ben is an author of many nonfiction books; this chat ought to be pretty exciting since he's the creator of the book about Facebook that turned into the movie "The Social Network".
I must admit, I haven't seen the movie yet, but am happy this session is my first liveblogging experience ever. Hold on to your hats, people. Wheeeeeeeee!
Read more of DOMAINfest Fireside Chat with Ben Mezrich, Author of Book Turned Movie, "The Social Network".
---
January 4, 2011
This post is about to get deep. On my way to work today, I was listening to Dr. Wayne Dyer. Heard of him? He's a motivational speaker of sorts. But he's not so much motivating people as he is helping people to understand the power of the mind, the power of your thoughts, and the life you create.
Every single thought you allow in your mind has a ripple affect on not only the way you act but the things you invite into your life. This principle applies to family, love, health, happiness and even work. Today, I thought I'd talk about the impact of positive thinking and attitude on your working environment, your professional achievements and the success of your business.
Read more of The Power of Positive Thinking and Business Success.
---