SEO Archives - Page 4 of 139 - Bruce Clay, Inc. Blog
August 25, 2014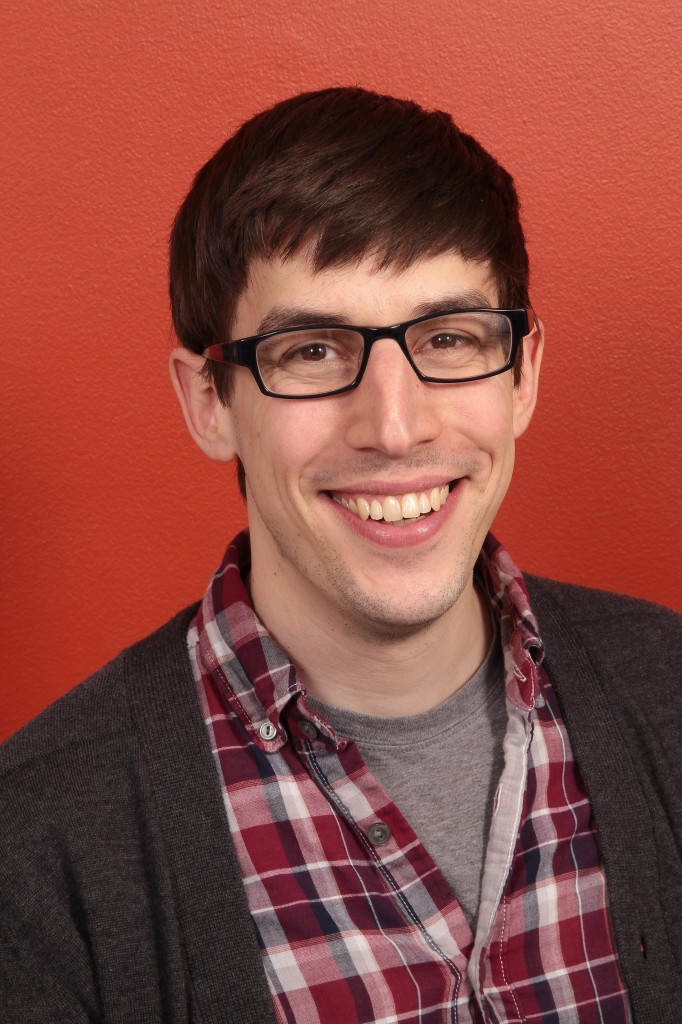 Search Marketing Expo (SMX) East 2014 is fast-approaching. In preparation for the acclaimed Internet marketing conference, I've invited a handful of distinguished speakers (Bruce Clay among them) to sit down for an interview. First up is Jason White, the director of SEO at DragonSearch. The New York native has graced the SMX stage before and has also shared his vast SEO knowledge with the next generation of Internet marketers as a guest lecturer at New York University.
"Anything that requires some strategy and a burning desire to figure out the why tends to be what gets me revved up," White said. "More than anything I like to make my clients stupid successful.
White will be speaking in two sessions at SMX East: "Earning Authority: Successful Link Acquisition & Auditing Advice" and "Keyword Research For Better Content & Audience Engagement." Accordingly, I picked his brain on keyword best practices, content marketing success stories, link management and more.
Read more of SMX East 2014 Speaker Series: Jason White's 'Stupid Successful' SEO Guide to Keywords, Link Cleanup and Personal Success.
---
August 21, 2014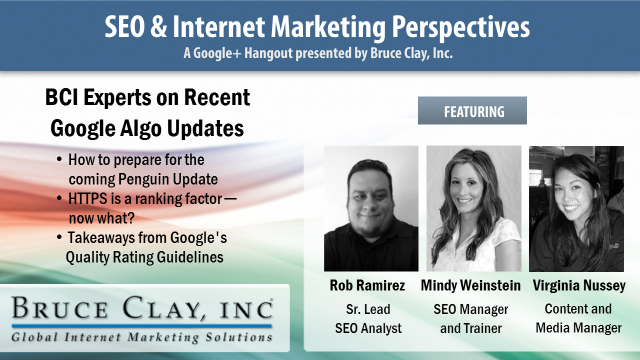 Do you have an action plan now that Google says HTTPS is a ranking signal?
Are you eager for the next Penguin Update?
Have you ingested the newest version of Google's Quality Rating Guidelines and integrated them into your optimization approach?
As web marketing professionals, Google keeps us on our toes, and August has been a busy month on the Google organic algorithm front. There's been:
A mini Panda update
Confirmed progress on a coming Penguin update
And a new ranking signal, SSL encryption
In this Hangout you'll hear what we're doing and recommending for our clients in light of the recent Google updates. Our SEO manager, Mindy Weinstein, and our senior lead SEO analyst, Rob Ramirez, video chat about those three big changes to Google's organic ranking algorithm and touch on takeaways from our reading of the 160-page Google Quality Rating Guidelines version 5. Listen to our conversation and read the highlights below in Hangout on Recent Google Updates: Panda, Penguin and HTTPS.
---
August 18, 2014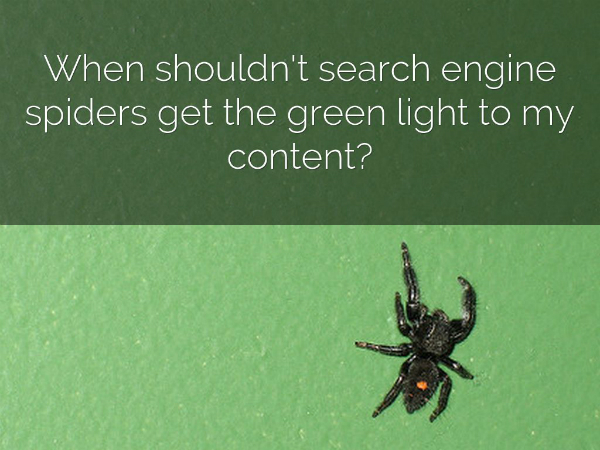 A major facet of SEO is convincing search engines that your website is reputable and provides real value to searchers. And for search engines to determine the value and relevance of your content, they have to put themselves in the shoes of a user.
Now, the software that looks at your site has certain limitations which SEOs have traditionally exploited to keep certain resources hidden from the search engines. The bots continue to develop, however, and are continuously getting more sophisticated in their efforts to see your web page like a human user would on a browser. It's time to re-examine the content on your site that's unavailable to search engine bots, as well as the reasons why it's unavailable. There are still limitations in the bots and webmasters have legitimate reasons for blocking or externalizing certain pieces of content. Since the search engines are looking for sites that give quality content to users, let the user experience guide your projects and the rest will fall into place.
Read why you might want to block content from search engine bots and the SEO recommended way to do so in Nowhere Left to Hide: Blocking Content from Search Engine Spiders.
---
August 12, 2014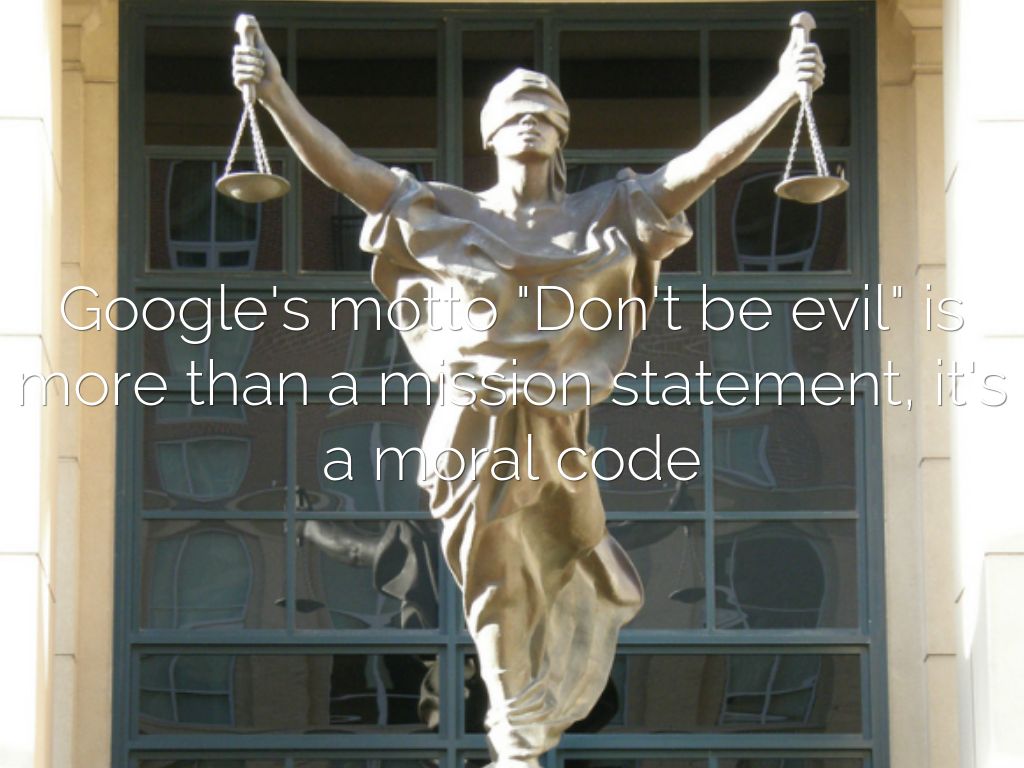 And so we wait. . .
In the past 2 years we've had an increase in clients that come to our firm because they have been affected by an algorithmic or manual penalty. We offer many of these clients what we call Penalty Assessments, which are a series of deep-dive engineering documents that identify the type of penalty that the site is suffering from, offer a road map for recovery from the penalty as well as actionable recommendations for mitigating future risk. We work with penalized sites of all sizes, some attached to large corporations, others belonging to small to mid-sized businesses.
We've become really good at tasks like penalty identification and backlink profile clean up. We've gotten a number of clients out from under the revenue depressing weight of algorithmic and manual penalties alike. But lately, a number of our penalized clients are becoming impatient. It's not anything we've done, and it's not due to anything we can do. We, along with the rest of the SEO industry, have been waiting for 10 months for Google to refresh its Penguin algorithm.
Typically Penguin refreshes have stuck to a general May/October refresh schedule. However, the last refresh occurred more than 10 months ago. Reactions from vocal contingents in the SEO industry have run the gamut, with many expressing frustration on behalf of their penalized clients, while others defend Google's right as a private company to tweak their product as they see fit.
Read more of Does Google Have a Responsibility to Refresh Its Penguin Algorithm?
---
July 24, 2014

Google Author Rank is coming. Author Rank is an algorithmic analysis of an author's authority which is used as a search engine ranking signal. When Google Author Rank comes, you'll want to be ready, having firmly established yourself as a trustworthy authority. Now is the time for authors, journalists, bloggers and other content creators to evaluate themselves as authors in the way a search engine would. With last month's disappearance of author photos from the SERP, we believe we're closer than ever to the actualization of Google Author Rank.
Read more of Google Author Rank is Coming; ClearVoice is Ready.
---
July 16, 2014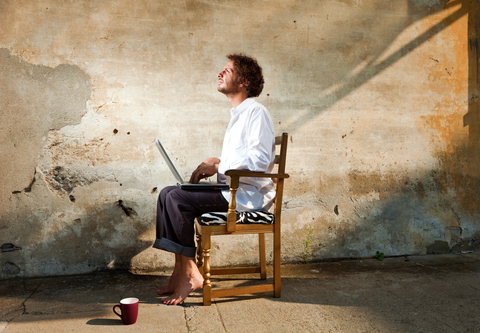 When John Mueller announced Google was "simplifying the way authorship is shown in mobile and desktop search results, removing the profile photo and circle count," he asserted that this change was simply an effort to de-clutter the SERP. Prominent Internet marketers, however, had their own theories on Google's latest bold move.
Here we evaluate some of the theories posed by industry thought leaders about why Google has cut author photos from SERPs. We also explore how the removal of author photos in SERPs may actually signal Google's interest in adding author reputation as an algorithmic ranking factor.
Read Could Disappearing Author Photos in Google SERPs Signal Coming Author Rank?
---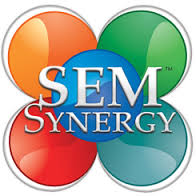 After almost three years since its last episode, SEM Synergy is making a comeback to WebmasterRadio.FM. It's the Internet marketing podcast you don't want to miss hosted by leading search marketing expert Bruce Clay, president and founder of Bruce Clay, Inc. With new episodes starting July 16 (THAT'S TODAY!) at 11 a.m. Pacific time, 2 p.m. Eastern time, Bruce Clay will be joined by co-hosts Virginia Nussey and Mindy Weinstein. Together, the trio will bring Internet marketers and business owners a weekly dose of news and commentary with interviews from the brightest minds in SEO, like next week's guest Duane Forrester of Bing and past guests that have included Matt Cutts, Bryan Eisenberg and Avinash Kaushik.
Read more of SEM Synergy Returns to WebmasterRadio.FM.
---
July 15, 2014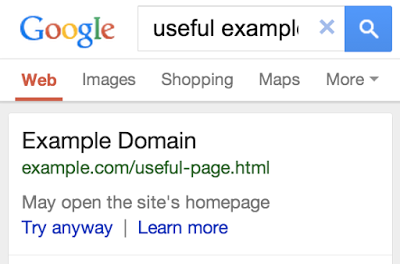 With mobile Internet usage at an all-time high, Google has been cracking down on websites with poor mobile experience. Mobile web design and user experience must be addressed as part of any effective online strategy.
The way a site handles traffic from mobile devices can directly effect that business's presence in search results. Just this month, Google announced it was adding a disclaimer beneath mobile search results that redirect smartphone users from the page they click on in the SERP to that site's home page. From Google's perspective, this disclaimer improves its mobile experience; meanwhile webmasters should be concerned if their mobile websites are ill-equipped to handle the growing number of mobile queries. The pressure is on for websites to provide a user-friendly mobile experience as the number of mobile queries surpassed desktop queries this year.
Read more of 8 Common Mobile Website Pitfalls to Avoid for SEO.
---
July 10, 2014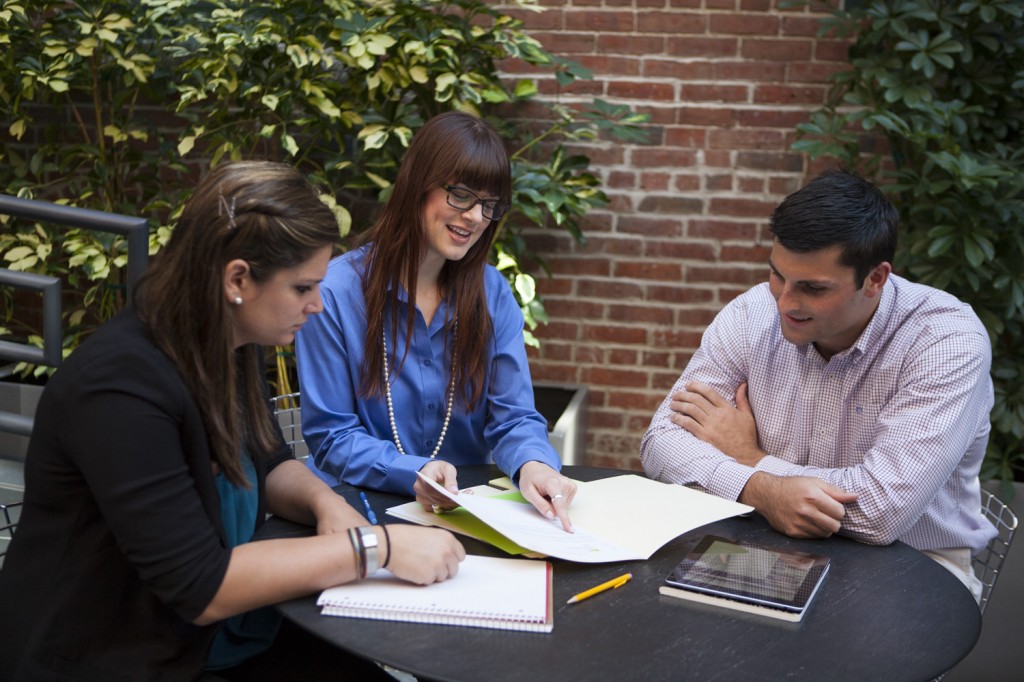 Your resume is the first thing a hiring manager is going to see when you apply for a job — is your SEO resume optimized to make a good first impression? SEO Manager Mindy Weinstein talks about the factors that make or break an SEO resume:
Experience
Training
Results
Read more of 4 Factors that Make or Break an SEO Resume.
---
July 7, 2014

While many Americans enjoyed getting their head out of work during last week's holiday, a room full of Europeans dove into SEO practices for online business as taught by one American.
Bruce Clay, an expert on natural search engine optimization, came to Milan, Italy, to teach a sold-out, special two-day SEOToolSet® Training hosted by Bruce Clay Europe. During the advanced SEO course held July 2–3, 2014, I took note of some valuable SEO tips arising from the numerous questions he answered.
Read more of Recap of SEO Course in Italy: 4 SEO Tips to Remember.
---