SEO Archives - Page 5 of 149 - Bruce Clay, Inc. Blog
November 12, 2015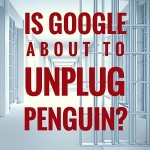 TL;DR – A theory: The next Google Penguin update will kill link spam outright by eliminating the signals of inorganic backlinks. Google will selectively pass link equity by topical relevance of linked sites, made possible by semantic analysis. Google will reward organic links and perhaps even mentions from authoritative sites in any niche. As a side effect, link-based negative SEO and Penguin "penalization" will be eliminated.
Is the end of link spam upon us? Read why we think it's a good thing that Google is about to unplug its Penguin.
---
November 4, 2015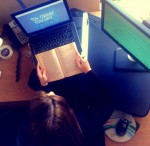 Ever wondered what would happen if you ran classic literature through an SEO tool? Me, too!
I've got a sweet spot for tools that give me an idea of how I'm doing as a search marketer and content publisher. I think a true test of an SEO tool's power is whether the software can do the job of a careful human expert in a fraction of the time.
Check out the following experiment, which details what happened when an SEO tool meets F. Scott Fitzgerald's "The Great Gatsby." While it was devised in fun and out of true curiosity, it ended up being a real-life study of SEO tools at work, worth sharing.
---
October 30, 2015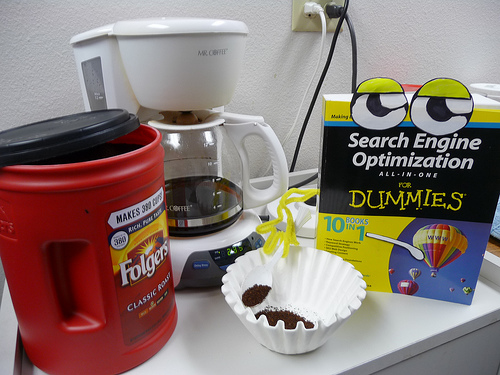 Three years has passed since the second edition and the SEO world has changed drastically. More than ever, digital marketers need a reference guide that's accessible, reliable, and reflects the latest updates in the industry. That's what they're getting in the freshly released third edition. Basically, the book is the perfect companion for any business owner, digital marketer, or anyone responsible to drive traffic to a site. This Halloween season, it also proved the perfect companion for Darth Vader, Tinkerbell, Minnie Mouse and more as the book got into various characters — check it out here!
---
October 29, 2015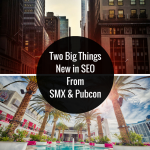 Digital marketers and SEO industry insiders demand outstanding content for their limited blog-reading bandwidth. So, for SEOs who want to get straight to the heart of the latest game-changers, we offer our humble opinion that during the SMX East and Pubcon Las Vegas conferences of the last month, there were two big comets that hurtled from the sky, signaling changes to the SEO landscape forever:
Machine learning algorithms ranking content based on searcher behavior feedback
Predictive search serving searchers content before they ask
Here's your front row seat to what's new in SEO straight from SMX East and Pubcon Las Vegas.
---
October 9, 2015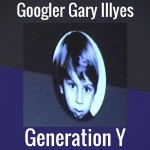 Getting to know Millennials has been a hot topic at Pubcon Las Vegas 2015. Everyone's talking about Millennials, including Google's Gary Illyes (who's a millennial himself!). He took the stage to deliver the grand finale keynote, and he's going to tell us how Google is thinking about Millennials and how they're shaping the future of search.
Read the liveblog report of Googler Gary Illyes' keynote address at Pubcon Las Vegas 2015.
---
October 7, 2015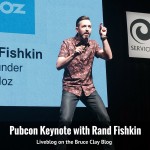 On top of traditional SEO optimization factors (ranking inputs include keyword targeting, quality and uniqueness, crawl/bot friendly, snippet optimization, UX/multi-device optimization) SEOs need to optimize for searcher outputs (CTR, long-clicks, content gap fulfilment, amplification and loyalty, task completion success). In this Pubcon Las Vegas session, keynote speaker Rand Fishkin of Moz talks about searcher outputs and uncovers five elements of modern SEO.
Read our liveblog SEO in a Two Algorithm World.
---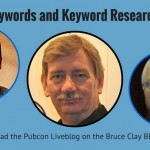 Keyword research — it's the first step in the search engine optimization process. In this Pubcon Las Vegas session, Bruce Clay himself along with fellow presenters Craig Paddock and Ash Nallawalla talk about how to perform the best possible research methods for your keyword processes.
Read the liveblog of Keywords and Keyword Research.
---
October 6, 2015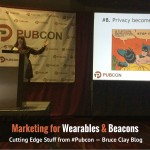 The Pubcon session called "Beyond SEO: Market Intersection Optimization" is really about marketing to users with wearable technology — including:
Using beacons for hyperlocal marketing
Creating content for wearable devices
Social media tips for Apple Watches
Read the full liveblog.
---
October 2, 2015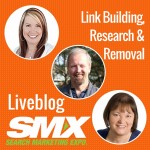 In April 2012, Penguin made its first flaps in the Google algorithm. Since that time, the SEO industry has developed stringent best practices around link building, also called link acquisition or link earning, and backlink auditing and SEO penalty removal. This SMX East session starts with timeless methods to attract quality relevant links through content marketing. Then speakers lay out the backlink auditing process and critical tools for link research and removal.
Read the liveblog coverage of Link Auditing & Best Practices for Authoritative Link Building.
---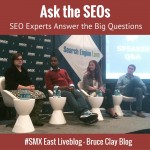 Four expert SEOs take the stage in SMX East 2015's "Ask the SEOs" session. This popular Q&A free-for-all is where the audience can ask them … anything! But first, let's meet the SEOs:
Mike King (@iPullRank), founder of iPullRank
Hillary Glaser, SEO manager at Campbell Ewald
Cindy Krum (@Suzzicks), CEO at MobileMoxie
Marshall Simmonds (@MDSimmonds), founder and CEO of Define Media Group
Read all the questions and answers in the Ask the SEOs liveblog.
---