SEO Archives - Page 5 of 144 - Bruce Clay, Inc. Blog
March 27, 2015
Google's Feb. 26 announcement that the search engine will now "surface content from indexed apps more prominently in search" is significant news for SEOs. If a user has downloaded your app, your app content can get a ranking boost in their SERP — and if a ranking boost is on the table, it definitely makes an SEO stop and consider the possibilities.
On average, people install 26 apps on their phone … but there are more than 1.3 million apps in the app store. And we know that 5 percent of apps drive 92 percent of all app downloads. Moral of the story? Apps are a very competitive space, and before any coding begins, it's important to determine whether or not an app is worth the investment for your business.
Read more of Apps: The New SEO Frontier?
---
March 5, 2015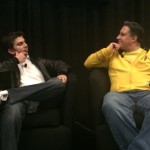 SMX West 2015 ends on a high note with "Ask the Search Engines." Search Engine Land Editor Danny Sullivan welcomes Google's Gary Illyes and Bing's Duane Forrester to the stage for a no-holds-barred question and answer session with two of Search's most important figures. These are the men with the inside info that we all want to hear.
Get the full scoop in this liveblog of Ask the Search Engines.
---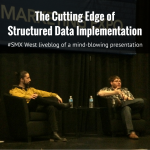 It's not enough just to implement structured data. That's par for the course, a requirement now and not an advanced opportunity. We're not early adopters and we have to think about the next step.
In this liveblog coverage of the SMX West session "The Next Generation of Structured Data: Taking Markup To The Next Level," you'll learn about some advanced things you can do with structured data. Our presenters go beyond Rich Snippets into the cutting edge of what Google's developing in data markup. Find out what speakers Mike Arnesen and Justin Briggs had to say in the full presentation liveblog.
---
March 4, 2015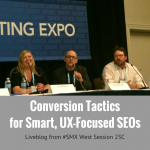 At this SMX West session, our esteemed speakers talk of conversion SEO, emphasizing that the role of SEO doesn't end at getting traffic to the site. Once you have the fish on the line, then what? As one speaker says, "Think about SEO not as search engine optimization but as search experience optimization." Consider search as bigger than just search engines and get UX recommendations through streamlining the checkout process to surveying search visitors. Speakers on this panel: Mark Munroe, founder of SEORadar; Matt Storms, SEO at MattStorms.com; Lisa Williams, president and founder of Sustainable Digital Marketing.
Read the full liveblog to learn how to do "search experience optimization."
---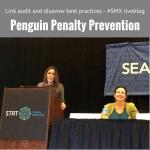 In this SMX West session you'll learn how to assess whether or not your site has been affected by manual link penalties or by the Penguin algorithmic link penalty. You'll also learn how to do backlink analysis with recommended tools and how to request link removals. Read the full liveblog coverage of presentations by Marie Haynes, Rae Hoffman and Sha Menz.
---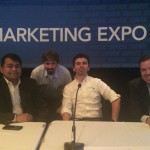 Given that Google is adding mobile-friendliness as a ranking signal, this morning's SMX West session on mobile search is packed. Everyone is eager to hear insights directly from Google when Webmaster Trends Analyst Gary Illyes takes the stage to talk about the update and answer questions from the audience. In addition to Illyes, the audience will also hear from Mitul Gandhi, chief strategist at SEO Clarity, and Bryson Meunier, Director of SEO for Vivid Seats.
The information presented in this session was pretty significant, so we're going to go ahead and tell you the two most important takeaways right up front. The two things SEOs absolutely need to take away from this session are:
1) Google's Gary Illyes revealed that there is a Google team dedicated to indexing mobile sites separately – and the separate indexing of mobile sites is something Google might experiment with in the future.
2) April 21, 2015, by all accounts, is a "very important day." That is an exact quote from Gary Illyes.
Read more of Mobile SEO in 2015: What's Important?
---
March 3, 2015
It's critical to know what your service providers are actually doing when it comes to SEO, explains Motoko Hunt, long-time search marketing consultant and the chairman of SEMPO. In this Search Marketing Expo (SMX) West "Avoiding Shady Search Marketing Practices" session, she breaks down some of the common ways shady digital marketing agencies deceive unwitting clients.
Read 14 Shady SEO Agency Lies & Client Crimes.
---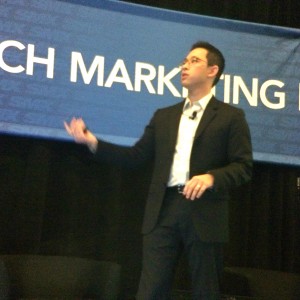 This SMX West 2015 mini session is a presentation grounded in the belief that you can automate everything for SEO and directly integrate it to your products. This is especially important for large websites. Michael Nguyen, Director of SEO at Connexity/Shopzilla, is our presenter.
What is a large website? Too big to fit in your head. Examples are networks of sites and sites with thousands and millions of pieces of content. Enterprise sites and long-tail businesses are also to be considered large.
Large sites have big problems. Good things about large sites include domain authority and a lot of content.
Read on for the problems with large websites — and solutions including an automation platform.
---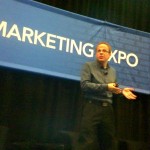 Have you had to deal with last minute changes for designers? Or change 302s to 301s, resulting in more work for IT? All this extra work stems from not knowing the importance of minutiae and how these small things affect SEO. It's the SEO's job to train other teams. Explain to the designer why it matters to have text vs. text in an image and to have alt text. Explain the the IT team the importance of a 302 vs. a 301. To the data team, explain the importance of page-level data and parameters at a page level.
They're owned by different business channels, like engineering, IT, social media, copy, design and project managers. Everyone in an organization needs to know what matters to Google. Yes, everyone.
Read this liveblog coverage of tactics shared by Micah Fisher-Kirshner, Senior SEO Manager at Zazzle Inc, to get a whole organization working to accomplish SEO initiatives.
---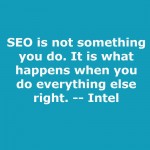 Intel is a Fortune 50 company present in 63 countries with 110,000 employees — in other words, they have a large global footprint. Today, in the SMX West session "Extending the Value of Search Beyond Your Website," Digital Intel Digital Marketing Manager, Laura Ann Mitchell, and Global Strategies Sr. Vice President, Ken Shults, will discuss how Intel approaches SEO.
Read all of Intel's SEO Philosophy – #SMX West Liveblog
---