Social Media Marketing Archives - Page 5 of 37 - Bruce Clay Blog
March 12, 2013
Good morning from San Jose! Today we get our keynote, and here's SMX's description: "The developments keep coming fast-and-furious from Facebook, which last year tipped over the 1 billion user mark. In this keynote conversation, Grady Burnett, Vice President of Global Marketing Solutions for Facebook, will talk with Search Engine Land founding editor Danny Sullivan […]
---
February 25, 2013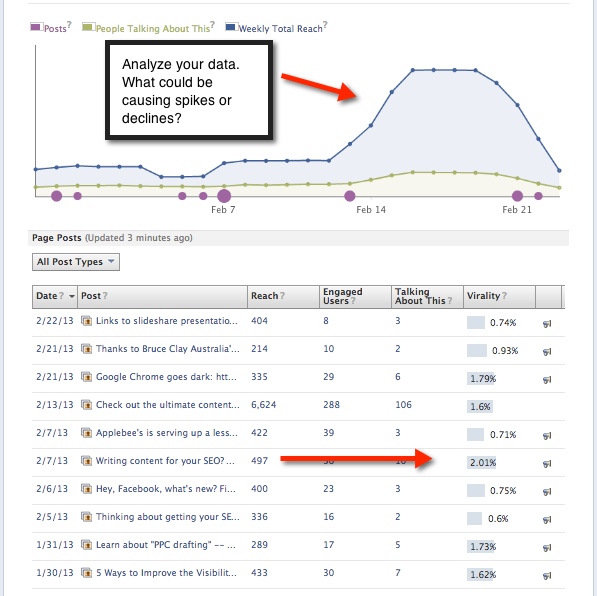 Companies will often have a Facebook presence but are still not quite sure what to do with it. And while the opportunities are seemingly endless, we're gonna get back to the basics on this one and talk about how a few simple steps can help you lay the foundations for a more successful Facebook experience. Today we'll go over:
1. Understanding your Facebook Insights.
2. Promoting your status updates.
3. Optimizing your about section.
4. Creating a schedule for posting.
---
February 7, 2013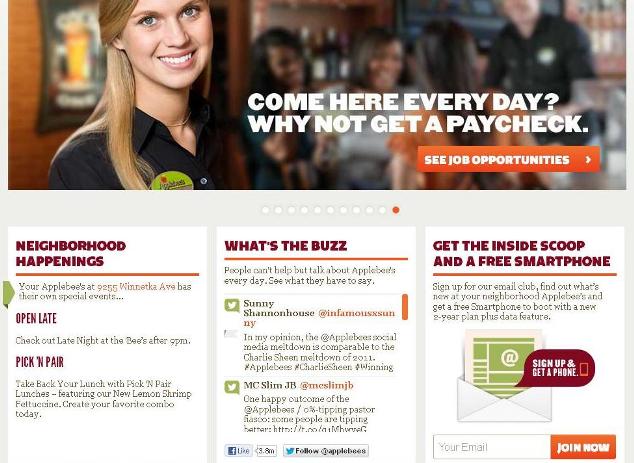 Applebee's is serving up a lesson in social media reputation management and crisis communications this week. There are multiple layers worth exploring in this story.
There's the Reddit community whose mob mentality infected this story as it traveled across social media channels.
There's also the social media marketing industry that has raised its voice against how Applebee's handled the situation.
Herein I attempt to look at both because, of course, they're overlapping and related. Yet because this story is deeply layered and complex, I merely skim the surface. Still, I think it's enough to add a few things to your business's guidelines for online discourse if and when your brand ever comes under fire.
Read more of Fresh and Sizzling at Applebee's: Social Media Reputation Management
---
February 5, 2013

Facebook and me are tight. I like how Facebook's always asking me how I'm doing. No matter what's going on in my life, I know Facebook is happy to hear from me. It's pretty impressive Facebook can always make the time considering how much it's got going on. Lately the service has been really busy adding new features to its social platform, so I wanted to take a minute to get an update from the ultimate update sharing service.
For marketing implications of Facebook Graph and a light-hearted conspiracy theory about Facebook Gifts, read on.
---
January 23, 2013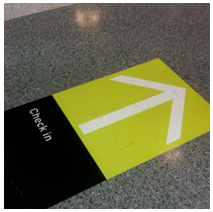 On December 12th, Facebook introduced the "Nearby" feature for its iOS and Android apps. Facebook Nearby allows users to find a place near them based on the recommendations of their Facebook friends.
The app now includes:
Recommendations
A rating system
A search box made of different business categories
Functionality that allows users to contact a specific business directly.
Only those businesses (large or small) that have a Facebook Page will be listed.
With the Nearby feature, Facebook aims to become a personalised local recommendation engine.
Read more of Facebook Turns Local Recommendation Engine with Nearby Feature.
---
November 6, 2012
Publishing is now a right and not a privilege. We're all publishers on the Web. What that means for business is that if you're not participating in the conversation, you may as well close down shop.
With a publisher's approach to branding and communications, it makes sense to adopt the processes of publishing's most prolific: news organizations. They've mastered the science of the story with two very important characteristics: speed and depth of view. Add to that interactivity and you've got a powerful publishing formula.
Read more of A Brand News Approach to Content Marketing.
---
November 2, 2012
It's Friday. How much time will you spend scrolling through Twitter today? Be honest!
Are you scanning and tweeting for business or pleasure? If you're in the mindset to give your company Twitter profile a little TLC, let's run through a 4-step exercise to optimize your bio, spruce up your look and get a little (inter)action.
1. Set Your Clear Intention
2. Ban the Bio Hazards
3. Run a Few Tools to Improve Engagement
4. Follow a Shareable Tweet Checklist
Read more of Friday 4-Step: Quick Twitter Exercise for Brands.
---
September 13, 2012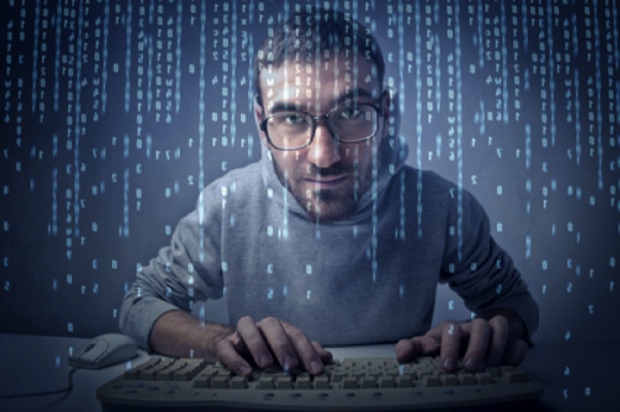 Without taking time to study what posting initiative generates what units with which actions, marketers literally spray actions all over the place. Compounding this are Facebook ad units (Sponsored Stories) that create hybrid paid/organic units (paid/organic amplification). Confused? Understandably. There are a number of content types available to marketers on Facebook, each with their own presentations and available interactions. Read on and we'll dig right in, starting with a description of simple Facebook units and heading into more complex mashup units.
Read more of Decoding Facebook Page Units & Their KPIs: Sane Social Media Marketing.
---
August 31, 2012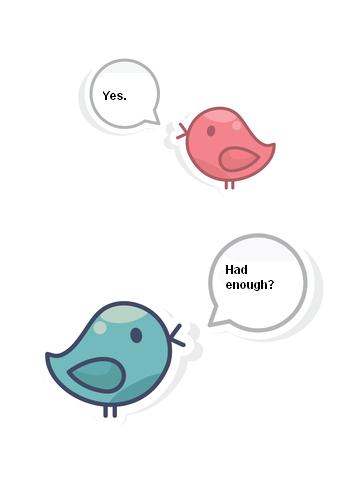 For some time now, I've found myself disengaging with Twitter; it was overwhelming, chaotic and assaulting. I didn't even like to look at the thing any more. The topics were either too disjointed or too the same. There was very little that was interesting to me and I began to feel like it was TV commercials all over again.
And it was all my fault.
I knew what I had to do. I had to get comfortable with the fact that it's OK to be discerning about who you follow. And that took me about one minute to get on board with, because the outcome of the other approach – the one I had been practicing – was creating a Twitter that sucked.
---
August 28, 2012
How many times have I read or heard "create great content" as the first rule of online marketing? Unfortunately that overlooks the importance of promoting the content. The old adage "build it and they will come" is misleading in the content marketing world. The power of frictionless sharing for brands is the broad exposure, made easy as readers do the work.
Facebook is on to something with the concept of frictionless sharing. In fact, business should examine their media assets to make sure user sharing is obstacle-free. Here are some things to think about in optimizing your content's sharability.
Read more of 4 Ways to Strip Hurdles for Easy Content Sharing.
---