October 22, 2014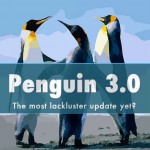 For 12-plus months analysts have been waiting for the Penguin 3.0 update that would allow reformed corner-cutting clients to claim full penalty recovery and regain SERP rank. With six months between updates set as the standard through 2012 and 2013, a full 12-month cycle between updates has created quite the build-up for Penguin 3.0.
So, when an October 17, 2014 Penguin 3.0 update was announced by Search Engine Land on October 19, much SERP rank fluctuation was expected. Instead, what we've seen in the five days since the update can only be described as overwhelmingly underwhelming.
Read more of Penguin 3.0 is Overwhelmingly Underwhelming.
---
October 21, 2014
It's been a busy month, with Search Marketing Expo (SMX) East 2014 and Pubcon Las Vegas 2014 taking place back to back as September gave way to October. After liveblogging 36 key sessions throughout both conferences, two major themes emerged: 1) the importance of optimizing for mobile at every turn and 2) the importance of a mission that goes far above and beyond sales. Read on for six lessons, straight from Pubcon and SMX East, on these key themes:
Brand + Mission = Excellence
Think Bigger: Startups Save the World
Focus on Users with "Youtility"
Responsive Design isn't the Only Choice That Makes Sense
Click-to-Call Extensions Reap Major Rewards
75% of Users Access Pinterest on a Mobile Device: Optimize Accordingly
Read on for more of 6 Digital Marketing Lessons from SMX East & Pubcon."
---
October 20, 2014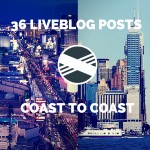 Bruce Clay, Inc. sent livebloggers Virginia Nussey and Kristi Kellogg to Pubcon Las Vegas and Search Marketing Expo (SMX) East 2014 to report live on 36 key digital marketing sessions. Whether you're interested in SEO, SMM, PPC, mobile optimization or content marketing, you'll find coverage of the most important sessions coast to coast. Read on for an overview of each liveblog post and click through to read what piques your interest — or read them all.
Check out all the liveblogging action in 36 Coast-to-Coast Liveblog Posts Covering Pubcon Las Vegas & SMX East 2014 .
---
October 16, 2014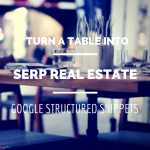 On September 22, the Google Research Blog announced Structured Snippets, a feature that "incorporates facts into individual results snippets in Web Search." What it amounts to is elements from an HTML table being shown right in the SERP. If this sounds at all like Structured Data, it should. Sort of. Google displays data from your website on their results page, yet it doesn't require schema markup or any other specialized coding. All you need is a table. Oh, and relevant data.
Read New Structured Snippets: An Enhanced SERP Snippet Is Just a Table Away.
---
October 15, 2014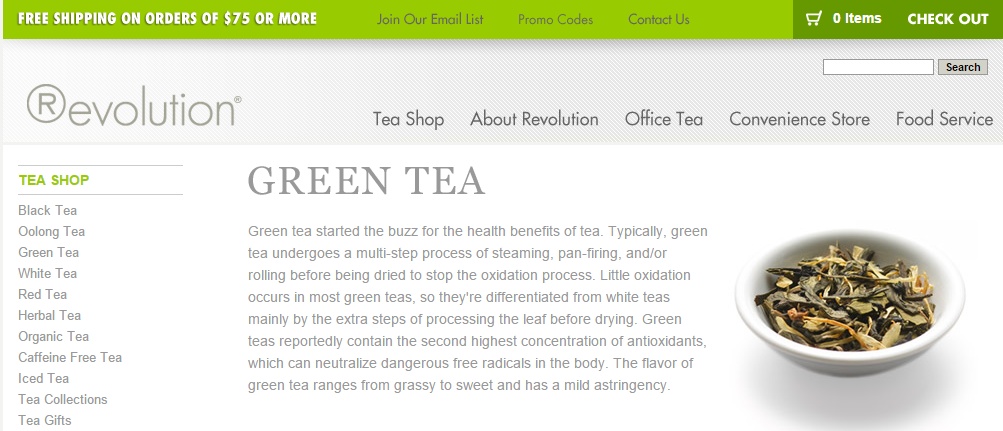 The key to maximizing your social distribution is controlling the way your content is displayed in social media feeds rather than letting Facebook, Twitter and other social platforms decide for you.
To learn how social meta tags can provide optimal titles, descriptions and images when content is shared on Facebook, Twitter, LinkedIn and Google+, read How To Use Social Meta Tags to Optimize Social Sharing.
---
October 9, 2014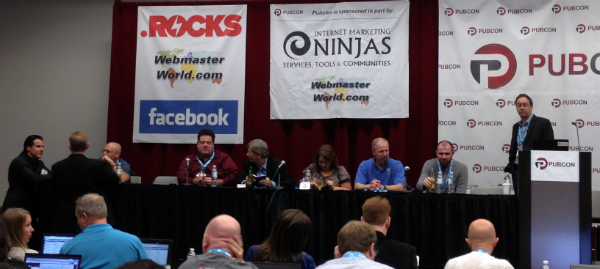 It's Pubcon's 15th birthday (and the final panel), and you know it's a party when there's beer and cake and an SEO Mosh Pit, a Q&A session where conference attendees get to ask their questions of some of digital marketing's best minds and leaders, including Bruce Clay, about the current SEO state of affairs.
Is SEO dead? Does Google have too much power and influence in our lives? What would be the top recommendations for earning money in the coming year?
Read the answers to these questions in Pubcon Liveblog: SEO Mosh Pit.
---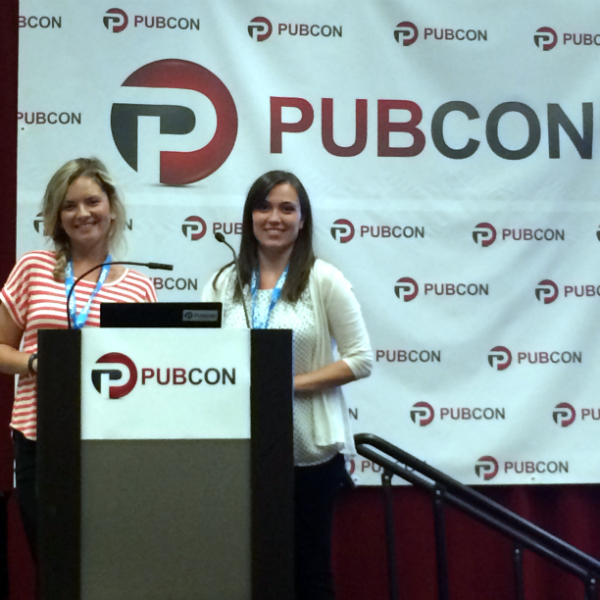 Persona research is taking data and turning it into a person. That person is your persona and you think about him/her whenever you're creating your content.
What do personas have to do with social media contests? If you don't understand your personas, your social media contest is likely to fail. One of the most common reasons why business fail to gain ROI from their social media marketing efforts is their failure to fashion their content to target specific personas.
Read Pubcon Liveblog: Utilizing Personas in Social Media Contests.
---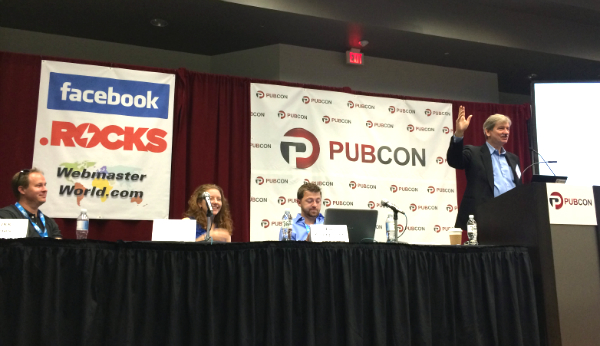 Rhea Drysdale, CEO of Outspoken Media, Joe Youngblood, founder of Winner Winner Chicken Dinner, and Russ Jones, chief technology officer at Virante,,are going to talk link building in this Pubcon Las Vegas 2014 session. But first a disclaimer from Bruce Clay, session moderator and Bruce Clay, Inc. president: if you are going to build links, proceed with caution. The tactics mentioned herein are for your information – we do not endorse any of these tactics.
"When you're dealing with inbound links you have to consider whether the links are organic or inorganic to your site's theme. You have to understand the policies of the search engines relative to possible penalties. You wouldn't want to overwhelmingly support a single technique. You have to use any technique in moderation," Clay advises. "You shouldn't go from one to sixty links overnight on one technique – that sends a signal to the search engine that you're involved in a heavy link development program and it could ultimately lead to a penalty. Follow the Google Guidelines. Links should be good for your users, contribute to your site content and make sense."
Read Pubcon Liveblog: Link Building Without a Penalty
---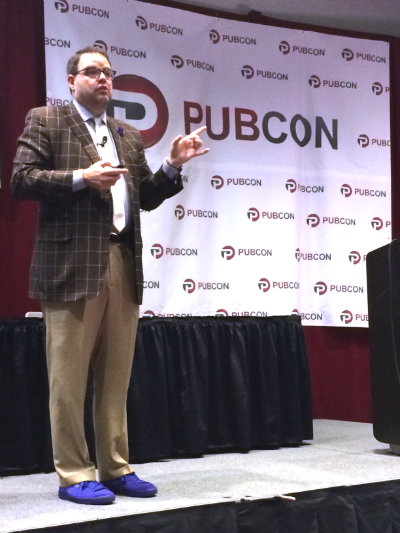 Marketing is more challenging than ever — attention spans are shorter, consumers demand more knowledge, and what worked twenty years ago won't work today. In a session packed with real world examples, Baer shows how brands are wielding transparency and "Youtility" to build trust and business.
Read Pubcon Keynote Liveblog: Jay Baer, Author of Youtility — Help Not Hype.
---
October 8, 2014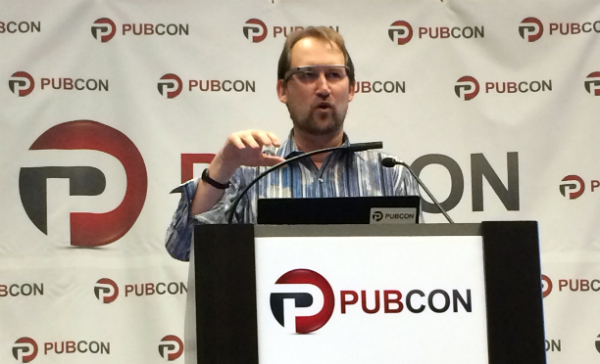 When it comes to wearables, devices and technology are becoming increasingly sophisticated, and Internet marketers are embarking on a new frontier: real-time marketing. Rob Garner, Chief Strategy Officer at Advice Interactive, is going to take the Pubcon Las Vegas 2014 audience on a tour of the real-time marketing landscape in this afternoon session.
Read the full liveblog coverage to hear the elements that make marketing real time and technologies driving the wearable technology change.
---