May 11, 2015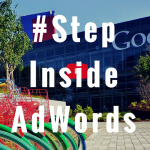 Google AdWords super charged the search advertising platform in three exciting new ways announced last week. For our SEM management clients, we wanted to share the new ad formats, automation tools and measurement capabilities we on the Bruce Clay, Inc. SEM team will be putting to work on your campaigns in the coming months.
• New mobile ad formats for shopping, hotels, autos, finance, with more verticals on the way
• New tools to track conversions that happen across multiple devices and advanced attribution models that give credit beyond the last click
• Automated solutions for bidding and dynamic ad serving
Read about the ways your business will benefit from these enhanced tools, reports and AdWords upgrades!
---
May 8, 2015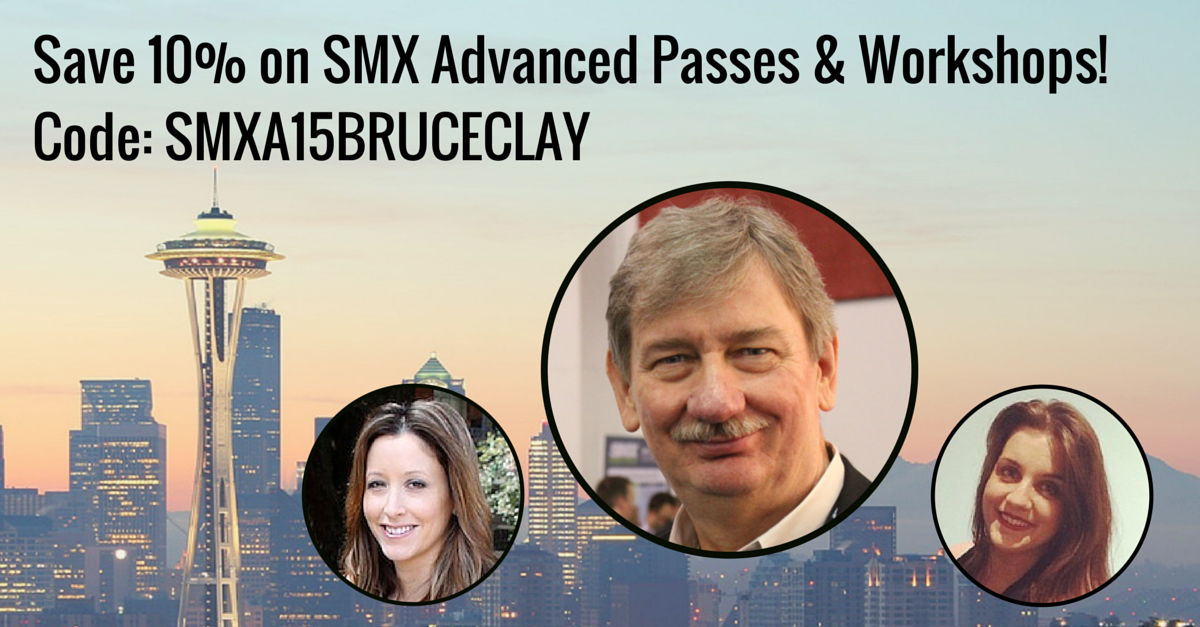 Less than 90 tickets remain for Search Marketing Expo (SMX) Advanced 2015! If you're planning to register for the must-attend event, hurry — because it looks like it's about to sell out for the ninth year in a row. When registering, save 10 percent on all passes and workshops with our discount code: SMXA15BRUCECLAY.
If you're looking for next-level search marketing education and networking, this is the conference you don't want to miss. Industry elite gather here to share advanced technical knowledge and tactical tips for search engine optimization, paid search and social media marketing. I'll be on the scene liveblogging. Read on to see where you can meet Bruce during the conference and see our liveblog schedule.
---
May 4, 2015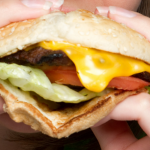 The 404 error page is a generic, browser-issued web page that tells a visitor when a page they are looking for can't be found. A custom 404 error page, on the other hand, is a specially-designed page that delivers the same message but in a more helpful, user-friendly way that honors the brand. It can tell the visitor what's going on and what to do next. It can even be crafted to save a sale.
This post walks through the steps of setting up a custom error 404 page if you're a small business administering your own IIS server either directly or through a hosting provider.
Read more of How to Configure a Custom 404 Error Page in Microsoft IIS Server
---
April 29, 2015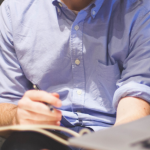 We at BCI take Quality Score very seriously. After all, it has a direct effect on your ad positioning and how much you spend per click! Having a good Quality Score is a must for any account, however, it can be difficult to optimize for. What works for one account might not work for another, and some things aren't in your control as the SEM account manager — most notably, landing pages which can require members of design, development or IT to update and manage. Thankfully, there are other components that contribute to Quality Score that are in your control and can make a big difference.
We recently accomplished Quality Score improvements for one of our clients by addressing CTR and ad relevance alone — things you can do, too! Here we get in to how we were able to achieve it, but first let's understand Google's formal definition and the components of Quality Score.
Read more of How to Improve Quality Score without Modifying Your Landing Pages.
---
April 28, 2015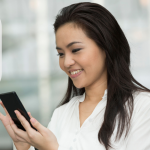 Are you a hands-on small business owner managing your own digital marketing grappling with Google's April 21st mobile-friendly update? We're here to help. This article is your go-to guide for dealing with the aftermath of Google's April 21st update. We're one week out from Google's latest major algorithm update and that means it's time to dive into data and plan ahead — because even if the mobile-friendly update boosted your mobile traffic, we know search engine optimization is never complete.
Read on for post-April 21st advice! This guide discusses everything a hands-on business owner needs to know about improving your website's appearance in mobile search results:
Creating a mobile baseline report in Google Webmaster Tools
Learning how to determine how your site was impacted
The mobile-friendly label vs. other SERP annotations
How to edit the new mobile breadcrumb URLs
Read more of The Comprehensive Mobile-Friendly SEO Guide for Business Owners Post-April 21st.
---
April 20, 2015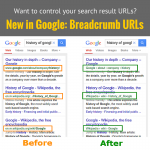 Google announced two more changes last week to the way URLs are displayed in mobile search results:
Mobile search results no longer show the actual page URL, but instead show a breadcrumbs-like format of the URL structure. This is rolling out worldwide.
The breadcrumbs-like information can show the site name in place of the domain name. This is rolling out in the U.S. only for now.
You can specifically control how the breadcrumb URL for your search results will appear if you add Schema.org markup to the HTML on your pages. Read more of Google's New Mobile Breadcrumb URLs: Making the Most of Your Site Name & URL Structure
---
April 17, 2015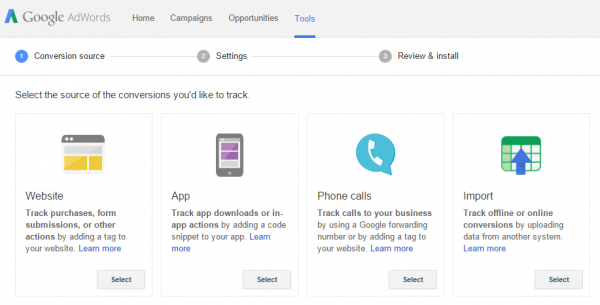 Mobile optimized sites have been all the rage since Google's explicit February announcement that mobile-friendliness will be used as an organic ranking signal starting April 21st. However, Google has not forgotten about the original purpose of mobile devices — phone calls. In February, Google made it easier for advertisers to engage smartphone users with call-only ads. Although call-only campaigns are fairly new to Google AdWords, there are certain steps you can take to get the most out of them.
Read on for tips on getting the most out of the setup, optimization, and reporting of call-only ads.
---
April 15, 2015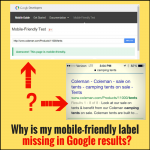 As the April 21st deadline to make your site mobile-friendly approaches, many sites are checking to see if their pages get the "mobile-friendly" annotation. Those two words are Google's promise to searchers that a result meets a certain standard of usability that mobile surfers are starting to expect.
What's concerning is that sometimes the label doesn't show up — even though Google's own Mobile-Friendly Test declares "Awesome! This page is mobile-friendly." In working with clients and through research, we've uncovered little-discussed reasons why a mobile-friendly annotation may not show up despite a page's being fully optimized for mobile browsing.
Read more of Why Is My Mobile-Friendly Label Missing in Google Search Results?
---
April 13, 2015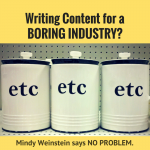 In digital marketing, we talk a lot about content. Emphasizing the importance of quality content and then sharing our tips, tricks and the latest tactics can make content writing seem exciting and sexy. But the truth is, some topics and industries just feel b-o-r-i-n-g. As a writer or the person in charge of writers, how can you turn boring subjects into good content?
Creating engaging content marketing for boring industries is something I know all too well, as I got my start in this industry as a writer. I wrote on everything from LED billboards to personal injury to self-storage units. I remember what it was like to listen to fantastic presenters talk about the magic of writing great content. Then I would go back home, sit in front of my laptop and the reality would hit me again — my topics were boring, or at least they were to me. Eventually, I figured out how to overcome my writer's block and bring those boring subjects to life.
Read more of Creating Content for a Boring Industry? No Problem to learn the top three tips that helped me when I was writing content and then later managing writers:
Develop real-life stories.
Keep your eyes open for inspiration.
Focus on being practical and personal.
---
April 9, 2015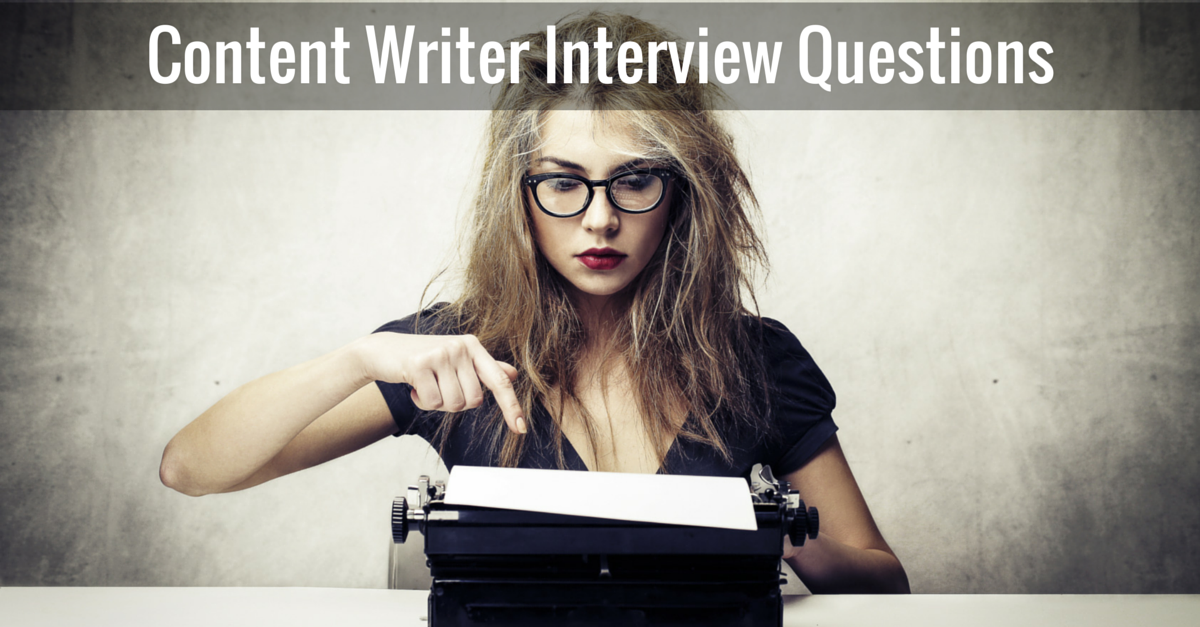 The Internet runs on content. One of the best investments a business can make is hiring an in-house writer tasked with being the voice of the brand online. Content is critical to successful digital marketing, and with algorithm updates like Panda and Hummingbird, it's clear Google agrees. That's why many brands and businesses hire full-time, in-house content writers. There's no denying a qualified content writer can take your digital marketing to the next level. As a testament, Bruce Clay, Inc. has four full-time writers on staff.
"Think of everything that could be made better with refinement by a professional writer. There's the website and blog, email marketing, everything social media from posts and profiles to customer service and reputation management, marketing collateral including white papers, downloads, press releases, and the kinds of creative content marketing pieces that are the currency of social media today," said Virginia Nussey, the content and media manager here at Bruce Clay, Inc.
But not just anyone can type out the next Great American Blog Post. Finding the right content writer is a challenge. Make sure they're educated (ideally with a degree in English, communications or journalism) and experienced (ask for their three best writing samples). The following questions (pulled directly from Bruce Clay, Inc. interviews) are great questions to ask during your content writer interview. Questions like these give you a full picture of your prospective writer's skills.
---