March 5, 2015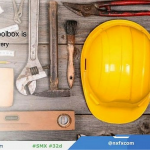 There's a good chance you're not using website analytics tools to their full potential to benefit your understanding of your visitors and your site. In this liveblog coverage of the SMX West session "What's In My Analytics Toolbox," you can get familiar with Google Analytics custom dashboards that you can create for your own site, and get to know the Google Tag Manager and how using it can give you insights on some of the otherwise hidden behaviors of your visitors. You'll also be introduced to a powerful open source platform, Knime, that lets you merge data and visualize data in one place.
---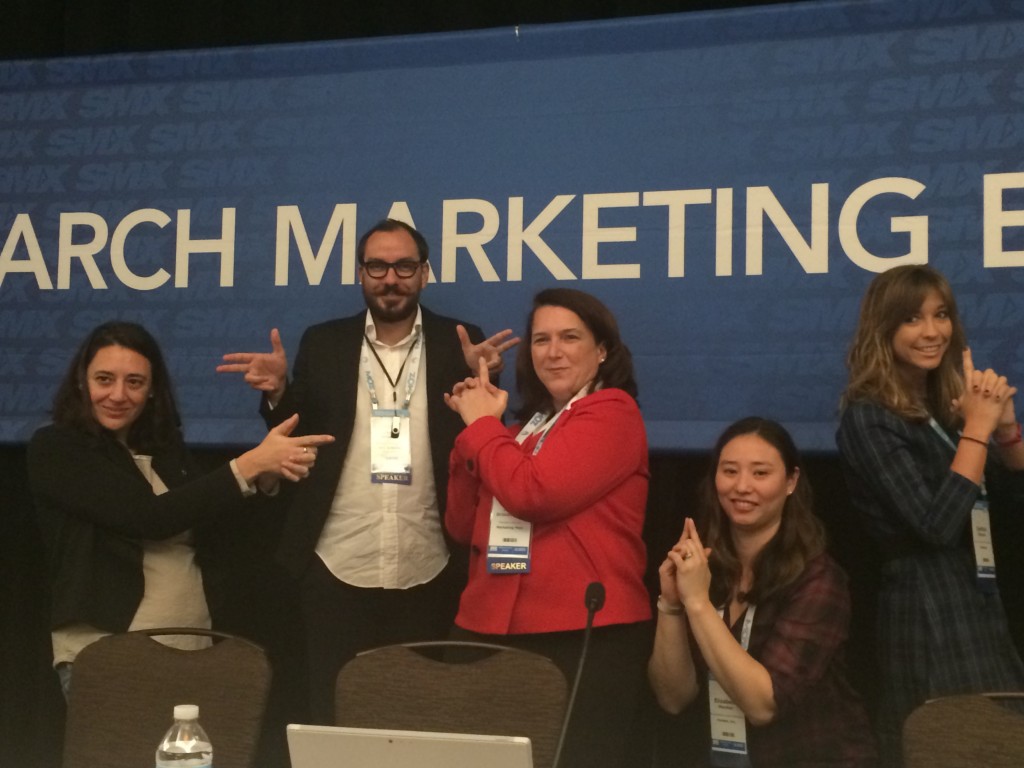 Three heads are better than one! From reputation management, to increased reach with retargeting — your SEO, SEM and social media strategies need to support one another.
Read this SMX West 2015 liveblog coverage to learn:
✓ Why you must take control of your social profiles as part of your reputation management strategy
✓ 6 steps to social reputation management
✓ How to use social to marry searcher intent with identity
✓ Why your marketing strategy needs paid social
---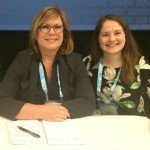 Not unlike peanut butter and jelly, search and social work best together. In this SMX West 2015 liveblog coverage, Ford Motor Company Director of SEO Ellen White, and Kenshoo Content and Media Manager Kelly Wrather, discuss the importance of teamwork and cross-channel strategy between social media and search marketing teams.
Learn:
✓ 3 reasons why search and social should be the next channels you integrate
✓ How to develop a cross-channel plan
✓ Why you need to stop worrying about your own weaknesses, and start worrying about the weakness of your teams.
✓ How to use checklists to strengthen your cross-channel communication and strategy.
Read all of Improving Search and Social Teamwork
---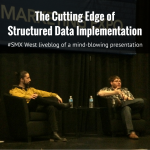 It's not enough just to implement structured data. That's par for the course, a requirement now and not an advanced opportunity. We're not early adopters and we have to think about the next step.
In this liveblog coverage of the SMX West session "The Next Generation of Structured Data: Taking Markup To The Next Level," you'll learn about some advanced things you can do with structured data. Our presenters go beyond Rich Snippets into the cutting edge of what Google's developing in data markup. Find out what speakers Mike Arnesen and Justin Briggs had to say in the full presentation liveblog.
---
March 4, 2015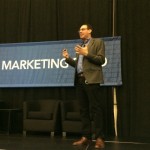 Bill Tancer, author of "Everyone's a Critic," is the general manager of global research at Experian Marketing Services. This makes him the world title holding data geek. On Twitter he's @billtancer. For today's keynote he's going to do something different and never before presented. He's going to share a behind-the-scenes tour of his book "Everyone's a Critic." The story involves an Icelandic volcanic eruption, a review that "this place sucks," and a near heart attack at his kitchen table.
Read our liveblog coverage of Bill Tancer's SMX West keynote address on How to Get Critical Online Reviews in Today's Social Economy
---
If you're unconvinced that a move to HTTPS is for you … then keep reading. Google Webmaster Trends Analyst Gary Illyes will share why Google values secure search so much, and what he and the Google team are planning next when it comes to secure search. Joining Illyes on the stage are fellow search savants Eric Enge (president of Stone Temple Consulting and author of "The Art of SEO") and Bill Hartzer (senior SEO Strategist at Globe Runner), who will also share their insights into secure search.
Article includes:
✓ A 33-Step Checklist for Moving to HTTPS
✓ A PHP hack that makes new HTTPS pages pull social sharing data from old HTTP posts.
✓ An HTTPS Q&A session with Google Webmamaster Trends Analyst Gary Illyes.
Read more of Unconvinced HTTPS is Worth It?
---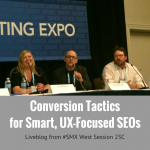 At this SMX West session, our esteemed speakers talk of conversion SEO, emphasizing that the role of SEO doesn't end at getting traffic to the site. Once you have the fish on the line, then what? As one speaker says, "Think about SEO not as search engine optimization but as search experience optimization." Consider search as bigger than just search engines and get UX recommendations through streamlining the checkout process to surveying search visitors. Speakers on this panel: Mark Munroe, founder of SEORadar; Matt Storms, SEO at MattStorms.com; Lisa Williams, president and founder of Sustainable Digital Marketing.
Read the full liveblog to learn how to do "search experience optimization."
---
Developing an app is a resource investment, but one that can pay off in time if done right. In this SMX West session — "Search Inside the App" — Google's Mariya Moeva talks about how Google is looking at apps, and the opportunities they afford. She is joined by digital marketers Ian Sefferman and Justin Briggs. Briggs and Sefferman work in app development and analytics and they will share their latest insights straight from the trenches.
Learn how to get your app indexed in search, what "app deep linking" is, and three app development recommendations straight from a Google Webmaster Trends Analyst.
Read Mobile App Deep Linking, Development & Indexing.
---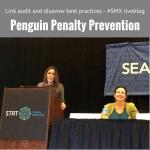 In this SMX West session you'll learn how to assess whether or not your site has been affected by manual link penalties or by the Penguin algorithmic link penalty. You'll also learn how to do backlink analysis with recommended tools and how to request link removals. Read the full liveblog coverage of presentations by Marie Haynes, Rae Hoffman and Sha Menz.
---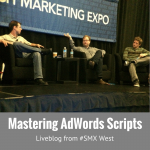 This liveblog of the "Mastering AdWords Scripts" session at SMX West is designed for search marketers who have already written AdWords scripts. The three-expert lineup of speakers moderated by Matt Van Wagner dives deep (and fast!) into how scripts in an SEM toolkit make ads more flexible and powerful.
Read more of Mastering AdWords Scripts
---