Hangouts Archives - Bruce Clay, Inc. Blog
November 20, 2014
"In our industry, if you can't adapt, you lose." Bruce Clay was the guest on an HOA yesterday that one commenter called "Absolutely the best HOA I have heard all year about #SEO." That link will bring you to our recap and top takeaways from Bruce's video chat with Ben Fisher and Stephan Hovnanian.
Replay the HOA on YouTube, and click through for a time-stamped play-by-play in the description provided by the Google Plus Business Spotlight show host.
Watch 'Adapt or Lose' and Other SEO Advice from This Google+ HOA.
---
August 21, 2014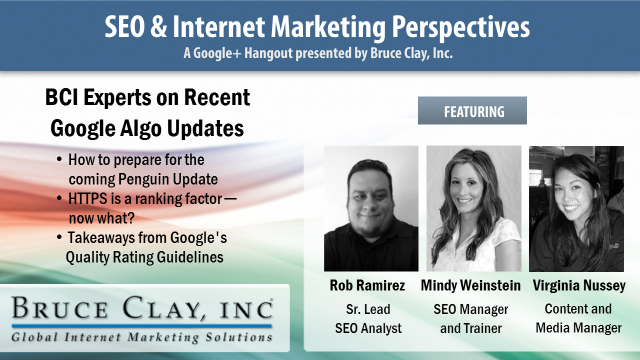 Do you have an action plan now that Google says HTTPS is a ranking signal?
Are you eager for the next Penguin Update?
Have you ingested the newest version of Google's Quality Rating Guidelines and integrated them into your optimization approach?
As web marketing professionals, Google keeps us on our toes, and August has been a busy month on the Google organic algorithm front. There's been:
A mini Panda update
Confirmed progress on a coming Penguin update
And a new ranking signal, SSL encryption
In this Hangout you'll hear what we're doing and recommending for our clients in light of the recent Google updates. Our SEO manager, Mindy Weinstein, and our senior lead SEO analyst, Rob Ramirez, video chat about those three big changes to Google's organic ranking algorithm and touch on takeaways from our reading of the 160-page Google Quality Rating Guidelines version 5. Listen to our conversation and read the highlights below in Hangout on Recent Google Updates: Panda, Penguin and HTTPS.
---