Liveblog Archives - Page 2 of 31 - Bruce Clay Blog
March 18, 2014
These three speakers (Jake Bohall, Bill Hartzer and William Atchison) will sort through issues of the volatile algorithm with the aim of educating and making us less vulnerable to the constant change. Jake Bohall kicks it off the session.
Bohall notes that in 2011, Eric Schmidt testified in front of Congress and said there were more than 500 changes to the Google algo. This graph shows just eight named changes. All the changes we don't even know about happening behind the scenes have an effect on what SEOs do.
We've also seen negative SEO rising. Matt Cutts has said that doesn't happen and it doesn't have any noticeable effect, but Jake sees a lot of it happening all the time because they're digging into link cleanup efforts.
Inconsistency with Guidelines: Google has clear guidelines that instruct webmasters to avoid tricks intended to improve search engine ranking including any links intended to manipulate PageRank or a site's ranking in Google results. Even "natural" links would be considered a way to improve your ranking, so there's some inconsistency there.
So what's an SEO to do? Read more of #Pubcon Liveblog: Algo Chaos.
---
Dr. Cialdini has changed the way business is done. Principles of Influence have come to be the measuring stick on which business decisions are made. Considered among the top business and marketing book lists. He has taught at Stanford's business school and Harvard's government school. He is the most cited social psychologist in the sphere of business.
He's going to talk about 2 things:
•Persuasion
•Uncertainty
One is good for moving people in our direction, while the other is not. Uncertainty is a time when people freeze and want clarification before moving forward. So how do we persuade people that now is the right time and that what we suggest is the solution?
There's a challenge in that you may not know the exact merits that would solve the particular problem a consumer is facing. However, Dr. Cialdini can tell us the best way to present the information so that they open their ears and minds to the offering that you are presenting.
Read more of #Pubcon Liveblog: Keynote — Robert Cialdini, Author of "Influence".
---
March 13, 2014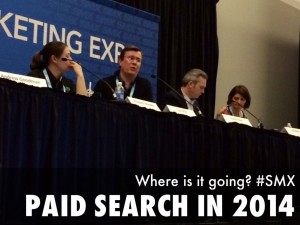 Four industry experts discuss Enhanced Campaign strategy, budgeting, ROI, whether PPC "not provided" could become a reality in 2014, why display and mobile are the future, how social media ties into SEM, and much more in this PowerPoint-free SMX West session.
Read more of #SMX Liveblog: Where's Paid Search Going In 2014? #34B
---
In this Q&A session, veteran SEOs Rae Hoffman, Warren Lee, Laura Ann Mitchell and Marshall Simmonds joined Danny Sullivan and Jeff Preston for an anything-goes, PowerPoint-free panel discussion fielding questions such as:
Does quantity of content still matter for rankings?
What should a company do when an employee leaves who authored quality content?
Should category filter pages be blocked from indexing?
Will Facebook become an active player in search?
What are tips for determining agency pricing for SEO?
Read more of Q&A Session with 4 Expert SEOs (Pubcon Liveblog)
---
For the SMX West grand finale, Google's +Matt Cutts and Bing's +Duane Forrester joined host +Danny Sullivan on stage for an audience Q&A session.
After introductions (and a selfie photo, which has become a theme this week), they dove into a back-and-forth discussion of many topics, including:
• What Amit Singhal might have meant when he hinted at an announcement regarding (not provided) keyword data
• Matt's rundown of "themes of the year"
• Google's progress shutting down link networks world-wide (and an unnamed "well-known guest blog network" soon to be penalized)
• How penalties will or won't follow when …
Read more of Meet the Search Engines
---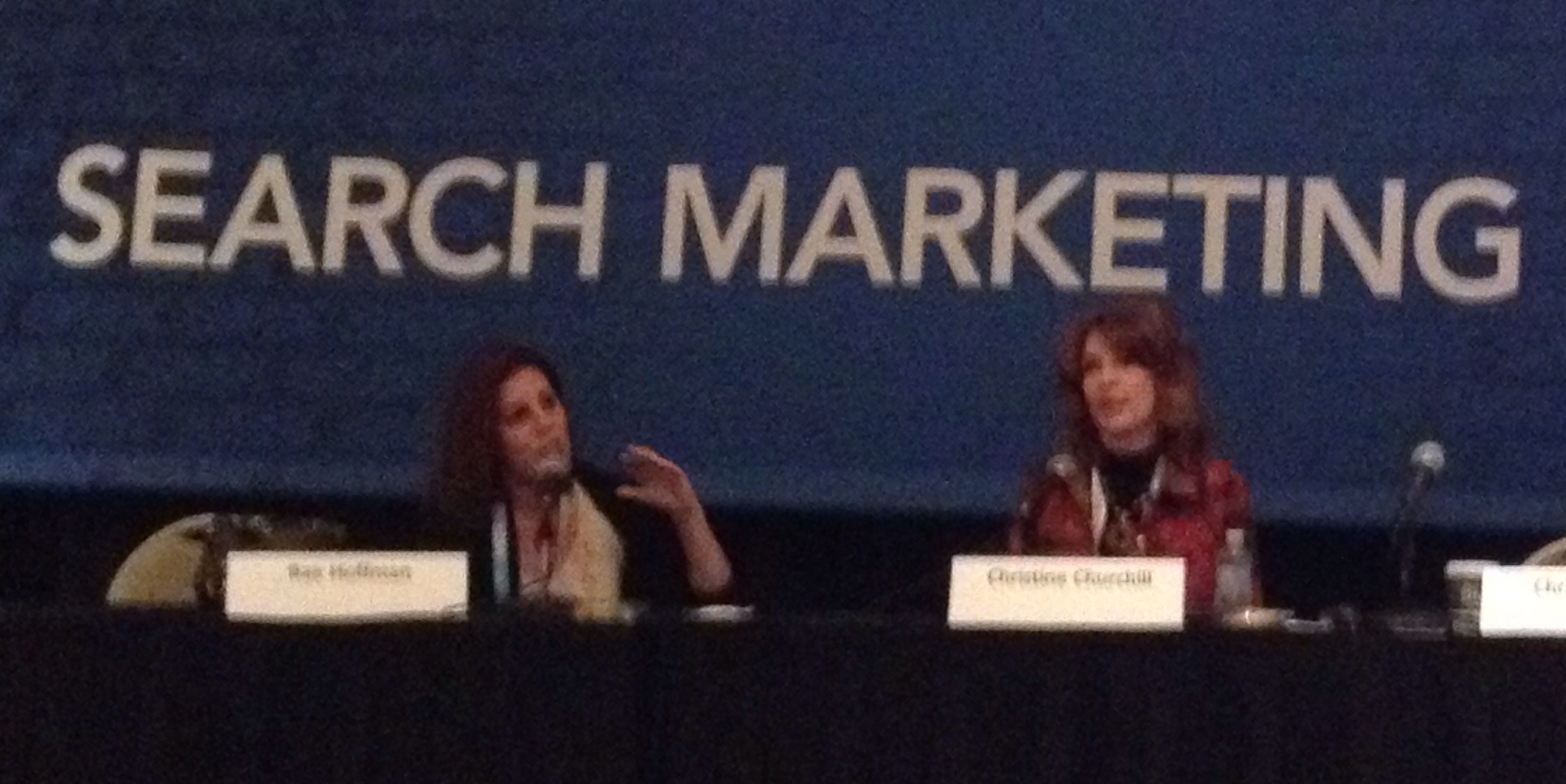 Post-not provided, it's becoming more and more important to rely on third-party keyword research tools. In this post I've documented the tools two industry experts (Rae Hoffman and Christine Churchill) recommend.
First up on the last day of SMX West 2014 is Rae Hoffman (CEO PushFire; @SugarRae). Rae is going to talk about two tools: SEMRush and KeywordBuzz.
TOOL #1: SEMRush
There's a free version of SEMRush and a paid version. The limited free version is "pretty much useless for doing any kind of deep dive into keyword research," says Rae. The paid version (which costs between $69 and $149 per month) is very helpful. We are going to look at the paid version of the tools in this session (and this blog post). Rae likes SEMRush because shows you both keyword volume and est. CPC.
Read more of #SMX Liveblog: My Post-Not Provided Keyword Research Tools (#31C).
---
Hey, online retailers! You've got to be doing product listing ads with Google and now Bing!
Brittney Thomas is the retail vertical lead for Bing Ads in Microsoft. She's bringing the Microsoft vision for retail and Bing Product Ads to this audience. She shows us a video about how Bing interviewed consumers in their research to bring marketers and consumers closer together — the "Consumer First Advertising Approach."
The foundation of this approach is the retailers most powerful asset: the product. Product ads starts addressing that for consumers on the front end. This month there will be product feeds across the Yahoo-Bing Network. Product Ads give consumers rich info in an engaging format. It will show custom images from an advertiser's own product catalog plus promo text and pricing.
Read more of #SMX Liveblog: Power Boosting Sales with PLAs #32B.
---
March 12, 2014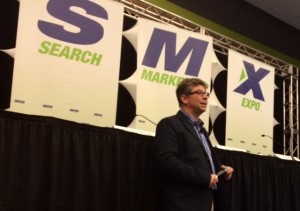 We're here at the evening forum. Danny doesn't have a presentation or agenda; he walks around and talks. Everyone here may be called upon to participate. We're going to hear the assorted issues that the assembled community is experiencing.
Question: If you have $500 to spend on marketing, where would you spend it? Context is small non-local brand.
Danny: First he'd make sure there's a website. A lot of small businesses don't even have that. Spend some of that money on your own domain name (instead of somesite.tumblr.com). He's spend some time educating himself on SEO. He'd read Google's own SEO tips guide. You never go wrong starting off with the things Google's recommending. He'd spend time opening social media accounts on Facebook, Twitter, Google+ and possibly LinkedIn. If it was a location-based business he'd make sure he had a Google+ Biz page. As part of the SEO process he'd spend time understanding the key terms for his site. AdWords might be good to dip into to get a sense of the kind of traffic coming from those terms, but he'd probably spend more time learning about organic.
Read more of the questions SEOs are asking today in #SMX Liveblog: Evening Forum with Danny Sullivan.
---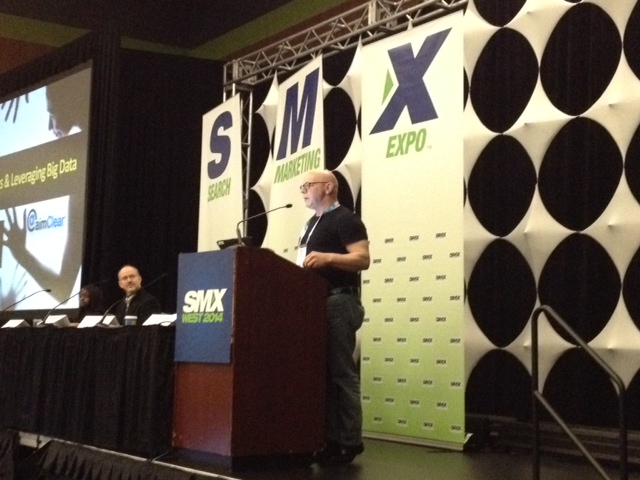 So we lost our keyword data. Now what? What does life for SEOs look like after not provided? This session is all about gleaning insights in a post-(not provided) search industry.
Panelists Benjamin Spiegel (Catalyst director of search operations), Marty Weintraub (aimClear CEO), and Laura Ann Mitchell and Ken Shults (Intel) agree: Organic optimizers have basically lost the connection between the term and the site activity. But that doesn't mean they don't have other actionable data to glean insights from search traffic.
This presentation (and liveblog) contains:
• How to glean insights from Google Webmaster Tools
• How to leverage big data
• What SEO metrics you DO need to know
• Third-party tools recommended for SEO …
Read all the practical tips in Life After Not Provided — #SMX Liveblog
---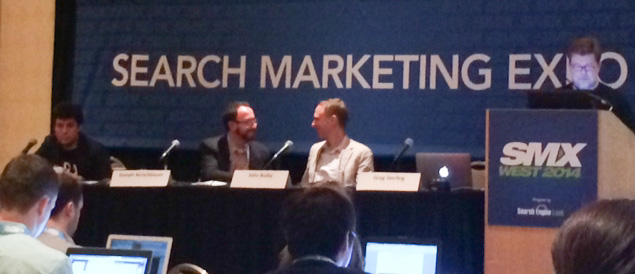 Moderator Greg Sterling drops a kernel of new info: if consumers have a negative map experience they'll make that negative association with the brand. It's important to make sure your brand's data is right on maps and mobile.
Three presentations by three speakers at SMX West 2014 cover the growing use of mobile apps, how to best leverage a branded app and how to optimize an ad campaign for mobile devices.
Read more of SMX Liveblog: Capturing the Mobile Paid Lead.
---