Liveblog Archives - Page 5 of 46 - Bruce Clay, Inc. Blog
October 8, 2015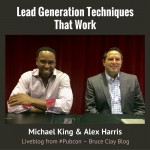 Want to up your ante when it comes to generating new, quality leads? It's a high priority for all brands and businesses, and the gentlemen speaking in this "Lead Generation" session at Pubcon Las Vegas 2015 have tips that can take your #LeadGen game to the next level. Without further ado, here's the lineup:
Michael King, founder of iPullRank
Alex Harris, creative director at AlexDesigns.com
Alex Harris starts: "I'm not a fan of the term CRO — I prefer 'marketing optimization.' Because that's what we're doing."
Read the full liveblog (with slides).
---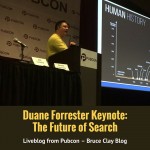 Bing's face of search, Duane Forrester, is going to deliver a lively keynote at Pubcon Las Vegas 2015. Titled "The Future of Search May Not Be What You Expect," his stat-packed talk will cover many topics, including:
• Millennials (the group everyone is trying to market to)
• Mobile and wearables
• Agents
• The future of search
Let's dive in! Read the full keynote liveblog.
---
October 7, 2015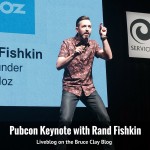 On top of traditional SEO optimization factors (ranking inputs include keyword targeting, quality and uniqueness, crawl/bot friendly, snippet optimization, UX/multi-device optimization) SEOs need to optimize for searcher outputs (CTR, long-clicks, content gap fulfilment, amplification and loyalty, task completion success). In this Pubcon Las Vegas session, keynote speaker Rand Fishkin of Moz talks about searcher outputs and uncovers five elements of modern SEO.
Read our liveblog SEO in a Two Algorithm World.
---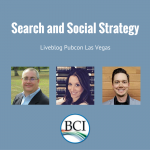 How much time should you spend creating and promoting content? What's the relationship between search and social? Get practical and effective content tips from the experts in this Pubcon Las Vegas session on search and social content strategy. Jordan Kasteler, our very own Mindy Weinstein, and Bill Hartzer all share their unique tactics on how to improve content that shines for both SEO and social campaigns.
Find out the answers in our liveblog of Search and Social Content Strategy.
---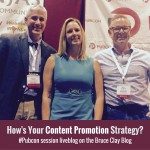 Influencer marketing and social ads are the hot topics up for discussion in the "Content Promotion Strategy: Including Pay-to-Play" at Pubcon Las Vegas. Speakers Will Scott, Phillip Thune and Casie Gillette are going to walk through their best strategies for:
Native advertising
Influencer marketing
Content creation, planning and promotion
Read the full liveblog.
---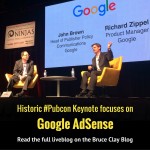 Good morning from Las Vegas! Brett Tabke, Pubcon's founder and this morning's moderator, says this is only the second time that AdSense has been chosen as a Pubcon keynote topic. This is an Ask Me Anything style format and these questions came up from different forums and places including WebmasterWorld forum. The topics in this quick Q&A range from how Google is trying to solve the problem with ad blockers to the just announced Accelerated Mobile Pages project and EU cookie issues.
Our distinguished Googlers, Product Manager Richard Zippel and Head of Publisher Policy Communications John Brown, introduce themselves …
Read the full liveblog.
---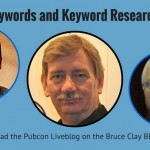 Keyword research — it's the first step in the search engine optimization process. In this Pubcon Las Vegas session, Bruce Clay himself along with fellow presenters Craig Paddock and Ash Nallawalla talk about how to perform the best possible research methods for your keyword processes.
Read the liveblog of Keywords and Keyword Research.
---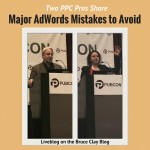 Our own David Szetela takes the stage along with Mona Elesseily to share insights on mistakes that search engine advertisers commonly make. This Pubcon Las Vegas session targeting the paid search crowd is titled "The Top Major AdWords Mistakes and How to Prevent Them." Take in these veteran PPC pros' advice and you may avoid the PPC mistakes that even the most savvy search marketers sometimes make!
Read the full liveblog.
---
October 6, 2015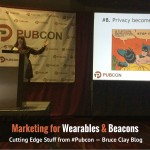 The Pubcon session called "Beyond SEO: Market Intersection Optimization" is really about marketing to users with wearable technology — including:
Using beacons for hyperlocal marketing
Creating content for wearable devices
Social media tips for Apple Watches
Read the full liveblog.
---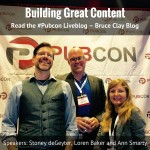 Content – it's a chief component in everyone's digital marketing strategy. More than just tips, this morning's Pubcon Las Vegas session on "Building Great Content" includes a case study on American Eagle Outfitters that highlights just how critical strategic content marketing really is.
Read the in-depth liveblog coverage of this session featuring Loren Baker, Ann Smarty and Stoney deGeyter.
---