Liveblog Archives - Page 5 of 43 - Bruce Clay, Inc. Blog
September 29, 2015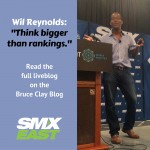 If someone took your content away from the web … would anybody miss it?
Wil Reynolds (@WilReynolds), founder of Seer Interactive, wants you to think about this.
Does your content solve a problem, or does it exist simply to exist? If you're doing content for content's sake, or focusing on ranking just for ranking's sake, you're playing the digital marketing game wrong. Because your chief concerns should be the user, their frustrations, and creating content they can trust.
Read the full liveblog.
---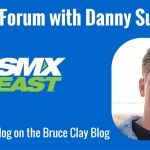 What happens when SMX attendees get Search Engine Land founding editor Danny Sullivan all to themselves? It's an evening open forum with questions all over the board.
Read the Liveblog now.
---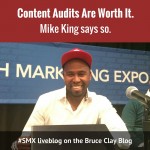 Content audits are worth it.
Or so says Mike King (@IPullRank). He's diving into content audits in "Perfect Starts: How to Get More of the Right Traffic" at this SMX East 2015 session. Fair warning: he has a lot to say, and he talks fast — this liveblog captures the highlights.
Read more of the liveblog (and slides) for Content Audits Are Worth It
---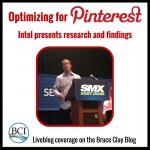 If your target audience is using Pinterest, it's time to start optimizing for this search engine (because it's not a social platform). Intel's Director of SEO Laura Mitchell and Community Manager Scott Jaworski (@scott_jaworski) provide tips on the most effective SEO tactics to apply on Pinterest.
Read the liveblog.
---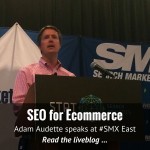 SEOs working on ecommerce sites face particular challenges and require some specialized know-how. At SMX East, speaker Adam Audette (@audette), the SVP of organic search at Merkle, reached out to SEO-savvy ecommerce-minded marketers in this short but fact-packed session on SEO for ecommerce sites.
As SEO marketers today, we need to be familiar with everything. However, there are two major pillars of SEO: the technical side and the audience side. Here are some of the main issues of each that relate to ecommerce sites.
Read the liveblog of SEO for Ecommerce: What You Need to Know
---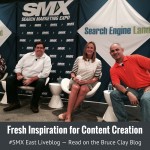 Looking for fresh ideas for content creation? Casie Gillette, Bill Hunt and Grant Simmons shared innovative ideas and examples of how to maximize engagement by creating content that really grabs your users. Read on to discover new content insights (that you haven't heard before!) from SMX East's "Content, Keyword Research & The Art of Audience Engagement."
Read the liveblog coverage.
---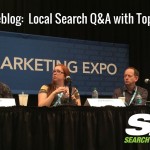 All local SEO questions are answered in this round table of top experts at SMX East. The assembled experts will field these questions, submitted by the audience and also topics the panelists submitted to talk about.
Why did Google switch to the 3 pack from the 7 pack?
Does anyone have statistics regarding how clicks are distributed between Google Maps and Google organic?
Links vs. citations?
How are apps affecting local?
How are you getting reviews?
Read the liveblog coverage of the Local SEO Q&A at SMX East.
---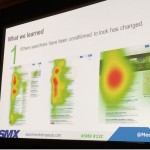 Mediative's Chris Pinkerton shares fresh insights on the results of the company's benchmark-setting 2014 Google SERP eye-tracking study. The study particularly sheds light on what a top organic placement means in terms of capturing traffic. Pinkerton's presentation expands on the "How Users View and Interact with Contemporary Google Search Results" session that colleagues Gord Hotchkiss and Matt Agtarap gave six months earlier at Search Marketing Expo (SMX) West 2015. You can read liveblog coverage of both presentations here.
Read the liveblog coverage.
---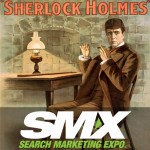 In a greasy burger joint in Seattle in June, the people on the stage were trading stories about solving crazy strange ranking mysteries that if you spend any time doing local search you're going to be familiar with. That's where this session was born.
See how Mary Bowling, Andrew Shotland and Joy Hawkins solve local SEO mysteries in this liveblog coverage from SMX East.
---
September 9, 2015
In two weeks, your feeds and streams will be enriched with new technical SEO tricks, digital marketing case studies and inspiring, big picture pep talks. That's because attendees of digital marketing conferences SMX East and Pubcon Las Vegas will be blogging, tweeting and 'gramming the most quotable and memorable takeaways. I'll be at both conferences as a reporter on the scene so that, even from your office, you can attend the conference.
View our liveblog schedules to see the sessions and speakers to expect on our blog, or to discover the many opportunities to connect with the Bruce Clay, Inc. team in the coming weeks.
---