Liveblog Archives - Page 5 of 42 - Bruce Clay, Inc. Blog
September 29, 2015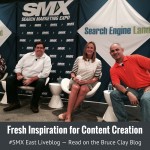 Looking for fresh ideas for content creation? Casie Gillette, Bill Hunt and Grant Simmons shared innovative ideas and examples of how to maximize engagement by creating content that really grabs your users. Read on to discover new content insights (that you haven't heard before!) from SMX East's "Content, Keyword Research & The Art of Audience Engagement."
Read the liveblog coverage.
---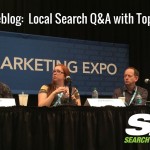 All local SEO questions are answered in this round table of top experts at SMX East. The assembled experts will field these questions, submitted by the audience and also topics the panelists submitted to talk about.
Why did Google switch to the 3 pack from the 7 pack?
Does anyone have statistics regarding how clicks are distributed between Google Maps and Google organic?
Links vs. citations?
How are apps affecting local?
How are you getting reviews?
Read the liveblog coverage of the Local SEO Q&A at SMX East.
---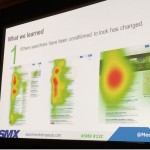 Mediative's Chris Pinkerton shares fresh insights on the results of the company's benchmark-setting 2014 Google SERP eye-tracking study. The study particularly sheds light on what a top organic placement means in terms of capturing traffic. Pinkerton's presentation expands on the "How Users View and Interact with Contemporary Google Search Results" session that colleagues Gord Hotchkiss and Matt Agtarap gave six months earlier at Search Marketing Expo (SMX) West 2015. You can read liveblog coverage of both presentations here.
Read the liveblog coverage.
---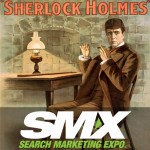 In a greasy burger joint in Seattle in June, the people on the stage were trading stories about solving crazy strange ranking mysteries that if you spend any time doing local search you're going to be familiar with. That's where this session was born.
See how Mary Bowling, Andrew Shotland and Joy Hawkins solve local SEO mysteries in this liveblog coverage from SMX East.
---
September 9, 2015
In two weeks, your feeds and streams will be enriched with new technical SEO tricks, digital marketing case studies and inspiring, big picture pep talks. That's because attendees of digital marketing conferences SMX East and Pubcon Las Vegas will be blogging, tweeting and 'gramming the most quotable and memorable takeaways. I'll be at both conferences as a reporter on the scene so that, even from your office, you can attend the conference.
View our liveblog schedules to see the sessions and speakers to expect on our blog, or to discover the many opportunities to connect with the Bruce Clay, Inc. team in the coming weeks.
---
June 3, 2015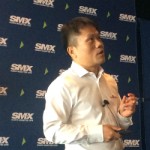 Baidu Vice President Liang Zeng has flown 3,000 miles from Beijing to spend 25 minutes with SMX Advanced digital marketers. Thank you, Zeng!
Baidu is often referred to as the "Chinese Google." Would you be surprised to learn that in China, Baidu is even more dominant in the search space than Google is in the U.S.? As we're told in this session at SMX Advanced, Baidu has 96.3 percent market share among mobile users in China.
If you or your client is looking to crack the Chinese search market, it's imperative that you learn more about the Chinese search behemoth. So, without further ado, get to know Baidu from Zeng.
Read Baidu Revealed: An Inside Look At 'China's Google'.
---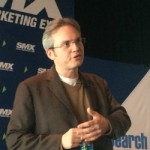 In this bite-sized liveblog, Kevin Ryan shares where he sees paid search headed as an industry. Ryan is the founder of MotivityMarketing, a columnist for Search Marketing Land and the author of "Taking Down Goliath: Digital Marketing Strategy for Beating Competitors with 100 Times Your Spending Power." (Try saying that title ten times fast!)
"Search is declining as a percentage of share – we're getting less data on search … Our dependence on keywords is a little ridiculous. We need to think about moving away from potentially misleading keywords," Ryan says.
Read the full liveblog of Paid Search: Focusing on Audiences & Categories Instead of Keywords.
---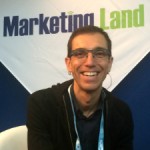 Jerry Dischler, who heads AdWords, is full of contagious energy as he gears up to talk about what's working and what's not in search ads and AdWords in this morning's keynote conversation. Whenever there's a Googler onstage, the crowd is packed and this session is no exception.
Everyone wants to know the latest news in paid search, and Dischler won't disappoint as he delves into topics near and dear to search marketers hearts, including:
How advertisers can capitalize on the opportunity of Micromoments
The future of text ads and buy buttons
Advances in attribution models
And how marketers are marrying online and in-store strategy
Facilitated by Search Engine Land Editor Danny Sullivan and Search Land Paid Search Correspondent Ginny Marvin, the keynote conversation transpired as follows. Read the liveblog coverage of a Keynote Conversation with Google AdWords VP Jerry Dischler.
---
June 2, 2015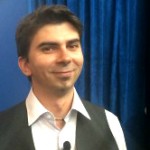 Googler Gary Illyes sits, cool and collected, on the SMX Advanced stage. Across from him is Search Engine Land Editor Danny Sullivan. Sullivan is about to ask Illyes anything and everything digital marketers have been dying to know in this "Ask Me Anything" session. In the weeks prior to SMX, SEOs have been sending in their questions. Sullivan will ask Illyes those questions and anything else he sees fit to quiz the Google Webmaster Trends Analyst on.
It seems like every SMX attendee is in the standing-room only audience. Read on to find out everything Illyes had to say, including his insights on:
Mobilegeddon (a term, for the record, that he hates)
The Quality Update
When to expect the next updates of Panda and Penguin
App indexing
Read SEO AMA: Googler Gary Illyes Answers Questions at SMX.
---
April 21, 2015 arrived with a bang. Google announced it was the day that mobile-friendliness would officially be a ranking signal for Google mobile search results. That day, dubbed "Mobilegeddon," wasn't the the day search marketing changed, however. Improving a website's experience for mobile users has been an SEO mission a long time in the making. SMX Advanced speakers, including a Google representative, share thoughts on improving a site in light of Google's mobile-friendly update.
Read the liveblog coverage of the SMX Advanced session Mobilegeddon! Surviving Google's Mobile Friendly Update.
---