Liveblog Archives - Page 5 of 47 - Bruce Clay, Inc. Blog
March 1, 2016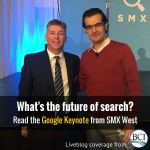 You're tuned in to the BCI blog where we're liveblogging SMX West all week. This is the show's opening keynote, a demo-heavy presentation by Behshad Behzadi, Principal Engineer, Google Zurich.
Behzadi is the director of conversational search. Danny Sullivan says that Behzadi previously did this presentation at SMX London, and it was a mind-blowing presentation into what's possible with conversational search. Behzadi has been at Google for 10 years, the first 7 years working on ranking, and the last 3 years working on future tech including Now on Tap.
For what Behshad Behzadi explains is the future of search, including voice search and Now on Tap, read this opening keynote of SMX West.
---
February 10, 2016

It's that time of year: digital marketers from all over the world flock to Silicon Valley to talk SEO, PPC, content marketing, social media and more at Search Marketing Expo (SMX) West on Feb. 29 – Mar. 3. Every year the conference attracts thousands of attendees as the industry's best and brightest take the stage to share big picture pep talks, compelling case studies, and the latest best practices they've expertly honed.
Virginia Nussey and I will be reporting live from SMX West so that, even from your office, you can virtually attend the conference. Jump ahead to the SMX West 2016 liveblog schedule below to see the sessions and speakers to expect on our blog, or read on to discover the many opportunities to connect with the Bruce Clay, Inc. team in the coming weeks.
---
December 18, 2015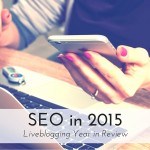 If TIME Magazine were to do an issue on the SEO industry in 2015, the table of contents would look like this.
• 2015 SEO Story of the Year: Mobilegeddon
• Runner-Up: More Mobile – App Deep Linking and Indexing
• Runner-Up: The Penguin that Never Came
• Runner-Up: RankBrain AI
• 15-Minutes-of-Famers in 2015: Millennials are the moment's hottest market segment, but it's an attention to audience that has staying power
We don't publish TIME Magazine, but on the BCI blog, we do publish the SEO industry's major news stories and marketing practices. A mobile-focused marketing perspective, Google's MIA Penguin and link removal practices, and a search engine ranking algorithm that learns are the topics covered on today's Virtual Conference SEO track.
---
December 15, 2015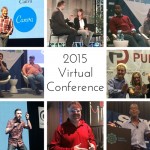 Here on the BCI blog, we publish updates to keep digital marketers current on new tactics and evolving perspectives. To do so, we send livebloggers to major digital marketing conferences so readers can get the 411 from the industry's search marketing, content, conversion and advertising experts. This year, Virginia Nussey and I covered more than 85 sessions live from SMX West, SMX Advanced, SMX East, Pubcon, SEJ Summit Santa Monica and BIA/Kelsey NEXT in Local.
As we wrap up the year, we present an early holiday gift. We're packaging up the most high-impact liveblogged sessions of the year to create a virtual conference you can follow along with each day this week. Or, pick and choose the tracks that interests you. Either way, this virtual conference is your fast track to getting up to speed on what happened in digital marketing in 2015:
• Wednesday, Dec. 16: Content, Social Media & Understanding Your Audience
• Thursday, Dec. 17: Search Engine Marketing, PPC Advertising
• Friday, Dec. 18: SEO Milestones of 2015
Read SEO, PPC & Content Virtual Conference: 2015's Liveblogged Lessons
---
December 10, 2015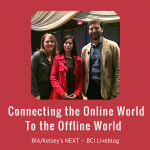 About 90% of buying is offline, but it's very influenced by online. Attribution, then, is more important than ever. BIA/Kelsey Managing Director Rick Ducey moderates a round-table discussion with three professionals, each offering a different perspective:
Grace Chan, VP Product at Wanderful Media
Sherry Thomas-Zon, Chief Marketing and Revenue Officer at Retailigence
Elliott Waldron, Director of Analytics at Placed, Inc.
They discuss how receipts data (vs. point of sale) can inform campaign planning and the purchase journey … how marketers handle large amounts of data … and what to expect in 2016 for the in-store experience.
---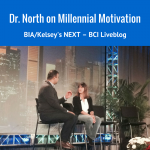 As digital marketers, we're always trying to learn more about millennials' behavior — they are, after all, the largest demographic in existence. But is the super social behavior of millennials really that different from other groups?
"We are all social animals: this has never changed and it never will. People don't change. The only thing that changes is the technology that mediates our social actions. And everything we used to do in person we now do digitally," posits Dr. Karen North, director of USC Annenberg's Digital Social Media Master's program. "Social media is how we connect and communicate. And it is blind to geographic proximity. We live in both our local communities and our digital online communities."
In this morning's keynote address at BIA/Kelsey's NEXT conference in Los Angeles, North talks about millennial motivation, marketing and media …
Our Kristi Kellogg was there, so you can read the liveblog.
---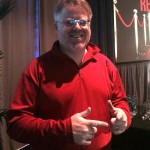 Robert Scoble (@Scobleizer) studies the future — that's literally his job description as a futurist at Rackspace.
In this keynote for the #BIAKNEXT conference in Los Angeles, Scoble is going to share what's on his radar as the major disruptors and game changers headed our way, including:
Beacons
Tapingo, the app many college campuses use for transactions
Many other future tech products
Read Scoble's predictions in this liveblog about the Internet of things.
---
October 14, 2015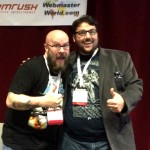 The automotive industry is incredibly competitive when it comes to search engine marketing. To rise to the competition requires in-depth local SEO knowledge and PPC know-how. This session offers strategies for local search marketing, both paid and organic, that all marketers can use. Our speakers are Ira Kates, who will speak to paid search, and Greg Gifford, who addresses organic SEO.
Read the liveblog from Pubcon.
---
October 12, 2015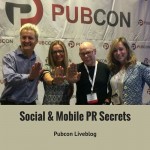 Do you want press for your business? Yes please! Here's how to use social media in traditional and new ways to reach and influence the media. New opportunities to be covered by today's speakers include making sure your content is mobile friendly and targeting the media through paid Facebook promotions.
Read the liveblog Social and Mobile PR Secrets.
---
October 9, 2015
Personal branding and social strategy – it's a subject close to all digital marketers' hearts. Mark Traphagen, Matt Craine and Mel Carson are speaking on this hot topic at Pubcon Las Vegas. Hear what they have to say on the importance of personal branding in a world
where everyone is Googling everyone else in the this in-depth liveblog. Trust us, you don't want to miss these tips!
---