Mobile Marketing Archives - Bruce Clay, Inc. Blog
March 3, 2016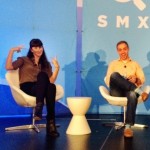 In SEO we focus a lot on Google, but app developers have a special need to get their app content to show up in Apple Search as well as Google.
Take a crash course on Apple Search and Universal Links, the latter of which are used to get your iOS and Android apps to show up in Google search.
Here's What You Need To Know About Apple iOS App Search & Universal Links #SMX.
---
March 2, 2016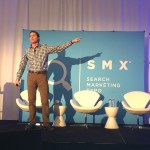 There's an invisible web. Just because it's out there doesn't mean the search engine can see it and attribute it correctly. The invisible web is a concept that was introduced in Chris Sherman and Gary Price's "The Invisible Web" in 2001.
In 2013, search marketers saw a big spike in direct referral traffic. Our speaker Marshall Simmonds (@mdsimmonds), Founder and CEO, Define Media Group, Inc. explains what is causing dark search and social traffic, traffic with no referrer data in analytics. Search marketers need to protect their budget by understanding it and explaining it to non-technical people.
---
March 1, 2016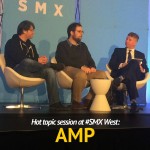 One hot topic these days is AMP, short for Accelerated Mobile Pages.
At SMX West, Danny Sullivan moderates as Google VP of Engineering Dave Besbris and Paul Shapiro, organic search director at Catalyst and an early user of AMP, give in-depth presentations followed by a Q&A period to cover:
What AMP is
Pros and cons of using AMP
Features of AMP (what it's good for, what it's not)
Technical details about implementing AMP (such as components, analytics tracking, including ads with AMP, etc.)
The three are on stage, and Danny Sullivan introduces us to our presenters by telling us that Dave goes by Bes and that Paul wrote this SEL article: "How to Get Started with Accelerated Mobile Pages."
Dave "Bes" Besbris is our first speaker. Shapiro says Danny Sullivan told him there is a speaker dress code, so he wore his formal hoodie today. ;)
You may have noticed the change to a SERP where there's an AMP carousel at the top of the page. The reading experience inside an AMP document is excellent. They didn't want to reinvent something new, they wanted the experience to be the web.
---
February 4, 2016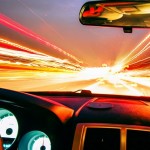 Google is pushing AMP hard right now.
"At State of Search in Dallas, Gary Illyes from Google revealed what the next big thing for 2016 would be, and it is AMP, also known as Accelerated Mobile Pages. And he said they will be pushing it aggressively in 2016." —Jennifer Slegg, TheSEMPost.com
Typically, when Google says "this is important and you should do this," the SEO community jumps to it – especially with today's focus on mobile SEO.
But AMP is NOT for everyone. Let's be clear on who AMP is for and the limitations it poses to every other business.
Read the advantages, drawbacks and technical requirements of Google AMP in "Considering Google AMP for SEO?"
---
January 21, 2016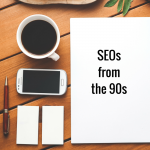 Some fads are retired with great celebration. Crimped hair, No Fear T-shirts, and neon windbreakers buried in the back of the closet since 1999 – probably best if they're never heard from again.
But some of the search marketing industry's biggest stars were made in the 90s and are still trending. On January 1, 2016, Bruce Clay, Inc. marked its 20th anniversary – 20 years that Bruce Clay has been steering the digital marketing industry with thought leadership, and proof that some 90s inventions are classics.
Bruce Clay is one of a rare breed of digital marketers that got started in SEO in the 90s. Others include Stoney deGeyter of Pole Position Marketing, Christine Churchill of Key Relevance, Terry Van Horne of International Website Builders, and Kim Krause Berg of Creative Vision Web Consulting. Beyond their industry veteran status, there's something else they have in common — and that's valuable digital marketing wisdom gained from decades of perspective and experience.
This group came together as guests of Ammon Johns (of Ammon Johns and Company) and Bill Slawski (of SEO by the Sea) in Bill and Ammon's Jumbo January Bogus Hangout. John Mueller, Webmaster Trends Analyst at Google, and Kristin Drysdale were there too, rounding out the reasons that this conversation was one to watch.
Read Modern Internet Marketing Strategies Video for a rundown of the video chat.
---
December 18, 2015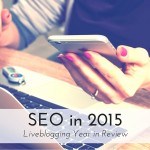 If TIME Magazine were to do an issue on the SEO industry in 2015, the table of contents would look like this.
• 2015 SEO Story of the Year: Mobilegeddon
• Runner-Up: More Mobile – App Deep Linking and Indexing
• Runner-Up: The Penguin that Never Came
• Runner-Up: RankBrain AI
• 15-Minutes-of-Famers in 2015: Millennials are the moment's hottest market segment, but it's an attention to audience that has staying power
We don't publish TIME Magazine, but on the BCI blog, we do publish the SEO industry's major news stories and marketing practices. A mobile-focused marketing perspective, Google's MIA Penguin and link removal practices, and a search engine ranking algorithm that learns are the topics covered on today's Virtual Conference SEO track.
---
November 3, 2015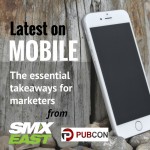 It's becoming clear that mobile friendliness is more than a responsive website that gets a passing grade on the Mobile-Friendly Test.
The concept of mobile friendliness covers increasingly advanced digital media territory:
Mobile apps: Do you have a mobile app? Is it indexable by Google?
Mobile conversions and personas: Is mobile traffic failing to convert? That's to be expected if mobile personas, mobile-specific conversions and calls to action haven't been identified.
Mobile advertising: Are you utilizing mobile search PPC features like call extensions and call-only campaigns?
At the two biggest search-industry conferences this fall, SMX East in New York and Pubcon Las Vegas, search engine reps and renowned speakers covered the full range of Digital marketing topics, especially mobile issues — everything from Google's mobile-focused features to app indexing to mobile ads. We published 46 sessions and keynotes from these conferences on the BCI blog. Here we distill the most important news and advice related to mobile.
---
October 12, 2015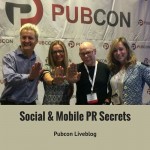 Do you want press for your business? Yes please! Here's how to use social media in traditional and new ways to reach and influence the media. New opportunities to be covered by today's speakers include making sure your content is mobile friendly and targeting the media through paid Facebook promotions.
Read the liveblog Social and Mobile PR Secrets.
---
October 9, 2015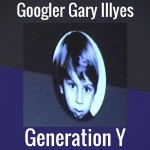 Getting to know Millennials has been a hot topic at Pubcon Las Vegas 2015. Everyone's talking about Millennials, including Google's Gary Illyes (who's a millennial himself!). He took the stage to deliver the grand finale keynote, and he's going to tell us how Google is thinking about Millennials and how they're shaping the future of search.
Read the liveblog report of Googler Gary Illyes' keynote address at Pubcon Las Vegas 2015.
---
September 30, 2015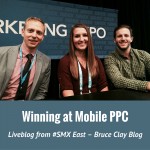 This SMX East session titled "Winning At Mobile PPC (Beyond mCommerce)" promises to take us beyond the "why you have to be on mobile" rhetoric, since that's now a given. Speakers Aaron Levy, Amy Bishop and John Busby will share from their experience (they're all senior-level ad managers) to help advertisers take advantage of mobile user behavior to drive ecommerce. They ask (and answer):
Why mobile doesn't convert like desktop.
Four types of mobile users and what they want.
How to adjust ad radius to increase activity.
What Google AdWords tools help you track conversions from phone calls or other.
Read the full liveblog.
---