Mobile Marketing Archives - Bruce Clay, Inc. Blog
December 1, 2016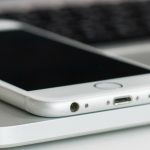 According to Google, progressive web apps are the next big thing for "delivering amazing user experiences on the web." In the same vein as AMP (accelerated mobile pages), PWAs are causing digital marketers to rethink the way they can design and deliver their sites in a mobile-first world. Website owners and designers need to be paying attention. So just what is a progressive web app? It's an all-in-one solution for web developers to create a single version website/app that can be delivered across all devices and works like an app but without the hassle of distribution through an app store.
Are PWAs right for your site? Read What is a Progressive Web App and Who Should Be Using It?
---
November 23, 2016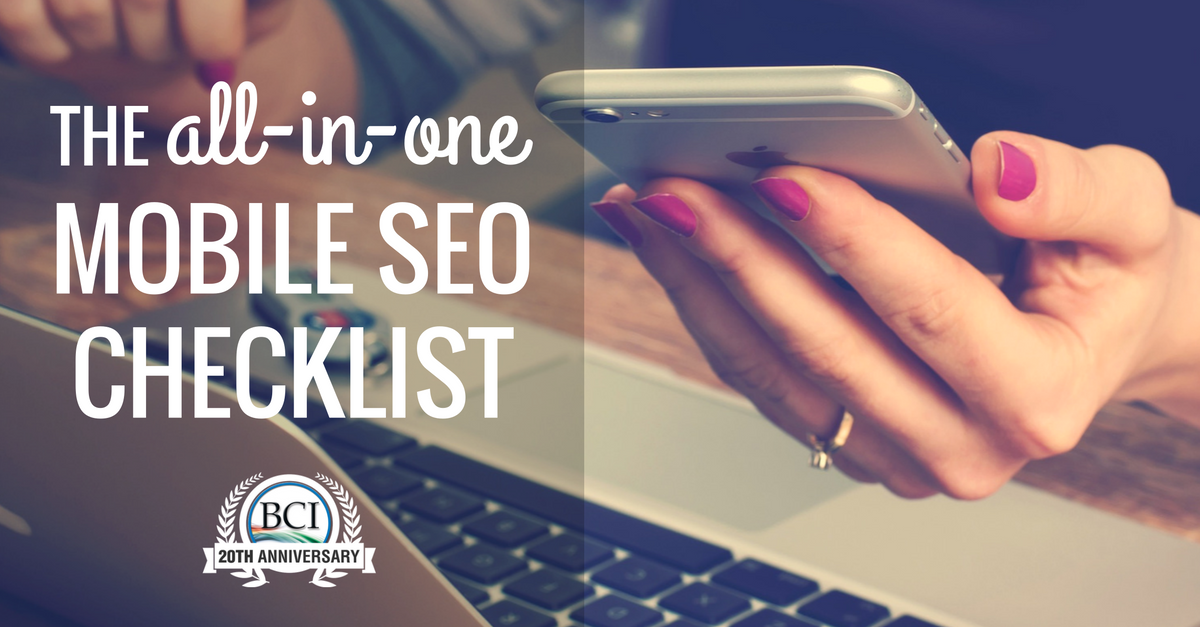 The mobile user experience really matters to Google. Proof:
• As of 2015, more searches are performed on mobile than desktop, meaning mobile is the main device used worldwide for the majority of online browsing time. Google has been strongly emphasizing the mobile-first perspective ever since.
• In April 2015, Google made a pre-announced update to the algorithm that ranks mobile search results. A website's mobile friendliness officially was dubbed a confirmed ranking signal for mobile search rankings.
• In late 2015, the Google Quality Rating Guidelines were updated with screenshots from the perspective of mobile devices.
• In November 2016, Google pre-announced an update to its search index, moving to a mobile-first index. This means that Google uses your site's mobile version in ranking calculations.
• And this coming January 2017, sites that show an intrusive interstitial in the transition from a mobile search result to the content clicked will not rank as highly in Google results.
Google is optimizing its users' mobile search experience and webmasters must be in lock step.
Consider this checklist your mobile SEO go-to resource.
Read The All-In-One Mobile SEO & Design Checklist.
---
November 16, 2016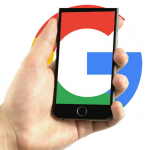 Google reaffirmed in a Nov. 4 post on the Webmaster Central Blog that a mobile-first index is coming.
I think many people have heard the news. I think many of those people are confused by it.
Are you clear on how a mobile-first index will impact your websites, clients and mobile SEO strategy?
See how many of the questions on this eight-question quiz you get right. You'll also get our mobile-first checklists.
Take the Mobile SEO Pop Quiz.
---
September 28, 2016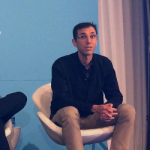 With a keynote delivered by Googlers (complete with product announcements!), it's a full house at SMX East 2016.
Jerry Dischler, Vice President of Product Management, and Babak Pahlavan, Senior Director of Measurement & Analytics Google, field questions from Search Engine Land editors Ginny Marvin, Greg Sterling and the SMX audience.
Read on to learn about:
• Expanded text ads
• Device bidding
• Store visits
• Audience Suite
• Data Studio
• Analytics Insights Cards
• And announcements of new tools and features!
Read What's New & Cool with Google AdWords & Analytics.
---
September 7, 2016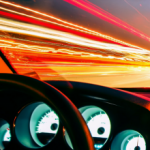 If you care about the ROI of your website, you know the importance of mobile page speed.
Google has pushed its major speed initiative, Accelerated Mobile Pages — AMP for short — hard over the last year. As AMP features and specifications evolve, marketers can capitalize on improved UX and ranking opportunities by staying up to date on AMP.
Here's your primer on the AMP opportunity. We outline:
Read The CMO's Guide to Accelerated Mobile Pages.
---
March 17, 2016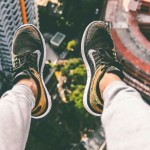 Generally speaking, Google's April 2015 mobile-friendly algorithm update (dubbed "Mobilegeddon" by the SEO industry) was sort of a bust. Months of talk about an organic ranking boost to mobile-friendly, aka mobile SEO compliant, websites turned out to be mostly hype.
While it did spur many sites to make their sites better for smartphone users, there was not a lot of movement across mobile search engine results pages, especially at the top of SERPs. And the mobile-friendly "boost" was ultimately implemented as a tiebreaker among sites that were deemed to have equal ranking strength — a condition that rarely occurs.
Another mobile ranking boost announcement has just come out of Google. The announcement says that they will be increasing the effect of the mobile friendly ranking signal in May of this year.
Read more about the coming change …
---
March 3, 2016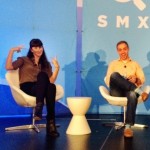 In SEO we focus a lot on Google, but app developers have a special need to get their app content to show up in Apple Search as well as Google.
Take a crash course on Apple Search and Universal Links, the latter of which are used to get your iOS and Android apps to show up in Google search.
Here's What You Need To Know About Apple iOS App Search & Universal Links #SMX.
---
March 2, 2016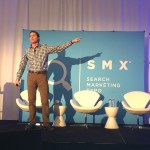 There's an invisible web. Just because it's out there doesn't mean the search engine can see it and attribute it correctly. The invisible web is a concept that was introduced in Chris Sherman and Gary Price's "The Invisible Web" in 2001.
In 2013, search marketers saw a big spike in direct referral traffic. Our speaker Marshall Simmonds (@mdsimmonds), Founder and CEO, Define Media Group, Inc. explains what is causing dark search and social traffic, traffic with no referrer data in analytics. Search marketers need to protect their budget by understanding it and explaining it to non-technical people.
---
March 1, 2016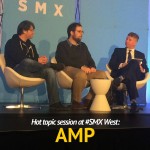 One hot topic these days is AMP, short for Accelerated Mobile Pages.
At SMX West, Danny Sullivan moderates as Google VP of Engineering Dave Besbris and Paul Shapiro, organic search director at Catalyst and an early user of AMP, give in-depth presentations followed by a Q&A period to cover:
What AMP is
Pros and cons of using AMP
Features of AMP (what it's good for, what it's not)
Technical details about implementing AMP (such as components, analytics tracking, including ads with AMP, etc.)
The three are on stage, and Danny Sullivan introduces us to our presenters by telling us that Dave goes by Bes and that Paul wrote this SEL article: "How to Get Started with Accelerated Mobile Pages."
Dave "Bes" Besbris is our first speaker. Shapiro says Danny Sullivan told him there is a speaker dress code, so he wore his formal hoodie today. ;)
You may have noticed the change to a SERP where there's an AMP carousel at the top of the page. The reading experience inside an AMP document is excellent. They didn't want to reinvent something new, they wanted the experience to be the web.
---
January 21, 2016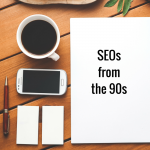 Some fads are retired with great celebration. Crimped hair, No Fear T-shirts, and neon windbreakers buried in the back of the closet since 1999 – probably best if they're never heard from again.
But some of the search marketing industry's biggest stars were made in the 90s and are still trending. On January 1, 2016, Bruce Clay, Inc. marked its 20th anniversary – 20 years that Bruce Clay has been steering the digital marketing industry with thought leadership, and proof that some 90s inventions are classics.
Bruce Clay is one of a rare breed of digital marketers that got started in SEO in the 90s. Others include Stoney deGeyter of Pole Position Marketing, Christine Churchill of Key Relevance, Terry Van Horne of International Website Builders, and Kim Krause Berg of Creative Vision Web Consulting. Beyond their industry veteran status, there's something else they have in common — and that's valuable digital marketing wisdom gained from decades of perspective and experience.
This group came together as guests of Ammon Johns (of Ammon Johns and Company) and Bill Slawski (of SEO by the Sea) in Bill and Ammon's Jumbo January Bogus Hangout. John Mueller, Webmaster Trends Analyst at Google, and Kristin Drysdale were there too, rounding out the reasons that this conversation was one to watch.
Read Modern Digital Marketing Strategies Video for a rundown of the video chat.
---