SEO Archives - Page 2 of 17 - Bruce Clay, Inc. Blog
October 29, 2015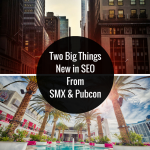 Digital marketers and SEO industry insiders demand outstanding content for their limited blog-reading bandwidth. So, for SEOs who want to get straight to the heart of the latest game-changers, we offer our humble opinion that during the SMX East and Pubcon Las Vegas conferences of the last month, there were two big comets that hurtled from the sky, signaling changes to the SEO landscape forever:
Machine learning algorithms ranking content based on searcher behavior feedback
Predictive search serving searchers content before they ask
Here's your front row seat to what's new in SEO straight from SMX East and Pubcon Las Vegas.
---
October 14, 2015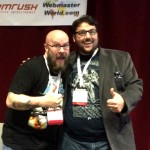 The automotive industry is incredibly competitive when it comes to search engine marketing. To rise to the competition requires in-depth local SEO knowledge and PPC know-how. This session offers strategies for local search marketing, both paid and organic, that all marketers can use. Our speakers are Ira Kates, who will speak to paid search, and Greg Gifford, who addresses organic SEO.
Read the liveblog from Pubcon.
---
October 8, 2015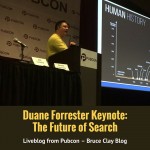 Bing's face of search, Duane Forrester, is going to deliver a lively keynote at Pubcon Las Vegas 2015. Titled "The Future of Search May Not Be What You Expect," his stat-packed talk will cover many topics, including:
• Millennials (the group everyone is trying to market to)
• Mobile and wearables
• Agents
• The future of search
Let's dive in! Read the full keynote liveblog.
---
October 7, 2015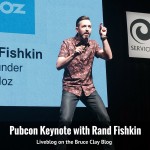 On top of traditional SEO optimization factors (ranking inputs include keyword targeting, quality and uniqueness, crawl/bot friendly, snippet optimization, UX/multi-device optimization) SEOs need to optimize for searcher outputs (CTR, long-clicks, content gap fulfilment, amplification and loyalty, task completion success). In this Pubcon Las Vegas session, keynote speaker Rand Fishkin of Moz talks about searcher outputs and uncovers five elements of modern SEO.
Read our liveblog SEO in a Two Algorithm World.
---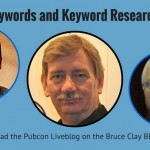 Keyword research — it's the first step in the search engine optimization process. In this Pubcon Las Vegas session, Bruce Clay himself along with fellow presenters Craig Paddock and Ash Nallawalla talk about how to perform the best possible research methods for your keyword processes.
Read the liveblog of Keywords and Keyword Research.
---
October 2, 2015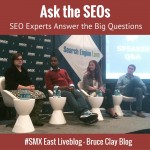 Four expert SEOs take the stage in SMX East 2015's "Ask the SEOs" session. This popular Q&A free-for-all is where the audience can ask them … anything! But first, let's meet the SEOs:
Mike King (@iPullRank), founder of iPullRank
Hillary Glaser, SEO manager at Campbell Ewald
Cindy Krum (@Suzzicks), CEO at MobileMoxie
Marshall Simmonds (@MDSimmonds), founder and CEO of Define Media Group
Read all the questions and answers in the Ask the SEOs liveblog.
---
October 1, 2015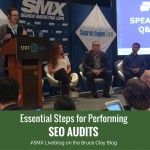 An SEO site audit lays the groundwork for everything an SEO does to ensure maximum search visibility. This SMX East session covers the most important audit tactics and best practices for making sure your SEO efforts are having the optimal impact on a site's performance.
Read the liveblog: Essential Steps for Performing an Effective SEO Audit
---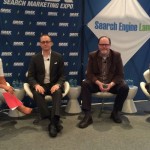 The second largest search engine is YouTube, which is where your videos should be placed and properly optimized. This information-rich SMX East session gives you practical tips on how to master video marketing in the YouTube wonderland.
Read the session liveblog to find out more.
---
September 30, 2015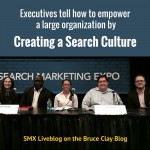 How can you create a culture that's on the same page with SEO objectives? How can you get IT on your side? What does it take to influence the C-suite to back digital marketing needs?
Glean from the experience of three major companies in this liveblog of an SMX East session titled "Empowering Your Organization with a Search Culture." Executives from Verizon, Comcast and Pernod-Ricard shared some of their insights, challenges and strategies when it comes to creating an SEO-aware search culture for a massive brand.
Read the liveblog: Creating a Search Culture in a Large Organization
---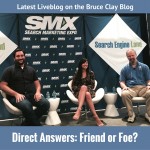 If your site gets featured in Direct Answers in search results, it can really boost traffic to your site. Don't think of them as the enemy, but as a friend!
So say Eric Enge, Ehren Reilly and Amber Fehrenbach, who presented their key insights into Direct Answers at an SMX East session. Sharing data and examples straight from their agencies/brands, they showed:
How Direct Answers is growing
Benefits of being cited in a Direct Answer
Advice for getting featured in Google Direct Answers
Preferred tools to help optimize
Which types of businesses lose
Read the liveblog for all the research and insights.
---