SEO Archives - Page 3 of 12 - Bruce Clay, Inc. Blog
June 11, 2014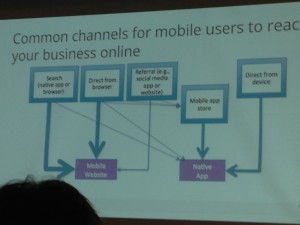 In this SMX session, discover why mobile really matters, how to build a mobile strategy and what makes mobile search so different from desktop search. This session's speakers include Cindy Krum, Michael Martin, Maile Ohye, and Jim Yu. Kicking of this session on mobile SEO is Maile Ohye, Google's Senior Developer Programs Engineer.
Ohye stresses the importance of enhancing the user experience with mobile search results that open directly within an app. However, it requires deep links within the app and mapping in the sitemap. But asking for app downloads isn't the best approach right off the bat, unless they are relationship-ready customers. Improving the app experience is much like Web SEO, says Ohye. You need good content, an enticing search appearance, and a process for building an effective mobile strategy.
Read more of SMX Liveblog: What Advanced SEOs Should Be Doing about Mobile SEO
---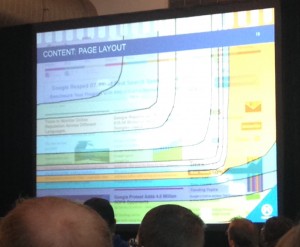 This room with packed with a good share of returnees and newbies. We're told "this session is going to cover everything you need to do to rank well in the SERP." This session features insights from Matthew Brown, Marianne Sweeny and Marcus Tober. This session is fast and furious, and so is this liveblog. Here we go!
The session kicks off with Tober, who promises to explain the Google algo in detail in the next 90 minutes. He notes the 2014 Ranking Factors: Google+; on-page optimization; strong increase in site speed; the number of internal links; and brand factors.
Read more of SMX Liveblog: The Periodic Table of SEO Ranking Factors.
---
May 21, 2014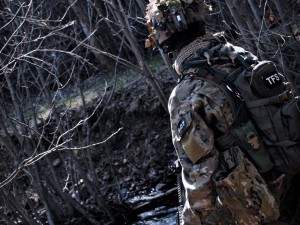 Coming to you straight from the trenches of Bruce Clay, Inc., it's the survival guide edition of the SEO Newsletter. Our feature article exposes which ranking factors change most frequently so you can stay alert. Then get expert survival tips from our SEO manager on how to stay ahead of the game no matter what SEO bombs Google may throw your way.
With Google's search algorithms changing on a daily basis, content strategist Kristi Kellogg advises Internet marketers to adopt a proactive rather than reactive approach to SEO while SEO Manager Mindy Weinstein shares three key search marketing survival tips.
Read more of SEO Newsletter: The Survival Guide to SEO Edition.
---
May 2, 2014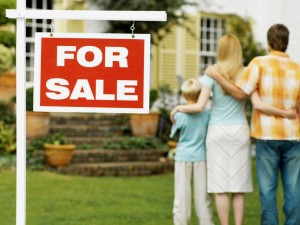 When house hunting, 90% of buyers use the Internet. In fact, 53% of buyers start their search online, according to "The Digital House Hunt," an extensive report on real estate consumer trends conducted by Google and the National Association of Realtors.
seo real estateMore than ever, people head online when it comes to looking for homes and finding realtors. Between 2008 and 2012, real estate-related searches increased by 253%. With so much opportunity online, realtors can't afford to miss out on this valuable traffic; for professionals in real estate, SEO is more important than ever.
When it comes to capturing traffic for terms related to real estate, SEO efforts begin with local keyword targets on a personal website.
"You have to carve out a niche for yourself — think locally, and then expand," said Robert Ramirez, a senior SEO Analyst who has managed real estate SEO for agents at Sotheby's and Century 21.
Read on to discover Real Estate SEO: 7 Ways to Earn Traffic & Leads.
---
April 30, 2014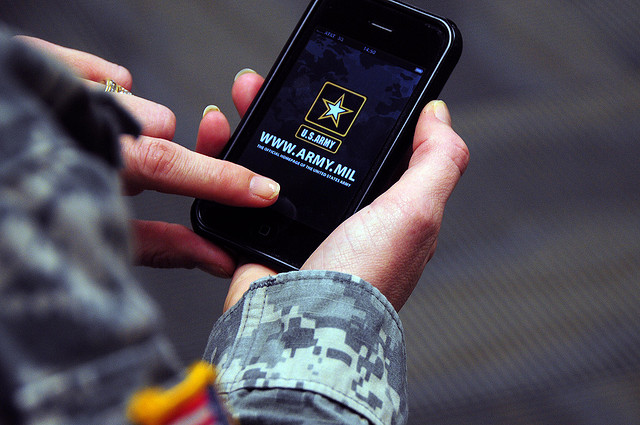 Or: So You've Got Responsive Design, Now What?
Having a responsive design is the Google-recommended way to deliver content on mobile devices. While other mobile formats are acceptable to Google as well, Google prefers one over the others. So, while the benefits of responsive design are clear, but what happens when responsive web design isn't good enough? An issue complicating mobile UX for many responsive sites: load time and image heavy sites.
Web developer Trilibis recently released a survey on the web performance of sites utilizing responsive web design and found that 69 percent of those sites did not have an acceptable load time. Perhaps we overlooked user experience and took for granted performance on mobile devices. We thought maybe the relatively fast load times on our desktop sites would translate to responsive design. Our site is content-rich and relevant to user queries. So, what gives?
The single-most contributing factor to slow load times on responsive design mobile sites is images, says the Tribilis survey. Big, fat images.
Read more of The #1 Thing You Can Do to Improve Mobile UX: Image Optimization.
---
April 18, 2014
Internet marketing is evolving — are you? This month's SEO Newsletter focuses on amplifying your business's online reach with articles explaining how to use an underutilized and under-publicized paid, local search marketing platform, AdWords Express, and a guide intended to help a business choose which social networks are a good fit for their audience and investment. The strongest SEO campaigns work hand-in-hand with paid campaigns and social media marketing, both of which amplify a brand's reach among new audiences.
Read more of SEO Newsletter: AdWords + Social Media = Amplified Reach.
---
April 11, 2014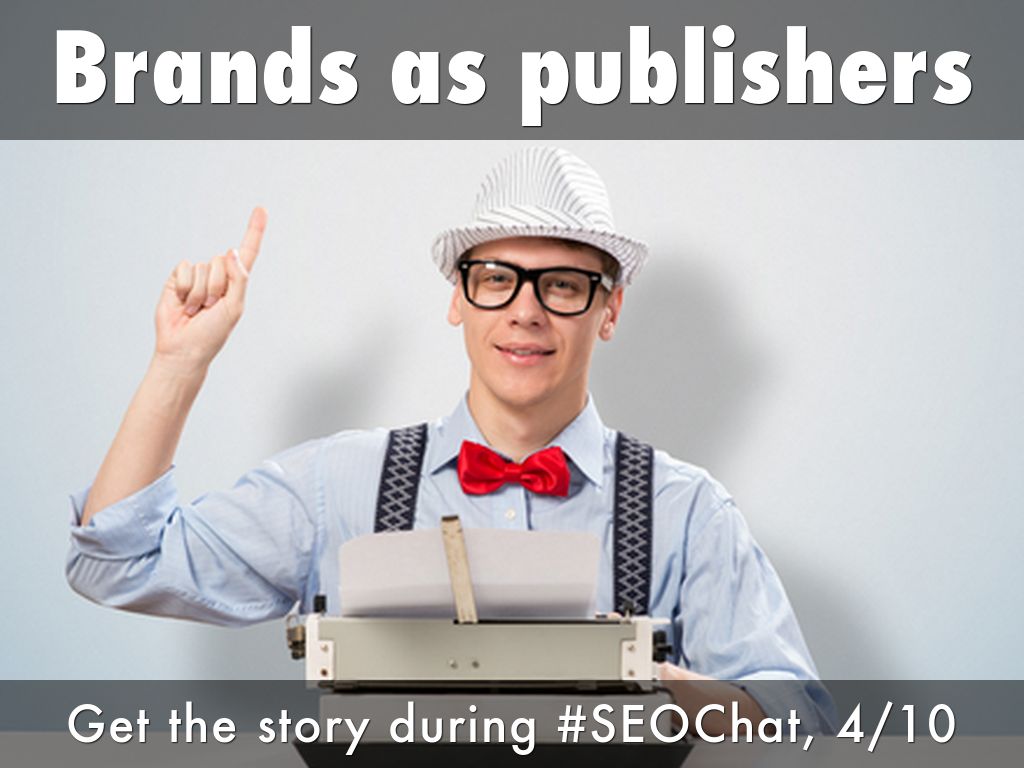 The SEO benefits of publishing and content marketing are huge. Google's head of webspam, Matt Cutts, has long preached that unique, compelling, user-focused content is the hallmark of a quality, well-ranking site. As brands become publishers, they also stand to earn top-of-mind recall and establish brand recognition.
Yesterday, Bruce Clay, Inc. hosted #SEOchat on Twitter. On the agenda? Brands as Publishers.
When SEOs take on a content publisher orientation, it helps think in terms of how to tell stories and how to manage assets as publisher organizations do. The best brands tell stories that resonate with their consumers — think of Dove's "Campaign for Real Beauty" or Dos Equis' "The Most Interesting Man in the World." These brands aren't just advertising — they're telling stories. This kind of strategic content marketing means brands and businesses have to be capable in the role of a publisher, i.e. creating and curating content, images and video that targets and engages specific audiences.
Read all about what SEOs discussed during this week's Brands as Publishers #SEOchat.
---
April 1, 2014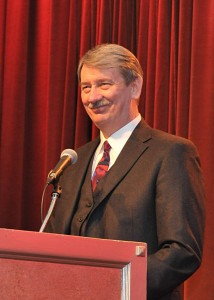 Since 1996, Bruce Clay has been commited to ethical SEO and his passion for all things concerning search. Armed with a "be a leader, not a follower" mentality, he has helped to shape the landscape of Internet marketing with his books, presentations and training — and earned his company a spot in the Inc. 500 | 5000 list for seven consecutive years.
Clay's SEO insights are laced throughout every chapter of his latest book, "Content Marketing Strategies for Professionals," coauthored by Murray Newlands. Clay uses his vast knowledge and experience to provide readers with SEO tips concerning:
blogging
curation
video
images
social media
paid search
and more
In a special interview, Clay shared some of his insights on being a CEO. It turns out a lot of the principles behind successful SEO, such as transparency and commitment to quality, are the same principles that have led to his success as a CEO.
Read more of How to Be Your Best SEO: Bruce Clay's Advice for Gaining Influence.
---
March 24, 2014
This year Bruce Clay, Inc. writers Virginia Nussey and Chelsea Adams were able to attend 40% of the SMX West sessions offered March 11–13, 2014. From the sessions they attended, they were able to compile 24 live blog posts, and 30 actionable takeaways for anyone needing a quick hits summary of the event.
Continue on to read 30 Smart Online Marketing Tips From SMX West , and to add your own to the list in the comments section.
---
March 18, 2014
Our own Bruce Clay, president of the org that publishes this fine blog, lays a roadmap for search engine optimization in the coming year. The SMX West conference last week and comments made there by Google employees (at Meet the Search Engines and Amit Singhal's Keynote) are the source of this presentation.
Bruce has been performing search engine optimization since 1996 and has watched SEO techniques and strategies evolve over the last 2 decades. He wrote the book on SEO — "SEO All-In-One for Dummies," which covers time-tested algorithm-proof optimization methodology.
Read more of SEO 2014: Bruce Clay's PubCon South Roadmap of What to Expect.
---