SEO Training Archives - Bruce Clay, Inc. Blog
February 23, 2016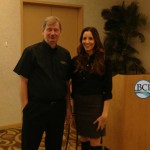 It happened again the other day. An email came that just made my week:
"Your training has taken me so far in my career in a very short time. I feel like it is by far the best training I have ever had on SEO."
– Tye Odom, an in-house SEO manager
Our SEOToolSet® training is not your typical SEO training course.
By the numbers, we cover a massive binder of material, or two, depending on which course you take. And more than 5,000 people so far have attended our classes worldwide.
What's harder to quantify is how the classroom becomes a place where friendships and business collaborations are formed.
For three years, I've had the privilege of watching relationships grow from the front of the room, as a co-trainer with none other than Bruce Clay.
In my role as SEO trainer, I get to help all sorts of people — whether it's a business owner who's tired of being taken advantage of, a spammer who's ready to reform his black-hat ways, or even an occasional attendee who hasn't a clue what search engine optimization is.
Training enables all of these people to transform their businesses and move ahead in their careers.
Let me give you a glimpse of what I've seen in our classes. Read more.
---