SES New York 2012 Archives - Page 2 of 2 - Bruce Clay, Inc. Blog
March 20, 2012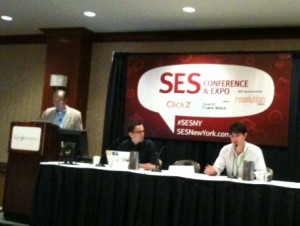 This morning at the keynote, Avinash unveiled this: Google Analytics Update Connects Social Marketing with the Bottom Line. How do marketers view social media? A MarketingSherpa social marketing report shows that social marketing is mostly considered a promising tactic, but ROI is not understood. "Since everyone is doing it we'll look foolish if we don't" is a common approach.
What about number of followers or number of shares? Isn't that social media measurement? This isn't really understanding the value of social.
Content consumption today has moved off the browser to applications. A marketer needs a 360 view of actions, which is hard to pull together. Number of tweets or followers is comforting because it gives a sense of measuring. But it doesn't address economic value.
Read more of Social Media as a Performance Channel with Google Analytics – SESNY
---
Mike Grehan welcomes the crowd. He offers apologies for the intermittent problem with the microphone. Every once in a while it causes the speaker to sound like he has a British accent. ;)
He mentions it's the first day of spring! He says today's Google doodle features a zebra. This connection he does not understand. Now to the keynote with Avinash. Avinash is Google's digital marketing evangelist. If that doesn't earn him the designation of guru, then what would?
"Information is powerful. But it is how we use it that will define us."
He's going to explain his perspective of how to do more with what we have access to. We don't have to be in a hording mindset of getting more data.
Read more of SESNY Keynote: Business Optimization in a Digital Age with Avinash Kaushik.
---
March 19, 2012
Search Engine Strategies 2012 starts tomorrow (well, technically, the fun start tonight and if you're on East Coast time, that's right now!), and once again, Bruce Clay, Inc. is attending to bring you live coverage of some of the sessions at the conference this week. Our faithful liveblogger Virginia Nussey will be on the scene to report on a total of 11 sessions we've hand-picked for you starting Tuesday and ending Thursday.
Read more of Search Engine Strategies New York Liveblog Schedule.
---
March 13, 2012
In 15 years, Andrew Beckman and his team at Location3 Media have seen a lot happen in the interactive marketing industry. As a regular SES conference speaker, Andrew aims to share his knowledge of Digital marketing with attendees eager to know what to do to boost business through the tools of technology.
At SES New York next week, Andrew will be speaking at the session Local Myth Busters – Local Optimization Facts Proven or Debunked, which promises to deliver hands-on tactics for local listing optimization and local SEO. I asked Andrew to give me a preview of what his session will entail.
Read more of Local SEO Q&A with Andrew Beckman.
---
March 12, 2012

Brothers Jon and Zach Ball are power duo in SEO with a passion for tailor-made link building campaigns. The pair and their company Page One Power have teamed up with SES New York to sponsor a session that promises "No BS Link Building for E-Commerce Sites." With the conference around the corner, I posed questions to Jon and Zach to see what sure-fire link building tactics are working for their clients. Plus, with all the buzz around Pinterest, I figured we'd see what Jon, an avid photographer, had to offer as far as link building with the Internet's new favorite toy.
Read more of Link Building Q&A with Jon and Zach Ball.
---