Social Media Marketing Archives - Page 4 of 8 - Bruce Clay Blog
September 28, 2011
Welcome to Day 2 of the Search and Social conference in Hawaii. Yesterday, we did an inner tubing event through an old sugar cane plantation's water ducts. It was very cool. Today, Bruce is going to talk about the convergence of social and search. He starts with a video called Social Media Revolution 3: Until […]
---
September 27, 2011
This session welcomes L.P. Neenz Faleafine (@Neenz) talking building community. Let's get right to it. Step 1 with clients: Do an assessment of the client, interview end user, find out what they want, research the brand, don't assume what you want is what the users want. This is very important if you're a consultant. A […]
---
Becky Carroll, @bcarroll7, founder of Petra Consulting and author of, "The Hidden Power of Your Customer" hosts this session. This talk is about social media and employees [she says the name of the session is misleading]. What she is going to talk about applies to bigger companies but the small company should consider this. According to research, 87 […]
---
September 26, 2011
Aloha! Hosting its annual Search and Social event in Hawaii this week is Wappow!, and this poor individual has packed up her laptop and recording devices to accompany Bruce to the conference and bring you coverage from Hawaii's "Garden Island," Kauai. Even though we have a ton of work ahead (I swear!) with Bruce as […]
---
September 20, 2011
Lots of online marketers are just starting out on their own — some with lots of experience, some new to the industry altogether.
That means, there are many people who are still getting a handle on the service offerings they provide while they work hard to run a small business, consult and perform online marketing for their clients.
As a small business owner or consultant, it's easy to fall into the rhythm of taking on any and all social media needs a client may have without a clearly defined social media offering.
And that's what we're here to talk about today — how new marketers starting off on their own can begin to put some structure to their social media services and how to stay on top of what is most useful to clients.
Read more of 6 Ways for the Newbie Marketer to Define & Create Social Media Services.
---
September 15, 2011
Both Google and Bing say social signals are factored into their ranking algorithms for "regular" search results.  No surprise. So it was also no surprise it was standing room only at SMX East Facebook, Twitter and SEO session designed for the serious search and social crowd! Danny Sullivan gave introductions with a reminder that not […]
---
Greg Sterling, our mod, says SoLoMo is an amorphous category and can be difficult to discuss as it's always hanging. 50+% of people access social media sites through handheld devices. Social and mobile are connected, and local is where all transactions happen — people use mobile to navigate the world at their fingertips. The three […]
---
September 14, 2011
What does Google+ mean to SEO, PPC, Social Media and the real world? The Google+ powered panel for "Up Close with Google+ and Google +1" shares all we need to know (or at least what they are allowed to tell us) at the after-lunch, SMX East session. Danny Sullivan puts us in a Google+ frame […]
---
September 13, 2011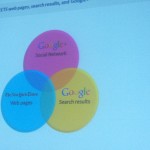 Google+ debuted with an invitation only "hello" just 10 weeks ago and today we gather as SMX East takes its first up close and personal look at the who, what, where and "WTF" we should expect from Google and the +1. What we know: Google is using +1 results to make search results more personalized […]
---
September 9, 2011
In the immortal words of Rebecca Black:
Friday, Friday
Gettin' down on Friday
Everybody's lookin' forward to the weekend
Partyin', partyin' (Yeah)
Partyin', partyin' (Yeah)
Fun, fun, fun, fun
Do a little partying for me while you're at it. I'll be getting myself in gear for SMX East next week. Lisa Buyer and I have committed ourselves (and I do mean straight jacket committed) to liveblogging 15 sessions during the week. Plus I'll be reviving my roving reporter role for SEM Synergy along with keeping dates with some of my favorite industry and Gothamites.
Read more of Friday Recap: Remembrances, Dreams and Decisions Edition.
---