July 25, 2012
SEO Training in Australia Sets the Stage for Enterprise SEO Success
My colleagues in Australia are a progressive bunch. As the Australian marketplace gains an appreciation for the marketing potential in search, interest is building for resources that empower an organization to tap into that opportunity. Leading the movement with knowledge transfer and evangelism, Bruce Clay Australia presents an SEO fundamentals workshop that will be touching down in six cities in Australasia before the year is up.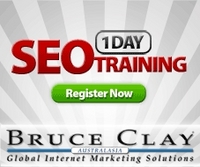 The one-day workshop will have attendees up to speed on:
the business case for SEO,
basic SEO strategy and tactics,
and how SEO fits in to the big picture of marketing.
This makes the class an important entry point into online marketing for CMOs, marketing managers, entrepreneurs and startups, and SEO practitioners.
Bruce Clay Australia's Sam Makkouk works closely with clients seeking the knowledge to establish an SEO-friendly company culture. Because SEO requires the cooperation of multiple departments, including but not limited to IT, Web design and development, brand identity, marketing, public relations and content, company-wide buy-in is imperative. I asked Sam about the benefit of attending BCA's SEO training and how it will enhance an organization's marketing power.
"We find that there are several sticking points for enterprise to get involved with SEO training that include the following:

Training provides them an opportunity to develop their knowledge and assist in putting together a ROI case study for approval by senior managers. Often we hear of how marketers are in limbo trying to present the case for budget.
Secondly individuals in enterprise want to understand how the emerging trends in SEO are impacting their business. We provide a great overview of trends such as Panda and Penguin and how they affect their business.
The third point is that often companies are concerned about their competition. The one-day training class provides an excellent overview of the process involved with developing optimum SEO strategy and how to interpret competitor research as it becomes available.

Bottom line: enterprise is interested in the ROI case for spending their limited budgets on digital. The training provides them with the necessary knowledge to understand how to undertake proper white hat techniques and ultimately the opportunity in doing so.

We show them the opportunity and then give them the required knowledge and tools to capture it."
For more on the one-day SEO training workshop presented by Bruce Clay Australia, visit the page at https://www.bruceclay.com/au/seo/training.htm. The page does an automatic redirect based on location so if you are not in the Australasia region, you'll find yourself redirected to the Bruce Clay, Inc. office site nearest you. To see the BCA SEO training page anyway, go to the footer navigation of any page on the site and click on the region you're interested in viewing. You can navigate the location-specific site as you'd like from there.
The SEO training workshop will be held in the following cities on the dates shown below:
Australia
Sydney – July 31, 2012
Perth – August 21, 2012
Melbourne – September 18, 2012
Brisbane – October 23, 2012
Sydney – November 6, 2012
New Zealand
Auckland – October 11, 2012
Know the cost of developing an SEO strategy that caters to search engine requirements as well as the expected return on investment. Gain a working understanding of how search engines rank websites and pages. Empower your organization to better the online competition in search and beyond. Attend the SEO training in Australasia that best prepares your business for success.
---
---