Introducing SEOToolSet Lite: A Free SEO Tools Suite
You may have heard of the SEOToolSet®. SEOs have been using it for technical and organic search engine optimization since 1997.
But have you heard of the free SEOToolSet — SEOToolSet Lite?
In March we rolled out the newest generation of the SEOToolSet, built from the ground up and full of new tools our SEO analysts asked for and vetted. SEOToolSet 6 has two tiers — Lite and Pro, and today we want to introduce you to the tools available to you for free in SEOToolSet Lite. There's no credit card required to sign up for SEOToolSet Lite, and there's no software to download. Just create a username and password, supply an email, and get instant access to four diagnostic tools for a single website project.
About the Tools in SEOToolSet Lite
Here are the tools you can use on your website project for free in SEOToolSet Lite.
1. The Single Page Analyzer (SPA) is the most used tool in the SEOToolSet and has been historically because our analysts and subscribers find it to be the most comprehensive on-page content analysis tool on the market. The full-featured version of this powerful content analysis tool is now available for free with the release of SEOToolSet 6. The SPA thoroughly analyzes the on-page optimization of your web pages and HTML files, one at a time. It's an excellent tool if you're looking to analyze keyword usage and distribution; the strength of meta tags, headings and anchor text; content readability; potential cloaking issues; and much more.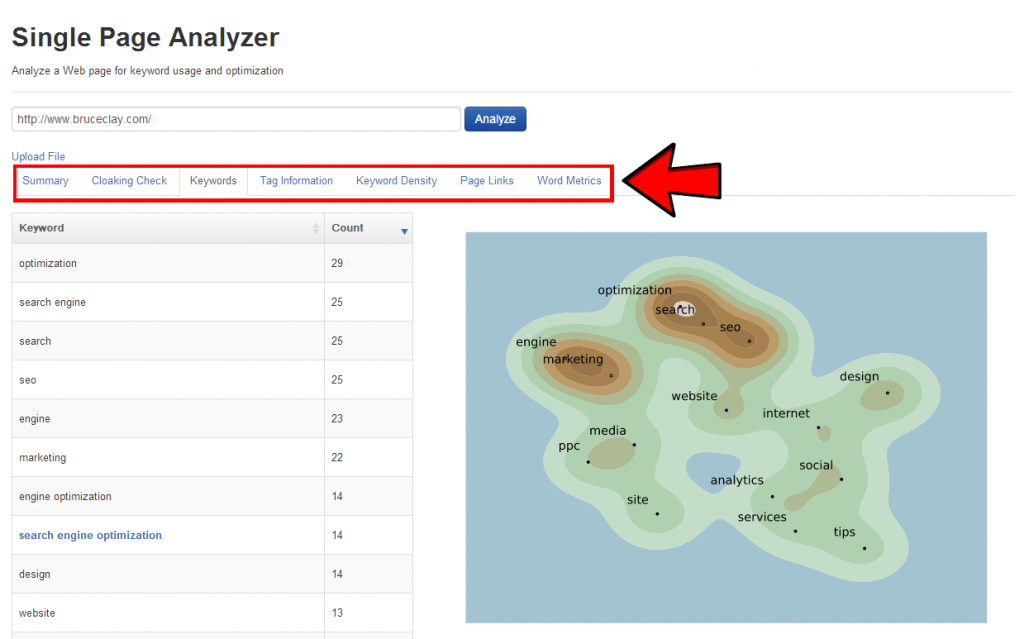 Here's one new feature of SPA in SEOToolSet 6. Within the Single Page Analyzer you'll find a content score that helps you gauge the quality, accessibility, and optimization of your content, benchmark a starting point, and measure improvement.

2. A Link Graph that can expose the strength or weakness of your website's internal linking, organization and silo structure in a visual diagram. Plug in a URL of your website and see the web of links that follow from that page to make sure you're strategically linking within themes and linking to your site's key pages.

3. A Meta Details report that lets you analyze all the titles, meta tags, H1 tags and canonical tags used throughout your website in one place.

4. A Site Checker that analyzes your server header, checks for user-agent cloaking, looks for follows and redirects, and exposes technical performance issues. In the Site Checker report you will also see your robots.txt file displayed. This technical SEO tool can be referenced during routine site maintenance checks, or used to examine the health of your competitor's website during the competitive research process.

New Project Dashboard
Also included in the SEOToolSet Lite suite is an intuitive dashboard that shows recent project activity, and allows multiple users to contribute to projects through the single interface. For both SEOToolSet Lite and Pro, projects allow for an unlimited number of users.

How to Access the Tools
Accessing the SEOToolSet Lite suite of tools is an easy process. Sign up for SEOToolSet Lite with your email address and log in. Once in your SEOToolSet Lite account, you'll be asked to start a new project. Your project is the primary website you would like to analyze.

With your project created, you're ready to start using the keyword research, site analysis, and page analysis tools! With a free Lite account, you will only be allowed to work with one project at a time, but you will be able to analyze an unlimited number of your own web pages, and the web pages of your competitors, using the Single Page Analyzer tool and the other tools in SEOToolSet Lite.

Want More Power Tools?
The SEOToolSet is a suite of optimization tools created by SEOs for SEOs — and SEOToolSet Lite is the tip of the iceberg. Try SEOToolSet Lite for free, then if you like what you see in SEOToolSet Lite, check out our full professional tool suite designed for the needs of our own SEO analysts, SEOToolSet Pro.
Learn more by comparing the features of SEOToolSet Lite and Pro or dive right in to try SEOToolSet lite hands-on for free. There's no credit card required, no software to download and no strings attached.
Happy optimizing!
Posted by Chelsea Adams on April 7th, 2015 at 8:00 am
5 Replies to "Introducing SEOToolSet Lite: A Free SEO Tools Suite"