July 1, 2011
Friday Recap: Plus This Edition
Before you jet out for your holiday weekend, you may enjoy some light reading. Enter Friday Recap. It's been a busy week. Lots to cover, so let's get to it.
Okay, so how 'bout that Google+? By now you've had your fill of commentary yay, nay and otherwise. I'll the Internet speak for itself, other than to say:
1) While I'm fully on the G+ bandwagon, I couldn't help but giggle at this humorous position.
And 2) Advantage Google+ for being where I am. If Zuckerberg's awesome announcement next week isn't an FB toolbar, I'll be very surprised.
Oh, also this: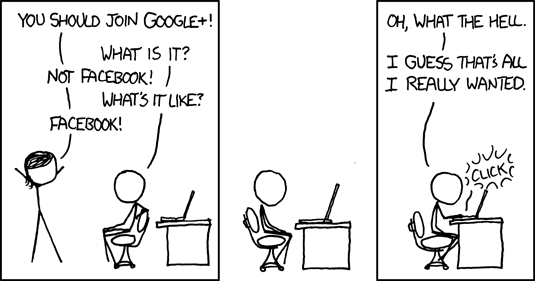 In honor of the patriotic holiday ─ I haven't forgotten you, my cousins up north! Happy Canada Day! ─ I'll venture into the realm of the political. This week the White House announced a Twitter town hall meeting and webcast with the President to take place on July 6. Due to the particular strain of nerddom that afflicts me, it's totally exciting to watch developing intersections of tech, politics and media. In a similar vein, it'll be interesting to see what comedian-journalist Stephen Colbert does with his freshly bestowed super PAC. It's a mad time we live in.
Before I bring us to the full-on fluff, I'll link you to the week's major happenings as compiled by YouTube: This Week's Top News Stories on YouTube- New York Legalizes Gay Marriage, Citizens Protest in Athens, and the Pope Sends his First Tweet.
But you don't come here for the news news on Fridays. You're here because you trust I've rustled up some entertainment for your end-of-week browsing pleasure.
PAC-MAN HIGHWAY – Level 1 (gameplay) from NotWorkingFilms on Vimeo.
That's what it might look like to be Pac-Man in real life. Who knew Pac-Man was into long drives in the dark by moonlight? So romantic.
Have you ever wanted to join a flash mob but didn't know how to breech the inner circle of clandestine cohorts? Leave it to LeVar Burton to bring this cultural treasure to the masses with the Reading Rainbow Flash Mob! [If there is one nearby, I am so going. ─Susan]
And now it's time for fun with infographics.
Any guess as to how much data will humans create and store this year? 1.8 zettabytes. Or, to put it in a way that means something, that's:
47 million years worth of 24/7 movie viewing or
storage space equivalent to that of a mountain of iPads 25 times higher than Mt. Fuji.
Here's another infographic, this time for those who's veins flow with caffeine. Starbucks is a monster brand with more than 16,000 stores around the world. But did you know?
They were the first brand to have 10 million Facebook fans.
Starbucks opens 2-3 new stores a day.
All that coffee is enough to make a girl antsy, sort of like how a population of spawning turtles might feel crossing a JFK airplane runway. I'm certainly chelonian cheerleader number one, but I have to admit I'm surprised the airport and pilots are so patient and accommodating for this annual event.
Finally, this week was host to Tau Day, a nerd holiday honoring the mathematical value of the circumference of a circle divided by the radius, or about 6.28. Now, that's great and all, but why should I care about tau when there's pi to love? Because tau sounds cool, that's why. [You get TWO Pi on Tau Day! Twice the nom! ─Susan]
And with that I bid you farewell and hope you enjoy the firework blasts, BBQ in the backyard tunes and other fun summer sounds of your holiday weekend! Happy birthday, US of A!
---
---