November 4, 2011
Friday Recap: Uplifter Edition
I'm coming off the high of hobnobbing with sexypants DJ Flula last night.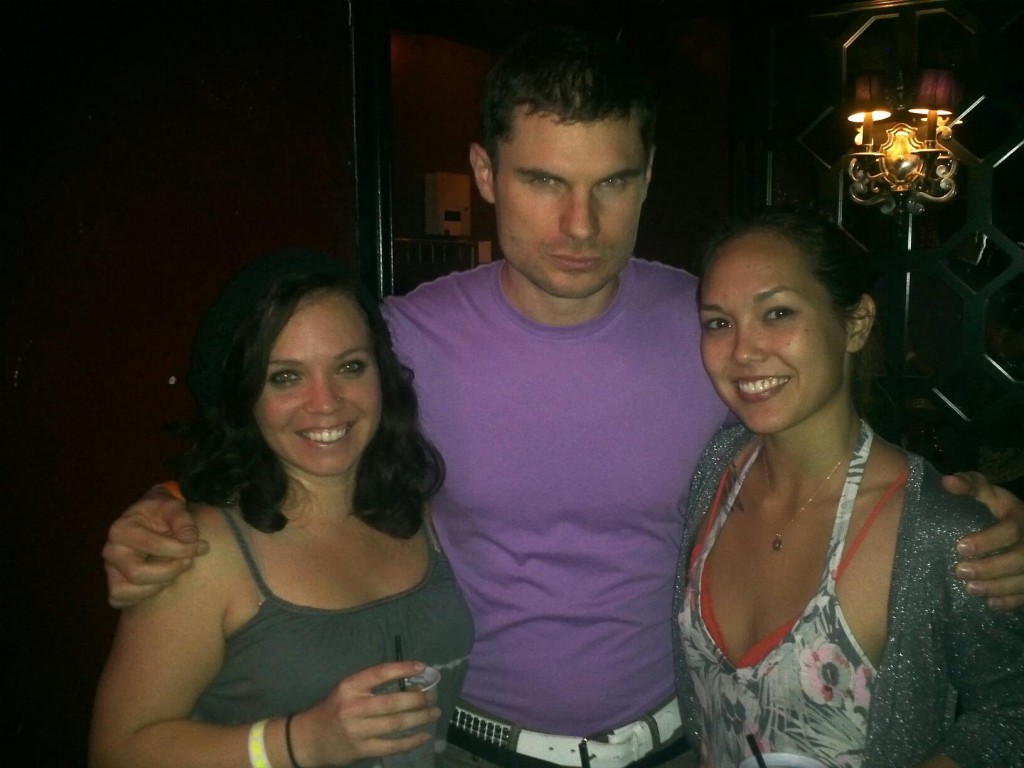 That's Gracie and me at Avalon with our favorite YouTube comedy star killing the camera with a blue steel stare. This is right before he went to prep for his MC duties, a ritual he described as staring at himself in the mirror and crying. They say comedy comes from a dark place. ;)
But I'm not here to bum you out, man. That's what Monday's for, and we're about to roll into the weekend so sink your earbuds into this!
Jess, Bruce and Shannon light up Vegas at PubCon next week. Jess is liveblogging and heading up the BCI spirit committee, so I beg you please buy this girl a drink when you find her tearing about the convention center like decapitated poultry.
There's also the very important business of the Google freshness algo update that was announced this week. What you need to know:
Google is now able to better determine when to deliver more up-to-date results for varying degrees of freshness based on relevancy to query.
The algorithm update affects 35 percent of queries. This is double the amount of queries previously impacted by freshness ranking factors. Compare this to Panda, which affected 12 percent of queries.
Affected queries include recent events or hot topics, regularly recurring events or subjects with frequent updates.
Twitter updates are still not included within Google search results.
The just-released 2011 State of Digital Marketing Report report finds that SEO beats out PPC and social media marketing as the best lead getter for both B2C and B2B. At the same time, budgets are generally expected to rise across all online marketing channels. No shock there, but you may be more surprised to learn that 64 percent of all online spending is controlled by just five companies.
An interesting case study on what NOT to do in social media is unfolding at ChapStick. Basically, avoid ChapStick's patented three-step process:
1. Use provocative image in ad campaign.
2. Delete negative Facebook comments regarding said image.
3. Look dumb.
If that's what dumb looks like, what does smart look like? In my mind, smart has tortoise-shell glasses, an ascot and a glass of red perched in one hand. If you've ever embodied this strain of smart, you may have impressed your friends by pointing out the earthy notes and plum finish of your fine grape elixir. Here's trivia to impress them even further: the music playing while one drinks wine influences taste in a major way.
As marketers we're keenly aware that the words we choose can either work to influence our audience or fall flat. I highly recommend everyone read this list of recommendations to hone a writing style that's highly persuasive, culled by the leading community of rationalists on the Web.
Content is king may be cliche… but you know it's true! So consider the role of a content strategist for your marketing team — nay, for the health of your business!
Seems like both yesterday and forever ago that we mourned the loss of technology's greatest visionary, Steve Jobs. If you haven't yet read it, Mona Simpson, novelist and Steve's sister, penned a eulogy that brings to life one of the most vibrant minds of our time.
Of course, time keeps pressing forward for all of us, and it's interesting to see what a blip we've been on the universe's radar.
We do what we can to enjoy ourselves while we can and make a difference in the world. In the story of how the graphing calculator came to the computered masses, we see a man and a community who devoted themselves to a computer programming project with a selflessness I've rarely seen.
Now go out there and enjoy the world this weekend. If you need anything, you know where to find me!
---
---
One response to "Friday Recap: Uplifter Edition"
Jen @ SEO Friendly CMS writes:


That video is too fun! Hilarious! Thanks for sharing!

@ November 7th, 2011 at 08:16