Google Mobilegeddon 2: Is This One Too Big to Ignore?
In February 2011, I had a meeting with a Google account representative who shared a presentation deck titled "Grow Your Business With Mobile." The agenda had four topics:
Why Mobile Matters NOW
How to Think about Search on Mobile
What You Can Start Doing Today
What Is Your Mobile Opportunity?
Oh, how I loved that deck. It had this awesome chart showing the releases of mobile phones from major brands like Apple, Android, Blackberry, Palm, HTC, Moto and Sprint. The chart mapped the release date of each mobile device on the X-axis and the number of mobile queries on the Y-axis for these devices from 2007 through 2010. Google did not display the actual number of mobile queries; instead they elected to normalize the data.
The headline on the chart read "Too Big to Ignore: 30x Growth in 3 Years." It showed how in several key markets, searches from mobile devices were growing faster relative to desktop searches.

Following that meeting, I contacted all my SEO agency clients that did not have a good (or any) mobile experience to tell them how the growth of mobile internet use was going to change their business. Some listened and proceeded to implement mobile SEO recommendations, from mobile landing pages to mobile websites.
I'm not sure if "responsive web design" was common vernacular at that time for SEOs, SEMs or developers. Creating mobile experiences designed specifically for search was painstaking, yet most clients who made the investment yielded a huge windfall as early adopters.
Not only did we grab early organic search traffic, but also we bought as much paid search advertising as we could. SEM clients found that click-through rates increased 40%, 50%, 60% and even 70% over desktop experiences, which boosted Quality Scores and drove down the cost per click. Our conversion rates increased often well over 100% (really), and the cost per acquisition (leads or sales) nose-dived.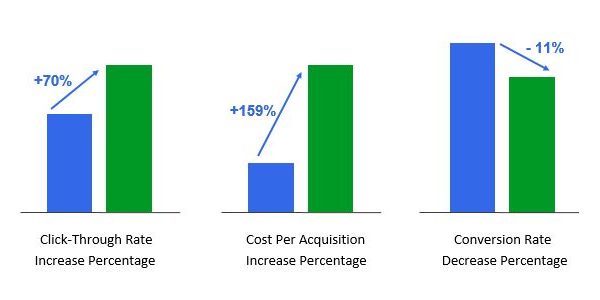 In fact, I recall one client who was the ONLY advertiser in their market vertical for almost 6 months. Imagine owning 100% of the mobile market for 6 months? Wow, how the first-mover advantage paid-off for this business!
For the next several years, I helped clients leverage search demand from their mobile devices. I worked with those who had lots of locations (e.g., franchises) to use paid search advertising for hyperlocal mobile-only campaigns that drove calls to these places using local extensions.
For lots of clients, we implemented click-to-call ads, and for those clients with mobile apps, click-to-download ads to drive app adoption. The brands with apps are really loving this investment now. These brands can communicate directly to customers, completely bypassing the expense of search advertising and emails that may or may not get delivered or opened.
For SEO clients, we integrated maps into their desktop and mobile experiences and in Google Places (the precursor to Google My Business). This improved organic listings and helped drive foot traffic. I especially loved monthly reporting for local SEO clients, where I could show how many people viewed and engaged with their Google Places listing.

Since this was the heyday of tablets, we leveraged the searches where conversion rates often exceeded the desktop experience. The best part of targeting those expensive iPad owners was that purchases often had a higher average order value (AOV).
Mobilegeddon
Fast forward almost 4 years to the day, February 26, 2015. Google announced on its blog post "Finding more mobile-friendly search results" that mobile-friendliness would be a ranking signal. Here's the follow-up post when the change went live:

Along with mobile-friendliness as a mobile search ranking factor, Google had more news to announce. Now apps would be returned in search results, both for users who are signed-in to Google and for those who have an app installed. Suddenly, for a couple clients, app indexing was the hottest ticket in town after "50 Shades of Grey."
For many search engine marketers, this update was rightly called "Mobilegeddon." Several SEO agencies and analytics firms reported up to a 20% reduction in search rankings or traffic to "non-mobile friendly sites." In contrast, SEM firms and digital marketing agencies also reported up to a 40% increase in clicks on mobile search ads during the same period.
At Bruce Clay, we experienced the impact from Google's Mobilegeddon 2015 ranking algorithm update for our clients, as well. Here is a typical result from a client that elected to focus on SEO for both desktop and mobile devices.
In the summer of 2015, Bruce Clay wrapped up an SEO campaign for a national retailer with franchises across the United States and Canada. We increased their desktop traffic 89% in spite of numerous Panda, Pigeon, Penguin and Pirate algorithm effects. While certainly impressive, that was not the really cool part. We worked with the client to optimize their mobile experience, and they experienced a 270% increase in mobile traffic, which helped contribute to a 148% increase in scheduled appointments. Although already a North American market leader, they saw a dramatic change to their revenue composite with a growth in organic search traffic and local mobile traffic.
Mobile-First Indexing
On Friday, November 11, 2016, Google published the "Mobile-first Indexing" announcement on its Webmaster Central Blog.

In it, Google said:
"… our algorithms will eventually primarily use the mobile version of a site's content to rank pages from that site."
Will this update become Mobilegeddon 2? The truth is, we don't really know until it happens. However, I am reminded of the meeting agenda with my Google account representative sharing these four topics:
Why Mobile Matters NOW
How to Think about Search on Mobile
What You Can Start Doing Today
What Is Your Mobile Opportunity?
While financial representatives are legally obligated to state that past experience is not a predictor of the future, it seems certain that Mobilegeddon 2 will be a disrupter.
At Bruce Clay, we are advising clients about the importance of mobile, even if they don't get a lot of mobile traffic today. The good news is that most clients have responsive sites, making this transition to mobile-first indexing much easier. These clients are now working on improving organic ranking of their mobile user experiences and subsequently conversion rate optimization (mobile-to-lead or mobile-to-sale).
We also have a number of clients that have mobile-friendly sites. These scenarios are a bit complex, as we've found several situations where these mobile experiences don't have the same exact content as their desktop equivalent.
These clients are potentially at revenue risk, and here's why.
At this writing, Google is ranking their business using the desktop user experience. For ease of math, let's assume their desktop site has 100 pages of content, yet their mobile-friendly site has just 50 pages of content.
When Google officially pulls the trigger on its mobile-first index and replaces desktop rankings with mobile, how will this website rank?
Will it retain 50% of its rankings and lose 50%?
Possibly.
If so, which rankings will it retain and which rankings will it lose?
How will this impact the traffic, leads and revenue from the organic search channel?
How will this impact site behavior and the infamous Google Analytics "Not Provided"?
We don't know.
How will the client website rank if all its top competitors have responsive websites?
Will the competitors' responsive websites essentially take traffic away from the client website that has only 50% of its desktop content?
If so, how will this impact the traffic, leads and revenue from the organic search channel?
Again, we don't know.
The businesses most at risk are those that have no mobile user experience at all. And yes, we do have a couple, and these are B2B clients.
How will these desktop-only websites be impacted?
If a business does not have any mobile experience, yet most of their competitors have either responsive websites or mobile-friendly websites, how much traffic will the business lose?
How will this change impact their revenue that originates from SEO?
Again, we don't know for sure.
What we are fairly confident about is that with SEO, and especially mobile SEO, everything is going to be different in 2017.
As an agency, the Bruce Clay team of SEOs works with clients to prepare for Mobilegeddon 2, as they know the update will be coming to our mobile phones sometime in 2017. Our analysts are asking these business questions and working through numerous what-if scenarios and action plans.
We are even asking ourselves what-if questions about PageRank. For example, how will that silly Google PageRank be changed, if at all, for mobile-first indexing? This question came up recently because of an off-the-cuff tweet from a Google employee.
On February 9, Google Webmaster Trends Analyst Gary Illyes stated that after 18 years, Google is still using PageRank and hundreds of other signals in ranking.
DYK that after 18 years we're still using PageRank (and 100s of other signals) in ranking?

Wanna know how it works?https://t.co/CfOlxGauGF pic.twitter.com/3YJeNbXLml

— Gary Illyes ᕕ( ᐛ )ᕗ (@methode) February 9, 2017
Unfortunately, Google is still using PageRank even though it is an easily manipulated concept. I am concerned that people from Google make public comments like this after the company has told us repeatedly not to focus on PageRank for SEO.
Second-guessing ranking factors like PageRank — these are the kinds of questions we are asking among technical SEO agencies today to predict the unpredictable ranking changes that will come following the switch to the mobile-first index.
Need Help? Have Questions?
If you are managing your marketing and you have questions about organic search traffic and mobile for your business, let's chat.
Use our contact form and let me know your big questions. We can even sign an NDA and take a deep dive into your data to identify potentially unknown vulnerabilities or worse, outright risks.
Let us help your business not only survive Mobilegeddon 2, but also thrive!
Save
Posted by John McCarthy on February 15th, 2017 at 4:00 am