SMX East Liveblog: Search & Find: Marketing in the Age of the Internet of Things
This session at SMX East takes a high-level view of a future where we don't go to a phone or computer to get online, but rather all the devices and appliances around us are online. How will marketers gather data and gain intelligence when our cars, watches and even the dust around us are Internet enabled?
Speaker: Erynn Petersen, Executive Director, Outercurve Foundation (@ebpebp)
After giving a presentation on a similar topic at SMX Advanced earlier this year, Erynn revisited her old slide decks from 10 years ago and saw a parallel. At the time, the search industry was new and search marketers were wondering how to use the tons of data at their disposal and use it to bring relevant, emotionally evocative messages to searchers. She thinks search marketers have never got the hang of it.
Scope took over as the No. 1 mouthwash from Listerine because of a single TV ad 50 years ago. Ten years ago when she talked about the example of Scope vs. Listerine, it was because there was a new shift as search was a channel that marketers could get major data from. The shift today is mobile and the changing perspective of people managing the data collected from mobile.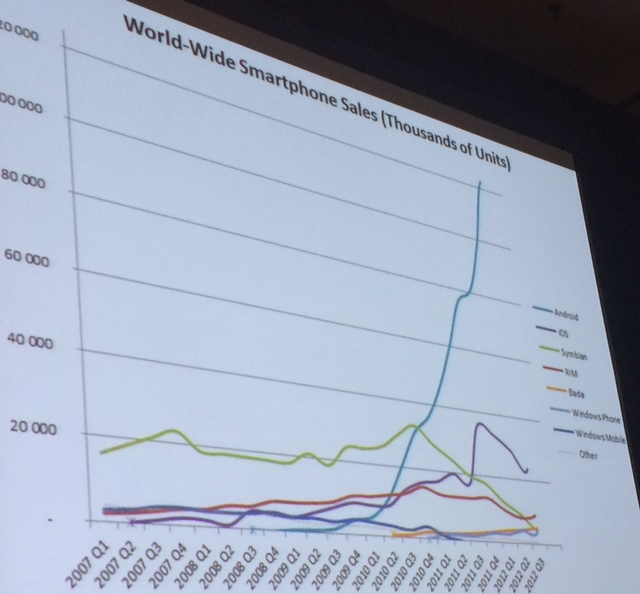 Android is blowing up because of the ability for developers to create apps for it. One way technology has changed over the years is the ease with which people can contribute to open source projects.
Tools like Square, fitness bands, and the intelligent car are all part of "the Internet of Things" (referred to here as IoT) and show how technology is changing when data can be computed in little, cheap machines.
When we talk about the Internet of things we often talk about the devices themselves.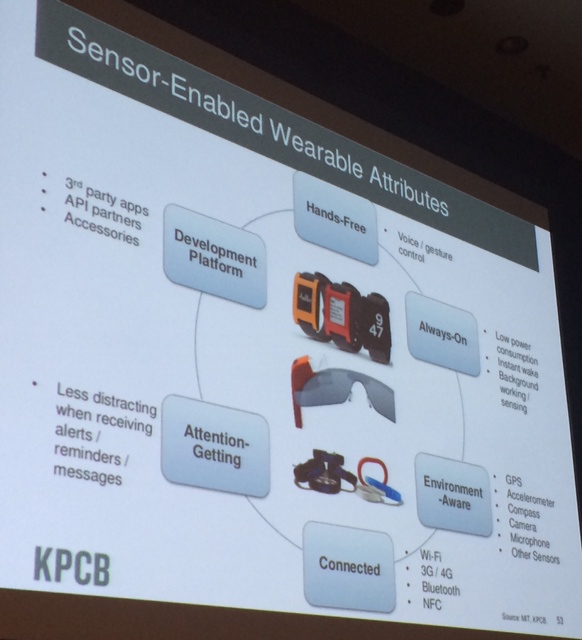 Hands free
Always on
Environment aware
Connected
Attention getting
Development platform
Up until recently, the computing landscape has been dominated by a closed-source system. That's the ARM system. One of the biggest things happening around the IoT is the rise of a major open-source competitor to ARM chips: Prpl, a completely open source operating system that operates at a chip level and is open as a development platform. This gives us tools, frameworks, systems that allow us to manage experiences with consumers.
When talking about ad and content experiences, she asks people to go back to the history of advertising. Look at the first ads for Coca-Cola.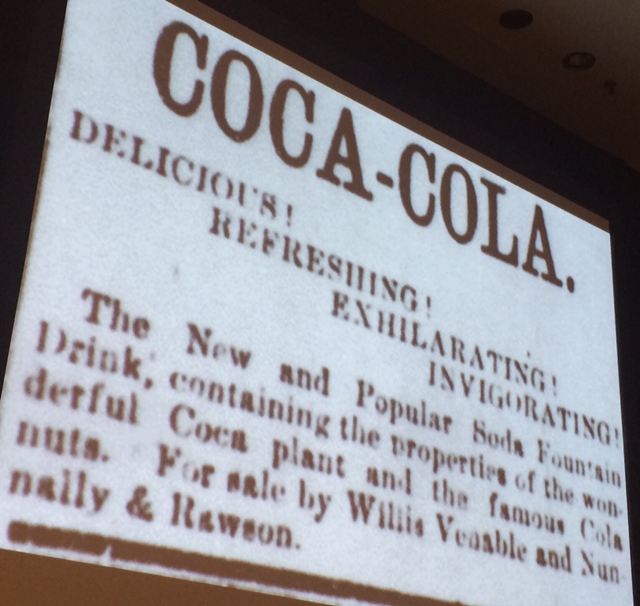 Does this look similar to an original search ad to you?
Now look at the evolution of Coca-Cola logos.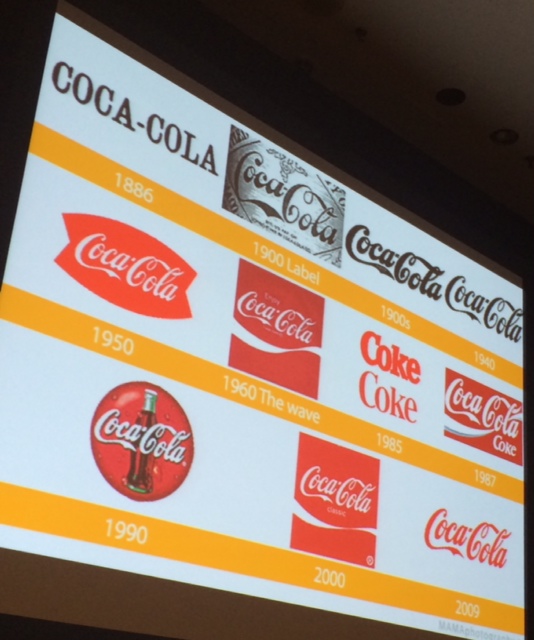 Coca-Cola ads have been largely untouched by the search rise. It's largely untouched because the logo in the first days was commuted across the country by the railroad and they could be certain their brand logo would stay unchanged no matter where anyone was looking at it. From this example, we realize we need to ask, "What is our railroad?"
A lot of people are coming back with the answer: "The cloud." She thinks that's wrong.
Images and narrative are keys to campaigns over the last few years. They help persuade mass audiences to become part of the experience. We've failed with search to find experiences in the search data. We've become trapped by the data and moved away from the image and emotionally resonant story.
So what is our railroad? Smart dust. Computers will be all around us. What does this mean in advertising? We're never going to move back to a world where we'll need to show less data about the efficacy of our efforts. As we move into a place where we have hundreds of devices around us at all times, data flood will be different in scale and type. Divining intent at scale, across audiences, allows crafting of campaigns that drive people to decision. Mood and emotional landscape will be more and more easy to understand. How happy a group of people are, how well a message is resonating with a community. We're going to be able to move back to using images to tell stories to get an emotional response.
Posted by Virginia Nussey on September 30th, 2014 at 4:45 pm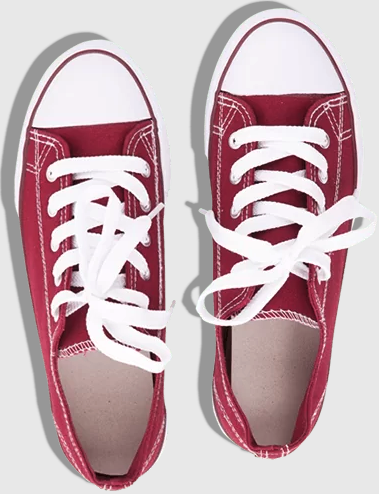 Bruce Clay
on March 27, 2021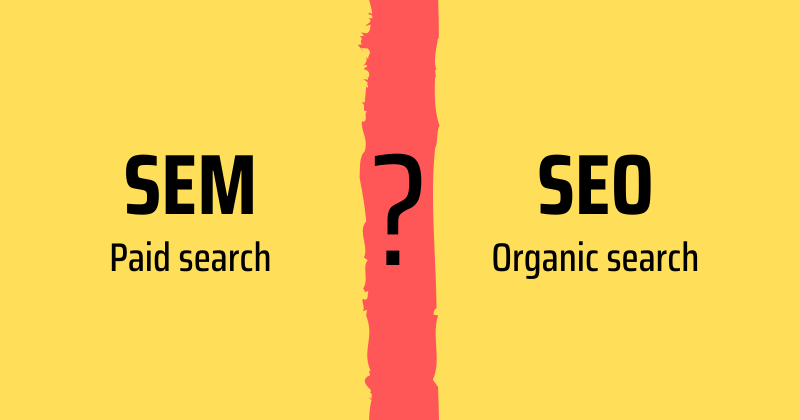 Bruce Clay, Inc.
on March 1, 2021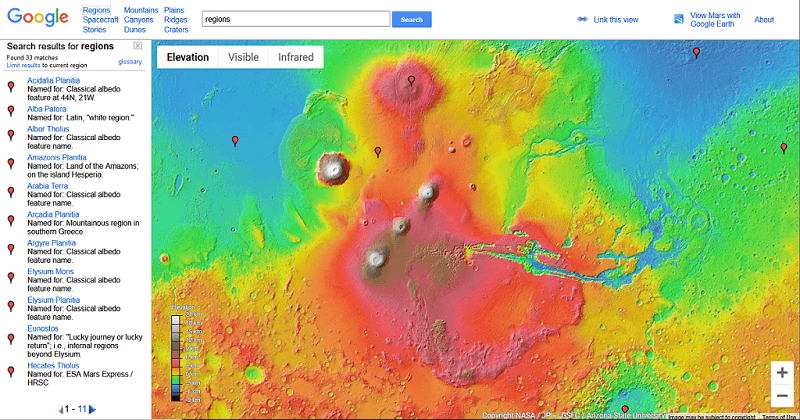 Bruce Clay, Inc.
on February 4, 2021