SMX East Liveblog: What SEOs Should Be Doing with Mobile
When it comes to mobile, Google prefers responsive design. But there is no ranking boost or penalty for using this method when designing your mobile site. Cindy Krum, Michael Martin, Jim Yu and Gary Illyes talk about what happens when sites use dynamic serving, separate sites and responsive design — or some combination of all three.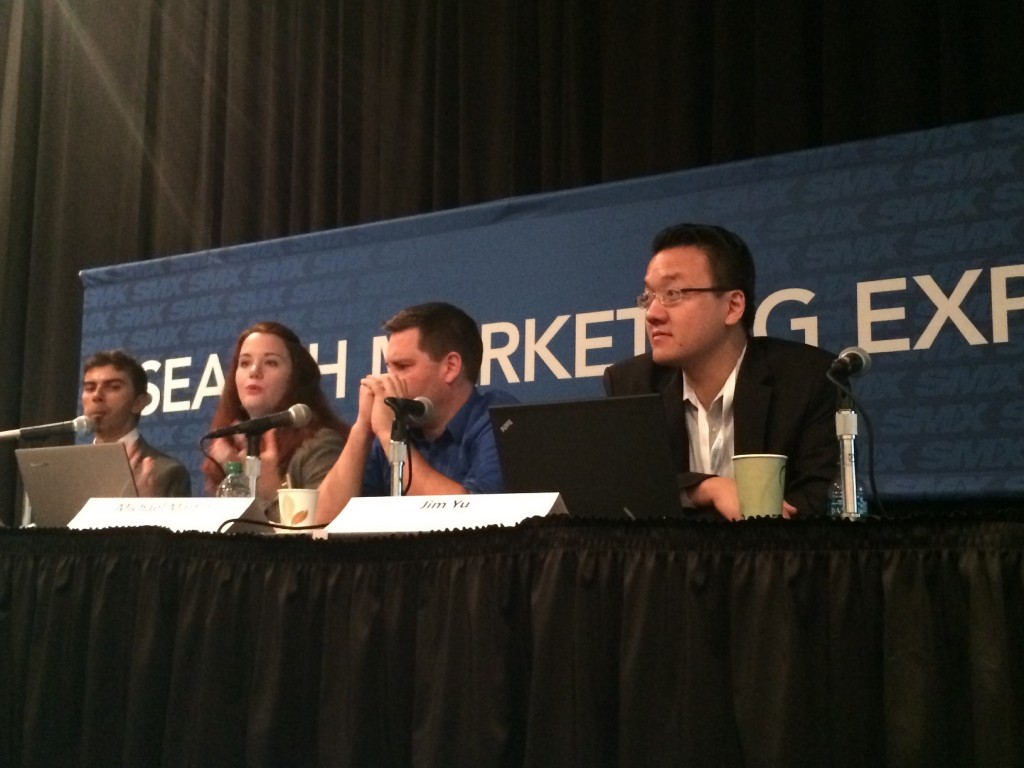 Speakers:
Michael Martin: What Advanced SEOs Should be Doing about Mobile
The past seven years has been the year of mobile – but this year really IS the year of mobile. Mobile search is now 40% of all search.
Say you're doing a search for pizza, there's an implied intent of looking for something local – in results like that, there's a staggering difference between the SERP served on desktop and the SERP served on a mobile device.
Responsive Design has been seen as the panacea for mobile – but Martin believes the future is dynamic serving.
Page speed is very important for usability. It's also important to make sure your buttons are finger-friendly.
Martin emphasizes that it's important to include the following on mobile when relevant:
The stock of product available nearby
Top (Insert Number) Products/Services
Reviews (especially local)
Videos and interactions with products (he mentions Kelly Blue Book's function that allows mobile users to turn a car around and look at it from different views via mobile device/touch)
Click to Call and Locations
Jim Yu: Comparing Approach, Response and Risk with Data
Fast facts from BrightEdge research:
Mobile search is growing ten times faster than desktop search.
Organic search via smartphones has been growing 50% year over year.
62% of keywords have different ranks between desktop and mobile.
Error Rates
Separate Sites: 72% of sites have errors
Dynamic Serving: 30% of sites have errors
Responsive Design: negligible amount of errors
Most Common Errors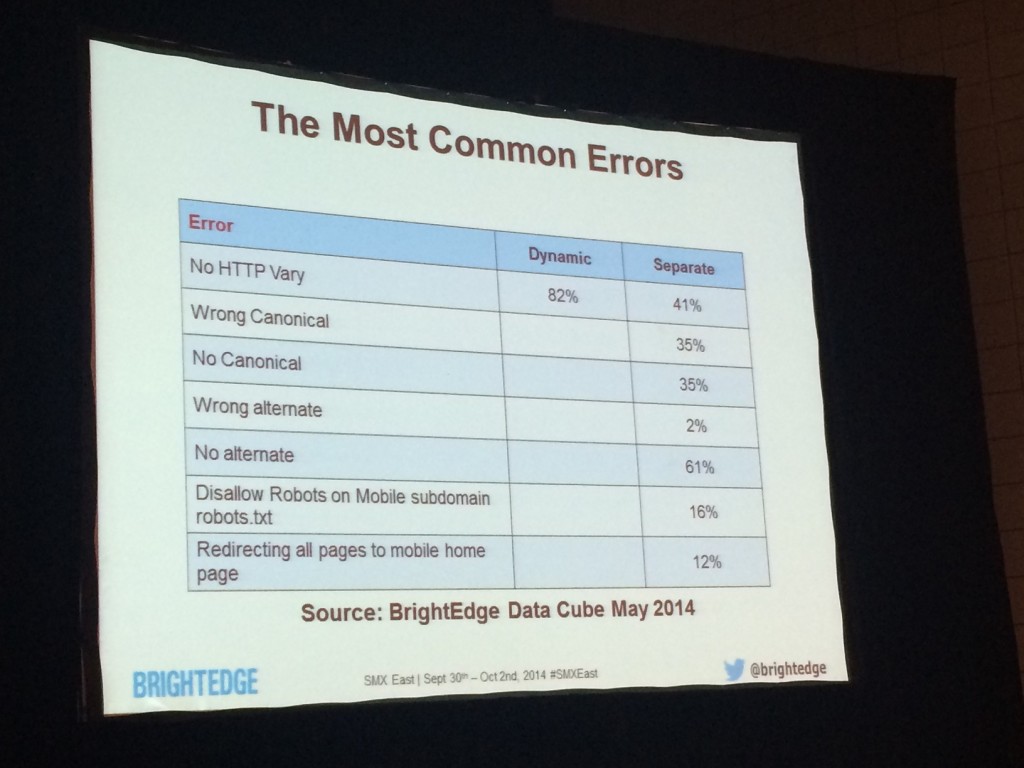 When your mobile site has an error, it goes down on average by 2 points in rank – the result? According to Yu's research, 68% lost opportunity on mobile.
Yu says that enterprises need to evaluate the risks of:
Misimplementation: Smartphones are on only becoming more important. Can you risk losing smartphone share?
Ongoing Maintenance: You've configured everything correctly, but with each website release, the configuration needs to be checked.
The Pros and Cons of Each Mobile Approach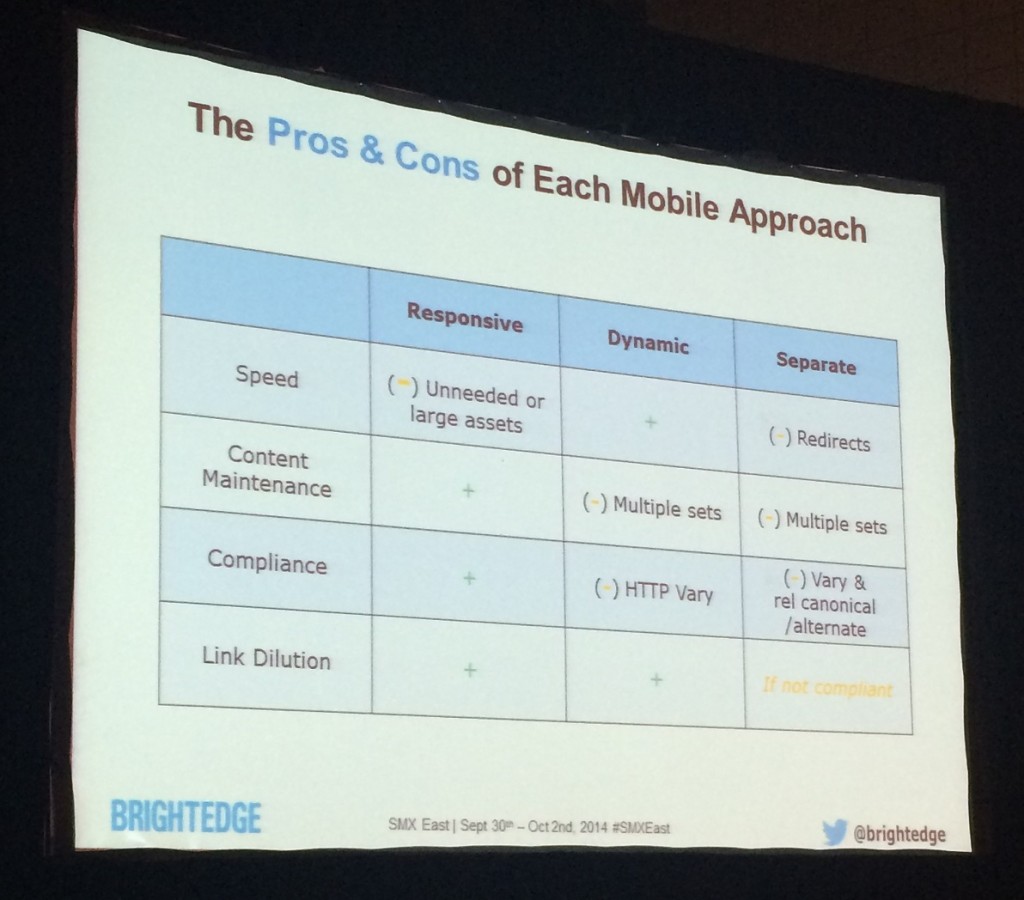 Cindy Krum: Mobile SEO & Page Speed
Google has been testing its mobile results — things are changing rapidly.
Product Schema is gone for organic, but still there for paid search.
"Load time is super important for mobile SEO and usability"
You don't have to commit 100% to one mobile type – part of your site can have one architecture and other pages can have a different architecture. If it provides a better user experience, then you should do it. Google is not against this if it's warranted.
Mobile Ranking Signals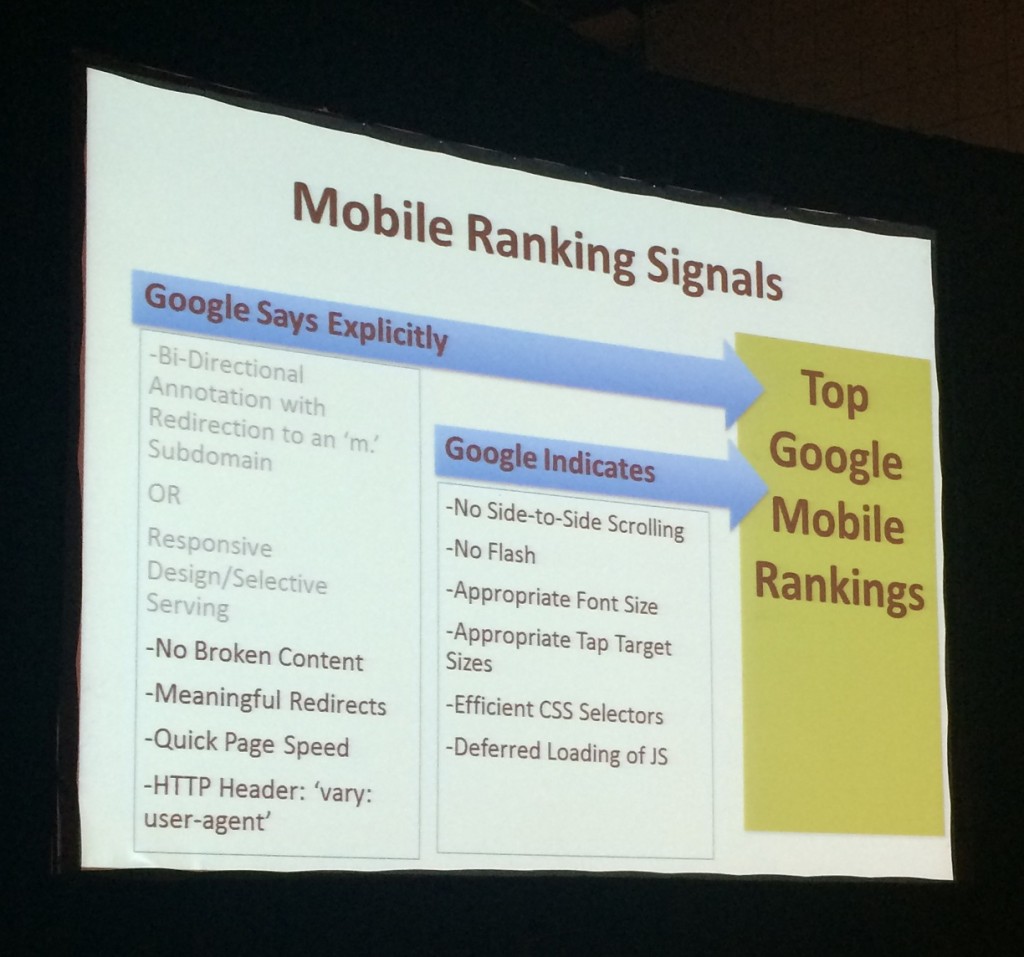 Quick tip: When testing, at least be using an iPhone 4.
How to Make a Mobile Website Faster
If you want someone to convert and stay on your site for a long time, they're not going to do it if you have poor page speed. Above the fold content needs to load in one second.
The biggest concern with responsive design is its effect on page speed. Google prefers responsive design … but it also prefers fast load time. Responsive design has to be designed to be extremely fast.
Speeding up Responsive Design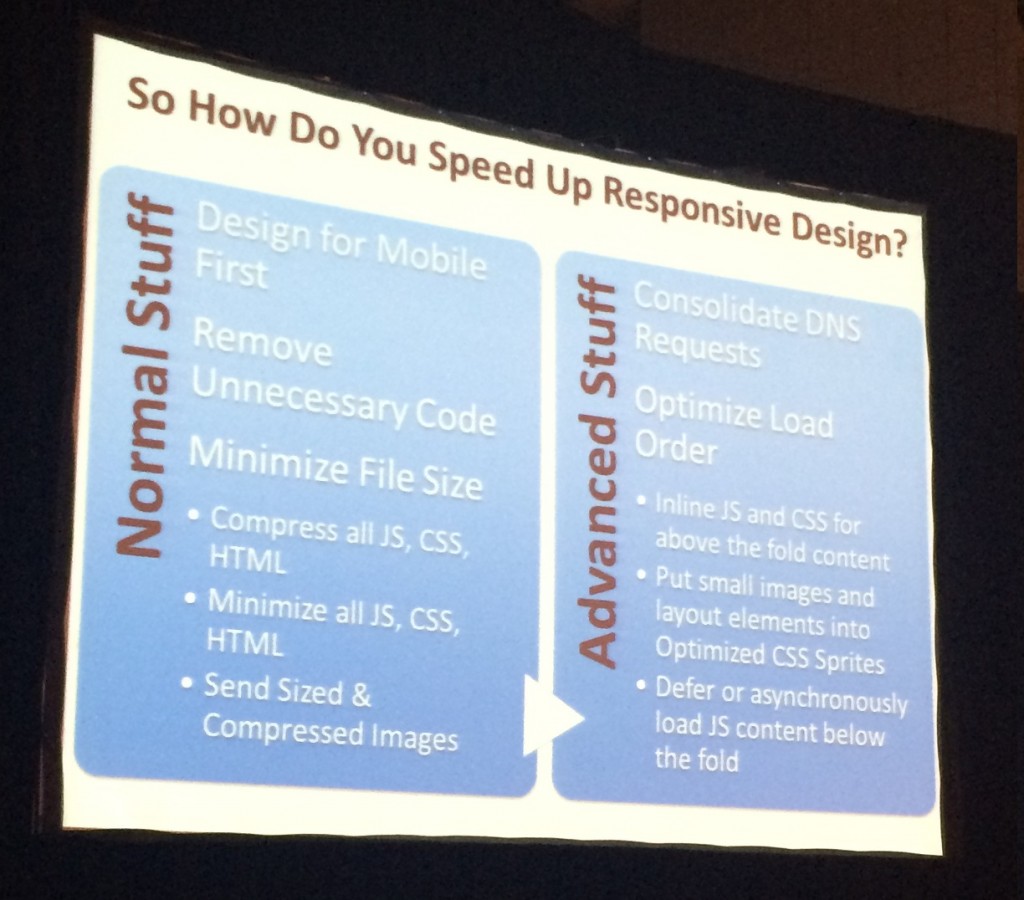 Gary Illyes: Insight from Google
Part of his job at Google is to browse the Internet, look for errors and find solutions.
You need to get your site mobile-ready.
77% of mobile users have researched a product or service from their phone.
61% of users said that they are unlikely to return to a mobile site they had trouble accessing.
How do you create a mobile-friendly site? It's all documented on Google. Mobile-friendly means the site is:
While Google does prefer responsive design, Illyes states Google does not give a ranking penalty or boost based on the type of site you create.
He reminds the audience not to disallow resources – "It helps us understand your pages and understand that your pages are mobile-ready."
More than anything, he encourages to make the user happy. Focus on user experience. Have your friends and family test your site.
Posted by Kristi Kellogg on October 1st, 2014 at 7:30 am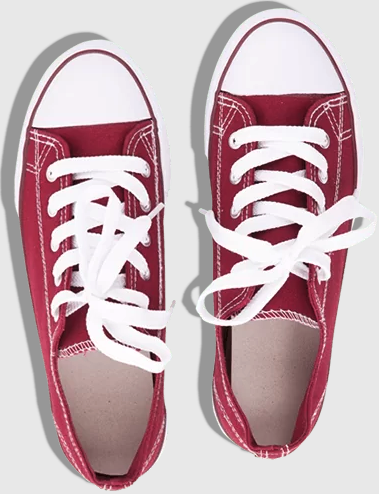 Still on the hunt for actionable tips and insights? Each of these
recent SEO posts
is better than the last!
Bruce Clay
on August 31, 2023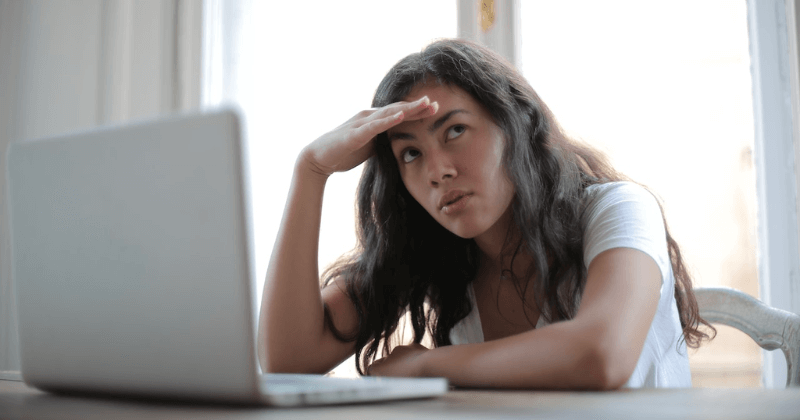 Bruce Clay
on August 24, 2023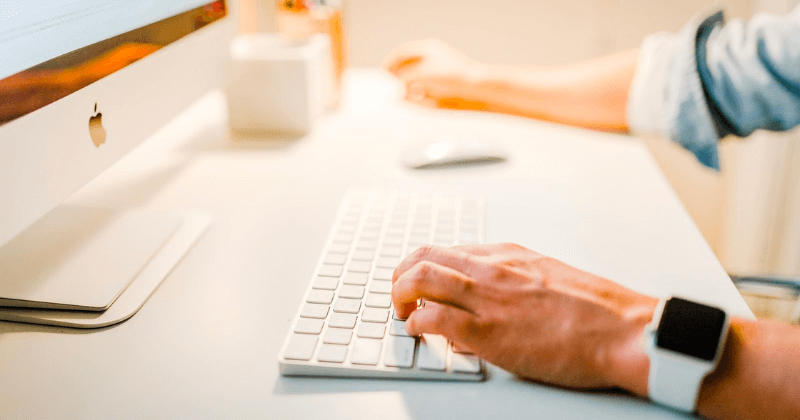 Jessica Lee
on August 17, 2023