Don't Be Surprised by the Traffic You Didn't Get for the SEO Work You Didn't Do
Each new year, millions of people create New Year's resolutions. They vow to eat better. To exercise more. To spend less time working and more time with family.
Resolutions are well-meaning, but 81 percent of people who make them fail to reach their goals.
Don't make resolutions without an action plan.
The secret to success is right in your hands.
–J Allen Shaw, children's book author
Search engine optimization can drive more visibility in the search results, more traffic and more revenue. But like a New Year's resolution, you have to do it to see results.
Well-meaning site owners fund SEO advice by paying agencies, consultants or in-house SEO professionals to give it. Yet a significant percentage of those recommendations never get implemented.
This happens for many reasons. Most often it's because the company doesn't see SEO as a strategic initiative. That then trickles from the top down, and business silos make it near impossible to get things done.
So how do you succeed with having great SEO intentions, and actually following through on them?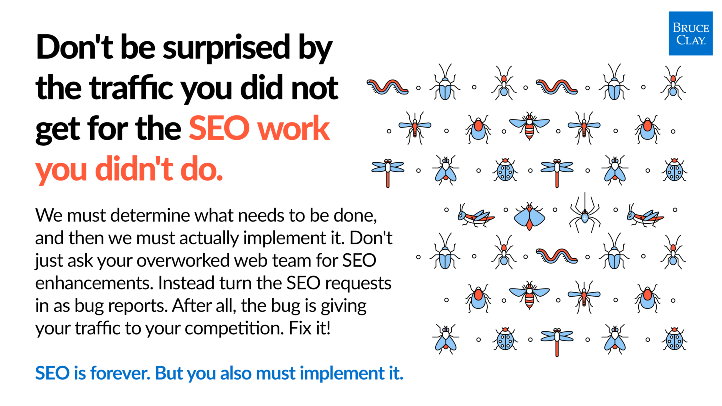 How to Make Sure the SEO Work Gets Done
Here are a handful of things to consider …
1. Educate, educate, educate. And not just the immediate marketing teams, but other teams that need to be a part of getting SEO things done.
We are really upgrading what people know and love as "online training". We are releasing (soon) SEOtraining.com… a comprehensive SEO training experience. It will, of course, include the training course that thousands have taken in a classroom environment, just reformatted to fit the screen and time allowed and rated PG-18.
Our new SEO course is online, but it is not a recording of a live class. It is greenscreen recorded and quite professional in sound and presentation. As with all videos you can take it at your own pace – start and stop as you like. That also means that as is my style, I am teaching, not reading. What is missing from a live class are additional videos, my exceptionally humorous jokes, some insightful stories, and the morning Q&A. Those will need the real classroom course tentatively planned for late summer 2021.
When the new course is released on March 16th for general audiences it will be priced at $1750.
The class will likely release in many (about 50) sections and taking about 16 hours at normal playback speed. I recorded it at a cadence so that it can actually be usable at faster playback speeds, although I think that might be best for a 2nd pass.
If you choose to take the class then we can put you on a notify list for the opening of registration. Please just email training-bc@bruceclay.com and we will let you know when registration is open.
Corporate and multiple student discounts apply.
2. Prioritize recommendations. Work on the most impactful SEO tasks first — the ones with the most potential to move the needle.
For example, our SEO audits make it clear which tasks are most important to tackle first and how to prioritize everything else from short-term to long-term tasks.
3. Support recommendations with Google guidance. Show examples (help files, tweets, videos, etc.) of Google recommending the thing you are trying to get done. This is a great example from Google on why site performance matters.
Make sure to distill the "why" behind Google's recommendation. Whether you're talking to a client or your own internal team, you want to make it easy for your intended audience to understand and get on board. Also think about your audience when you talk about results.
For instance, if you're recommending a change that will improve site performance, the UX department will respond to user experience improvements, while the C-Suite will respond more to revenue growth.
For every half second decrease in homepage load speed, our customers see an average annual revenue increase of $376,789.
-Mobify, 2016 Q2 Mobile Insights Report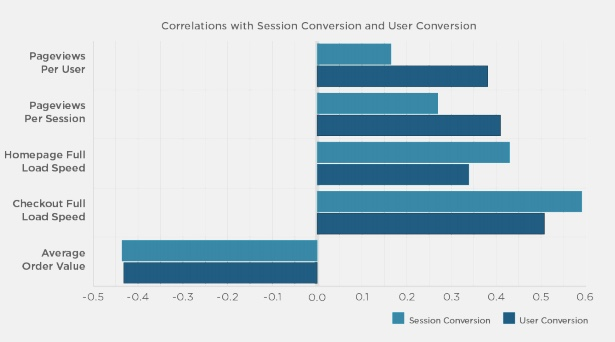 4. Get creative to move SEO changes forward. Technical fixes can be hard to implement. That's because web developers and IT folks are often focused on other things.
In a bit of good news: UK-based Zazzle found that 75 percent of marketers said SEO technical fixes were implemented within one month. But that leaves 25 percent of those surveyed waiting more than a month.

To help move technical SEO changes forward, speak the language of your audience. Instead of requesting enhancements to the site, put SEO technical fixes in as bug reports. Fixing bugs are typically KPIs developers care about and want to stay on top of.
(The key is not to put anything in the report you have to defend. A bug is a bug, it's not "losing traffic to competitors" or anything else.)
5. Think strategically. We must think and plan strategically to get things done. This article by a doctor at the Harvard Medical School blog gives tips on how to keep New Year's resolutions by asking five important questions.
These same questions could be applied to communicating and getting buy-in for SEO initiatives so they get done:
Why do you want to make the change? Know and show the reasons behind the SEO recommendation.
Is your goal concrete and measurable? Support your recommendation with Google guidance and data, case studies for similar organizations, websites or initiatives, and the KPIs you will track.
What is your plan? Detail the steps necessary to reach the goal.
Who can support you as you work toward change? Identify which colleagues, teams or departments will need to be involved to get the recommendation done, and how.
How will you celebrate your victories? Make sure that the small and big wins are in front of everyone, all the time. This helps build trust and confidence in the SEO process.
McKinsey also has some great insights that are worth looking into on how to make a change within an organization, including how to motivate people.
Resolve to Get SEO Things Done This Year
If we want our SEO recommendations to be implemented, we must create a plan for how to get things done. Like the person who signs up for the gym in January but never attends, paying for SEO advice but not following it is wasted potential.
Remember, SEO is forever — there is no "end," and it takes a commitment to see results. This core concept can help us think beyond the title tags that need to be changed this month or site speed that needs to be tackled the next, so that we can accomplish more.
Most people overestimate what they can do in a year and they underestimate what they can do in two or three decades. #iamnotyourguru

— Tony Robbins (@TonyRobbins) October 25, 2016
If you need help with your SEO action plan, contact us for a free quote and let's talk.
Posted by Bruce Clay on February 24th, 2020 at 11:55 am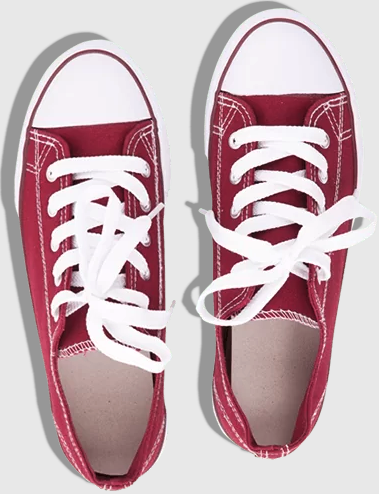 Still on the hunt for actionable tips and insights? Each of these
recent SEO posts
is better than the last!
Bruce Clay
on September 3, 2021
Bruce Clay
on September 3, 2021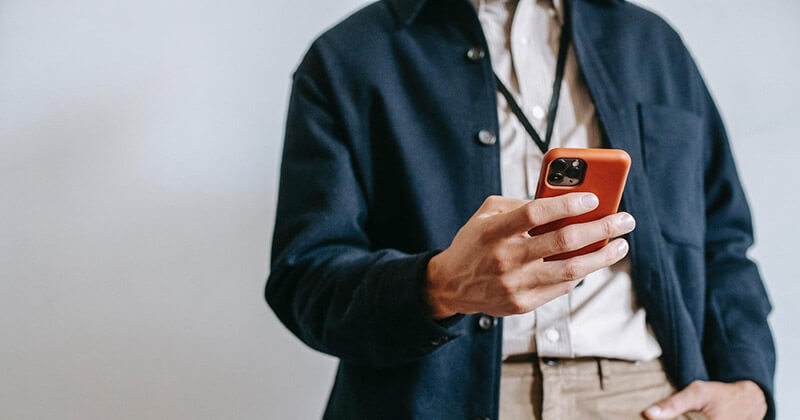 Bruce Clay
on September 2, 2021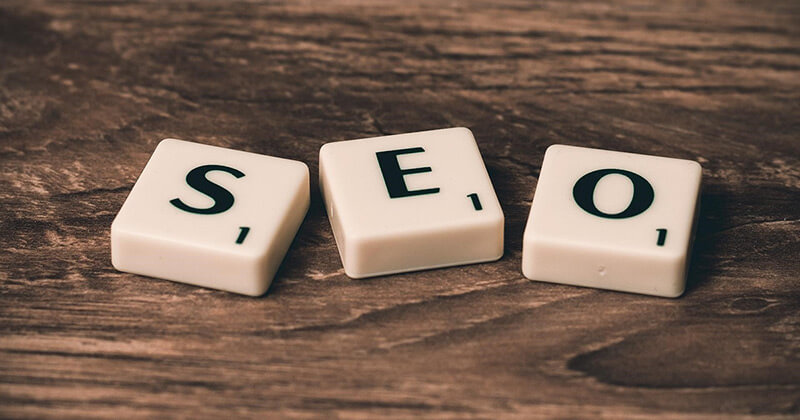 6 Replies to "Don't Be Surprised by the Traffic You Didn't Get for the SEO Work You Didn't Do"