Jessica Lee - 3/30 - Bruce Clay, Inc. Blog
Posts by Jessica Lee
---
December 11, 2012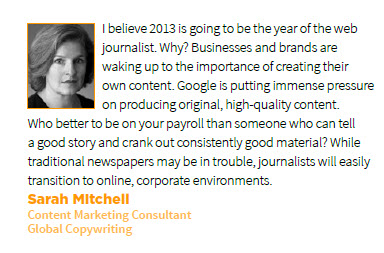 The Content Marketing Institute last week released 2013 predictions, where more than 80 marketers (including yours truly) weighed in on where the discipline was going in 2013.
Some predictions we heard over and over again:
Journalists will have a new home in the corporate or agency environment.
Visual content ramps up in the form of video and graphics.
Creating content for mobile is key, along with other multiscreen options.
My take on the emerging themes from the survey:
Great business content that's on par with big publishers will be key.
The way we want to receive information is changing from the device (mobile) to the medium (visual) to the delivery (concise).
Read more of What's In Store for Content Marketing in 2013?.
---
November 27, 2012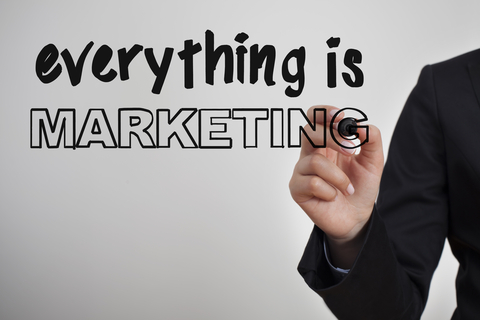 Google is getting smarter. I caught an interview over the weekend with Ray Kurzweil, author, inventor and futurist who has been known to make accurate predictions about technology and where it's headed. In this interview he talked about concepts within his book, "How to Create a Mind" (which I'm putting on my wish list for the holidays, BTW).
Right now, Google might not be able to comprehend the content on a Web page in the human sense (hence the need for humans to tell Google what the page is about when we optimize it), but if Kurzweil's predictions come true, it's only a matter of time before Google can comprehend it.
Today, we are already moving from those more granular tactics in SEO to a more holistic approach to marketing online. This is the natural progression of marketing in the digital age. And part of that is because Google is getting smarter, and as it evolves, our approach can evolve to meet it.
Read more of SEO, Meet Marketing.
---
November 21, 2012

You know those fun birthday booklets you get that recall all the cool things about the year you were born? If not, may I suggest that you immediately demand one from a friend next time it's your birthday? It makes you feel really "retro."
Because our little search community has a history of its own, I thought it would be fun to dive into this week in SEO history to see all the crazy things that preoccupied our minds over the years.
I took the dates of this week and travelled back into the BCI blog time capsule to see what I could see. While the news drudged up for this post may have been cutting edge at the time, it gets more of a hey-remember-when-there-wasn't-call-waiting vibe as the posts get older. But also, you realize we're still talking about some of the same stuff … years later (spoiler alert: Facebook privacy).
Hang onto your hats, people, let's travel back in tiiiiiiiiiime.
Read more of This Week in SEO History.
---
November 14, 2012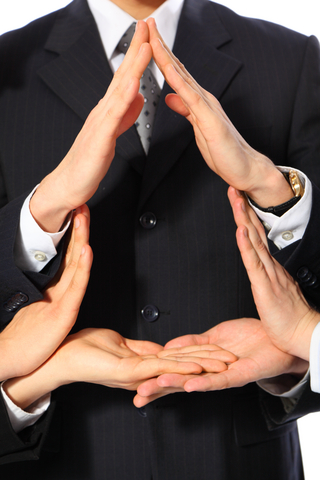 Moving is one of my least favorite and most favorite things to do all at the same time. First, you have the laborious process of finding that place you really want online. And then actually going to those places that make the cut just to find out that most of them don't meet your expectations.
And when you find "the one," you immediately get starry eyed, and think about all the possibilities that lie ahead – many of which are true, and many of which are expectations viewed through rose-colored glasses.
But when it comes down to it, the real purpose of moving is that you're making progress, you're embracing change and you're starting fresh, with new perspective.
All of those hopes, concerns, expectations and realities of picking up your things and moving to a new place are also what a lot of people experience when they choose a search marketing agency.
Whether it's their first time or their fifth time, each beginning brings a sense of positive change and a whole new set of expectations. So just like looking for a new place to live, taking the time to choose your search agency wisely is the key to happiness. Let's look at some of the things you can do before you start a new relationship with a search marketing agency.
Read more of Making the Search Agency House a Home: Moving to a Place of Communication.
---
November 12, 2012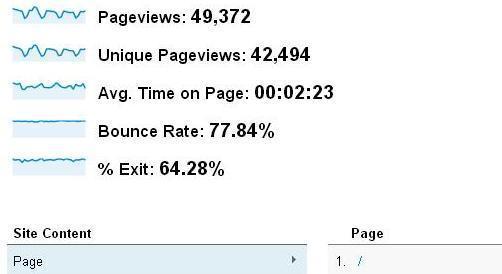 Short on time but want to find some areas on a site you can add immediate value to from a content optimization perspective? Let me show you how to use Google Analytics (along with some other tools), and a Web content audit checklist to identify and prioritize those ideas, fast.
Read more of The 16-Step Web Content Audit: Prioritize, Analyze, Refresh, Optimize.
---
November 7, 2012

Duplicate content is a sometimes-confusing issue for site owners, many of whom don't even know why their site has duplicate content and how it got there. Eric Enge of Stone Temple Consulting speaks frequently on duplicate content, how to identify it and how to avoid it.
His upcoming session at SES Chicago next week is all about duplicate content issues, so I recently caught up with Eric to chat more about identifying duplicate content, how it happens on accident, consequences for it and what to do about mirror sites.
---
November 5, 2012

Email marketing is alive and well, and is an important part of your company's content and communications strategy. When done right, email marketing is a seamless part of your digital marketing campaign, and continues to engage your customers long after that first conversion.
With SES Chicago around the corner, I wanted to chat with one of the upcoming speakers, Sundeep Kapur. I caught him at SES San Francisco this year, and I liked his approach to using data to personalize email marketing.
Sundeep is a digital evangelist for NCR Corporation, a global technology company that provides products like point-of-sale terminals, barcode scanners and much more. He specializes in converged channel marketing strategy, from direct marketing to social media. Sundeep is also a teacher, and dubbed the "Email Yogi," working with businesses across multiple industries to personalize and speak to consumers more effectively.
Sundeep and I sat down to chat about email marketing, and the conversation that follows is jam-packed with info on how email fits into the digital strategy, how to use transaction data to personalize emails, the future of mobile and email marketing, subject line optimization, campaign distribution times and much more.
---
October 31, 2012
If you're creating content for business, you know you don't have the luxury of creating when the "mood strikes." In the content marketing world, we have an obligation to create relevant and useful content on an ongoing basis. So, with a content production schedule that needs to be consistent, plus the abundance of channels we have at our fingertips, we must find ways to maximize our content ideas.
This is where the idea of producing several types of content from one idea is very, very useful.
What I'm talking about here is taking one concept and expanding it into several mediums, like blog posts, video, infographics, ebooks and more. And using various channels to feature them in.
---
October 29, 2012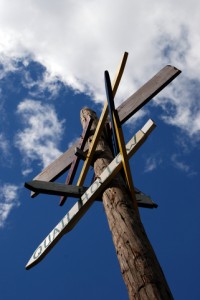 Content has always been the star of the show, it just hasn't been as highly acclaimed as it is now. This is creating an emerging role in the form of a content marketer. If you're looking at your own marketing strategy online or your own team, you might be trying to understand how content and the content marketer fits in.
The short answer is: everywhere.
Think about it: content is a part of every search marketing tactic you perform right now. Got PPC ads? That's content right there. You've got landing pages setup for conversion? Content. Got a Facebook page? What's on it? Yep, you guessed it — content.
Content is just as much a part of search marketing as it has ever been, but the role of who is watching over it is changing. It's a special role that marries an understanding of search marketing with traditional marketing savvy and content development skills across the board.
Let's take a look at how the new content marketing role fits within the search marketing world and can enhances what we do every day in our search marketing.
---
October 25, 2012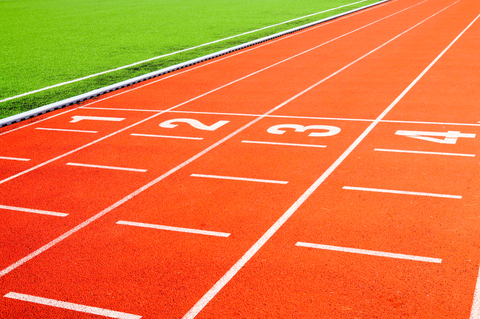 There's lots of things we can learn and apply from the startup world, no matter what type of business environment we're in. One of them being to embrace failure – yes, be willing to fail. And another: shift your mindset totally and completely from everything you believe to be true about how to operate and how to be successful.
The startup mentality can reveal a lot of lessons that we can apply in business scenarios and as leaders across industries and types of companies – large, small – whatever. If you've always been in corporate settings (and especially if you're used to dealing with a lot of red tape), thinking like a startup may feel very uncomfortable, strange and unattainable.
But taking some of those concepts and applying them to the challenges you're facing right now might actually reveal very attainable, new ways of operating that can get you different results (you know that old saying about insanity).
So let's roll up our sleeves and prepare to work like startups, think likes startups and innovate like startups.
---