SEO Archives - Bruce Clay, Inc. Blog
October 6, 2015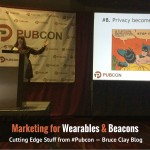 The Pubcon session called "Beyond SEO: Market Intersection Optimization" is really about marketing to users with wearable technology — including:
Using beacons for hyperlocal marketing
Creating content for wearable devices
Social media tips for Apple Watches
Read the full liveblog.
---
October 2, 2015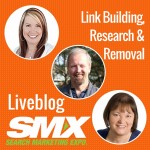 In April 2012, Penguin made its first flaps in the Google algorithm. Since that time, the SEO industry has developed stringent best practices around link building, also called link acquisition or link earning, and backlink auditing and SEO penalty removal. This SMX East session starts with timeless methods to attract quality relevant links through content marketing. Then speakers lay out the backlink auditing process and critical tools for link research and removal.
Read the liveblog coverage of Link Auditing & Best Practices for Authoritative Link Building.
---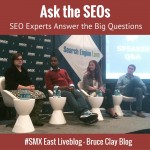 Four expert SEOs take the stage in SMX East 2015's "Ask the SEOs" session. This popular Q&A free-for-all is where the audience can ask them … anything! But first, let's meet the SEOs:
Mike King (@iPullRank), founder of iPullRank
Hillary Glaser, SEO manager at Campbell Ewald
Cindy Krum (@Suzzicks), CEO at MobileMoxie
Marshall Simmonds (@MDSimmonds), founder and CEO of Define Media Group
Read all the questions and answers in the Ask the SEOs liveblog.
---
October 1, 2015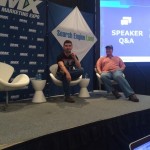 Google and Bing are on the same hot seat as SMX East attendees get to ask them anything. Our Liveblog covers this insightful session with Bing's Duane Forrester and Google's Gary Illyes and reveals big news about the latest Panda update from Gary.
Read our Liveblog Now.
---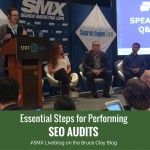 An SEO site audit lays the groundwork for everything an SEO does to ensure maximum search visibility. This SMX East session covers the most important audit tactics and best practices for making sure your SEO efforts are having the optimal impact on a site's performance.
Read the liveblog: Essential Steps for Performing an Effective SEO Audit
---
September 30, 2015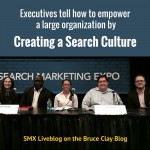 How can you create a culture that's on the same page with SEO objectives? How can you get IT on your side? What does it take to influence the C-suite to back digital marketing needs?
Glean from the experience of three major companies in this liveblog of an SMX East session titled "Empowering Your Organization with a Search Culture." Executives from Verizon, Comcast and Pernod-Ricard shared some of their insights, challenges and strategies when it comes to creating an SEO-aware search culture for a massive brand.
Read the liveblog: Creating a Search Culture in a Large Organization
---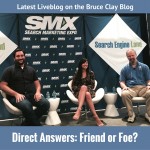 If your site gets featured in Direct Answers in search results, it can really boost traffic to your site. Don't think of them as the enemy, but as a friend!
So say Eric Enge, Ehren Reilly and Amber Fehrenbach, who presented their key insights into Direct Answers at an SMX East session. Sharing data and examples straight from their agencies/brands, they showed:
How Direct Answers is growing
Benefits of being cited in a Direct Answer
Advice for getting featured in Google Direct Answers
Preferred tools to help optimize
Which types of businesses lose
Read the liveblog for all the research and insights.
---
September 29, 2015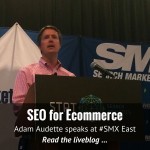 SEOs working on ecommerce sites face particular challenges and require some specialized know-how. At SMX East, speaker Adam Audette (@audette), the SVP of organic search at Merkle, reached out to SEO-savvy ecommerce-minded marketers in this short but fact-packed session on SEO for ecommerce sites.
As SEO marketers today, we need to be familiar with everything. However, there are two major pillars of SEO: the technical side and the audience side. Here are some of the main issues of each that relate to ecommerce sites.
Read the liveblog of SEO for Ecommerce: What You Need to Know
---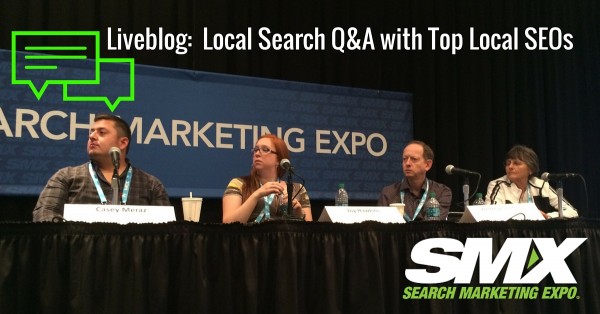 All local SEO questions are answered in this round table of top experts at SMX East. The assembled experts will field these questions, submitted by the audience and also topics the panelists submitted to talk about.
Why did Google switch to the 3 pack from the 7 pack?
Does anyone have statistics regarding how clicks are distributed between Google Maps and Google organic?
Links vs. citations?
How are apps affecting local?
How are you getting reviews?
Read the liveblog coverage of the Local SEO Q&A at SMX East.
---
September 11, 2015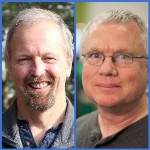 Do you want the latest research on Direct Answers from Eric Enge? Want to hear early-adoption evangelist Mark Traphagen's thoughts on the newest video chat technologies like Blab.im? Then you've come to the right place. The impressive Stone Temple Consulting duo took a break from their busy schedules to join me for a live Hangout on Air. It was the latest in a series of interviews with key speakers as we gear up for SMX East and Pubcon; we've been joined by Rand Fishkin, Danny Sullivan and Ginny Marvin, and we have Google's Gary Illyes joining Monday.
In addition to Direct Answers and Blab.im, Enge and Traphagen shared their insights on:
Personal brand building and how to use individual trust to boost brand trust
The future of Google+ now that hangouts and photos stand on their own
What's different about the latest edition of "The Art of SEO"
What content should do, and why marketers can't afford to be afraid
Click through to watch the interview or read the transcript.
---