October 2, 2015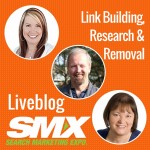 In April 2012, Penguin made its first flaps in the Google algorithm. Since that time, the SEO industry has developed stringent best practices around link building, also called link acquisition or link earning, and backlink auditing and SEO penalty removal. This SMX East session starts with timeless methods to attract quality relevant links through content marketing. Then speakers lay out the backlink auditing process and critical tools for link research and removal.
Read the liveblog coverage of Link Auditing & Best Practices for Authoritative Link Building.
---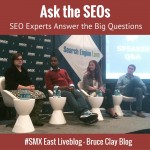 Four expert SEOs take the stage in SMX East 2015's "Ask the SEOs" session. This popular Q&A free-for-all is where the audience can ask them … anything! But first, let's meet the SEOs:
Mike King (@iPullRank), founder of iPullRank
Hillary Glaser, SEO manager at Campbell Ewald
Cindy Krum (@Suzzicks), CEO at MobileMoxie
Marshall Simmonds (@MDSimmonds), founder and CEO of Define Media Group
Read all the questions and answers in the Ask the SEOs liveblog.
---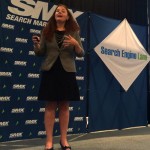 Google Now continues to grow and adapt to the way people search, and it's important for search marketers to keep up. In this Day 1 SMX session, Cindy Krum covers these changes and what it means for marketers.
Our Liveblog is up.
---
October 1, 2015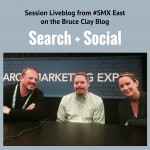 You can't think about search without thinking about social media, and vice versa. They complement each other, and both initiatives come out stronger when they're approached holistically. In SMX East's "Better Together: Search + Social," Casie Gillette, Eric Werner and Geoff Colon share their tips straight from the search and social trenches.
Read the liveblog.
---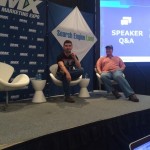 Google and Bing are on the same hot seat as SMX East attendees get to ask them anything. Our Liveblog covers this insightful session with Bing's Duane Forrester and Google's Gary Illyes and reveals big news about the latest Panda update from Gary.
Read our Liveblog Now.
---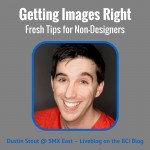 Full disclosure: I am pretty excited for this session, "Getting Images Right in Paid Search." The content team here at Bruce Clay, Inc. makes a lot of images for search and social, both for content marketing and ads. We test a lot of tools, sites and tactics when it comes to designing images. We're pretty good at what we do, but there's always room to learn more — especially from a first class designer like Dustin Stout (@DustinWStout), the CMO at Weal Media in Los Angeles. Stout does not disappoint.
"Let's put design talk into real world talk. This is for people who are not designers, but use visuals in their marketing," Stout says. Then he proceeds to teach us:
3 facts about modern visual advertising
What are the visual indicators of trust
How to achieve visual trust in your images
Many recommended sites for free photos, design tools and more

Read the full liveblog!





---

Search engines Google, Bing and Yahoo step aside because Apple's changing things up. This insightful SMX session discusses the many ways Apple products have impacted search and what to do about it as marketers.
Read Liveblog Now.





---

An SEO site audit lays the groundwork for everything an SEO does to ensure maximum search visibility. This SMX East session covers the most important audit tactics and best practices for making sure your SEO efforts are having the optimal impact on a site's performance.

Read the liveblog to plan an Effective SEO Audit .





---

The second largest search engine is YouTube, which is where your videos should be placed and properly optimized. This information-rich SMX East session gives you practical tips on how to master video marketing in the YouTube wonderland.





---

What reports do you really need for search engine optimization? How can you make sense of the volumes of data that even low-end analytics tools collect about your site visitors and activity? After all, there are hundreds of canned reports to choose from, but only a few are really relevant for SEO. And the answer is going to be different depending on which type of stakeholder wants information.

In this SMX East session, a panel of three SEOs share their tactics when it comes to reporting:

What the SEO stakeholders need
Using data to tell a story
How to build your map to Google Analytics treasure

Read the liveblog of The Most Valuable Analytics Reports All SEOs Should Be Running.





---