October 6, 2015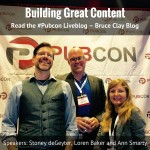 Content – it's a chief component in everyone's digital marketing strategy. More than just tips, this morning's Pubcon Las Vegas session on "Building Great Content" includes a case study on American Eagle Outfitters that highlights just how critical strategic content marketing really is.
Read the in-depth liveblog coverage of this session, featuring Loren Baker, Ann Smarty and Stoney deGeyter.
---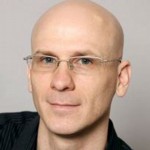 How much do you know about Reddit, and are you using it the right way to build your online presence? Brent Csutoras, social media strategist and content marketer, takes center stage at Pubcon Las Vegas to help you not only understand Reddit but also how to achieve long term success on the site.
Read our Liveblog Long Term Success with Reddit.
---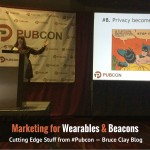 The Pubcon session called "Beyond SEO: Market Intersection Optimization" is really about marketing to users with wearable technology — including:
Using beacons for hyperlocal marketing
Creating content for wearable devices
Social media tips for Apple Watches

Read the full liveblog.





---

Day 1 at Pubcon Las Vegas starts with a session by Guy Kawasaki that's to the point and doesn't suck, as the chief evangelist of Canva takes his own advice for giving a high tech speech. Guy is a name-brand marketing pro and an evangelist. He's the author of The Art of Social Media, The Art of the Start, APE: Author, Publisher, Entrepreneur, Enchantment, and has a million and a half Twitter followers who follow him for his marketing insights.

In this insightful session, Guy shares 10 tips you can start implementing now on how to enhance your marketing in the age of social media.

Read Guy Kawasaki's How to Perfect Your Marketing Liveblog.





---

October 2, 2015

In April 2012, Penguin made its first flaps in the Google algorithm. Since that time, the SEO industry has developed stringent best practices around link building, also called link acquisition or link earning, and backlink auditing and SEO penalty removal. This SMX East session starts with timeless methods to attract quality relevant links through content marketing. Then speakers lay out the backlink auditing process and critical tools for link research and removal.

Read the liveblog coverage of Link Auditing & Best Practices for Authoritative Link Building.





---

Four expert SEOs take the stage in SMX East 2015's "Ask the SEOs" session. This popular Q&A free-for-all is where the audience can ask them … anything! But first, let's meet the SEOs:

Mike King (@iPullRank), founder of iPullRank
Hillary Glaser, SEO manager at Campbell Ewald
Cindy Krum (@Suzzicks), CEO at MobileMoxie
Marshall Simmonds (@MDSimmonds), founder and CEO of Define Media Group

Read all the questions and answers in the Ask the SEOs liveblog.





---

Google Now continues to grow and adapt to the way people search, and it's important for search marketers to keep up. In this Day 1 SMX session, Cindy Krum covers these changes and what it means for marketers.
Our Liveblog is up.





---

October 1, 2015

You can't think about search without thinking about social media, and vice versa. They complement each other, and both initiatives come out stronger when they're approached holistically. In SMX East's "Better Together: Search + Social," Casie Gillette, Eric Werner and Geoff Colon share their tips straight from the search and social trenches.

Read the liveblog.





---

Google and Bing are on the same hot seat as SMX East attendees get to ask them anything. Our Liveblog covers this insightful session with Bing's Duane Forrester and Google's Gary Illyes and reveals big news about the latest Panda update from Gary.
Read our Liveblog Now.





---

Full disclosure: I am pretty excited for this session, "Getting Images Right in Paid Search." The content team here at Bruce Clay, Inc. makes a lot of images for search and social, both for content marketing and ads. We test a lot of tools, sites and tactics when it comes to designing images. We're pretty good at what we do, but there's always room to learn more — especially from a first class designer like Dustin Stout, the CMO at Weal Media in Los Angeles. Stout does not disappoint.

"Let's put design talk into real world talk. This is for people who are not designers, but use visuals in their marketing," Stout says. Then he proceeds to teach us:

3 facts about modern visual advertising
What are the visual indicators of trust
How to achieve visual trust in your images
Many recommended sites for free photos, design tools and more

Read the full liveblog!





---