September 2011 - Page 2 of 4 - Bruce Clay, Inc. Blog
September 26, 2011
Aloha! Hosting its annual Search and Social event in Hawaii this week is Wappow!, and this poor individual has packed up her laptop and recording devices to accompany Bruce to the conference and bring you coverage from Hawaii's "Garden Island," Kauai. Even though we have a ton of work ahead (I swear!) with Bruce as […]
---
September 22, 2011
You've heard about how Facebook is the closest stop to Mecca on the Digital marketing train these days. With user segment targeting that surpasses all other channels and a drool-worthy potential for engagement, businesses of all stripes are interested in creating or maintaining a lively presence on the social networking site. Just as Facebook made […]
---
September 21, 2011
As social media continues to grow in popularity and more time and money is invested into it, pages continue to be placed on Facebook with little thought into analytics and measurement. With the death of the Static FBML page and the ability to now use iFrame's to display tabs, analytics software – such as Google […]
---
September 20, 2011
Lots of online marketers are just starting out on their own — some with lots of experience, some new to the industry altogether.
That means, there are many people who are still getting a handle on the service offerings they provide while they work hard to run a small business, consult and perform online marketing for their clients.
As a small business owner or consultant, it's easy to fall into the rhythm of taking on any and all social media needs a client may have without a clearly defined social media offering.
And that's what we're here to talk about today — how new marketers starting off on their own can begin to put some structure to their social media services and how to stay on top of what is most useful to clients.
Read more of 6 Ways for the Newbie Marketer to Define & Create Social Media Services.
---
September 19, 2011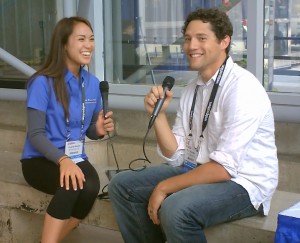 Last Thursday we posted a new episode of our SEM Synergy podcast, this one from SMX East in New York City. While I wasn't able to post about it here on that day (I was knee deep in the final day of liveblogging), the show was mad groovy for several reasons and definitely warrants a […]
---
September 15, 2011
Both Google and Bing say social signals are factored into their ranking algorithms for "regular" search results.  No surprise. So it was also no surprise it was standing room only at SMX East Facebook, Twitter and SEO session designed for the serious search and social crowd! Danny Sullivan gave introductions with a reminder that not […]
---
The last session of our liveblog coverage is on mobile advertising. First up is Dennis Glavin, @dennisglavin, of Microsoft Advertising. What's going on in mobile search? Two kinds of usage: Consumer using a mobile device as a substitute for a PC: informational in nature. On-the-go queries: supplement desktop search volume, centered on local action and with greater […]
---
Greg Sterling, our mod, says SoLoMo is an amorphous category and can be difficult to discuss as it's always hanging. 50+% of people access social media sites through handheld devices. Social and mobile are connected, and local is where all transactions happen — people use mobile to navigate the world at their fingertips. The three […]
---
Dan Hess @dealradar starts us off. Local Offer Networks has experience with data they use to serve major media companies. Massive growth of local offers continues. Prediction: in U.S. alone, 3 billion gross revenue from daily local deals. New competitors are entering the space faster than those falling out. The total offers published is climbing […]
---
Welcome to our monthly SEO update for August 2011. This update highlights key news in the SEO industry during August 2011, key SEO related blog posts from our bloggers in the US and Australia and key articles covered in our global newsletter. 1.  SEO News a) New and improved Google sitelinks As many users […]
---