Bruce Clay, Inc. Blog - 4/13 - Kristi Kellogg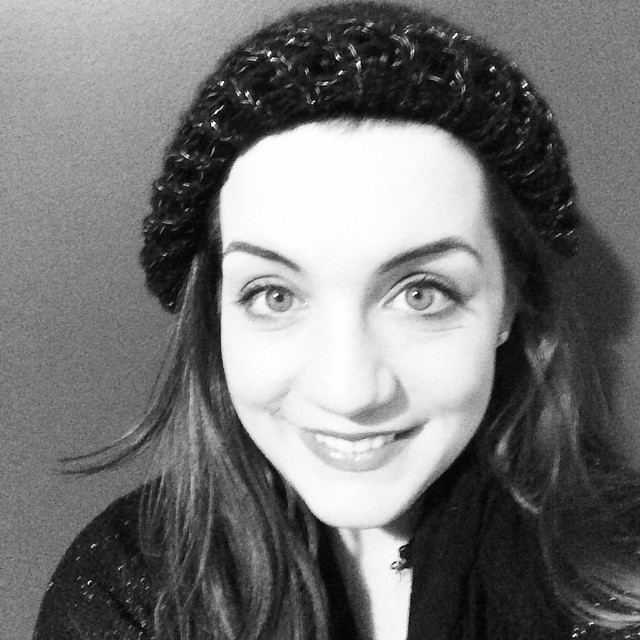 @KristiKellogg on Twitter

Kristi Kellogg on LinkedIn

Kristi Kellogg on Google+
Kristi Kellogg is a content writer at BCI, journalist and social (media) butterfly. Her articles appear in newspapers, magazines, across the Internet and in books such as
Content Marketing Strategies for Professionals
and
The Media Relations Guidebook
.
Posts by Kristi Kellogg
---
September 30, 2014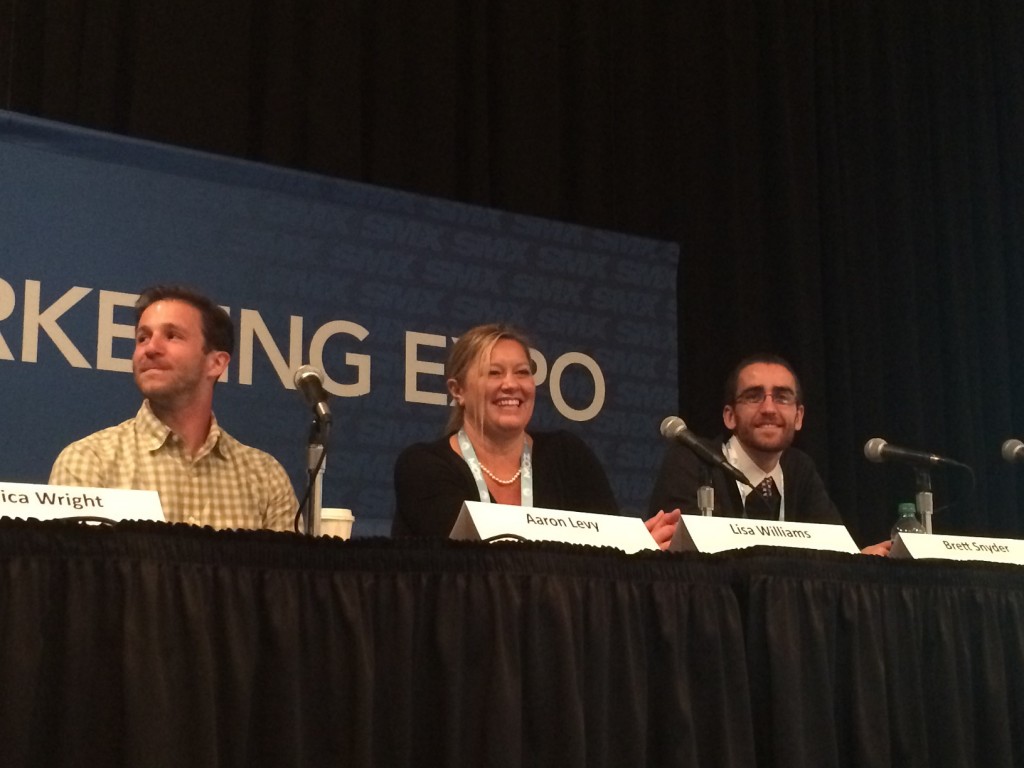 When SEO and SEM work together, the outcome is stronger campaigns for both sides. SEO and PPC VIPs Lisa Williams, Aaron Levy and Brett Snyder break down the relationship between SEO and SEM from an operational and tactical level during the first session of Search Marketing Expo (SMX) East 2014's Tactics Track.
Read more in How SEO & SEM Can Help Each Other.
---
September 23, 2014
There are Internet marketing lessons to be learned everywhere. Just ask Lisa Williams, director of digital marketing strategy at Search Discovery. The oft-cited marketer is gearing up to share her lessons on SEO and SEM in "Let's Work Together: How SEO & SEM Can Help Each Other" and "Key SMX Takeaways" at SMX East 2014. And marketer that she is, Williams sees marketing lessons in unexpected places … like the kitchen.
"Pretty much every time I cook I learn a lesson about marketing. For example, proper knife techniques require the right knife and lots of practice. If your technique isn't perfect, you can still get the job done, but the better you get at the technique the easier it becomes and the better the outcome. Also, that most great dishes start with great, fresh food," Williams said, explaining that the ingredients you start with — whether they be in Internet marketing or chicken soup — matter.
With a book coming out before the year's end and two SMX East 2014 sessions to prepare for (plus all that cooking), Williams still found time for an interview. Read on to discover her insights on SEO, SEM, relationship-building and more.
Read more of SMX East 2014 Speaker Series: Internet Marketing Lessons in the Kitchen & Beyond with Lisa Williams.
---
September 22, 2014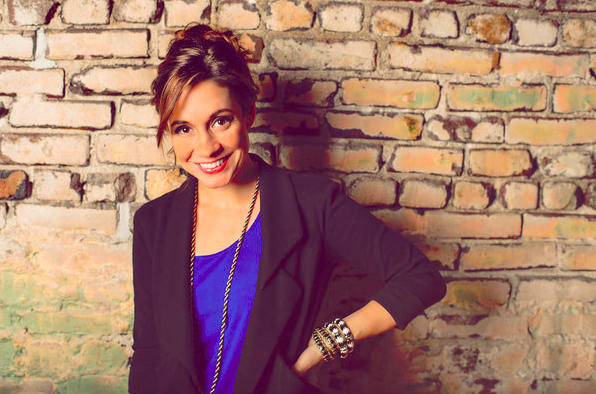 Joanna Lord has made a name for herself carving out marketing strategies at BigDoor Inc., moz and, now, Porch.com, where she recently signed on as vice president of marketing. Lord has a longstanding passion for all things involving Internet marketing, brand management and community growth.
She'll be speaking at Search Marketing Expo (SMX) East 2014 in "The Future Of A Brand" on Sept. 30 at 1:30 p.m. Come with tablet (of the digital or paper variety) in hand, because you will definitely want to take notes when Lord is onstage! Read on to discover some of Lord's thoughts on marketing and authenticity in this exclusive pre-SMX East 2014 interview.
Read more of SMX East 2014 Speaker Series: Joanna Lord on Authenticity and More #InternetMarketing.
---
September 19, 2014
Earlier this year, the landscape of SEO and Internet marketing shifted in a significant way when mobile search traffic overtook desktop search traffic. Mobile traffic will only continue to rise, and brands and businesses simply cannot afford to miss out on mobile opportunities. If you have not yet incorporated mobile SEO and mobile social strategy, the time is now.
Cindy Krum, CEO of MobileMoxie, travels the globe educating major businesses and brands on what matters most in mobile marketing, chiefly in the areas of SEO and social media. She's also the author of "Mobile Marketing: Finding Your Customers No Matter Where They Are." She'll be sharing her insights onstage at this month's Search Marketing Expo (SMX) East 2014 in "What SEOs Should Be Doing With Mobile" on Oct. 1 at 9 a.m.
Read more of SMX East 2014 Speaker Series: What Matters Most in Mobile with Cindy Krum to discover key insights from this mobile maven as I interview her on all things mobile.
---
September 16, 2014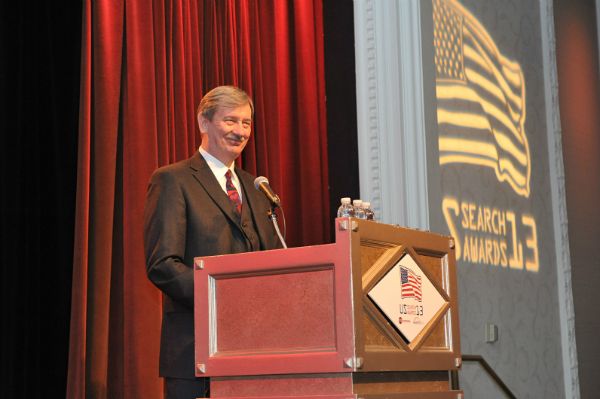 "And the award for 2014 Best SEO Campaign in the nation goes to …"
Bruce Clay, Inc. will proudly sponsor the Best SEO Campaign category at the 2014 US Search Awards on Oct. 8, 2014 during Pubcon Las Vegas at the Treasure Island Hotel.
Noted as the biggest celebration of search, PPC and digital marketing in America, the second annual US Search Awards honors and celebrates the innovative accomplishments of the most talented agencies and professionals across North America, and beyond, in 20 award categories acknowledging the best in SEO, PPC and digital marketing.
Read more of Bruce Clay, Inc. Sponsors Best SEO Campaign at US Search Awards at Pubcon.
---
September 11, 2014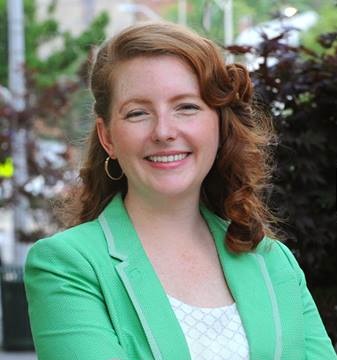 When Rhea Drysdale, the CEO and co-founder of Outspoken Media, takes the SMX East stage on Oct. 2 , I have a feeling it's going to be a packed house. The award-winning New Yorker has a keen understanding of SEO, online reputation management, social media and more — all of which she's going to share in "Long-Term SEO: How to Win for Years, Not Days," alongside Internet marketing VIPs from Trulia, Intel and Ogilvy & Mather.
Today, the SMX East 2014 Speaker Series continues as Drysdale shares her insights on building an SEO team and agency that thrives, staying ahead of the ever-shifting SEO target, what the wins and risks of SEO look like and much more. DISCLAIMER: Further reading might result in increased motivation. Continue at your own risk.
Read more of SMX East 2014 Speaker Series: What a Winning SEO Agency Looks Like, According to Rhea Drysdale.
---
September 9, 2014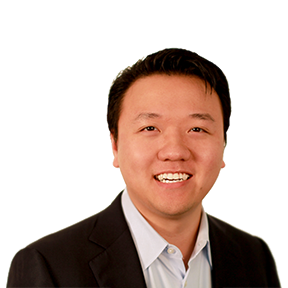 Earlier this year, Search Engine Journal reported that the mobile market will generate an estimated $261 billion more in 2015 than it did in 2012. This is no surprise, considering that the average American now spends two hours a day on a mobile device.
It's an undisputed fact that mobile optimization is a critical component of SEO, and Internet marketers are hungry for the latest tactics concerning mobile optimization. Later this month, you'll find marketers gathered at Search Marketing Expo (SMX) East 2014, and one of the must-attend sessions of the conference is "What SEOs Should Be Doing With Mobile" (Oct. 1 at 9 a.m.), featuring SEO VIPs Jim Yu, Cindy Krum, Michael Martin and Gary Illyes.
Here's a sneak preview of those mobile SEO insights as Yu, founder and CEO of BrightEdge, joins us for the second installment of our SMX East 2014 Speaker Series. Yu has made a name for himself in SEO, marketing and software development. Prior to founding BrightEdge, Yu led teams at Salesforce and IBM. He's an in-demand speaker, sharing his knowledge at conferences around the globe. Today, he's sharing them right here in an exclusive interview for the Bruce Clay, Inc. Blog.
Read more of SMX East 2014 Speaker Series: Jim Yu on the 'Massive Mobile Shift'.
---
September 5, 2014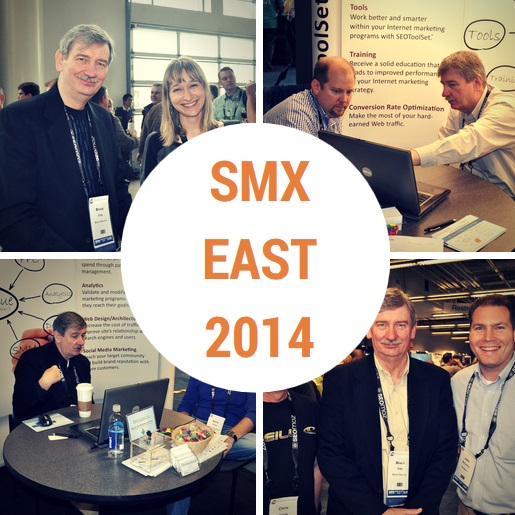 Search Marketing Expo (SMX) East 2014 is right around the corner. In less than a month, Internet marketers will gather in the heart of New York for the conference of the fall. More than 100 experts on SEO, SEM, social media and content marketing experts will share their top strategies and recommendations in tactic-packed sessions Sept. 30 through Oct. 2, Bruce Clay among them.
For your convenience, this post has links to ALL of our liveblog posts. We'll update it constantly throughout the conference to bring you the latest key-session content.
Read more of SMX East 2014: The Conference, The Liveblog Schedule & More.
---
August 25, 2014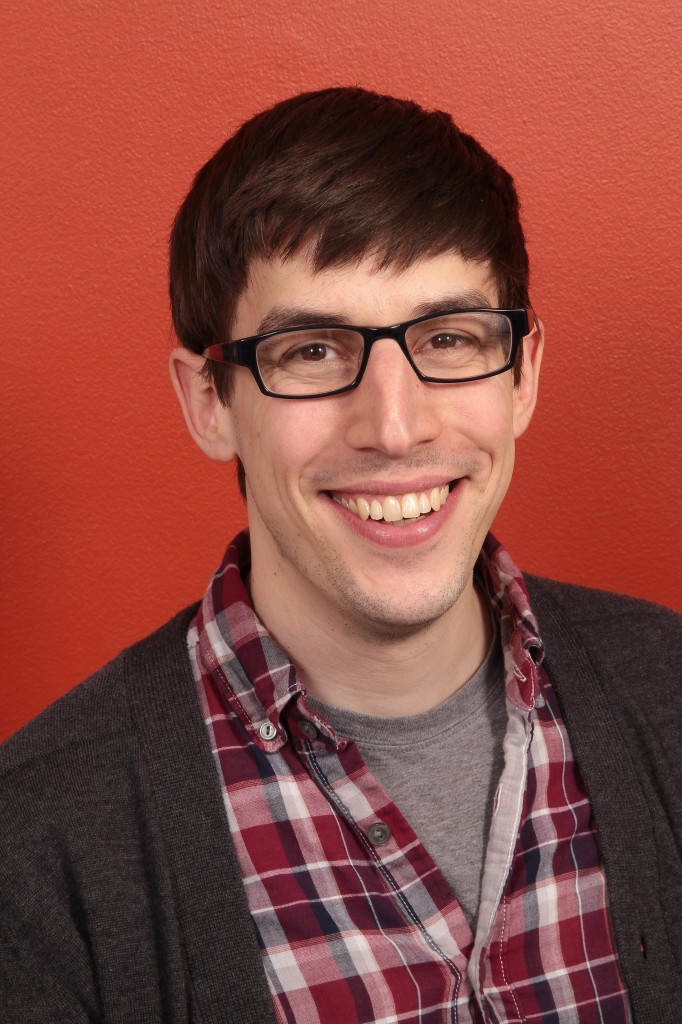 Search Marketing Expo (SMX) East 2014 is fast-approaching. In preparation for the acclaimed Internet marketing conference, I've invited a handful of distinguished speakers (Bruce Clay among them) to sit down for an interview. First up is Jason White, the director of SEO at DragonSearch. The New York native has graced the SMX stage before and has also shared his vast SEO knowledge with the next generation of Internet marketers as a guest lecturer at New York University.
"Anything that requires some strategy and a burning desire to figure out the why tends to be what gets me revved up," White said. "More than anything I like to make my clients stupid successful.
White will be speaking in two sessions at SMX East: "Earning Authority: Successful Link Acquisition & Auditing Advice" and "Keyword Research For Better Content & Audience Engagement." Accordingly, I picked his brain on keyword best practices, content marketing success stories, link management and more.
Read more of SMX East 2014 Speaker Series: Jason White's 'Stupid Successful' SEO Guide to Keywords, Link Cleanup and Personal Success.
---
August 5, 2014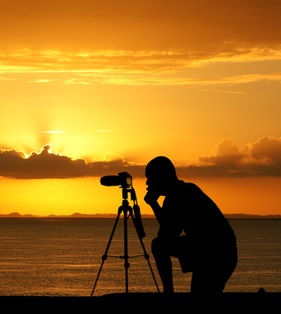 According to eye-tracking research, people actually look at online photos only 42 percent of the time — and the images they look at only hold their attention for less than a second. After extensive eye-tracking research, Jakob Nielsen and Kara Pernice concluded that there were clear factors that attract and repel online readers.
"There are some very creative, captivating images … graphics that evoke emotion, graphics that relay a message far better and faster than words, and graphics that illustrate a process or instructions. People look at and respond positively to these graphics. But generic and pointless images are about as compelling as a garden slug."
When creating blog posts or web pages, images are a critical factor for both reader engagement and search engine optimization (think ethical ALT attributes and optimized file names). Readers love images. Photos draw them in and make them want to read the content. Pick up any magazine or newspaper — every article and ad speaks to this. Photos can work to inspire a feeling or clarify a concept, and they are always useful in making a page more interesting just by breaking up the text.
There are hundreds of thousands of artwork options available online — but not all photos are created equally. If you want maximum engagement, consider these five factors when making your selection.
Read more of Make an Online Photo Engaging: Tools and Rules to Help Edit Images.
---