Bruce Clay Blog : 3/112 : SEO
December 11, 2012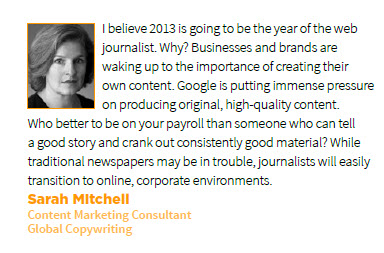 The Content Marketing Institute last week released 2013 predictions, where more than 80 marketers (including yours truly) weighed in on where the discipline was going in 2013.
Some predictions we heard over and over again:
Journalists will have a new home in the corporate or agency environment.
Visual content ramps up in the form of video and graphics.
Creating content for mobile is key, along with other multiscreen options.
My take on the emerging themes from the survey:
Great business content that's on par with big publishers will be key.
The way we want to receive information is changing from the device (mobile) to the medium (visual) to the delivery (concise).
Read more of What's In Store for Content Marketing in 2013?.
---
December 4, 2012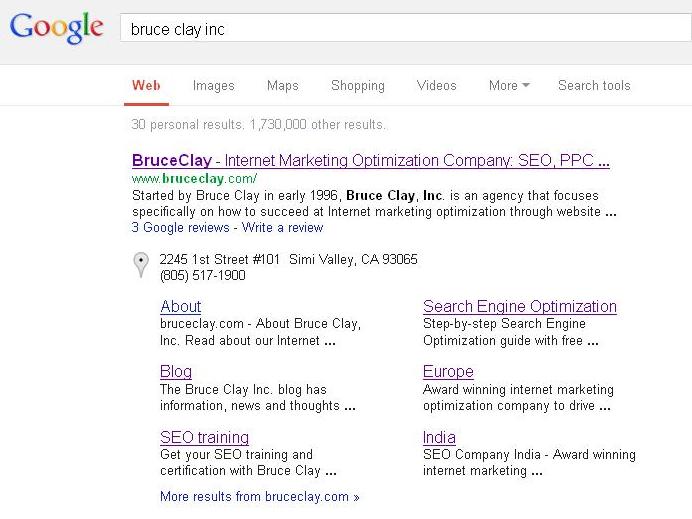 You typed your business's name into Google and you're wondering how to enhance the way your result looks. How can you get those features you see when you type your competitor's names in the search engine?
Here's a resource guide on the ways you can dress up your results when they show up in Google. You've got a lot of things going on in your day-to-day running a business duties, so bookmark this page and come back to it whenever you have some time to dedicate to marketing.
Read more of Souping Up Your SERP: Snippet Tips for Small Biz SEO.
---
November 27, 2012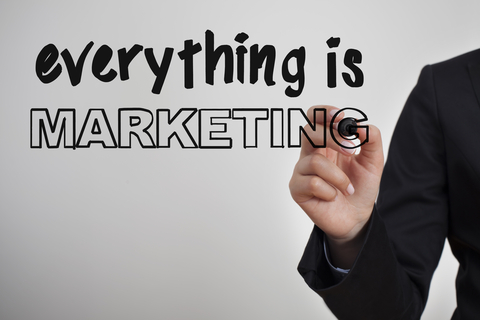 Google is getting smarter. I caught an interview over the weekend with Ray Kurzweil, author, inventor and futurist who has been known to make accurate predictions about technology and where it's headed. In this interview he talked about concepts within his book, "How to Create a Mind" (which I'm putting on my wish list for the holidays, BTW).
Right now, Google might not be able to comprehend the content on a Web page in the human sense (hence the need for humans to tell Google what the page is about when we optimize it), but if Kurzweil's predictions come true, it's only a matter of time before Google can comprehend it.
Today, we are already moving from those more granular tactics in SEO to a more holistic approach to marketing online. This is the natural progression of marketing in the digital age. And part of that is because Google is getting smarter, and as it evolves, our approach can evolve to meet it.
Read more of SEO, Meet Marketing.
---
November 21, 2012

You know those fun birthday booklets you get that recall all the cool things about the year you were born? If not, may I suggest that you immediately demand one from a friend next time it's your birthday? It makes you feel really "retro."
Because our little search community has a history of its own, I thought it would be fun to dive into this week in SEO history to see all the crazy things that preoccupied our minds over the years.
I took the dates of this week and travelled back into the BCI blog time capsule to see what I could see. While the news drudged up for this post may have been cutting edge at the time, it gets more of a hey-remember-when-there-wasn't-call-waiting vibe as the posts get older. But also, you realize we're still talking about some of the same stuff … years later (spoiler alert: Facebook privacy).
Hang onto your hats, people, let's travel back in tiiiiiiiiiime.
Read more of This Week in SEO History.
---
November 15, 2012
Content is the single most important element of online branding and marketing. Content is the voice with which a business communicates.
It's content that speaks to the unique value propositions of a business's offerings. It's content that tells a brand's story. It's through story that an audience recognizes deep personal relatability.
With all that content offers, achieves and can be, there requires a shift in definition, expectation and outlook of content in order to use content to its fullest potential. In the realm of commerce, Content (with a capital "C") is language, where different content types are words that come together to communicate a message in dynamic dialogue.
If that sounds too new-age, it may help to define Content by outlining it with what content is not.
Read more of What Content Is Not: Seeing Content Through New Media Eyes
---
November 13, 2012
With a project profile created at the outset of the project, you have a constant road map to your content creation efforts. You'll save time and mental power moving between projects. And you'll have undertaken an exercise that brings you to a high level of intimacy with the brand and the people it wants to reach. Here's my project profile cover sheet and an explanation of how and why you'd want to create them for your own SEO content projects.
Read more of SEO Copywriter Productivity Tip! Create Project Profiles.
---
November 12, 2012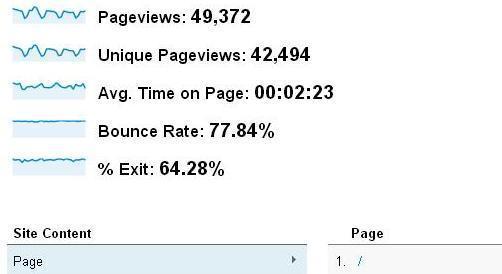 Short on time but want to find some areas on a site you can add immediate value to from a content optimization perspective? Let me show you how to use Google Analytics (along with some other tools), and a Web content audit checklist to identify and prioritize those ideas, fast.
Read more of The 16-Step Web Content Audit: Prioritize, Analyze, Refresh, Optimize.
---
November 7, 2012

Duplicate content is a sometimes-confusing issue for site owners, many of whom don't even know why their site has duplicate content and how it got there. Eric Enge of Stone Temple Consulting speaks frequently on duplicate content, how to identify it and how to avoid it.
His upcoming session at SES Chicago next week is all about duplicate content issues, so I recently caught up with Eric to chat more about identifying duplicate content, how it happens on accident, consequences for it and what to do about mirror sites.
---
October 31, 2012
If you're creating content for business, you know you don't have the luxury of creating when the "mood strikes." In the content marketing world, we have an obligation to create relevant and useful content on an ongoing basis. So, with a content production schedule that needs to be consistent, plus the abundance of channels we have at our fingertips, we must find ways to maximize our content ideas.
This is where the idea of producing several types of content from one idea is very, very useful.
What I'm talking about here is taking one concept and expanding it into several mediums, like blog posts, video, infographics, ebooks and more. And using various channels to feature them in.
---
October 30, 2012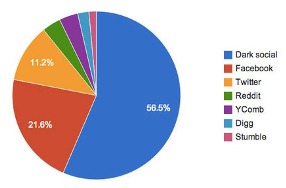 Invisible social traffic sources. Google keeping us in the dark with "Not Provided" traffic sources. With factors adding to the age-old challenge of accurate attribution, what's a marketer to do?
Here's the story, curated from around the Web last week. New technologies add new obstacles to measuring the effect of our marketing efforts. And while it may seem like the answer is a higher tech way to track users movements online, it's probably more likely to be the simple standard: know your audience.
Read more of Content Strategy: Your Eyes in the Dark Web World.
---