SEO Archives - Page 3 of 142 - Bruce Clay, Inc. Blog
March 3, 2015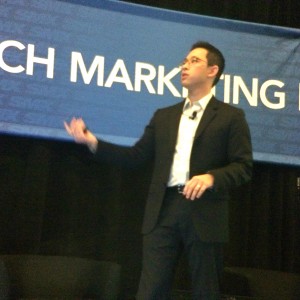 This SMX West 2015 mini session is a presentation grounded in the belief that you can automate everything for SEO and directly integrate it to your products. This is especially important for large websites. Michael Nguyen, Director of SEO at Connexity/Shopzilla, is our presenter.
What is a large website? Too big to fit in your head. Examples are networks of sites and sites with thousands and millions of pieces of content. Enterprise sites and long-tail businesses are also to be considered large.
Large sites have big problems. Good things about large sites include domain authority and a lot of content.
Read on for the problems with large websites — and solutions including an automation platform.
---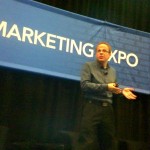 Have you had to deal with last minute changes for designers? Or change 302s to 301s, resulting in more work for IT? All this extra work stems from not knowing the importance of minutiae and how these small things affect SEO. It's the SEO's job to train other teams. Explain to the designer why it matters to have text vs. text in an image and to have alt text. Explain the the IT team the importance of a 302 vs. a 301. To the data team, explain the importance of page-level data and parameters at a page level.
They're owned by different business channels, like engineering, IT, social media, copy, design and project managers. Everyone in an organization needs to know what matters to Google. Yes, everyone.
Read this liveblog coverage of tactics shared by Micah Fisher-Kirshner, Senior SEO Manager at Zazzle Inc, to get a whole organization working to accomplish SEO initiatives.
---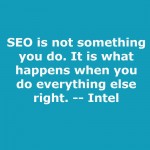 Intel is a Fortune 50 company present in 63 countries with 110,000 employees — in other words, they have a large global footprint. Today, in the SMX West session "Extending the Value of Search Beyond Your Website," Digital Intel Digital Marketing Manager, Laura Ann Mitchell, and Global Strategies Sr. Vice President, Ken Shults, will discuss how Intel approaches SEO.
Read all of Intel's SEO Philosophy – #SMX West Liveblog
---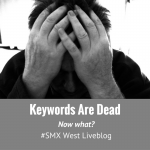 This session at SMX West 2015 "looks at the shift away from the keyword-based world, with tips and strategies for both SEOs and SEMs for thriving in a concept-driven world."
Danny Sullivan, Search Engine Land's editor in chief, is this afternoon's moderator. That says something about this topic's significance to current trends in the search marketing industry.
Sullivan says that in the old days, we used to fire up the Overture keyword tool or the GoTo keyword tool and see all the words people were searching for.
Speakers Kate Morris and Marty Weintraub explain that the data given by a straightforward keyword tool isn't enough today. You have to combine many approaches, getting to the audience and intent with different kinds of tools and data available to marketers today.
Read the full liveblog
---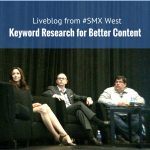 This report from SMX West 2015 takes place on Day 1 of the conference. Session moderator Matt McGee prefaces the presentations with a reminder that the poor keyword has been under attack with things like [not provided] and others. Later today, there will even be a session called "The Keyword Is Dead." This session's speakers would disagree with that. The presentations by Mindy Weinstein of Bruce Clay, Inc., Gene Skazovski of Tongal, and Bill Hunt of Back Azimuth will highlight three parts of the research process for keywords.
Read more of Keyword Research for Better Content & Audience Engagement
---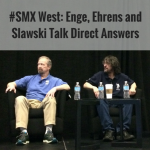 Direct answers — threat or opportunity? Three of digital marketing's brightest minds — Eric Enge, Bill Slawski and Ehren Reilly — dig into this hot topic in today's first SMX West session: "The Growth Of Direct Answers: How Should SEOs React?"
Read: How SEOs Should Deal with Direct Answers: Eric Enge, Bill Slawski and Ehren Reilly Discuss
---
February 26, 2015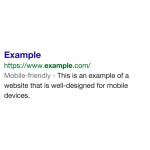 This is a huge announcement, guys. Circle your calendars — April 21, 2015.
Google made an announcement today regarding their mobile search algorithm. In an unprecedented move, they have announced the exact date that they intend to change their mobile organic SERP algorithm to more heavily weigh "mobile friendliness" as a ranking signal. That date is April 21.
Read on for what's changing, what we don't know (yet) and what this means for you.
---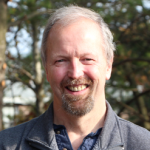 Eric Enge, CEO of Stone Temple Consulting, has been an SEO force since 1997. He's a co-author of "The Art of SEO," has a popular YouTube channel, and has written digital marketing articles for major publications such as Forbes, Search Engine Land, and Search Engine Watch, among others. Next week, he'll be speaking in two Search Marketing Expo (SMX) sessions: "The Growth of Direct Answers: How Should SEOs React?" and "How to Secure Your Site for Google's HTTPS Algorithm."
Today, Enge will shed light on the current state of search and social, complete with insights from his recent four-million tweet case study. Without further adieu, let's get to the interview!
---
February 25, 2015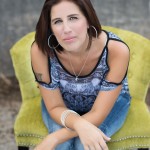 In less than one week, digital marketers from around the world for Search Marketing Expo (SMX). All month long, we've featured exclusive interviews with VIP SMX speakers, including the likes of Bing's Duane Forrester and Google's Gary Illyes. Today, we're excited to talk with one of SEO's most fiery females: Rae Hoffman, CEO of Pushfire and master of affiliate marketing and link acquisition. If you're headed to SMX, you can catch her in "Penguin Penalty Prevention: Link Acquisition & Audit Techniques You Need To Know" on March 4.
Read on to discover what Hoffman has to say about her "many moons" of digital marketing experience, her firm belief that the most effective Internet marketers stay "in the trenches," and much more, including thoughts on the good, the bad and the questionable of link acquisition strategies.
---
February 24, 2015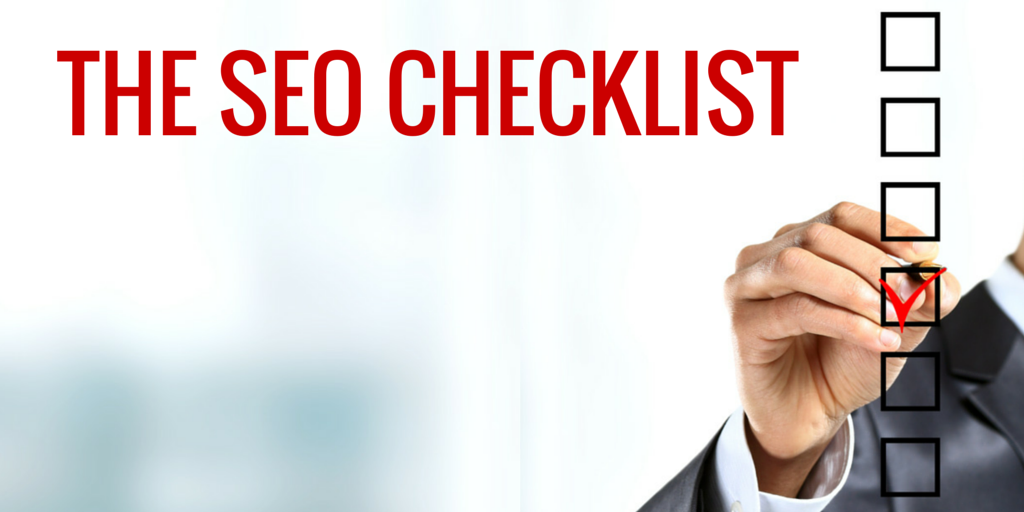 If you're just getting the hang of all the things that go into an optimized website, there's no doubt the list can be overwhelming. In Bruce Clay, Inc.'s SEO Training course, we offer students an SEO checklist as one of the many take-home materials.
Here, we'd like give you an excerpt of the SEO checklist. While not exhaustive, many people find it's a great accompaniment to their SEO projects.
Read more of SEO 101: The 29-Point SEO Checklist.
---