May 1, 2009
Friday Recap: Social Swine Edition
Hi friends! I just spent the last 20 minutes scraping gum off my shoe and my gas pedal. But it's Friday, so it's all good! I got some fun finds for ya now, starting with the straight business and working my way into the wacky.
Today is the last day to get early bird pricing when you register for SMX Advanced. That amounts to $200 off the cost of on-site registration for the two day expert level search marketing conference going down in Seattle this June. Use the discount code smx15bruceclay for additional savings! It's one heck of a conference, and you know you want to go, so why not save the extra dough?
Lisa Barone's article at Small Business Trends this week was an excellent study in how one company has built a small business community with great success. Even better, she shows us how we can do the same for our own customers.
The communities we join are part of what makes our online lives so fun and rewarding. Companies have a special opportunity to join and build such communities. But compliments and critiques both come with the territory. On Left the Box, Samir Balwani shows us how to frame the conversation so you send a message that fits your brand goals.

Blackberrys – Photo from The Official
White House Photostream
Of course, it doesn't hurt to have some influencers on your team. An article by Greg Finn on Search Engine Land has some helpful hints about where you can find social media power users. It's a pretty inclusive inventory of sites that list top submitters, user stats, directories and the like, so if social media is your deal, hop to it.
Have you ever wondered what it would be like to live without electronics? Would you be able to make it a day? Or — heaven forbid — a week? [Nope–Susan] LA Times columnist Steve Lopez claims that a classroom of high school students will attempt this mind-boggling feat. I have a brother in high school, and let me tell you, that kid is hooked. I, on the other hand, could give up technology anytime. I just don't want to. Yeah, that's it.
The U.S. government has been steadily joining the tech rank and file. Welcome the White House and the Pentagon to the SM world. We're all friends here.
So, uh, I don't want to cause mass hysteria or anything, but there's this thing called the swine flu and it's getting a heap of attention right now. If you're on Twitter you already knew that.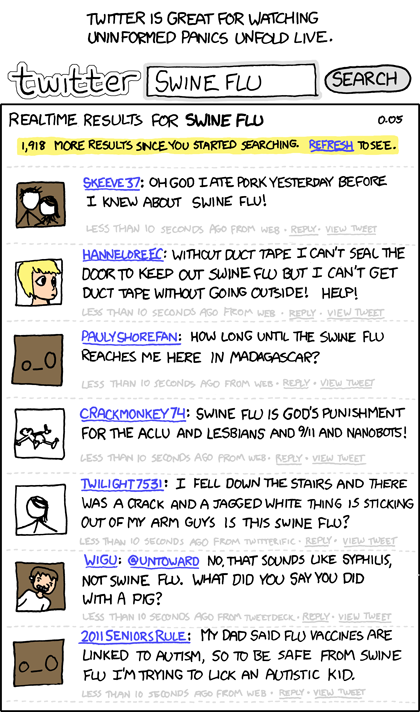 XKCD by Randall Munroe
Should we be worried? Well, maybe about the sneaky opportunists that stand to rake in a fortune from our noisy frenzy.
Kim Krause Berg of Cre8pc warns us to beware marketing that takes advantage of our insecurities. Although she never mentions our porkified panic specifically, I think the lesson can be applied to so much in our media-dominated lives.
Moving right along from hoofs and snouts to claws and beaks, I sometimes get asked why I'm so fond of tortoises. But take a look at this!
Tell me that's not what you get when an angel and a dinosaur have a baby. C'mon!
Since I'm getting all cute and gooey, I might as well tell you a little story about Snowball the dancing cockatoo.
Snowball is actually helping researchers figure out the mystery behind dance. After observing the twinkle toes of the animal kingdom, scientists hypothesize that the ability to dance is linked to the ability to imitate sounds. Zounds!
Before I sign off, I have to sing the praises of Search Engine Optimization All-In-One For Dummies by Bruce and Susan. The duo talked about the book on SEO Rockstars this week. Smart, handsome and ready to rescue overwhelmed marketers looking for a comprehensive desk reference, the book is now for sale at Amazon.com and major book stores.
Things I learned from Boing Boing this week:
---
---
One response to "Friday Recap: Social Swine Edition"
jason writes:


Snowball is awesome and the turtle is cool as well.

@ May 2nd, 2009 at 18:30