Google Archives - Page 5 of 20 - Bruce Clay, Inc. Blog
May 21, 2014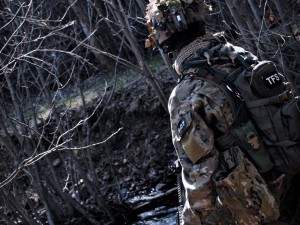 Coming to you straight from the trenches of Bruce Clay, Inc., it's the survival guide edition of the SEO Newsletter. Our feature article exposes which ranking factors change most frequently so you can stay alert. Then get expert survival tips from our SEO manager on how to stay ahead of the game no matter what SEO bombs Google may throw your way.
With Google's search algorithms changing on a daily basis, content strategist Kristi Kellogg advises Internet marketers to adopt a proactive rather than reactive approach to SEO while SEO Manager Mindy Weinstein shares three key search marketing survival tips.
Read more of SEO Newsletter: The Survival Guide to SEO Edition.
---
May 6, 2014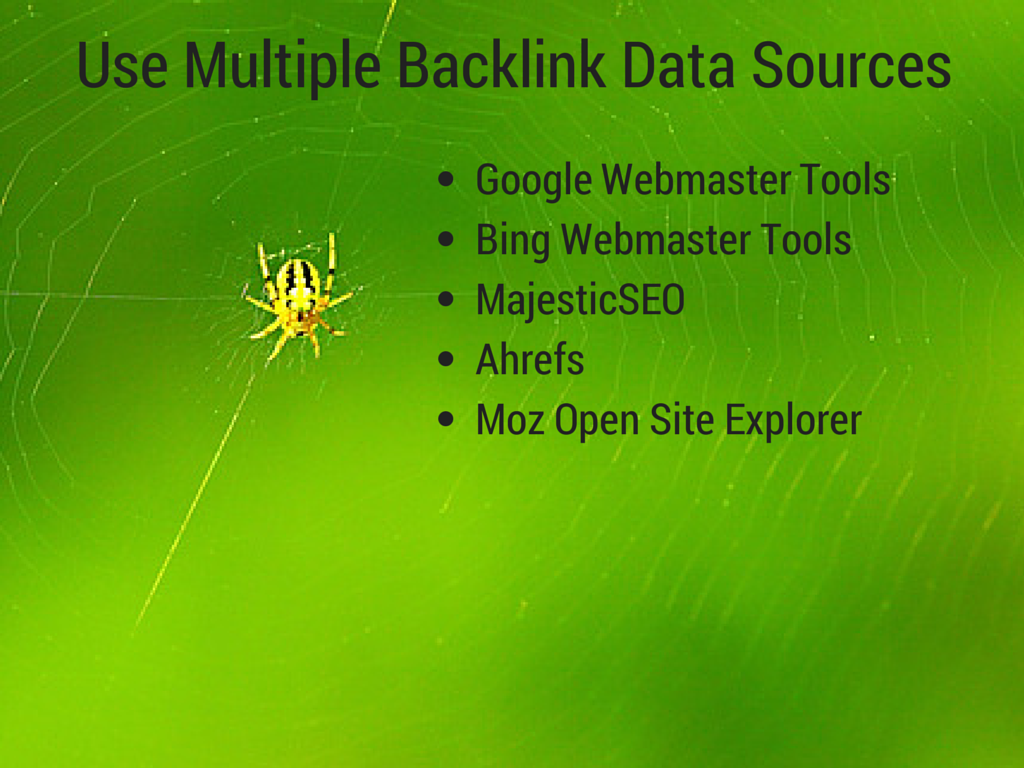 The effect that an unnatural link penalty can have on a website can be crippling. Make no mistake, there is a punitive aspect to these actions. Google is looking to teach webmasters a lesson, one that insures that they will not think about violating the search giant's quality guidelines in the future. To drive their point home, Google makes the process of recovering from these penalties very difficult.
Link penalty recovery takes time, effort, and a substantial commitment of resources. Depending on your specific situation, you could end up reviewing and/or removing hundreds of thousands (millions?) of links. And generally speaking, there is no shortcut to forgiveness.
A good number of clients that approached our firm over the past year came to us suffering from some form of manual or algorithmic penalty. The good news is that we have seen a high degree of success in getting penalties overturned. What follows is a list of tips for getting a specific type of penalty removed: a manual link penalty.
Read more of 9 Tips for Getting Your Manual Link Penalty Overturned.
---
April 25, 2014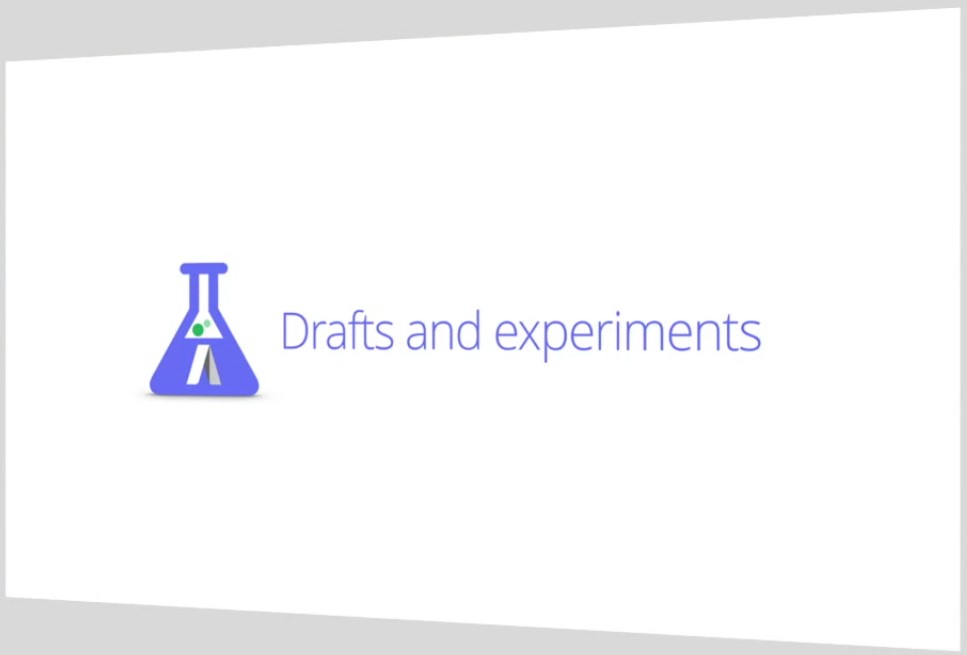 This week's AdWords Performance Forum featured a lot of great new and upcoming features. It wasn't much of a surprise to many advertisers that Google is continuing to focus on mobile and bid automation as two key areas of improvement, and updates here are likely to be very positive. One of the most exciting announcements, however, was the unveiling of "Drafts and Experiments." As the name implies, there are two main product improvements here. 3Q Digital's Senior SEM Manager Eric Smith takes a guest spot on the blog today to explain the new draft and experiment functionality.
Read more of New AdWords Feature: A Drill Down into Drafts and Experiments.
---
April 18, 2014
Internet marketing is evolving — are you? This month's SEO Newsletter focuses on amplifying your business's online reach with articles explaining how to use an underutilized and under-publicized paid, local search marketing platform, AdWords Express, and a guide intended to help a business choose which social networks are a good fit for their audience and investment. The strongest SEO campaigns work hand-in-hand with paid campaigns and social media marketing, both of which amplify a brand's reach among new audiences.
Read more of SEO Newsletter: AdWords + Social Media = Amplified Reach.
---
March 19, 2014
The filter bubble is the knowledge "bubble" Google's personalized search results have the potential to create. The filter bubble effect creates search results filled only with web pages, authors, and viewpoints that a searcher has previously "liked" or otherwise engaged with in the past. In this Pubcon session two speakers discuss how the personalized search "filter bubble" can affect branded, non-branded and local searches, and ways marketers can improve SERP exposure by circumventing Google's personalization layer.
Read more of #Pubcon Liveblog: SEO Beyond the Filter Bubble.
---
In the second week of December there were an increasing number of reports that author photos weren't showing up as often in SERPs. At Pubcon Las Vegas last year Matt Cutts said that when they reduced the number of authorship results shown in SERPs by 15% they saw better results. Take that to mean whatever Google speak you think it means. Here's the initial drop followed by continued periods of volatility.
Read more of Google+ and Authorship: 2014 Hot Topics and Trends
---
March 13, 2014
For the SMX West grand finale, Google's +Matt Cutts and Bing's +Duane Forrester joined host +Danny Sullivan on stage for an audience Q&A session.
After introductions (and a selfie photo, which has become a theme this week), they dove into a back-and-forth discussion of many topics, including:
• What Amit Singhal might have meant when he hinted at an announcement regarding (not provided) keyword data
• Matt's rundown of "themes of the year"
• Google's progress shutting down link networks world-wide (and an unnamed "well-known guest blog network" soon to be penalized)
• How penalties will or won't follow when …
Read more of Meet the Search Engines
---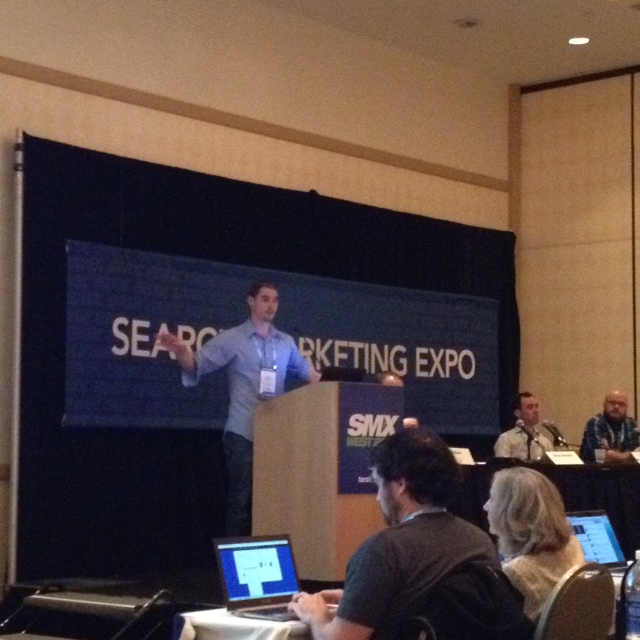 Hooooly Cow. This session was really above and beyond. If you need to set up or optimize your local presence, this fast and furious SMX West 2014 coverage delivers! There's a lot of really helpful, actionable information formatted into list form to make it easy to consume…
Read more of Google Local Optimization in 2014 — SMX Liveblog
---
March 12, 2014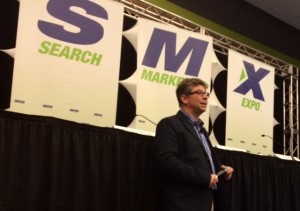 We're here at the evening forum. Danny doesn't have a presentation or agenda; he walks around and talks. Everyone here may be called upon to participate. We're going to hear the assorted issues that the assembled community is experiencing.
Question: If you have $500 to spend on marketing, where would you spend it? Context is small non-local brand.
Danny: First he'd make sure there's a website. A lot of small businesses don't even have that. Spend some of that money on your own domain name (instead of somesite.tumblr.com). He's spend some time educating himself on SEO. He'd read Google's own SEO tips guide. You never go wrong starting off with the things Google's recommending. He'd spend time opening social media accounts on Facebook, Twitter, Google+ and possibly LinkedIn. If it was a location-based business he'd make sure he had a Google+ Biz page. As part of the SEO process he'd spend time understanding the key terms for his site. AdWords might be good to dip into to get a sense of the kind of traffic coming from those terms, but he'd probably spend more time learning about organic.
Read more of the questions SEOs are asking today in #SMX Liveblog: Evening Forum with Danny Sullivan.
---
March 10, 2014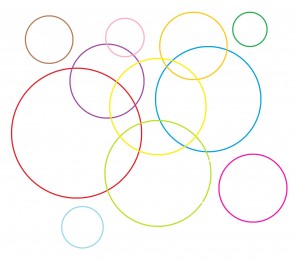 Last week, @BruceClayInc hosted the weekly #SEOchat on Twitter. The topic of conversation was getting the most out of Google+. Find out what marketers, including Google+ specialists David Amerland and Mark Traphagen, had to say about the SEO and community benefits of Google+ in Circle Up: Google+ Tips from SEO & Marketing Pros.
---