Apple Archives - Bruce Clay, Inc. Blog
October 1, 2015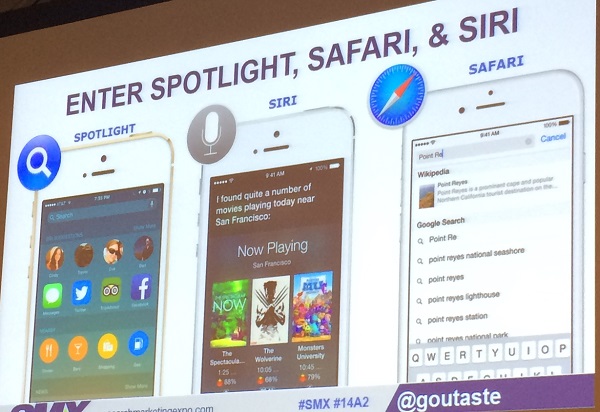 Search engines Google, Bing and Yahoo step aside because Apple's changing things up. This insightful SMX session discusses the many ways Apple products have impacted search and what to do about it as marketers.
---
September 22, 2015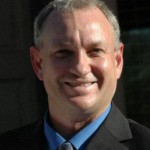 BLE technology, including Apple's iBeacon and Google's Eddystone — while most digital marketers have heard of it, have they harnessed it? Media Wyse CEO Casey Markee is speaking about the technology powering location-aware marketing next month at Pubcon Las Vegas.
Markee joined me for an interview on all things BLE this morning, starting off with the most important question: just what is this technology? From there, we looked at how BLE technology that makes location-aware alerts and offers possible, fits into the big picture of digital marketing, plus took a look at specific examples and case studies, and where the line between helpful and intrusive may be when it comes to beacons.
Check out the entire interview and/or read along here.
---
November 5, 2014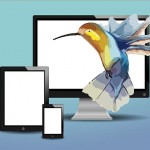 It's been just over a year since Google updated its algorithm with Hummingbird, making it better equipped to serve conversational search queries.
The day is coming when the majority of searches will be conducted with natural language; most queries will be long-tail; and optimizing for a set of short keyword phrases won't be sufficient. Some have been saying this same thing for a long time now. But have we all been listening?
New technology released by Apple in October is bringing us another step closer to device agnostic user experience. For search marketers, this is yet another reason to optimize for concepts over keywords. Here I'll describe that technology, and also share some recent stats on voice search to help us shift our thinking toward entity SEO.
Read Just Another Reason to Shift to Entity SEO.
---
October 21, 2011
You come here on Fridays for one very good reason: to be entertained. I can't promise to go as far as BCI's BFF YouTube sensation DJ Flula to keep viewers, or in this case readers, happy. But I will use the next 500 or so words to try to seduce a smile from you.
Just a week and a half before Halloween! I've taken it upon myself to construct Daily Candy's Halloween-themed playlist with YouTube videos, so feel free to turn up the volume and get grooving to some monstrous mood music.
Know what puts me in a good mood? Yoga, a massage and laundry service, am I right? All in a day's work for employees at Google, Facebook, LinkedIn, Twitter and other Internet giants.
Read more of Friday Recap: Tastes Like Onions Edition.
---
October 7, 2011
Ahhh, Friday. You make me very happy. You know what else makes me happy? Virginia was nice enough to share with me all the things that happened this week for today's Friday Recap. Because some weeks, I am a cave-dweller. I'm glad Virginia is still cool enough to keep us going this week.
Read more of Friday Recap: Virginia's Musings Edition.
---
July 7, 2010
It's the year of mobile! It's the year of mobile! Well it looks like we've finally stopped crying wolf. Mobile Internet use and interaction is on the rise in a big way. Here are some reports, studies and generally fascinating stuff on the platform marketers have been drooling over for years.
Assorted Musings on Mobile Ad Platforms and Devices: Take a listen to today's episode of SEM Synergy. Some of the highlights include Bruce's thoughts on the launch of Apple's iAd platform and whether it might possibly live up to Steve Jobs expectations to conquer half of the mobile ad market by the end of the year.
Bruce also turns a critical eye on a study on mobile audiences by JiWire that reports 52 percent of smartphone users say they've acted on an advertisement in a mobile app and 18 percent say they've made a purchase from a mobile app in the last month. Mobile tech specialist Michael Martin also joins the program to offer insight on mobile advertising, location services and popularity of smartphone devices.
Read more of Looking Into the Future: Mobile Marketing — SEM Synergy Extras.
---
June 17, 2010
I went to sign in to my personal e-mail this morning and what did I find but a lovely tattooed lady, the portrait of independence and personal style. In this vivid imagery, Yahoo! is telling me they're where it's at for a customized experience of the Web and all its social, informational and visually engaging glory.
Because isn't that what users want? A platform that fits the way they use the Web? It's the goal of a business to fill a consumer's need, and it's the marketer's job to define that need and explain why said business is the right solution.
But I can't help but wonder. Have businesses shifted their service strategies too far into the realm of pandering to be truly productive. After all, what if the customer is wrong?
Read more of What If the Customer's Wrong?
---
June 4, 2010
Howdy on this fine Friday! It's almost time to get your weekend on, but first, get some light reading in, 'kay?
We were introduced to a new dinosaur species this week, and isn't he a handsome specimen? Beak-like face and a name that translates to "grinding-mouth, wrinkle-eye" — Jeyawati was a cutie!
I fear we're all headed in the direction of the dinosaurs if they can't clean up the Gulf Coast oil disaster and stop the flow of oil. There's not much we can do about that mess at the moment, so go ahead and plant a tree. Mother Nature could use any boost she can get right now.
Did you have a cup of coffee or three this morning to give you a boost? A new study suggests that the stimulation felt from caffeine may be just an illusion. The researchers say that regular coffee drinkers that get their caffeine fix every morning may simply be alleviating the fatiguing effects of caffeine withdrawal, giving the effect of alertness while actually just bringing them back to normal. Susan and Jessica are highly skeptical. And admitted coffee addicts… Just saying. ;)
Read more of Friday Recap: Caffeine Jolt Edition.
---
April 30, 2010
Goodbye, April. Hello, weekend! It's recap time again!
Have you had a tough week? Ze Frank has written a song just for when you need a reminder to take a deep breath and chill out. It's aptly titled the Chillout Song and while he wrote the song himself, all but his part of the vocals were contributed by his fans.
Read more of Friday Recap: Search Sausage Experiment Edition.
---
April 16, 2010
It's recap time again. Hold on to your white/gray/black hats and take a ride with me.
So first, I've gotta plug our Small Biz Discovery Contest because we're giving away some fantastic prizes, including a pass to Search Engine Strategies San Francisco. To play, write an article that speaks to the community of small business owners, giving them one powerful tactic for SEO, PPC or SMM that would improve their online presence. Read all the deets in yesterday's blog post.
You also may have noticed that this week Bruce Clay, Inc.'s newest writer made her debut on the blog. Jessica Lee reminded us of the marketing benefits of getting cozy with our communities offline. There's nothing like that in-personal touch. (Yeah, I just made up that phrase. Nice, right?)
Read more of Friday Recap: Caution! Alot of Nonsense Ahead.
---