Bruce Clay, Inc. SEO and Internet Marketing Blog
Posts by Bruce Clay, Inc.
---
January 30, 2014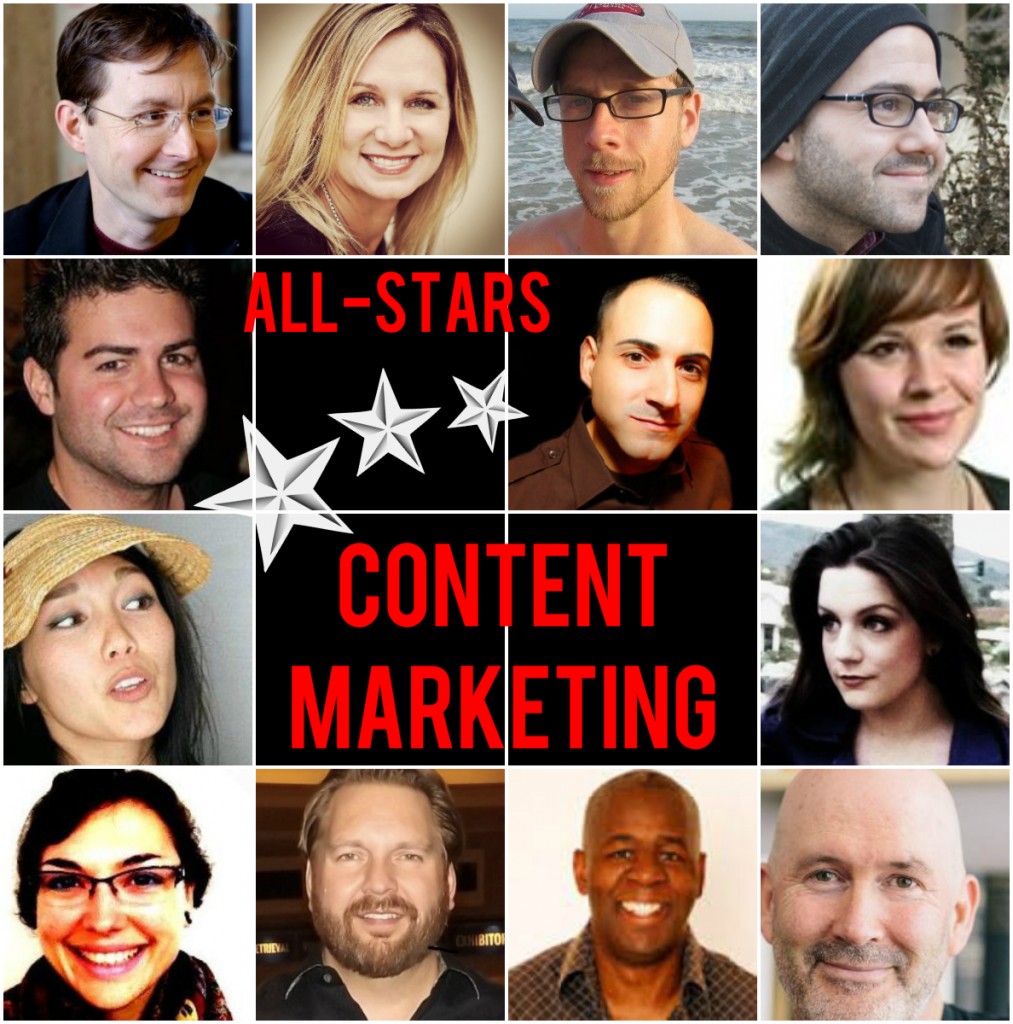 More than a dozen experts share their content marketing strategy insights and tips within the pages of Bruce Clay's and Murray Newlands's new book, "Content Marketing Strategies for Professionals" (now available on Amazon) — the ultimate content marketing strategy guide for any content creator, marketer or social media manager that wants to stop wasting words.
In addition to Clay and Newlands's experience-driven and field-tested knowledge, "Content Marketing Strategies for Professionals" taps into case studies, articles and anecdotes from Digital marketing powerhouses, renowned for their savvy in content strategy, marketing, public relations, media and SEO. Read on for sneak peek of what content marketing advice each of these experts' revealed in "Content Marketing Strategies for Professionals." Among the contributors? A Webby award winner, CEOs, journalists, authors, brand managers and even a Dragon.
---
December 20, 2013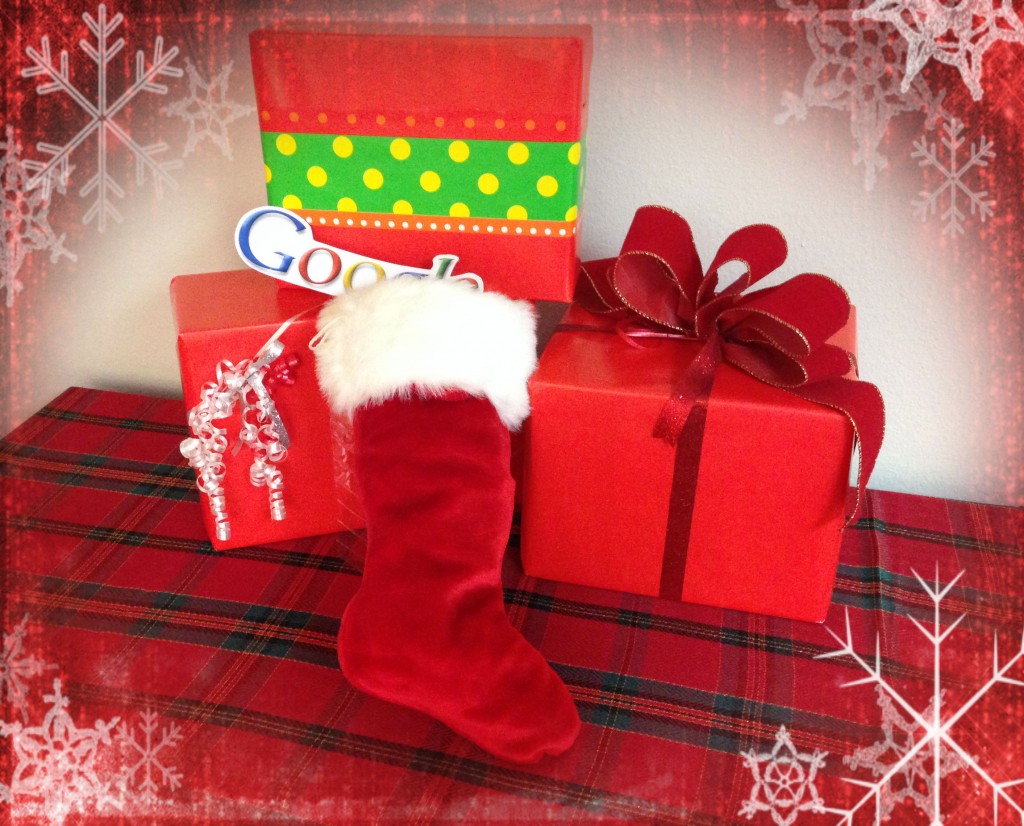 At Bruce Clay, Inc. we got into the spirit of the season and optimized the lyrics of "The Twelve Days of Christmas."
In "The Twelve Days of Google Gifts" we present a wish list of things Google would deliver in our SEO dreams. Can anyone out there relate?
Bonus: Santa Clay sighting ahead! Click through to view our SEO Christmas carol holiday music video!
---
November 22, 2013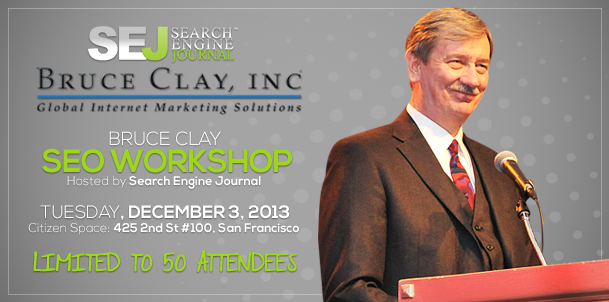 It's Christmas come early for Bay Area Internet marketers next month when Search Engine Journal hosts a limited-engagement SEO and social media marketing workshop led by Facebook Director Matt Idema, SEJ Managing Editor John Rampton and SEO industry pioneer Bruce Clay.
Opportunities to get marketing advice from a Facebook executive in an intimate setting are rare, even in San Francisco's hotbed of tech entrepreneurialism. An hour with a Facebook exec, including time for Q&A, doesn't usually come outside a full industry conference pass. Bruce Clay's training is a deep-dive SEO experience that every marketer who thinks he knows SEO should experience. A day of training with Bruce at a conference like SMX can cost more than $1,000.
On Dec. 3, 50 people will get to spend the afternoon with these top-of-field experts getting in-person advice on leveraging the Internet's hottest platforms — Google, Facebook and Pinterest.
Get your seat here for just $89 with promotion code bruceclayVIP.
Read more of Search & Social Workshop Triple Header Is a Can't Miss for Bay Area Marketers.
---
October 30, 2013
Fondly known to the search marketing industry as a founding father of SEO, Bruce received the Lifetime Achievement Award of Excellence in Vision, Execution and Market Influence in the Practice of Search Marketing. As founder and president of Bruce Clay, Inc., a global Digital marketing agency founded in 1996, he accepted the honor earlier this month at the annual digital marketing conference Bend WebCAM in Bend, Oregon.
Everyone who works with Bruce knows a man whose passion for the business of SEO runs the full spectrum. Bruce gets a thrill from the technical workings of algorithms and the science of gaining rankings. Bruce has a knack for listening to the stories of business owners and matching their needs to creative solutions. Bruce is a people person energized by the larger-than-life personalities that fill industry gatherings — his own to be counted among them. And every person who has ever worked at Bruce Clay, Inc. knows that Bruce cares for employees like family and takes a deep and genuine interest in supporting their personal and professional success. And so we compiled a slideshow to showcase some of Bruce's personal side.
Get to know Bruce Clay, a guy who cares about SEO and employees, an industry pioneer. Read more.
---
July 18, 2011
As social networks continue to grow, online competitions are being used more often as a mechanism to encourage people to follow a brand. As these online competitions become more popular, people are being faced with something they're not so used to in our world of instant gratification; patience. You win a movie ticket – that […]
---
May 28, 2010
Don't cry because it's over. Smile because it happened. — Dr. Seuss Alas, this will be my final blog post at Bruce Clay Australia. My time at Bruce Clay has been excellent and I will miss the team heaps. Enough with the sentimentality, it's time to get on with the show. Photo by xJasonRogersx via […]
---
May 19, 2010
Welcome to our monthly SEO update for April 2010. This update highlights key news in the SEO industry during April 2010, key SEO related blog posts from our bloggers in the US and Australia, key articles covered in our global newsletter and key podcasts from our Webmaster radio show. Photo by Per Ola Wiberg ~ […]
---
May 12, 2010
Once again our team of analysts have combed the various SEO, online marketing, SEM and other geeky resources on the web and have come up with a few highlights for the past month. Photo by Ed Yourdon via Creative Commons SEOMOZ-"The Definitive How-To Guide For Conversion Rate Optimization" Conversion rate optimization is… Finding out why […]
---
May 7, 2010
Wow the big G has been busy lately, rolling out this, debuting that. Two of the newest innovations that have been revealed are the new keyword data within Google webmaster tools and a redesign of the Google homepage, not only in the US for chrome users but now in Australia for most browser users, most […]
---
April 27, 2010
We have been having some periodic problems with the commenting system at the BCA blog. I think we have just about cracked the problem, so comment away all you fantastic readers.
---