Internet Marketing Optimization Archives - Page 5 of 136 - Bruce Clay, Inc. Blog
May 12, 2015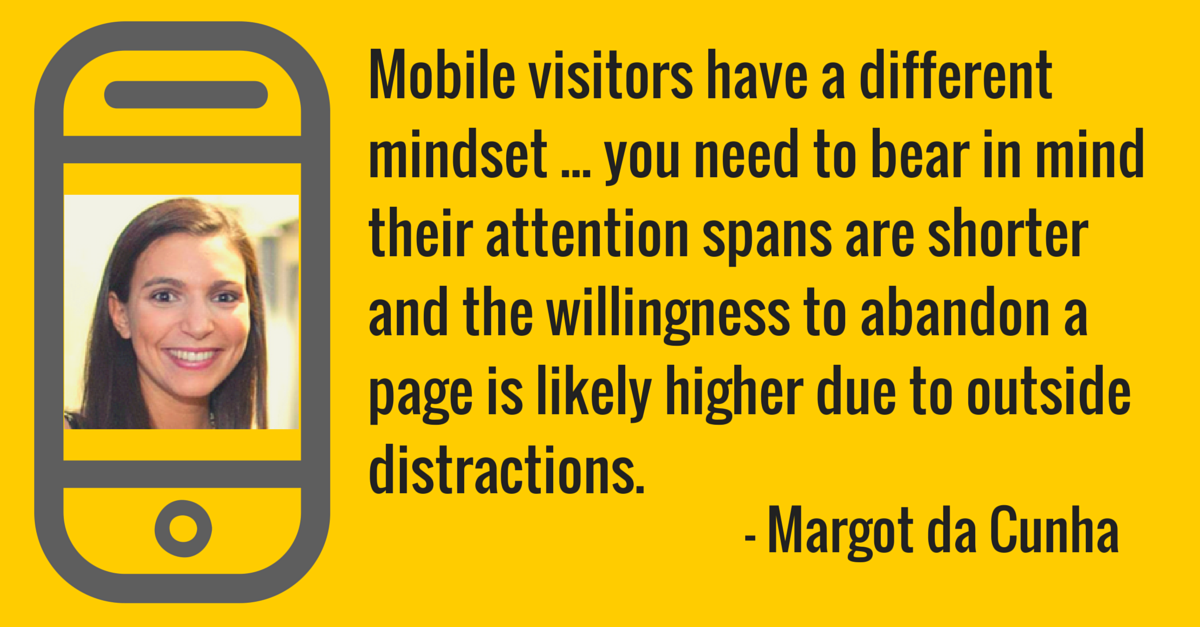 "Everyone's been preaching the importance of having a robust mobile marketing strategy for the past seven years or so, and although we all know this, a lot of us still decided to put mobile on the backburner. Now that 'Mobilegeddon' is upon us, and Google is constantly telling us how important mobile 'micro-moments' are, marketers are being forced to act — 2015 could turn out to be the actual 'year of mobile,'" said SMX Speaker and WordStream Content Marketing Specialist Margot da Cunha.
When SMX Advanced hits Seattle next month (June 2-4), mobile-friendliness will be addressed from every angle. Da Cunha will take the stage alongside Lisa Williams and Phoebe Hanley in "Converting the Mobile Visitor." They will discuss the best ways to attract and convert mobile users, and share strategies on text ads, display ads, click-to-call offers, targeting by device and location, and demographic research. Today, da Cunha gives us a sneak peak of what's to come in her SMX presentation!
Read more of Mobile Marketing: How to Convert the Mobile Visitor.
---
May 8, 2015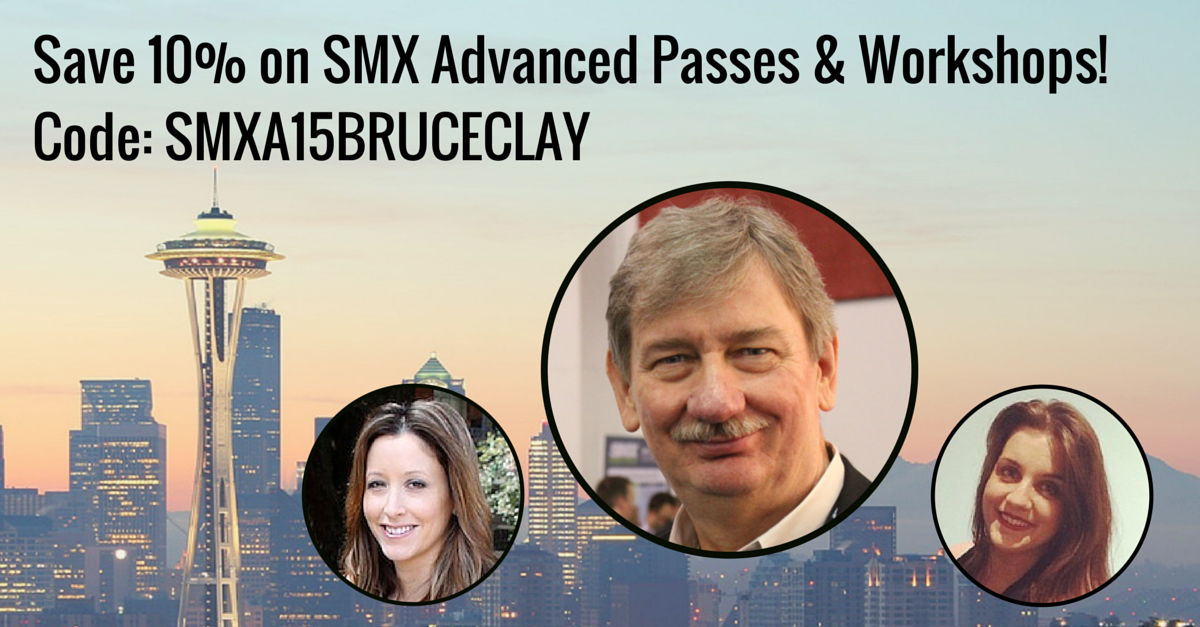 Less than 90 tickets remain for Search Marketing Expo (SMX) Advanced 2015! If you're planning to register for the must-attend event, hurry — because it looks like it's about to sell out for the ninth year in a row. When registering, save 10 percent on all passes and workshops with our discount code: SMXA15BRUCECLAY.
If you're looking for next-level search marketing education and networking, this is the conference you don't want to miss. Industry elite gather here to share advanced technical knowledge and tactical tips for search engine optimization, paid search and social media marketing. I'll be on the scene liveblogging. Read on to see where you can meet Bruce during the conference and see our liveblog schedule.
---
March 12, 2015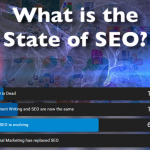 Bruce Clay shared his marketing insights on SEO, branding and social media yesterday on "Social Media Today Power Talk," a monthly digital marketing show hosted by David Amerland. Amerland is the author of many digital marketing books, including "SEO Help: 20 Semantic Search Steps," "Google Semantic Search," and "Google+ Hangouts for Business," and a stand-out Google+ influencer with more than 350K followers. Watch the entire show above or read on for highlights, including Bruce's thoughts on:
The evolution of SEO
Why some people think SEO is dead
The necessity of planning 2-5 years ahead
The cube theory
Making your team work as a team
The effect of social buzz on ranking
---
March 5, 2015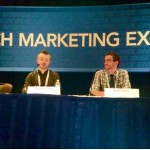 In this SMX West liveblog coverage of the session "Expert Excel Essentials" we're reminded that Excel is a versatile problem solving tool that everyone has access to. Let's turn raw data into something that people understand and can make decisions using.
Moderator Chris Sherman says that an Excel-focused session has been running at SMX for a few years. It started as an experiment. Search marketers know Excel but there are different levels of knowledge and skill. If used properly Excel is a Swiss Army Knife, so it pays to invest in your Excel chops. After hearing the Excel tips shared here you'll be inspired to go back to your job and do things in a tool (Excel) that everyone has, so you'll make a difference.
Read Turn Raw Data Into Meaningful Data Visualization with Excel
---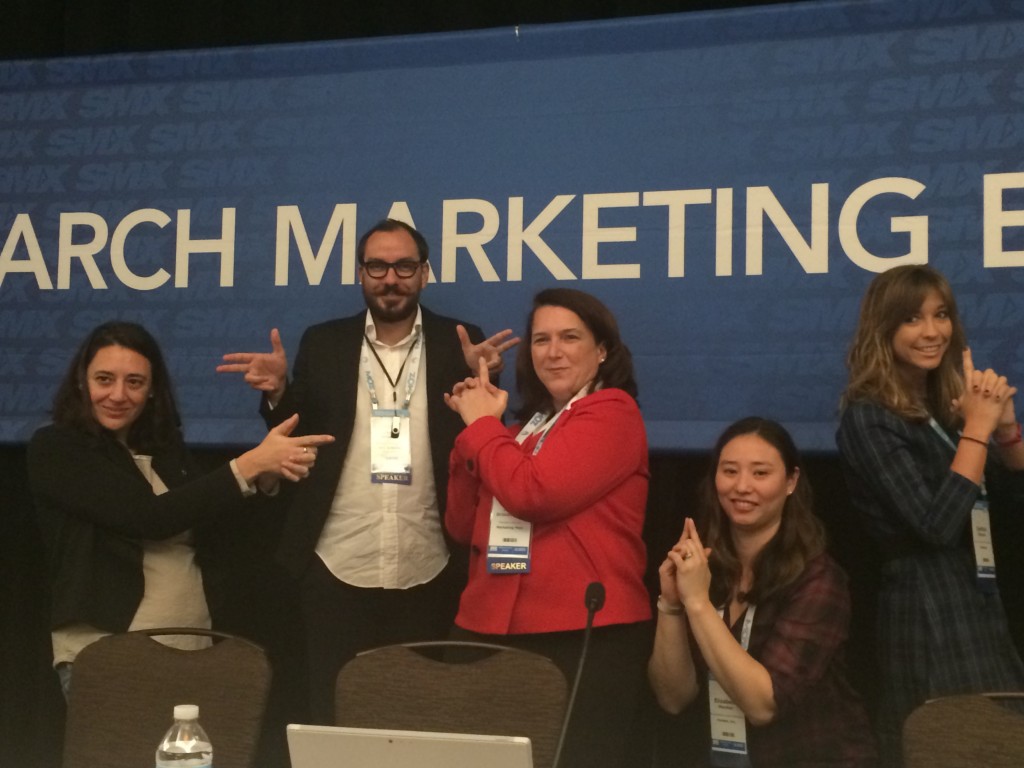 Three heads are better than one! From reputation management, to increased reach with retargeting — your SEO, SEM and social media strategies need to support one another.
Read this SMX West 2015 liveblog coverage to learn:
✓ Why you must take control of your social profiles as part of your reputation management strategy
✓ 6 steps to social reputation management
✓ How to use social to marry searcher intent with identity
✓ Why your marketing strategy needs paid social
---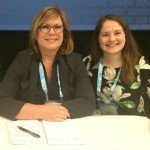 Not unlike peanut butter and jelly, search and social work best together. In this SMX West 2015 liveblog coverage, Ford Motor Company Director of SEO Ellen White, and Kenshoo Content and Media Manager Kelly Wrather, discuss the importance of teamwork and cross-channel strategy between social media and search marketing teams.
Learn:
✓ 3 reasons why search and social should be the next channels you integrate
✓ How to develop a cross-channel plan
✓ Why you need to stop worrying about your own weaknesses, and start worrying about the weakness of your teams.
✓ How to use checklists to strengthen your cross-channel communication and strategy.
Read all of Improving Search and Social Teamwork
---
March 4, 2015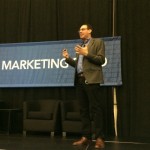 Bill Tancer, author of "Everyone's a Critic," is the general manager of global research at Experian Marketing Services. This makes him the world title holding data geek. On Twitter he's @billtancer. For today's keynote he's going to do something different and never before presented. He's going to share a behind-the-scenes tour of his book "Everyone's a Critic." The story involves an Icelandic volcanic eruption, a review that "this place sucks," and a near heart attack at his kitchen table.
Read our liveblog coverage of Bill Tancer's SMX West keynote address on How to Get Critical Online Reviews in Today's Social Economy
---
If you're unconvinced that a move to HTTPS is for you … then keep reading. Google Webmaster Trends Analyst Gary Illyes will share why Google values secure search so much, and what he and the Google team are planning next when it comes to secure search. Joining Illyes on the stage are fellow search savants Eric Enge (president of Stone Temple Consulting and author of "The Art of SEO") and Bill Hartzer (senior SEO Strategist at Globe Runner), who will also share their insights into secure search.
Article includes:
✓ A 33-Step Checklist for Moving to HTTPS
✓ A PHP hack that makes new HTTPS pages pull social sharing data from old HTTP posts.
✓ An HTTPS Q&A session with Google Webmamaster Trends Analyst Gary Illyes.
Read more of Unconvinced HTTPS is Worth It?
---
Developing an app is a resource investment, but one that can pay off in time if done right. In this SMX West session — "Search Inside the App" — Google's Mariya Moeva talks about how Google is looking at apps, and the opportunities they afford. She is joined by digital marketers Ian Sefferman and Justin Briggs. Briggs and Sefferman work in app development and analytics and they will share their latest insights straight from the trenches.
Learn how to get your app indexed in search, what "app deep linking" is, and three app development recommendations straight from a Google Webmaster Trends Analyst.
Read Mobile App Deep Linking, Development & Indexing.
---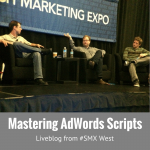 This liveblog of the "Mastering AdWords Scripts" session at SMX West is designed for search marketers who have already written AdWords scripts. The three-expert lineup of speakers moderated by Matt Van Wagner dives deep (and fast!) into how scripts in an SEM toolkit make ads more flexible and powerful.
Read more of Mastering AdWords Scripts
---